Open When Letters – Ideas for a boyfriend, best friend, husband, etc. or loved one, with a list of ideas of what to put in them and free printable cards!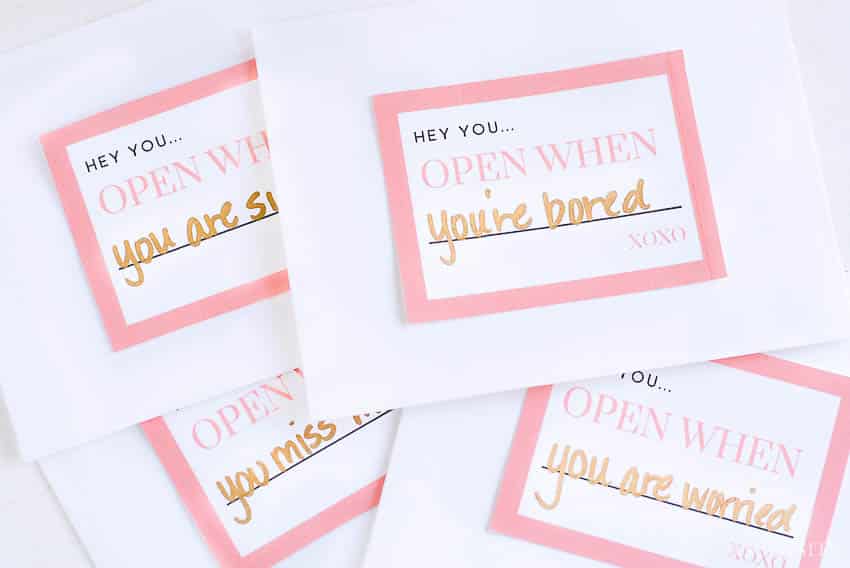 I absolutely love creating printable cards, printable decor for home, and even creating birthday invitations, so these "Open When" Letters were right up my alley too!
Open When Letters
So what are open when letters? Well, if you are in a long-distance relationship, have a dear friend or relative far away, or if you find yourself away from your sweetheart longer than you'd like, creating a gift that allows you to speak to them when you are away is more than words can describe. I especially love the open when letters ideas as a birthday present for my husband.
Even though it's hard to top the year that I kept a secret from him for a YEAR and surprised him for his 30th birthday with a trip to Mexico with friends… this heartfelt gift just keeps on giving all year!
See ALL of our gift ideas for the sweet person in your life!
Open When Letters can be a sweet way to send a heartfelt message to your loved one when it's hard to find the right words to say, and they're just super fun anyway to create and give!
How do Open When Letters Work?
Open when letters work just like a regular handwritten card.
However, the difference is that you give them instructions on the letter for when they are supposed to open them.
They can be specific such as an anniversary or a set date, or broad such as "when we're having a fight".
You can be as creative as you want with these, and the more specific they are to your loved one, the better the experience will be.
Free Printables and Envelope Ideas
When I created my own, I wanted to make them so I could re-use the master copies for a friend, relative or even my husband again one day.
Then, when I made them, I remembered that I can't keep a good thing to myself, so I wanted to share 4 different free printables with you so you can make your own! You find where to save them below.
Here's how I made mine, and hopefully it will spark some ideas and help make your "open when" letter project a little easier!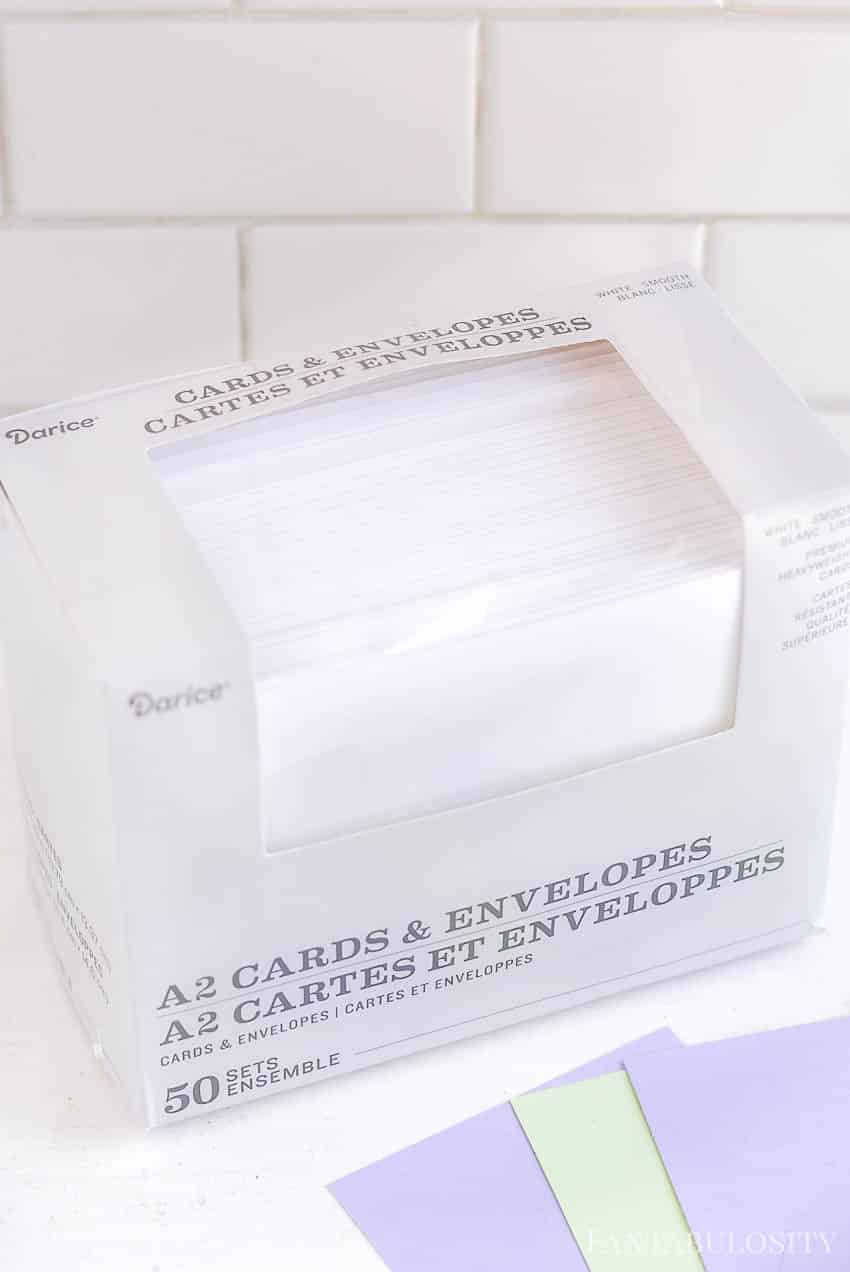 How do you write open when letters?
I simply grabbed size A2 envelopes from Walmart, and I had NO idea until I picked up my Walmart grocery pick-up that it was a box of envelopes AND cards! BONUS! I thought it was just the envelopes. Woot! (You can grab a2 envelopes and cards on Amazon HERE if you prefer shopping there!)
However, for the letters that I'd be writing, I had already decided to use colorful paper that I already had on hand for the letters that I'll put inside the envelopes, so I'll save the blank cards for something else later.
But to make things super easy, you can totally use the cards that come with the envelopes!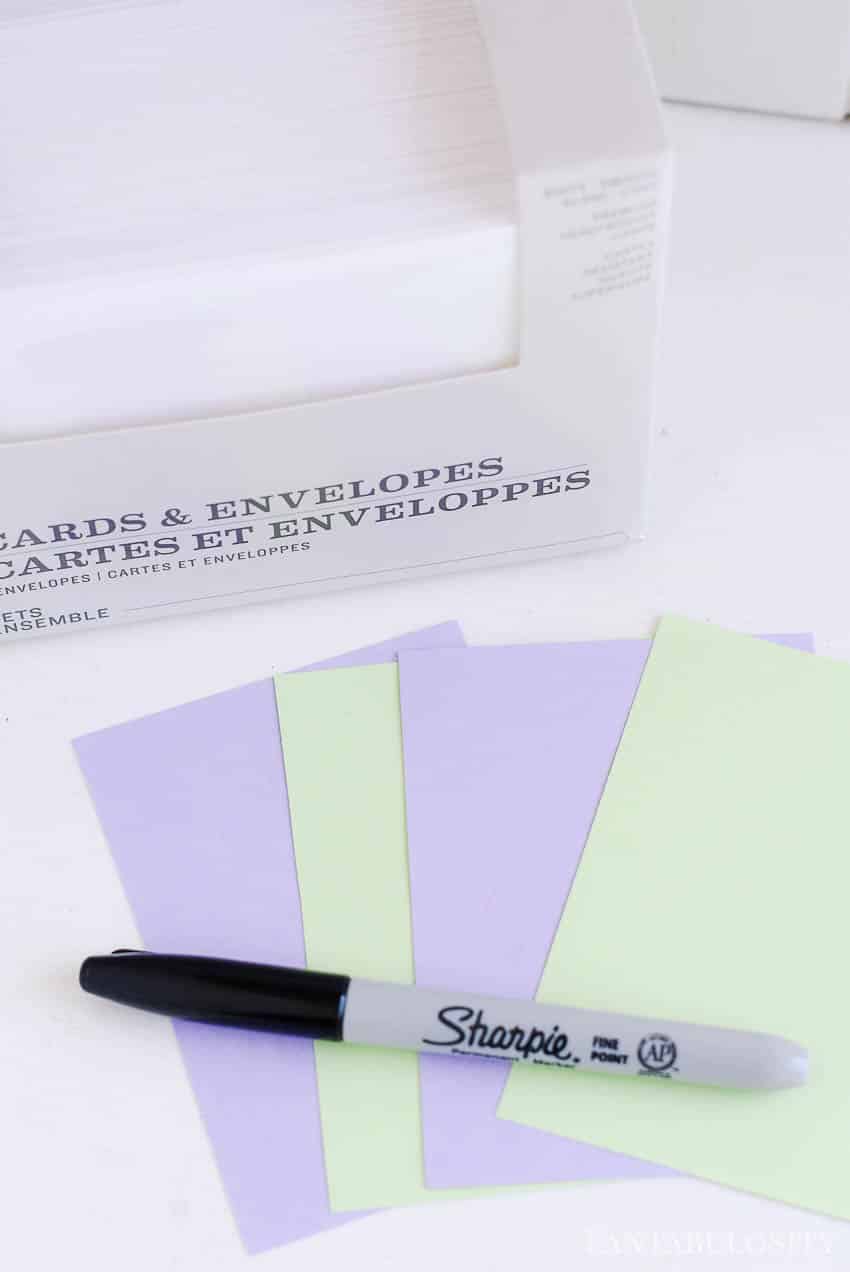 Once I had everything that I needed to get started on the open when letters, it was time to print off the printable cards.
Blank "Open When" Cards
When creating the master printable card, I ALMOST typed in the "when" on each card, until I realized that I may like to switch things up sometimes and that not everyone has the same relationship and things to say to one another as I do to my husband.
So, I thought the blank space to write in exactly what you want it to say, would be the best bet.
Plus, I think the handwritten "when" on each card has more of a personal touch, and how sweet is that, right?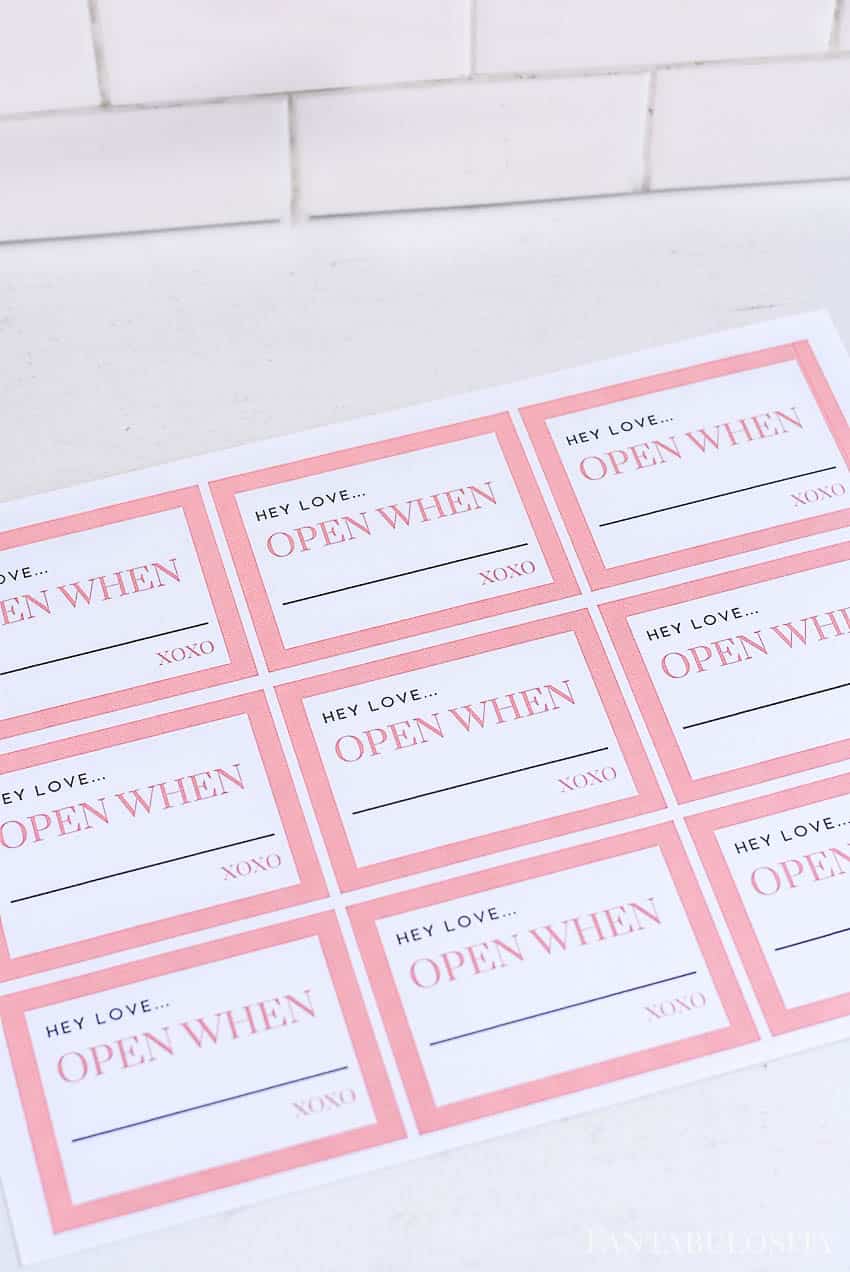 Free Printable Open When Letter Cards – Four Options
I have included four different options in case you prefer one over the other.
"Hey Love," in Pink or in Black
…for a boyfriend, husband, finance, etc.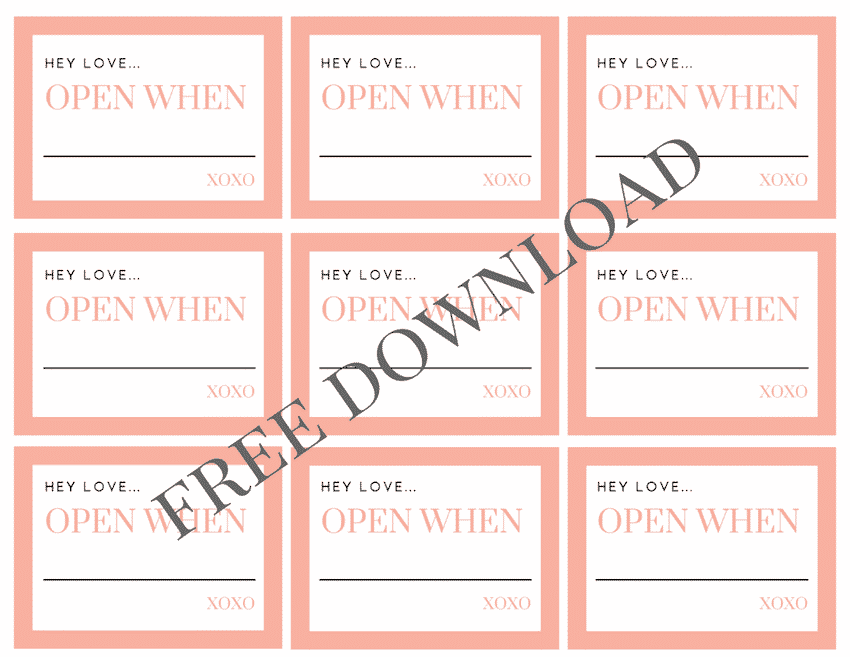 ---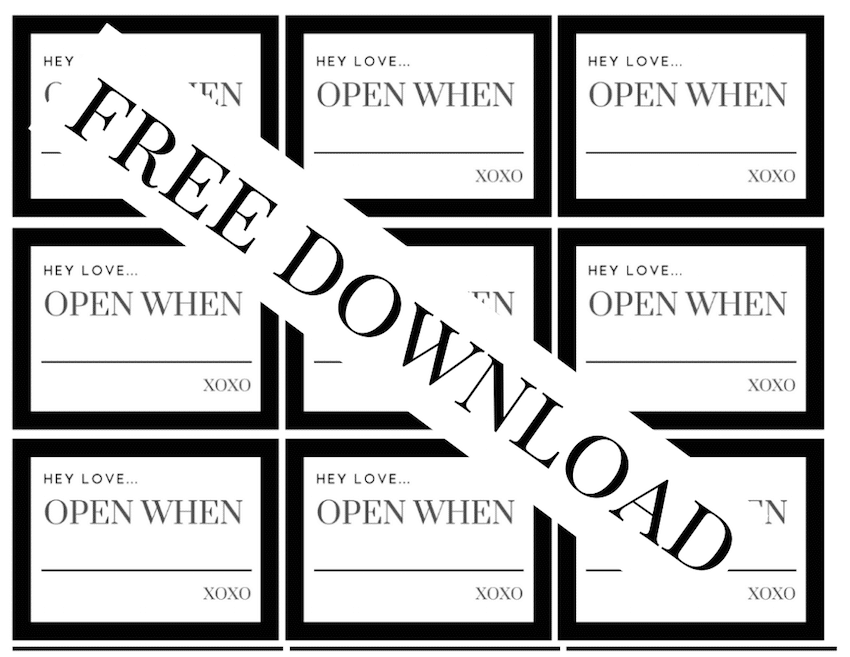 and
"Hey You,"
…for a friend, sibling, relatives, etc.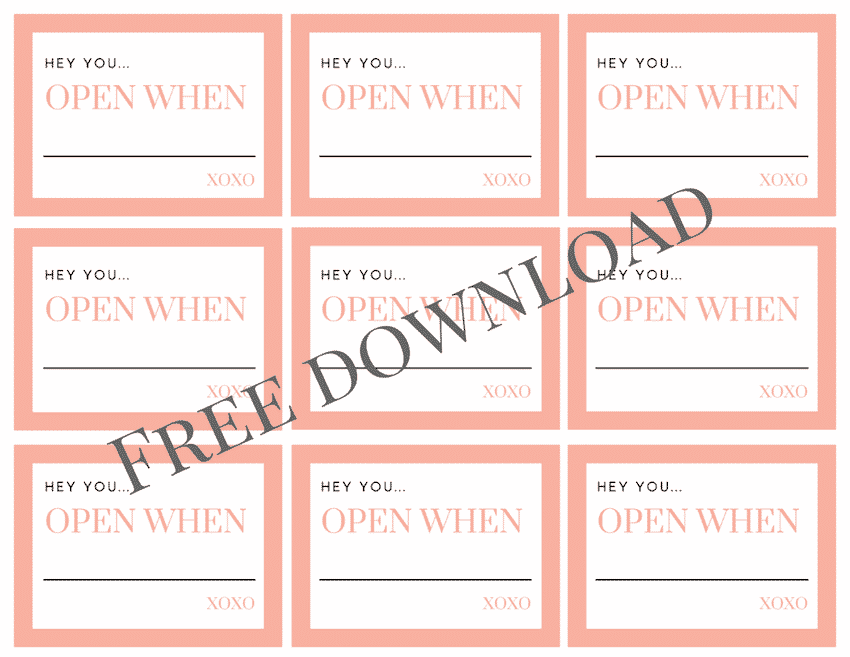 ---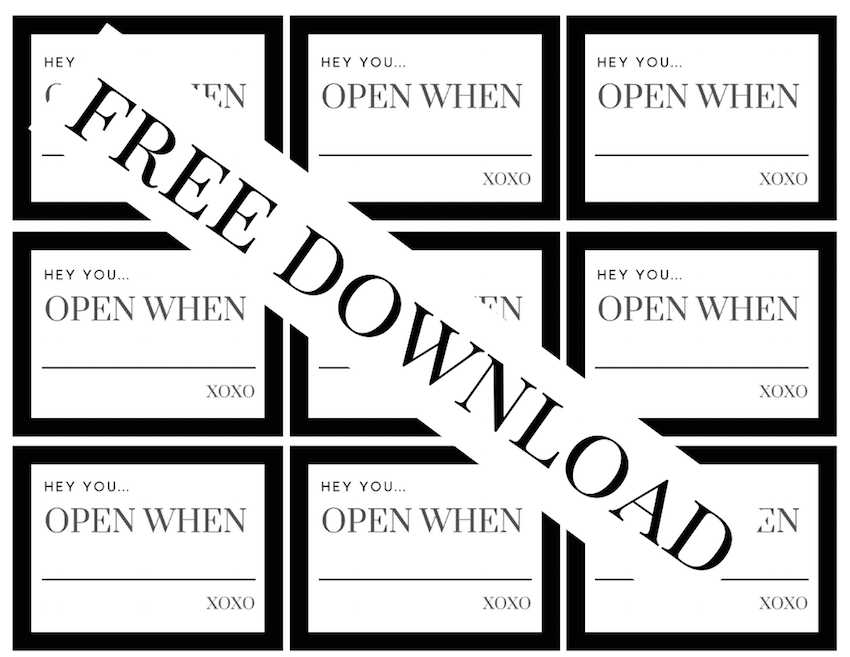 This way, you can choose which of the above greetings works best for the person you're sending them too!
Note: I've included a list of ideas below of what you can fill in the blanks with.
To Write:
For the hand-written portion on the free cards, I'm a sucker for a good gold metallic sharpie, and I thought it looked adorable paired with the coral border and font on the card.
(Perhaps I'm partial to these colors because of the colors I use in my logo here on the blog, but I digress.)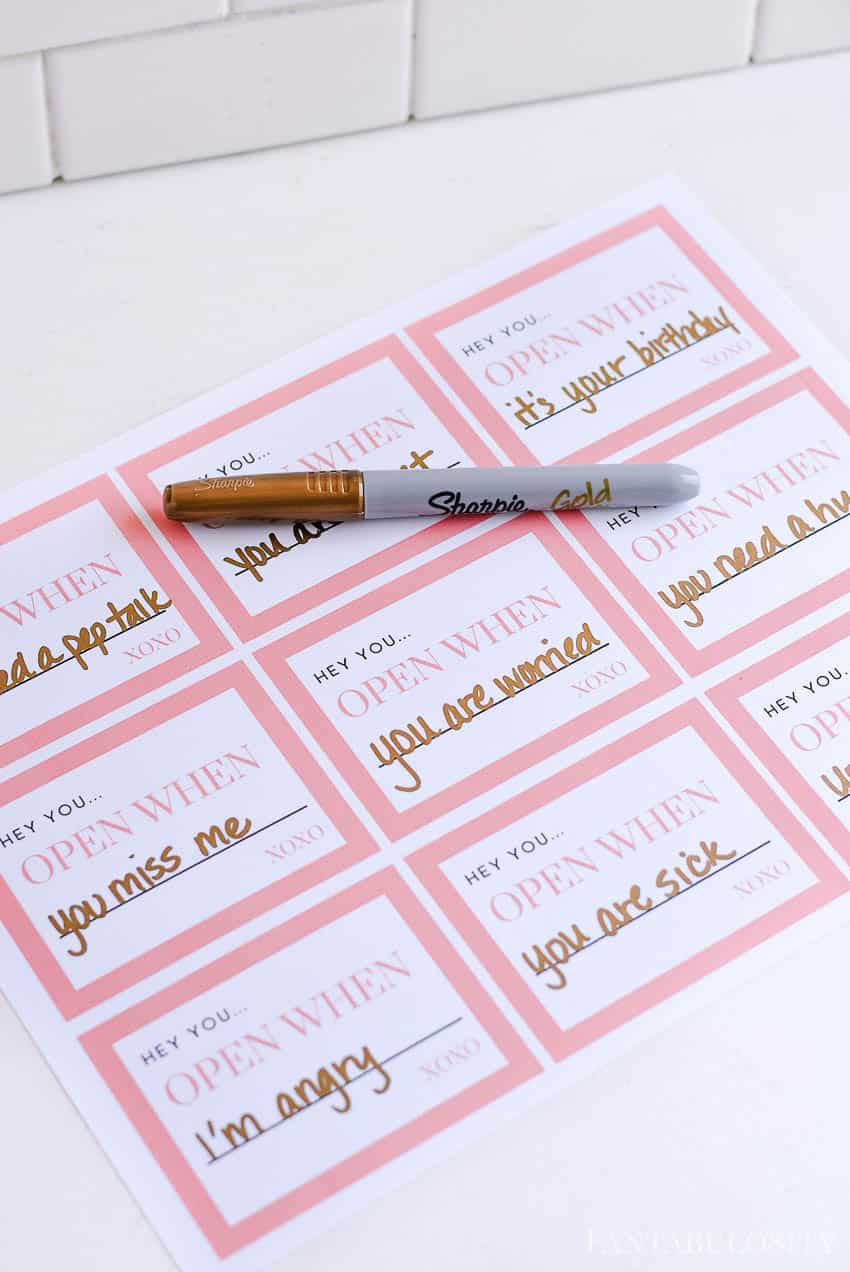 Cut.It.Out.
(Insert the impression of Joey from Full House here. Just me? Ok, sorry.)
Once the cards are cut out, they're ready to glue on the front of each envelope!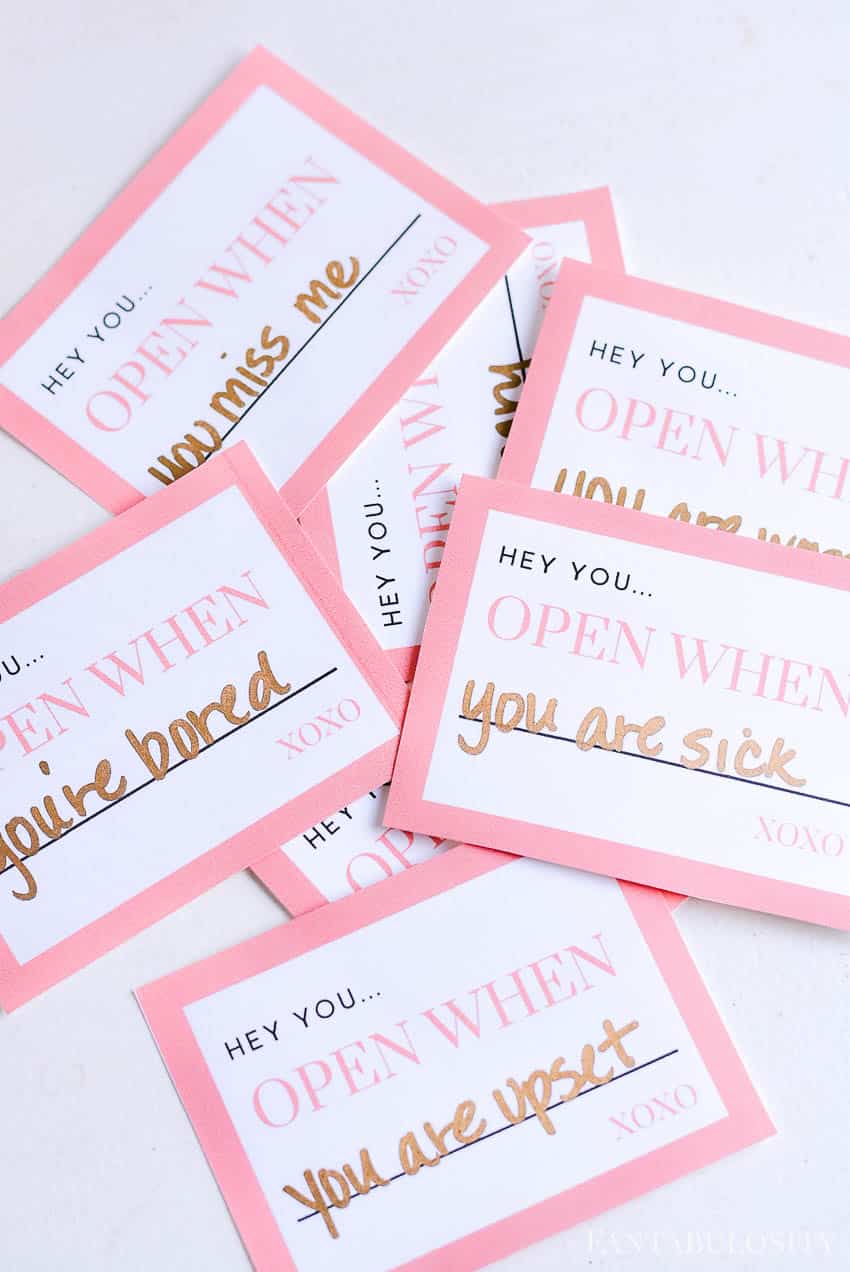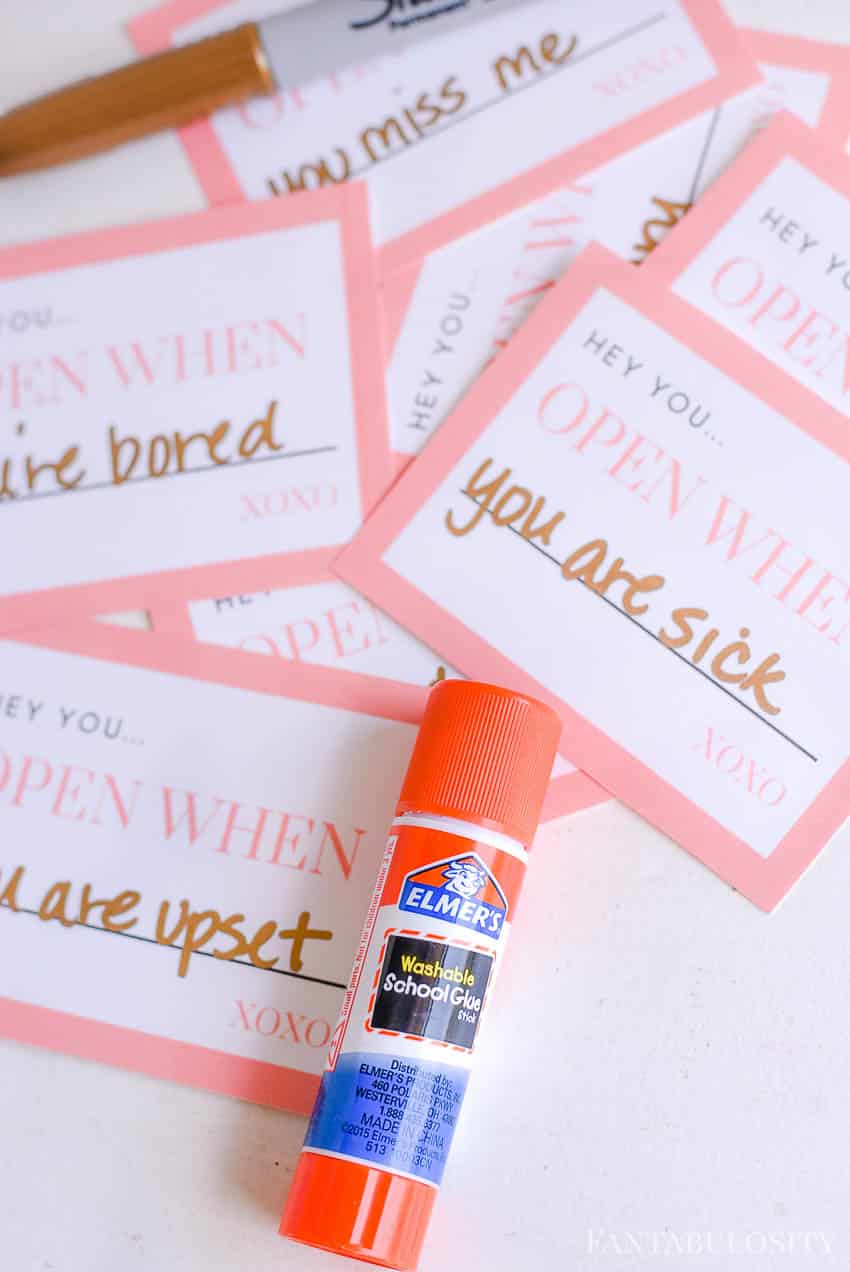 Glue on to the front of each envelope:
I just grabbed a glue stick from my kid's coloring cart and went to town. This worked amazingly well actually and I'd highly recommend it.
I did hesitate using the glue sticks that we had, because they were purple, but I was excited to see that it dries clear, so that made a big difference!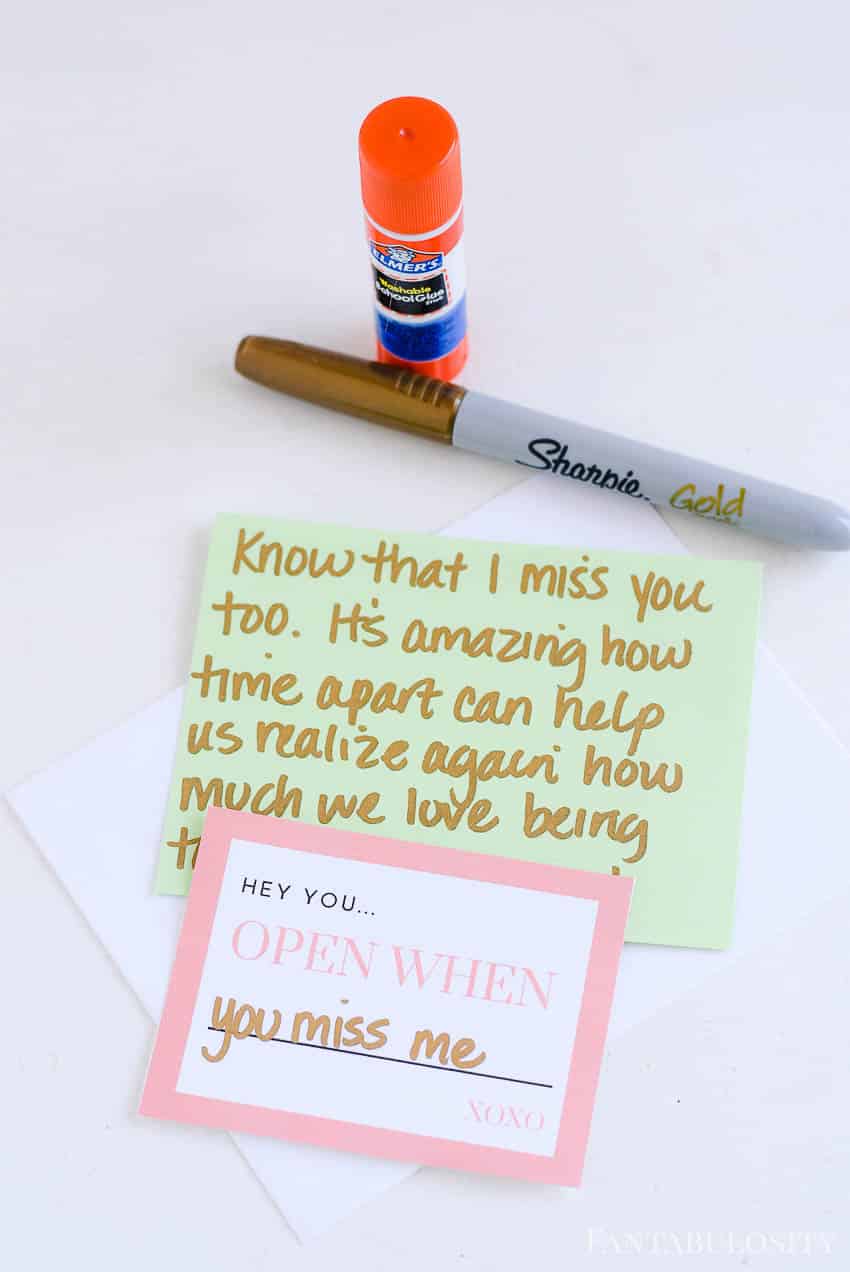 Write a little note for inside:
Once the cards are glued (or taped is fine too) on to the outside of the envelopes, it's time to start writing your sweet love notes to go inside.
I kept mine short and sweet and sealed each letter into the coordinating envelope and it was ready to seal!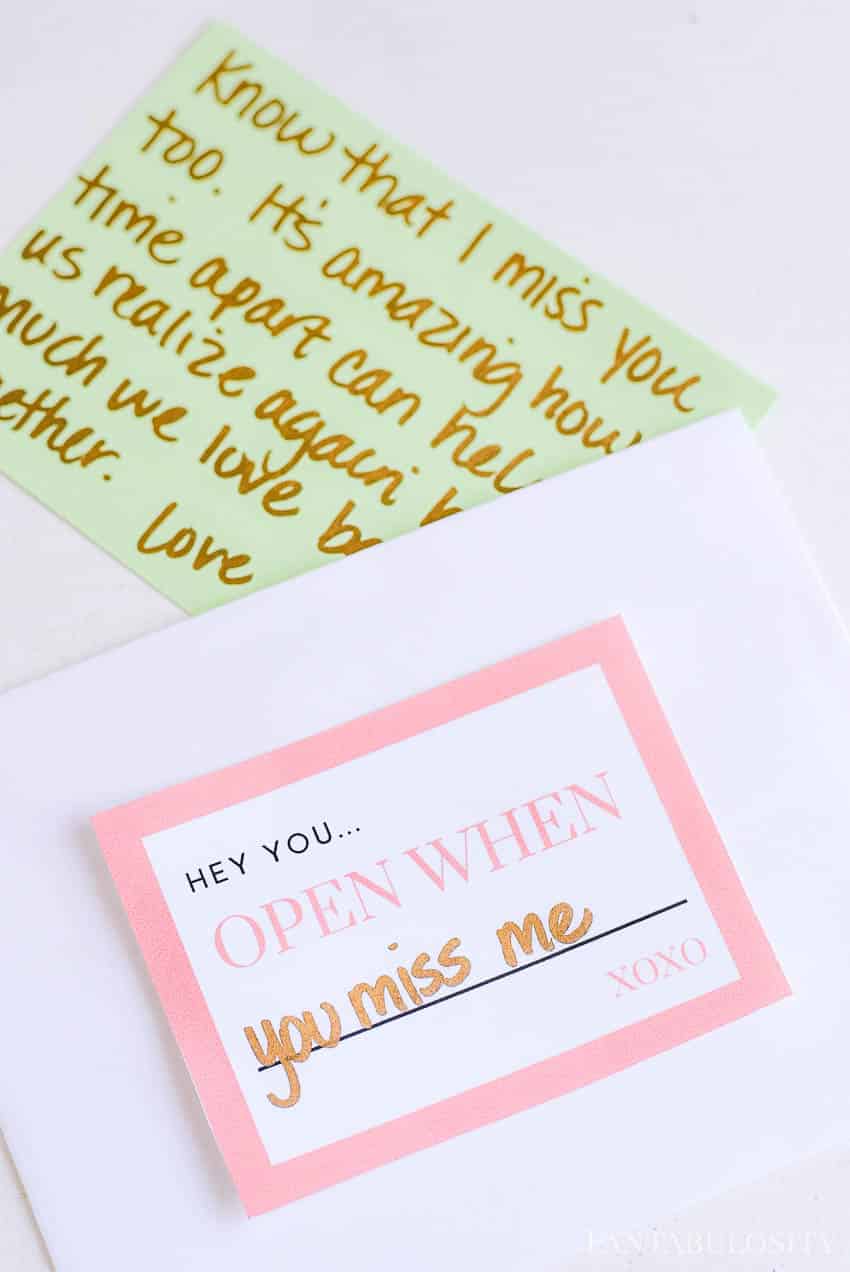 Seal for the perfect time!
After you've inserted your little note into the envelope, it's time to seal and it's ready for them to open when needed!
Box/Bag Them Up!
Although you can give them to your loved one just like they are (or with a rubber band wrapped around all of them) I thought it would be a super cute touch to put them into a cute basket, box or bag.
I even love the idea of putting them in a decorated shoebox, recipe card box, or narrow plastic container with a lid, (almost like a library card file) so they can sort through them easily when they're looking for the right one!
Here are a few fun ideas of what you can put the open when letters in. Just keep in mind you get a size that will work with the size of envelopes that you used!
Card Box Ideas:
The Ground Rules for Open When Letters
Rules? Well that sounds pretty harsh, but let's just say when you're dealing with someone who wants to read them all RIGHT NOW, it may be best to give them some guidelines.
When you first give them this Open When Letters set, you want to start by having an "open first" letter to get the ball rolling.
This should include the "rules" of when to open the letters and how it works. You also want to make your letters in such a way that they won't open them all in one go. Try to space them out the best you can, and let life handle the rest!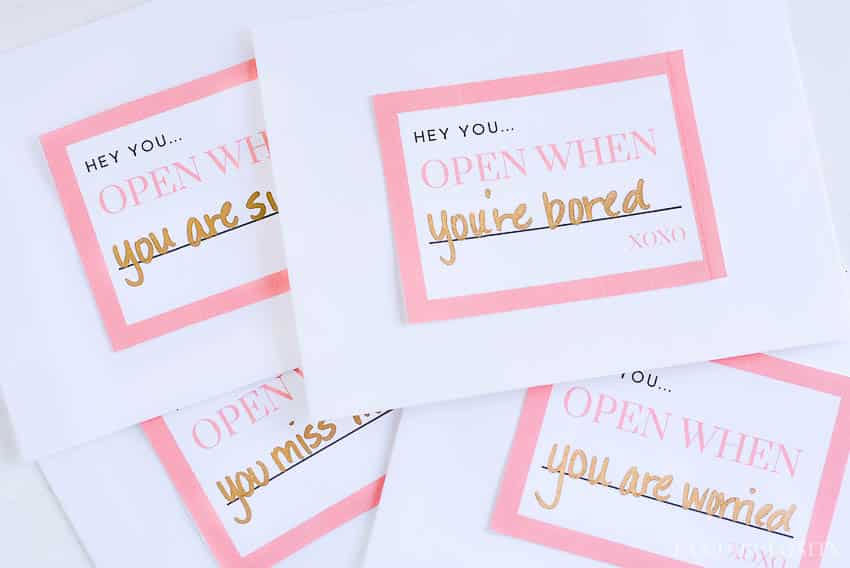 Open When Letter Ideas and Topics:
Here are a few ideas to help you get the ball rolling, and with the "fill in the blank" free printable open when cards that I'm giving you, you have the freedom to choose which cards work best for you and your loved one!
Feel free to fill in your own "open when's" on the cards to really customize the experience!
Open when…
You first get this

You are having a good day

You can't fall asleep

You need a good laugh

You are upset

You are feeling lonely

You feel really far away

You need a reminder of how much I love you

You are worried

You could use a pep talk

It's your birthday

It's our anniversary

You miss me

You are mad at me

You feel bad about yourself

You need a hug

You are sick

You feel like giving up

You've made a mistake

You want a surprise

We've said goodbye

I'm angry

You need to make a big decision

I'm driving you crazy

Someone passes away

You're missing home

It's my birthday

You're stressed out

You're bored

You want to talk to me

We haven't been able to talk in a while

You don't feel loved in a while

It's Christmas Eve

It's New Year's Eve

It's Valentine's Day

It's [insert favorite holiday

]

You're feeling nostalgic

You've forgotten what I smell like

You're nervous

You're embarrassed

You're thinking about the future
The Perfect Love Letter Ideas
Open When Letters can be a thoughtful and sweet way to show your spouse that you love them. Instead of trying to come up with the right words on the spot, prepare these letters ahead of time so you can say the right thing at just the right time.
Do you have a fun "open when" letter idea? I'd love to hear it below in the comments!