Wine Bottle Craft: Vase DIY Tutorial – Such a fun way to make crafts using wine bottles. Create a vase for home decor or for party centerpieces.
I have a LOT to learn in the creativity department of repurposing, but it's slowly becoming a thing for me. The idea of taking something that would normally be thrown in the trash, and turning it in to something that can be beautiful for a party tablescape or as home decor… really tickles my fancy.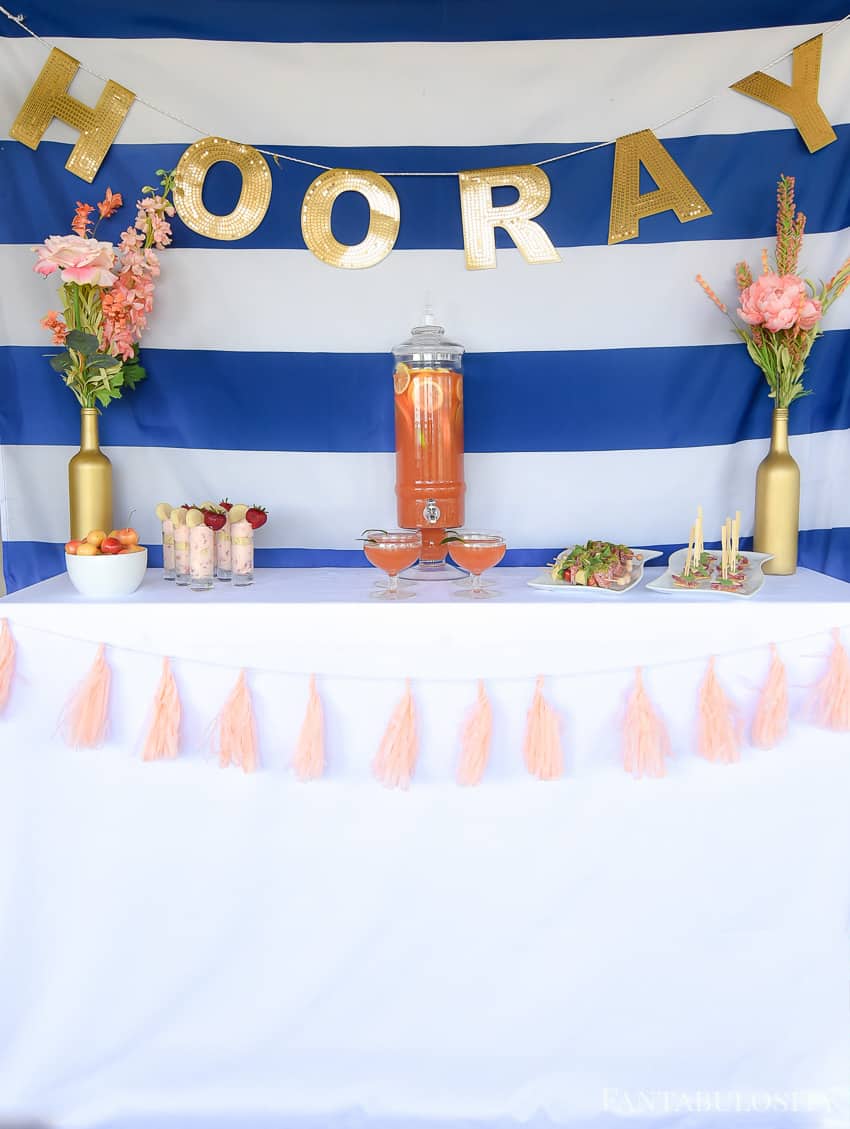 Wine Bottle Craft: Vase DIY Tutorial
When my gal pal Kate came over the other day, we started thinking about ways we could tie in the color "gold," to the Summer Soiree Party that we styled for Columbus Craft Meats last month. Somehow, no matter the topic, our minds tend to lean towards the subject of "wine."
So when the idea of using a wine bottle as a vase with big, beautiful flowers in it for the party table came up, it was a no-brainer!
Since I'm incredibly lucky to be a part of the Make it Martha team on Martha Stewart, I had the PERFECT Metallic Gold Martha Stewart Crafts® paint in my craft room, and I knew it would look incredible brushed on to the wine bottle.
Wine Bottle Vase Tutorial: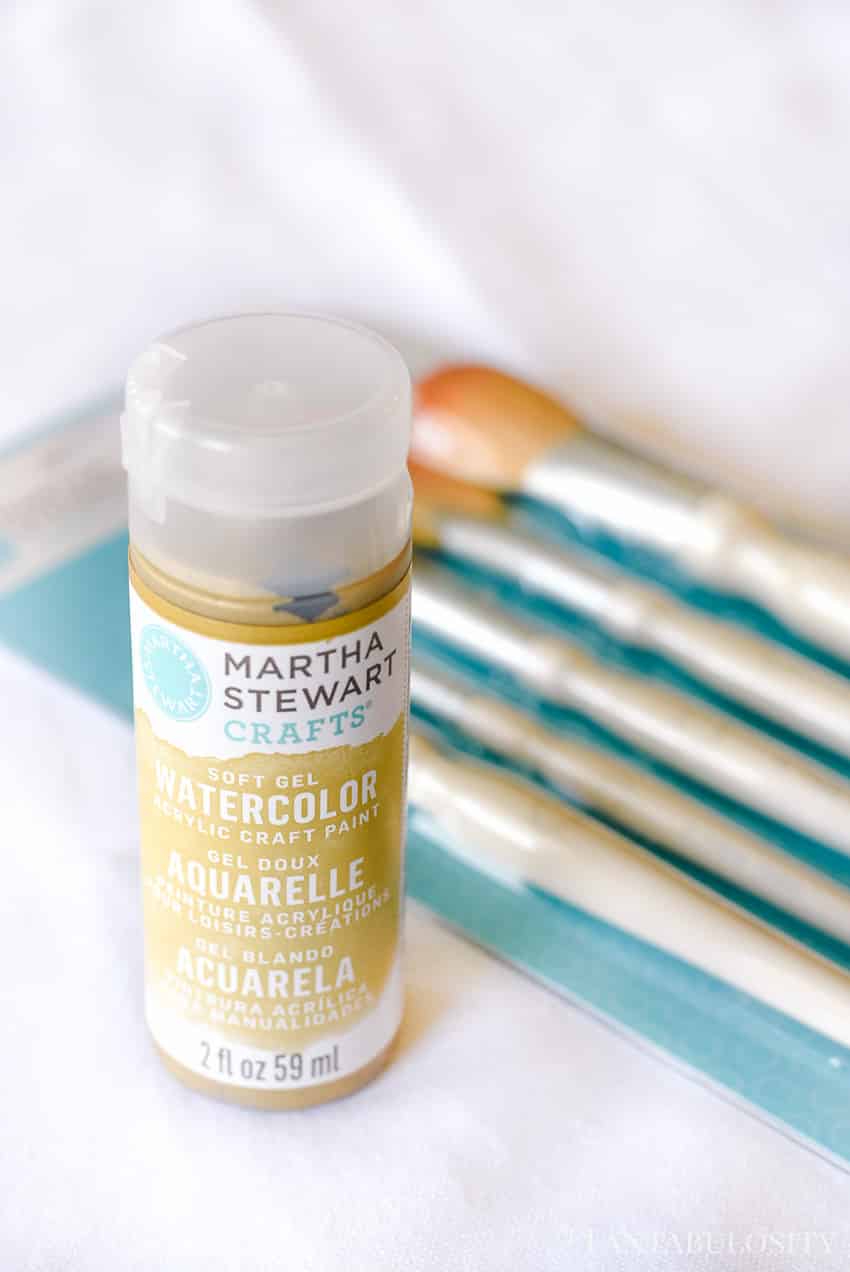 Paint + Brush
For this craft, we used the Metallic Gold Soft Gel Watercolor Acrylic Craft Paint, because it works great on glass. Then, to paint it on, we used one of brushes from the Martha Stewart Crafts® Watercolor Brush Set. Friends, if you haven't tried any of the paint brushes from the Martha Stewart Crafts® collection, do it. I never thought that the quality of a brush really mattered… until we tried these. ESPECIALLY the stencil brushes that we used on the flamingo drink tray and nautical anchor pillow.
You can pick the paint and brushes up (along with other amazing products) at Michael's HERE.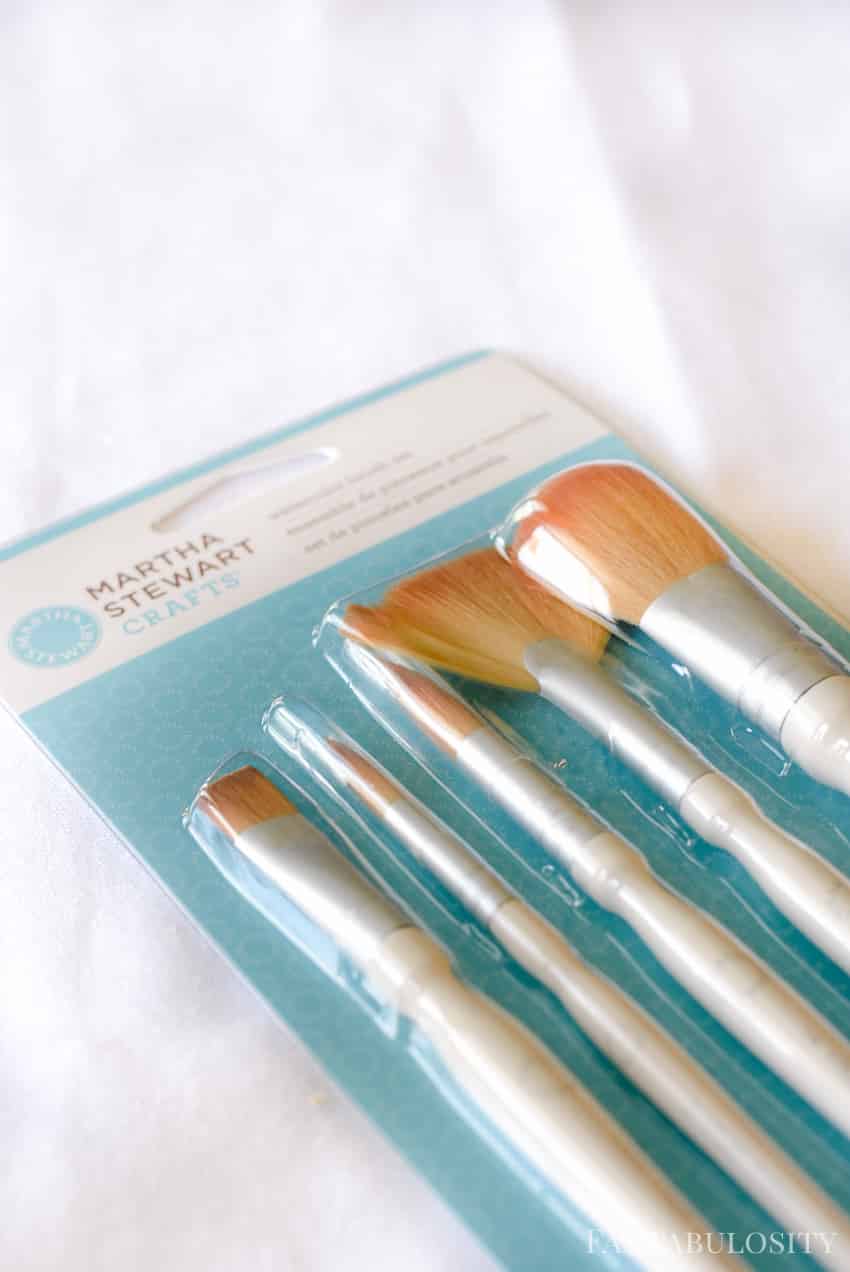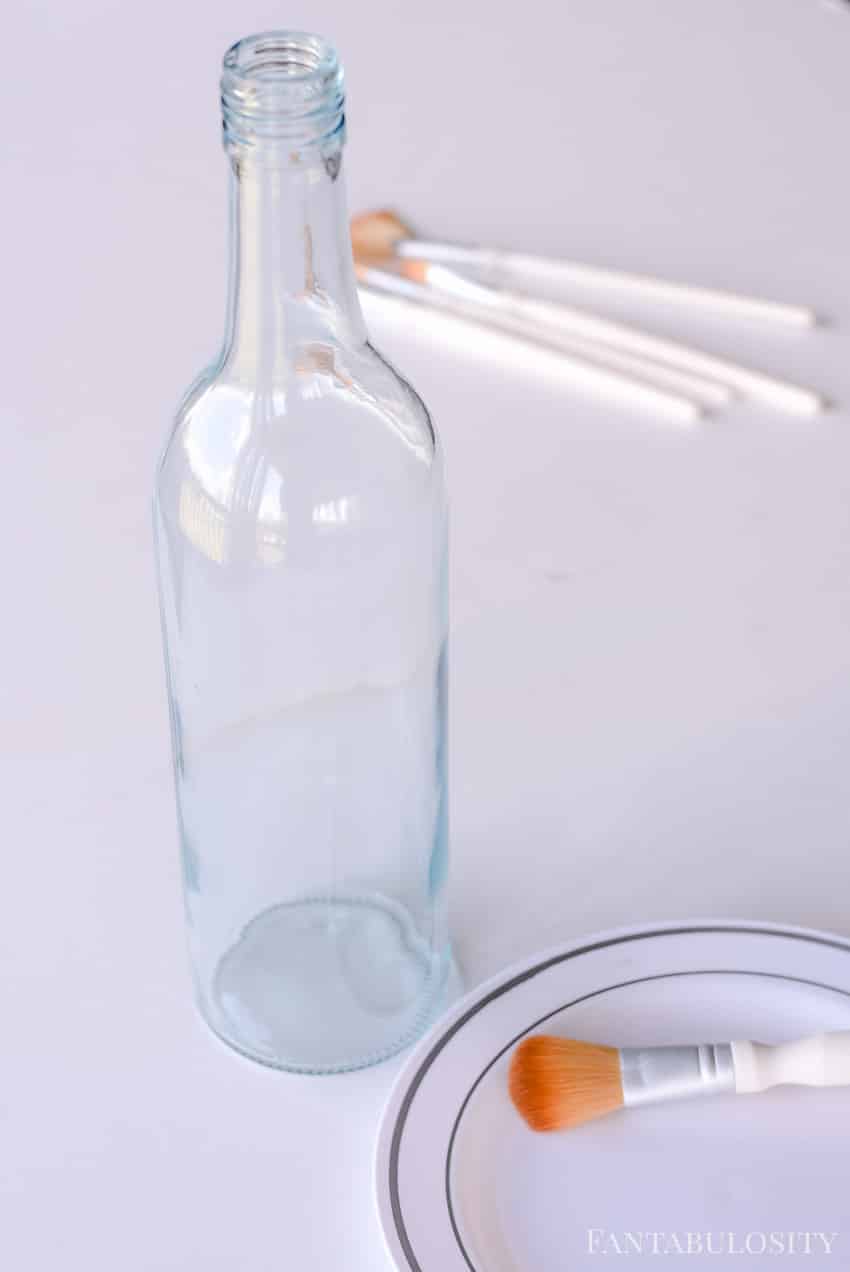 Wine Bottle Transformation:
Step 1: Drink the wine out of the wine bottle. All of it. (Haha… totally kidding. Kind of.)
Step 2: Remove label. Clean the bottle, inside and out. Making sure to remove any glue left from label.
Step 3: Pour a small amount of the paint on to a disposable dish, like a paper plate. This paint can go a long way, so start with a small amount.
Step 4: Starting at the top of the wine glass, begin brushing paint strokes down the bottle.
We opted for a "sheer," brushed look on the bottle, instead of fully covering the bottle, and LOVED the way it turned out. But you can do more of a fully covered look if you prefer!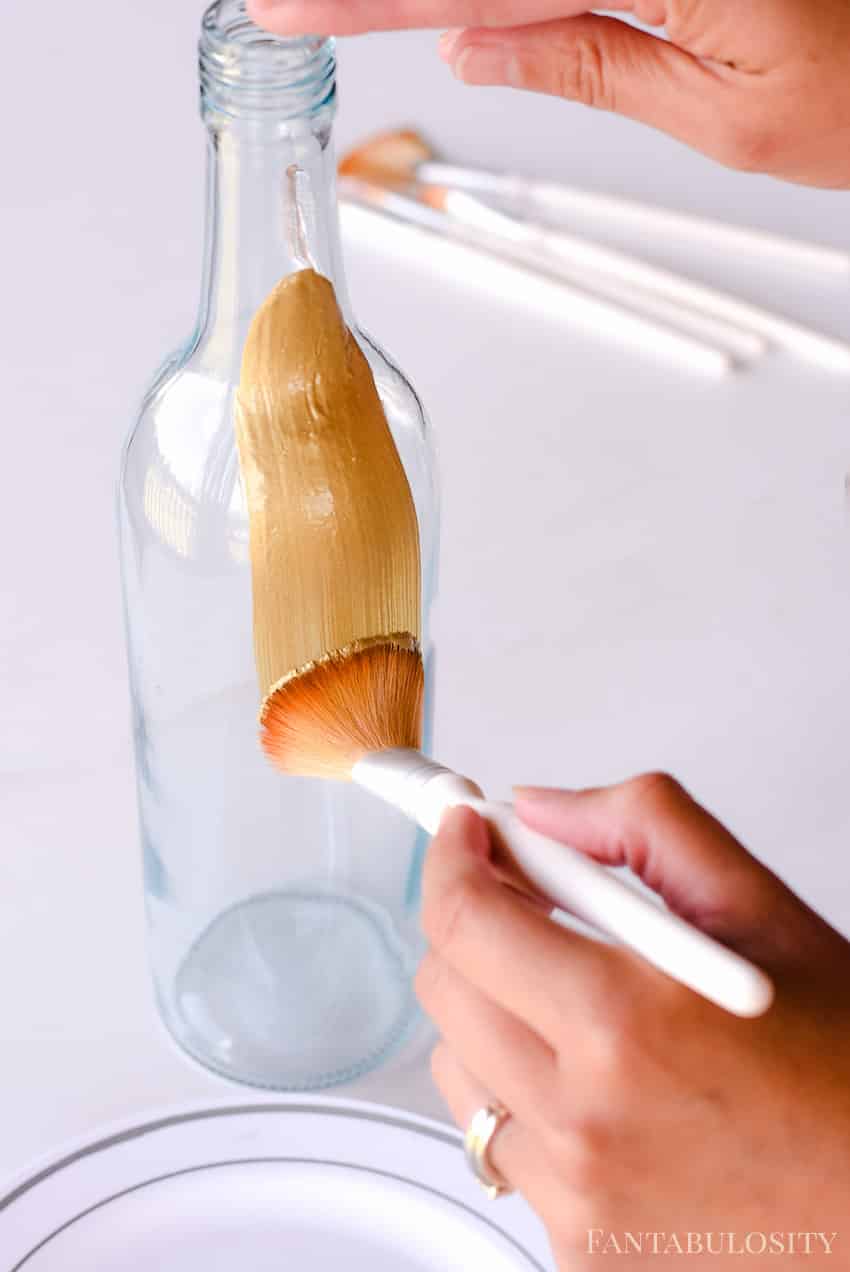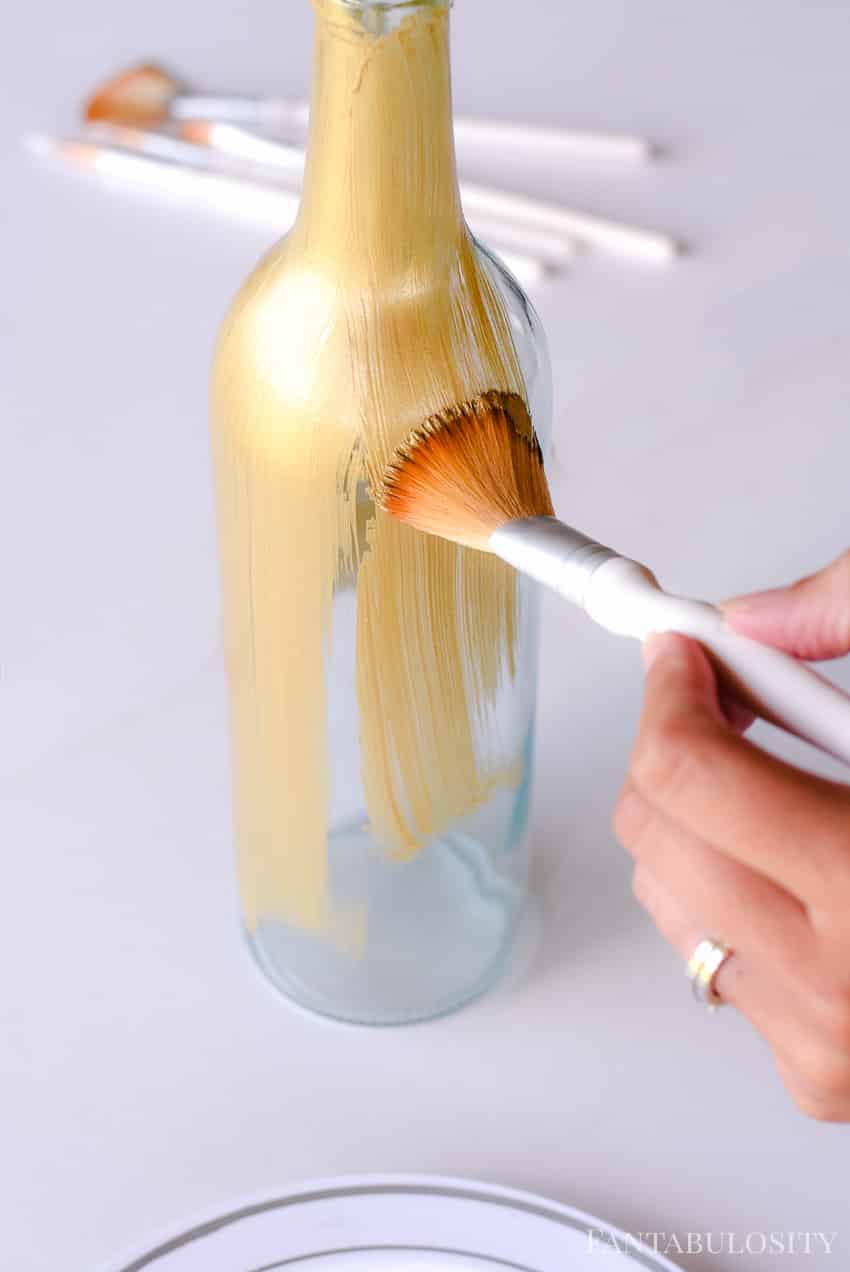 The wine bottle vase was dry in no-time, and ready for flowers! We ended up making two for the Summer Soiree Party, but we now have them placed around the house for an added touch of gold decor.
What Would Make This Craft Even Better?
Host a wine and craft night with your girlfriends, and serve wine from the new Martha Stewart Wine Co.! Have you heard of this? I'm super excited to try it! For party ideas for your own wine and craft night, browse our latest parties HERE!
Then, for more crafts and DIY ideas, head over HERE for more inspiration!