Winery Tour Survival Kit, Favors & Friends Day Out: Perfect for a bachelorette party, girls night out, or any event where a group's getting together for some winery fun!
It's rare when a large group of us can get together for a girls night out. Make it a "couples night out," and it gets even rarer.
We are known for having an abundant supply of wineries at our fingertips. So when we all get together, we know a winery tour, MUST be on the agenda.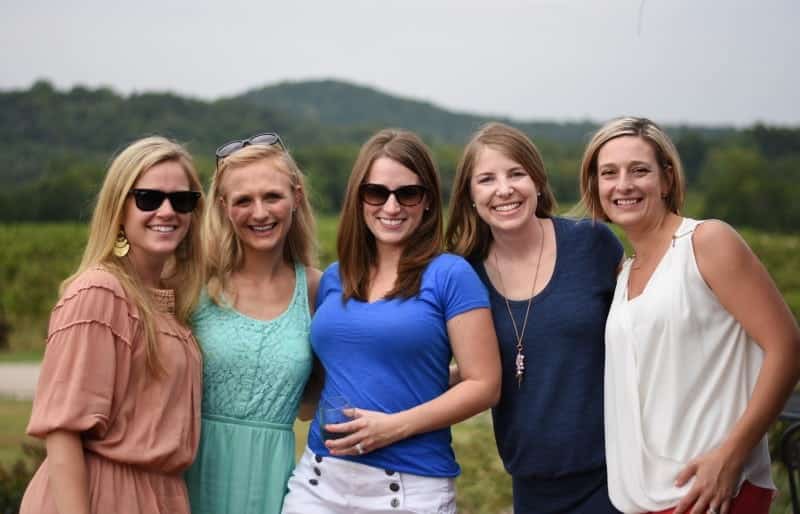 Winery Tour Survival Kit and Favors
The minute I knew all of us were getting together for a winery tour, I started getting the "itch," to do something creative for them. All of these people are so special to me, so I wanted to show them a little love by giving them a small little, "Got ya covered," items, in their winery day favors.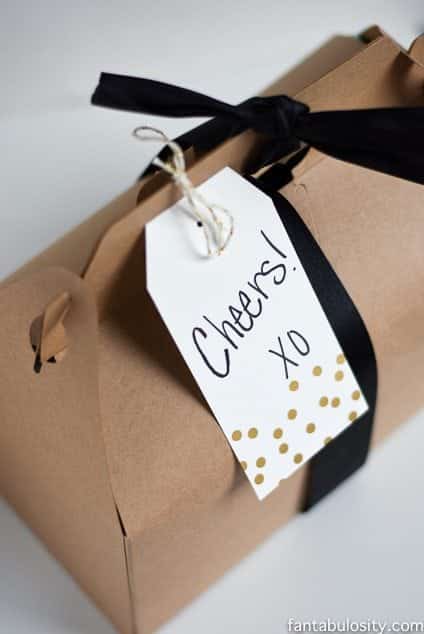 I found these super adorable boxes & tissue paper from my favorite party supply store, Shop Sweet Lulu.
You see, we are all fairly new moms and dads, and I had a feeling we were going to be "go hard," and make the best of it.
So each couple received a Winery Tour Survival Kit.
If you've never been on a wine tour, you may not know that the wine "tastings," can get a little fuzzy after the first stop. 🙂 So I knew that I wanted to fill the boxes with small snack foods, that would pair well with wine & would be a great service after the wine tour. 😉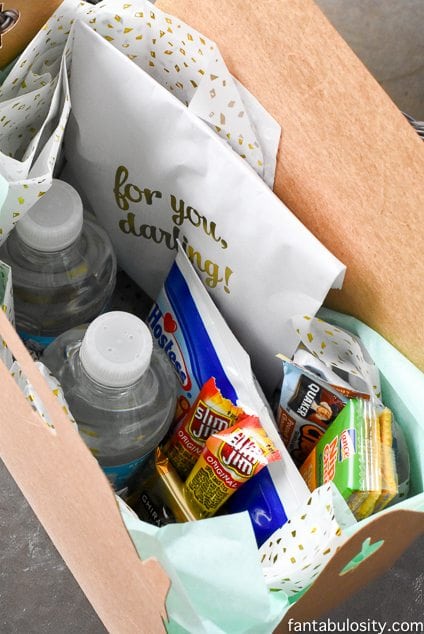 • Chocolates, beef sticks, & cheese crackers.
• Water to rehydrate (that wine can really make you thirsty!)
• Mini Muffins & granola bars for breakfast the morning after.
• A small container of pain relief meds for that pounding headache the next morning.
• and a special little somethin' somethin' for the couples who may not be ready to add a new addition to their family any time soon, that's hidden in that little white bag. 😉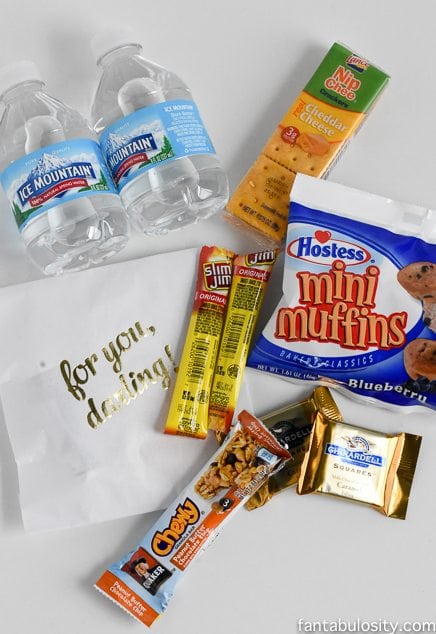 So what's in that little white bag you ask?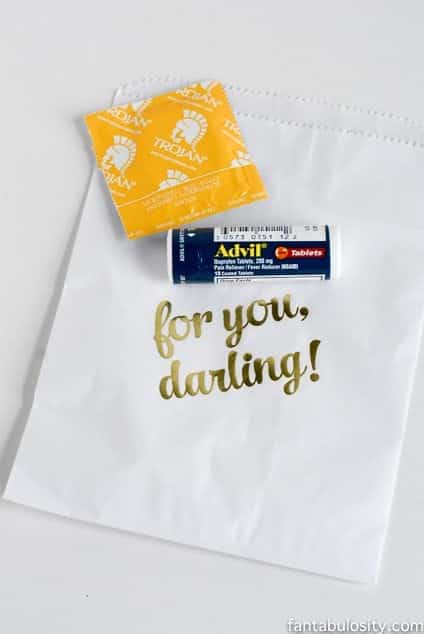 I think my friends were a bit shocked when they opened the bag. (But I'm sure the husbands were secretly grateful.) 😉
I bought the super cute little white bags from Shop Sweet Lulu too.
Winery Snacks
Remember my White Chocolate Lemon Puppy Chow? I made a big batch of this for the whole group to snack on, while we transitioned from winery to winery. I already had these boxes in my (ahem) craft closet, or… craft throw-up closet.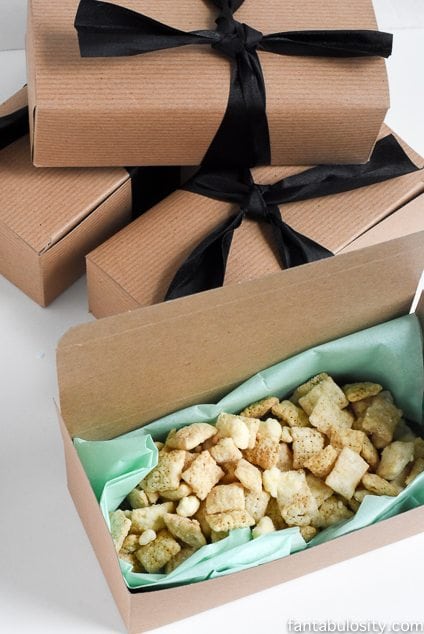 Winery Transportation Fun
How did we transport to each winery? This is possibly my fave-o-rite part…
Our friends offered up their RV, so we could hire a designated driver, and all transported together! THIS… my friends… is the way to do it.
One of my cuter, than cute… friends, opening up her party favor for the day.

We are also super lucky, that most of the wineries around here, also brew their own beer. So the people who aren't the biggest wine fans, and prefer the brew… can kick back, and have a drink too.
I even got to hang out with THIS guy (my hubby) all day, and that wasn't too shabby.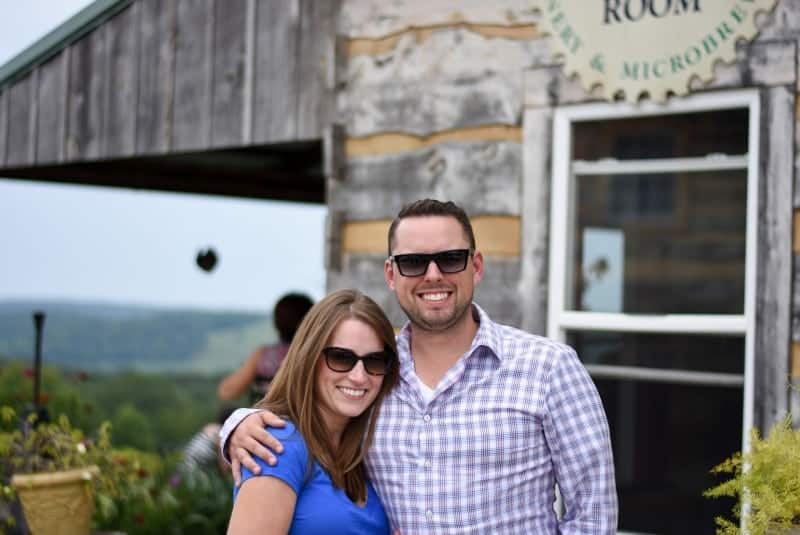 I found the most ADORABLE balloons at Shop Sweet Lulu and although we weren't celebrating any special event, I had to get them. Besides, it should be a celebration that we were all able to get together with all of our crazy schedules!
"Let's Party," "Party On," & "Cheers"

If you're going on a wine tour soon, and looking for party favors, I totally recommend this Winery Tour Survival Kit. But don't forget to make yourself one… you'll need it. 😉