Air Fryer Chicken Legs: A recipe showing how long to cook and even an optional quick (no-flour) breading recipe that's perfect for low-carb eaters!
Air Fryer Chicken Legs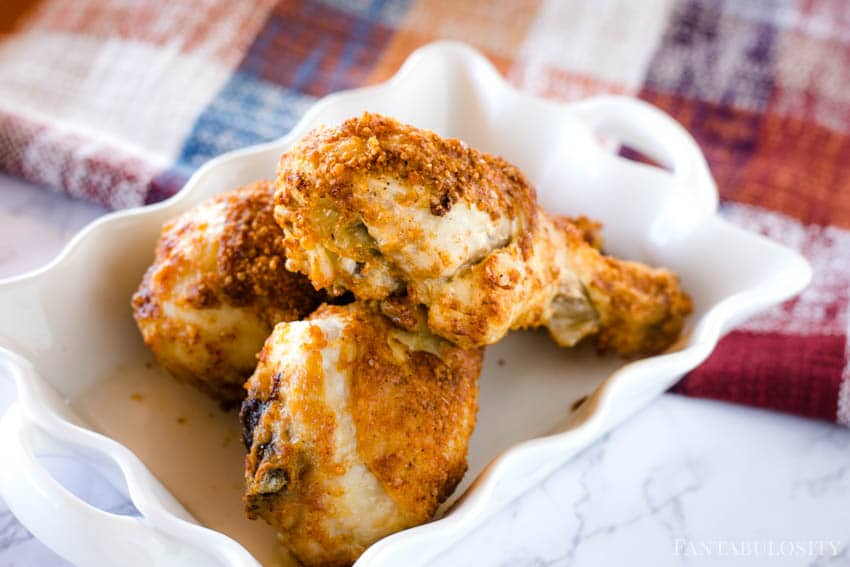 Oooooh my goodness. Don't you just love it when a recipe accidentally turns out to be a new favorite in your house?
Well chicken legs in the air fryer are just that in our home.
After making a pit stop at the grocery store the other day and seeing that they had a huge pack of these bad boys on sale for only $3.99, I thought to myself,
I WILL find something to do with these! How can I pass this kind of deal up?!
So to home I went and I sat and stared at these little beauties trying to figure out what in the world to do with them. (I'm kind of a rebellious cook and I tend to try and do things that are not the "norm".)
Then it hit me… that air fryer I have has been my saving grace for so many things. Things like air fryer hamburgers, bacon, s'mores, brats, and the list goes on!
Need an air fryer? This Chefman air fryer is our favorite!
So why wouldn't an air fryer work for chicken legs too? Well, they did, and I'm in hog heaven.
The only sad part was, that even though the pack of chicken legs was HUGE, we ran out at dinner time because my youngest ate all of his legs and asked for the rest of mine. So to say it's "kid-friendly" is an understatement.
Quick Tips:
What's the Difference in Chicken Legs and Drumsticks?
According to LBC, a chicken leg has two parts to it. A thigh and a drumstick. But I often see/hear most people call the drumstick a "leg".
Do you have to use flour to fry chicken legs in the air fryer?
No! That's what's great about this recipe. They're made without flour but still have a crispy, crunchy texture and it's perfect for low carb (keto) eaters!
How Long to Cook Chicken Legs in the Air Fryer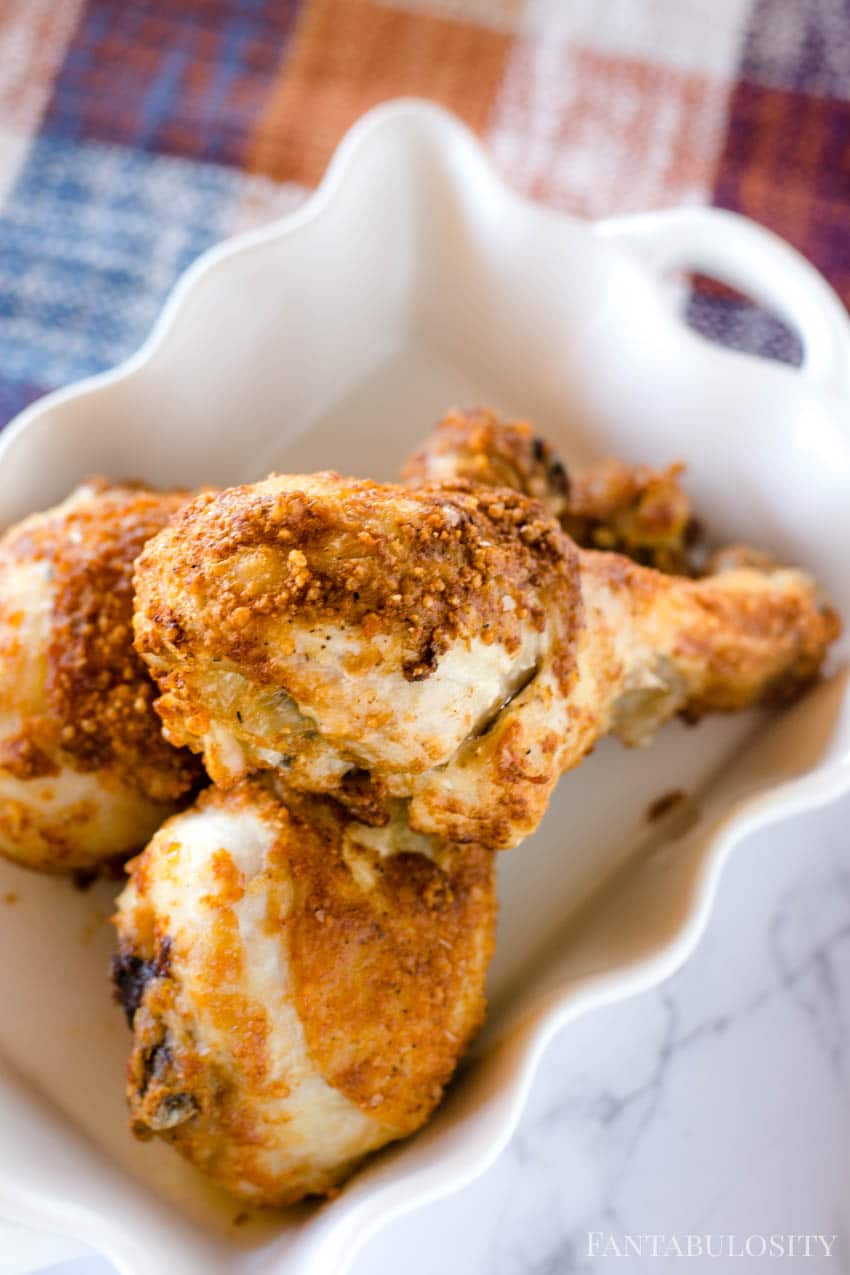 If you're planning on making these too, know that all air fryers can be different. With my air fryer, I cooked them at 400° for 20-25 minutes. When you're cooking them, make sure to check the internal temperature to see if they have reached 165°.
Chicken Legs in the Air Fryer with or WITHOUT Breading:
It's really easy to toss chicken legs in to the air fryer and cook them as plain as you like them, WITHOUT breading! The cook time will not change but you may just want to put some sort of olive oil or something similar so they don't stick to your air fryer "rack" or basket, depending on the model of air fryer you're using.)
Garlic Parmesan "Breading" or BBQ Chicken Legs
Or, if you're interested in the "breading" see the recipe card or video below for the different ways I seasoned and/or breaded them!
Chicken Legs in the Air Fryer Video Tutorial:
While experimenting with these chicken legs the other day, I shared with my Instagram audience in my stories and I thought it may be helpful for you to watch along. Feel free to skip down below to get the recipe card asap!
NOTE: In the video, I split the batch of chicken legs, and cooked half with a garlic parmesan butter "breading" and the other half with a bbq seasoning/sauce.
Recipe for Garlic Parmesan Chicken Legs – Low Carb!
To get this "golden brown" chicken leg, like you see below, it's incredibly easy and is also "low-carb" so when something looks this good AND is an ideal option when cutting carbs… that's a "win" in my book!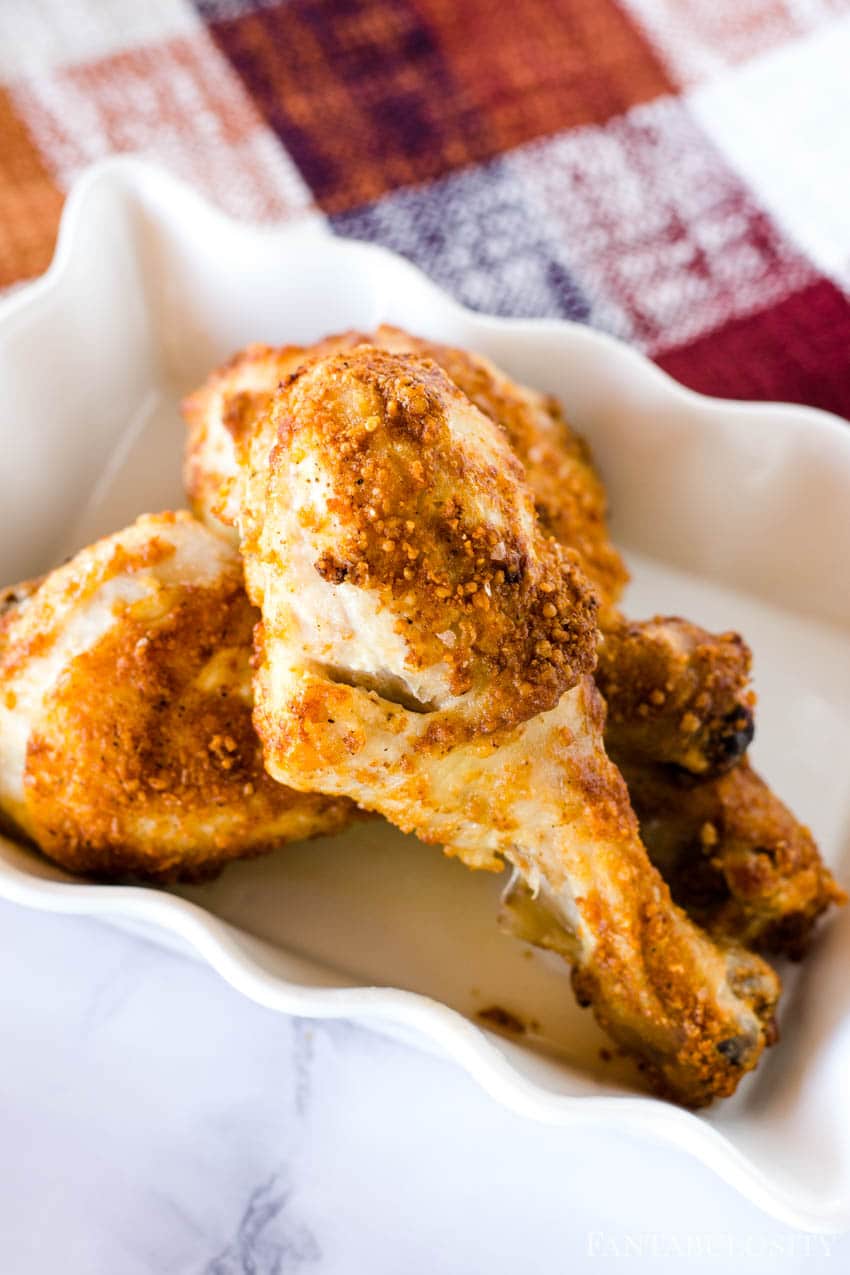 Ingredients for Garlic Parmesan Legs
It's super easy, all you'll need for this version is,
butter (melted, but not hot)
garlic powder
parmesan cheese
salt and pepper
chicken legs
For the full recipe and amounts of ingredients, see the recipe card below!
"BBQ" Air Fryer Chicken Legs
In the video that I shared above, I mentioned that I was also making bbq chicken legs. With that, I attempted to whip up a bbq sauce that a dear friend shared with me but using just regular, store-bought bbq sauce is perfectly fine!
But if you'd like to try making a fun spin on bbq sauce, you can play with the following ingredients to see if you like the combo my friend uses:
Sweet Baby Rays (Original)
Honey
A1
Garlic Pepper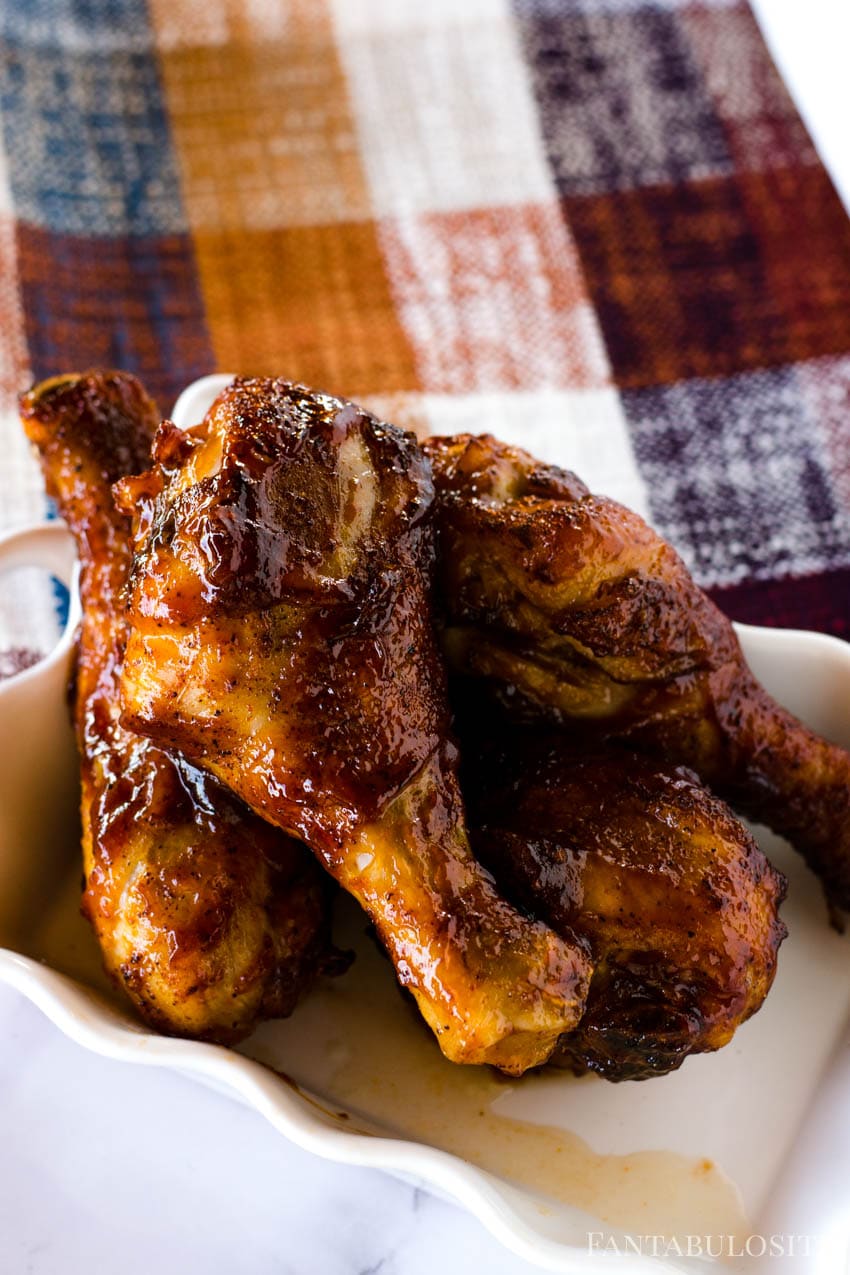 To make bbq legs, you'll want to cook them withOUT BBQ sauce for at least 20 minutes and then coat them in bbq sauce and cook for the remaining 5 minutes.
If you cook with the sauce on, the sauce can burn.
Can I just coat the legs with sauce after the total cook time?
You can, but there's something so magical about cooking them IN the sauce for the last few minutes. It gives the legs a "sticky" texture and really lets the flavoring soak in to the chicken.
Side Dishes to Serve with Chicken
If you're looking for something to serve as a side dish with these chicken legs, we love the following:
Air Fryer Chicken Legs
Air Fryer Chicken Legs: A recipe showing how long to cook and even an optional quick (no-flour) breading recipe that's perfect for low-carb eaters!
Ingredients
8

chicken legs (drumsticks)

1/2

cup

grated parmesan cheese

1

stick

butter

salted, 8 tablespoons

1

tbsp

garlic powder

1

tsp

salt

dash

pepper
Instructions
NOTE: I have purchased LARGE chicken legs before, and the measurements in this recipe only covered 3 chicken legs and the cook time of 20 minutes was not nearly enough. So reducing the temperature of the air fryer and cooking for a longer period of time may also be necessary if using large chicken legs. (A temperature of 400 degrees may burn the butter/parmesan crust if cooked at a high temp for too long.)

Melt butter in shallow dish and add in parmesan cheese, garlic powder, salt and pepper.

Place chicken legs (in a single layer, do not stack on top of one another) in to air fryer.

Cook on 400 degrees for 20-25 minutes. 

Air fryers can be different. Make sure internal temp of chicken legs have reached 165 degrees.
Notes
For PLAIN (no garlic parmesan) you can simply cook the legs in the air fryer without the spices and seasonings. NOTE: you may want to coat the legs in a little olive oil to prevent sticking.
For BBQ Chicken Legs, see notes in blog post for tips to make them the best!
Nutrition
Serving:
2
legs
Calories:
408
kcal
Carbohydrates:
1
g
Protein:
24
g
Fat:
34
g
Saturated Fat:
14
g
Cholesterol:
156
mg
Sodium:
596
mg
Potassium:
284
mg
Fiber:
1
g
Sugar:
1
g
Vitamin A:
526
IU
Vitamin C:
1
mg
Calcium:
84
mg
Iron:
1
mg
For Dessert?
If you're an avid air fryer user, then you may want to whip up these air fryer smores afterward too!
Pin this Image Below, to Your Pinterest Boards to Remember!