The Best Chicken Noodle Soup Recipe – Quick and Easy: "This is the BEST Chicken Noodle soup I've ever had," said her husband. Plus a weeknight meal that's healthy and delicious!
So you may have noticed a trend by now around here. I have about 5 recipes in the Fantabulosity archives, that start with "The Best." (The BEST Guacamole Recipe, the BEST Side Salad Recipe, the BEST Beef Tenderloin Recipe, The BEST Punch Recipe)
But I want you to know that I do NOT take this term lightly, and only apply it to those that I (we) truly think are the best. And you can pretty much count on there being a story of why I think each one is the best version.
There are other recipes in Fantabulosity recipe "land" that I think are super delicious, but only those that leave people pausing to say,
Jessica, I kid you not… this is the best "X" I've had.
get the honor of the title "The Best," around here.
Best Chicken Noodle Soup Recipe: Quick & Easy
So homemade chicken noodle soup is all the same, right? Oh heavens no. For YEARS I've wanted a chicken noodle soup recipe that would almost beg someone to get sick, just for an excuse for me to make it for them. I'm happy to say that I think this is IT. Now, I have to give major "props," (do people still say that) to my right-hand gal, Kate…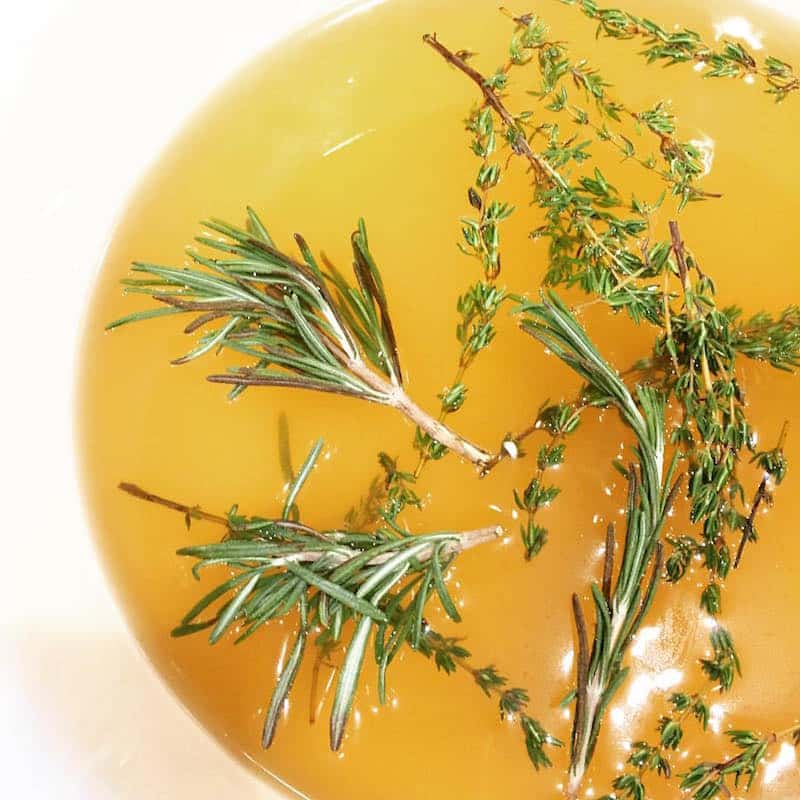 She's a whiz in the kitchen (has actually even owned and ran her own food truck before) and helped me through this recipe the other day. I had the broth in the pot, the fresh herbs added, chicken and veggies sautéing, and I called her with a…
Ok, give me a run down on what spices you think should go in this chicken noodle soup recipe?
So in a quick minute, she named off her favorites, and just 30 minutes later, my husband took his first bite and proceeded to tell me 3 times,
Jessica, I'm not kidding. This is the best chicken noodle soup I've ever had.
Score! Time to share it with you all!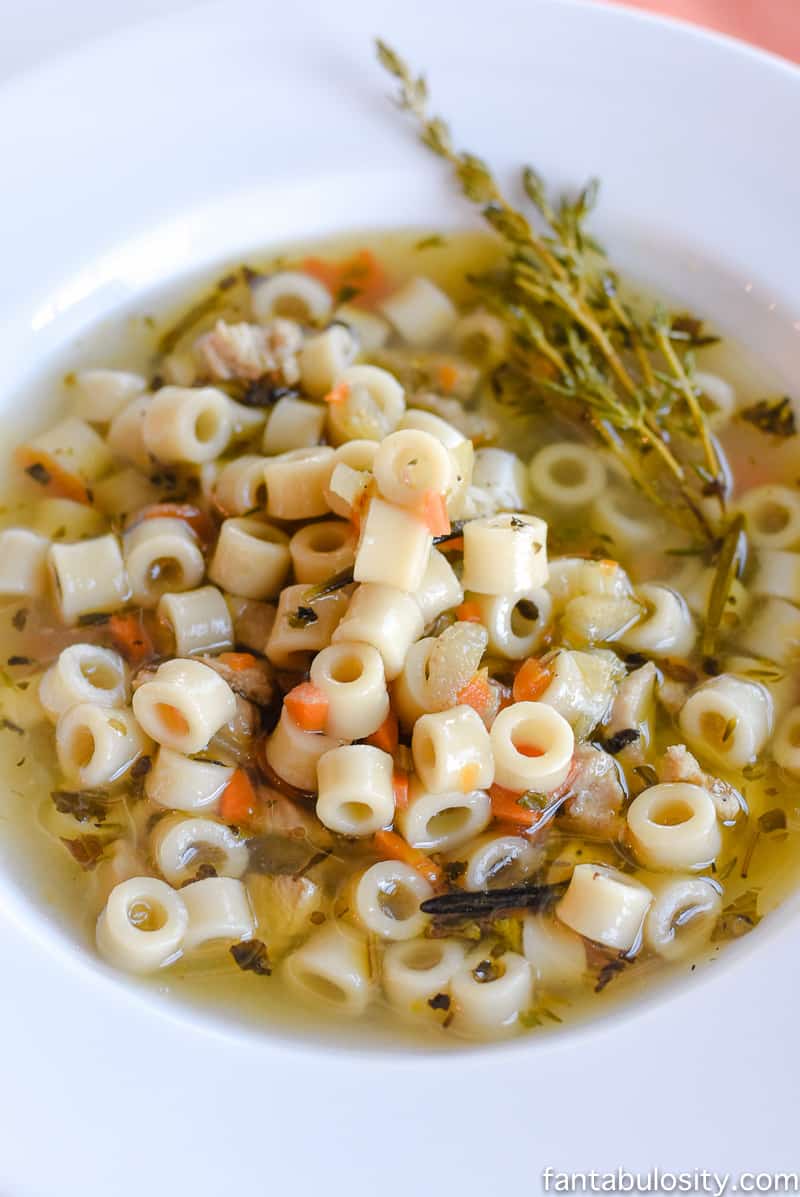 Why I love it SO much:
• It's a healthy soup recipe that can be great on a diet.
• It can be doubled/tripled and put in the freezer for quick lunches or dinners during the week.
• It's so quick and uses a lot of items on hand that can be made last minute for someone feeling under the weather.
• It's not egg noodles. Yes, you can use just about any noodle that you like…and I know egg noodles are used in chicken noodle soup a lot but ditalini pasta is bite-size and so great for the spoon! We do use egg noodles in chicken and noodles though!
• Don't be intimidated by the fresh herbs. I know when you're new to cooking, or heck, even just see fresh herbs in a recipe, it's easy to think that's it's too "fancy," or too "time-consuming," for you. But adding fresh herbs can add SO much flavor to something, in an incredible way. I didn't believe it until I tested it myself.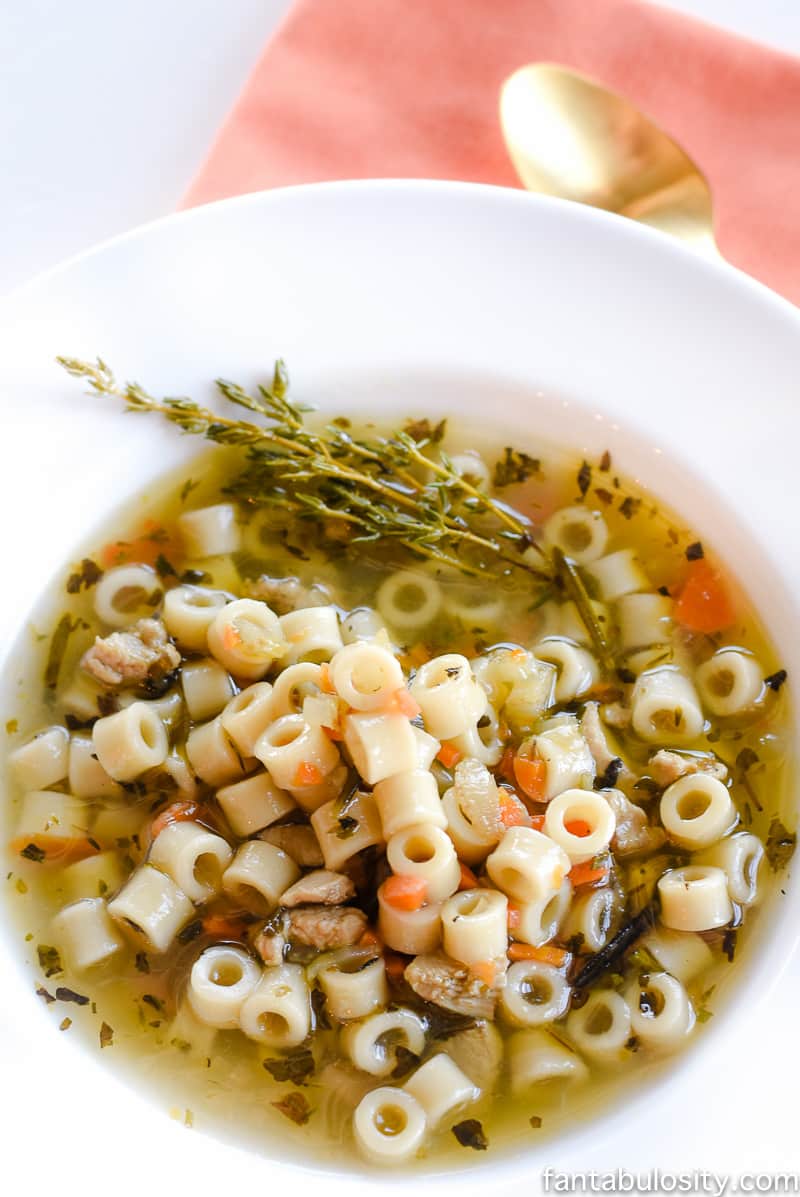 Now, along with every other recipe here on the blog, you can count on it being incredibly easy. I'm a mom of two little boys and a husband that loves for me to sit down with him in the evenings so we can have our family time. So a big time-consuming meal doesn't happen around here during the week. On Sunday's, yes. But that's also when my husband usually chips in with the cooking, and we make it an event.
So this chicken noodle soup recipe is NO different. It's incredibly quick and easy and fits right in with our weekly menu plan. Would you believe that my picky eaters even eat it, and ask for it?
PRO TIP: Cook chicken breasts in the slow cooker and keep it in the freezer for quick meals like this soup!
📖 Recipe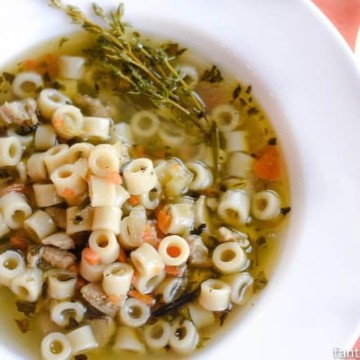 Easy Chicken Noodle Soup Recipe
This chicken noodle soup recipe is perfect for weeknight dinners. Fresh herbs, pasta, vegetables, and chicken are combined to make this aromatic and delicious soup recipe.
Ingredients
6

cups

chicken broth

10

sprigs fresh thyme

4

sprigs fresh rosemary

1

Tablespoon

basil

1

teaspoon

garlic powder

1

teaspoon

onion powder

2

bay leaves

1

teaspoon

pepper

1

teaspoon

kosher salt

1

teaspoon

parsley

1

teaspoon

oregano

2

carrots

chopped in to small pieces

2

stalks of celery

chopped in to small pieces

4

Tablespoons

olive oil

1

cup

Ditalani pasta

1-2

chicken breasts

chopped in to small pieces

1-2

cups

water

optional
Instructions
In a stock pot, combine chicken broth and all spices, and heat over low-medium heat.

In a separate saucepan, saute carrots and celery in olive oil over medium heat for 15 minutes.

Add in chicken breasts (sprinkle with additional salt and pepper; optional)

Cook an additional 5-10 minutes until chicken is cooked through and veggies are tender.

Add chicken/veggie mixture to the soup base.

Add in noodles about 10-15 minutes before serving.

Remove bay leaves and sprigs of rosemary and thyme. (It's ok if some of the herbal leaves have broken off into the soup. It will just add a bit more character.)

For a thinner soup, add in 1-2 cups water once the noodles have softened. (Noodles will soak up most of soup base.)
Nutrition
Serving:
1
serving (1/8 recipe)
|
Calories:
162
kcal
|
Carbohydrates:
13
g
|
Protein:
8
g
|
Fat:
8
g
|
Saturated Fat:
1
g
|
Cholesterol:
18
mg
|
Sodium:
990
mg
|
Potassium:
354
mg
|
Fiber:
1
g
|
Sugar:
1
g
|
Vitamin A:
2615
IU
|
Vitamin C:
13.9
mg
|
Calcium:
28
mg
|
Iron:
0.8
mg
Nutritional information is based on third-party calculations and should be considered estimates. Actual nutritional content will vary with brands used, measuring methods, portion sizes and more.
So the fresh herbs. I can hear some of you now…
Do I have to use fresh herbs?
No. Of course not. But man ALIVE. I made this without the fresh rosemary and thyme twice against the dried, and it was a HUGE difference. Can you also use fresh herbs in place of the dried herbs that I suggest. You bet! Just make sure to adjust and remember that fresh herbs are more "potent," than dried. So use more dried if you plan to go that route, and visa versa.
Although I must admit… I've never had something with TOO many herbs and seasonings. I just haven't.
Looking for Quick Weeknight Meals?
If you're planning your weekly menu, check out some of my other favorite weeknight meals that tend to rotate in our menu plan.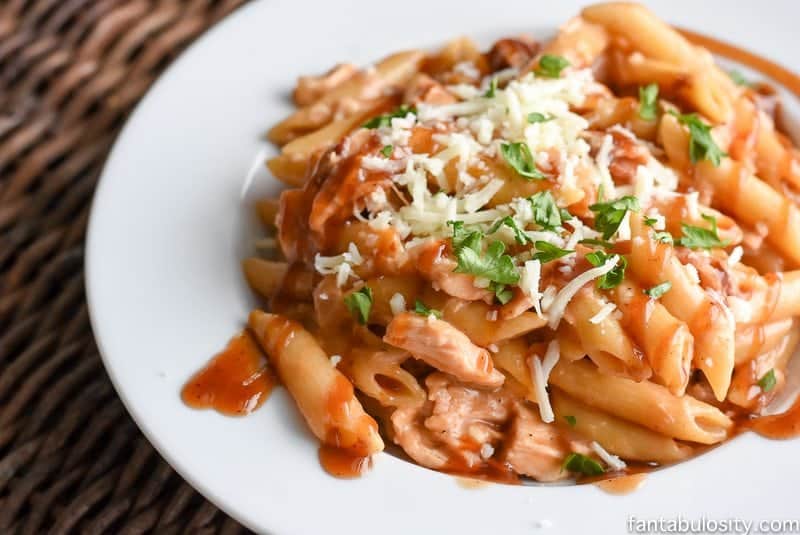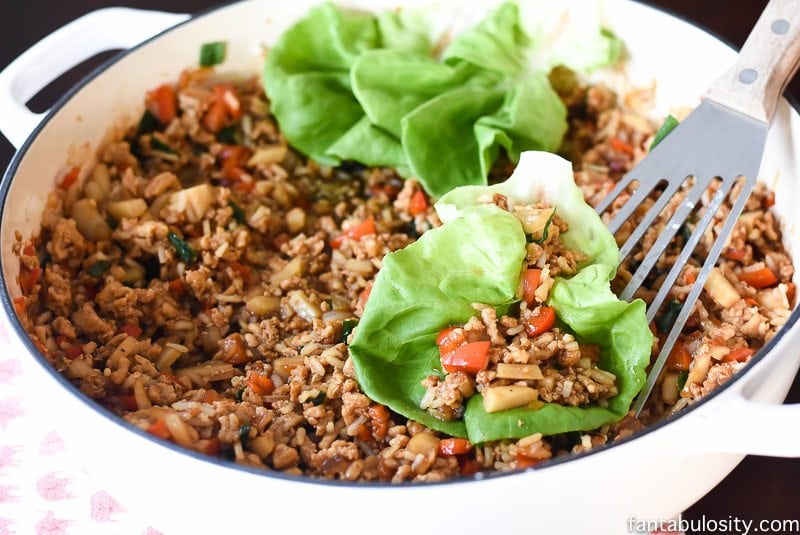 Until the next BEST recipe you all…