Fried Spaghetti: An easy and delicious way to cook and use up leftover spaghetti! This recipe uses simple ingredients, and is ready in only about 10 minutes! Serve it alongside this air fryer garlic toast, and you have an easy dinner or lunch meal ready in minutes!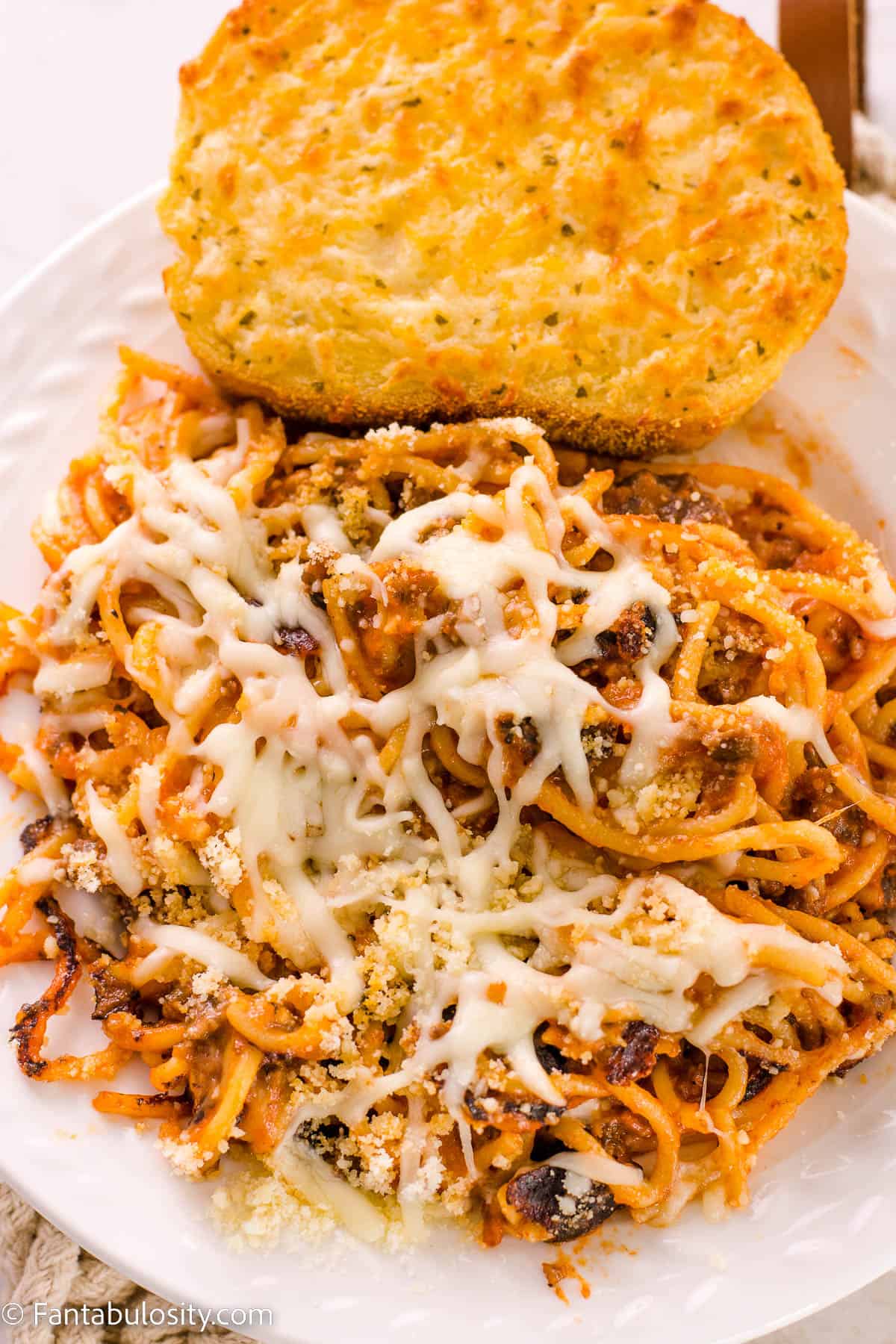 Our venison spaghetti is by far one of our favorite spaghetti recipes because of the marinara sauce that we make to go with it. (But don't worry, you can use that recipe using ground beef, ground turkey, or chicken like we use in our chicken bolognese if you want to, too.)
But no matter what spaghetti recipe is your favorite, it should be a delicious leftover spaghetti recipe!
Jump to:
🍝 What is Fried Spaghetti?
Fried pasta doesn't mean coating the noodles in batter and frying it in oil. It simply means cooking the cooked spaghetti noodles (or leftover pasta) over higher heat in a frying pan, giving the pasta's ends a chewier and crispier texture. Those crispy bits give such an incredible texture to this dish.
⭐️ Why This Recipe Works
Easy recipe: With just a few steps and a few ingredients, this recipe is simple to make and is ready in just a few minutes!
Using leftovers: This is a great way to use any leftover spaghetti (or maybe even this sausage pasta bake) the next day. Sometimes simply reheating regular spaghetti in the microwave can be soggy and flavorless. But making fried spaghetti gives it a whole new life, and you're able to enjoy it in a different way!
Comfort food meal: Pasta dishes in general are a comfort-food favorite. This cheesy fried spaghetti is no exception and is one of our favorite comfort food recipes that the entire family loves.
🧾 Ingredients Needed
I've highlighted a couple of ingredients with some relevant notes. Aside from this, the ingredients needed are pretty basic.
Leftover Spaghetti – the amount of leftover spaghetti can vary per household and meal of course. However, the flexibility of this recipe is ideal because you can adjust the ingredients based on the amount you have. For this recipe, and the measurements listed in the recipe card below, are based on 4 cups of cooked leftover spaghetti noodles.
Cheeses – if you have more or less spaghetti to use, you can lower/increase the amount of cheese based on that… but the beauty of this recipe is that you can't really have too much cheese. We also love shredding our own mozzarella cheese as it melts better than pre-shredded.
Butter – feel free to use salt or unsalted butter for this recipe. A couple of tablespoons of butter will work for a varied amount of leftover spaghetti.
📖 Substitutions
Sometimes items can be substituted for various reasons. Here are some suggestions that may help:
Garlic – we like using minced garlic but you can use garlic powder or chopped garlic cloves if that's what you prefer.
Butter – if you prefer to use a little olive oil instead of butter, that should work just fine.
Cheese – we use mozzarella cheese and parmesan cheese for this recipe but feel free to use other types, such as cheddar cheese, a sharp hard cheese, Italian blend and more.
Spices – since the spaghetti was already seasoned before making, we didn't add any additional seasonings (besides garlic). However, you can use other spices and seasonings such as
Herbs and Extra Ingredients – you may want to add additional items to enhance the flavor if your spaghetti wasn't flavorful to begin with. Some suggestions are Italian seasoning, green onions, fresh parsley, black pepper, fresh basil leaves, and red pepper flakes.
🍳 Equipment
I love using my cast-iron skillet for this, to really get that "sear" but you can use a nonstick skillet if you prefer. Do note, it may not give as much of that "char" that you see in my recipe.
👩🏻‍🍳 How to Make This
If you'll be shredding your own cheese, I recommend doing this before starting the cooking process.
Or, if you're loving the idea of adding meatballs, make these frozen meatballs in the Instant Pot before cooking your fried spaghetti.
*Be sure to see the recipe card below for the full ingredients list & instructions!*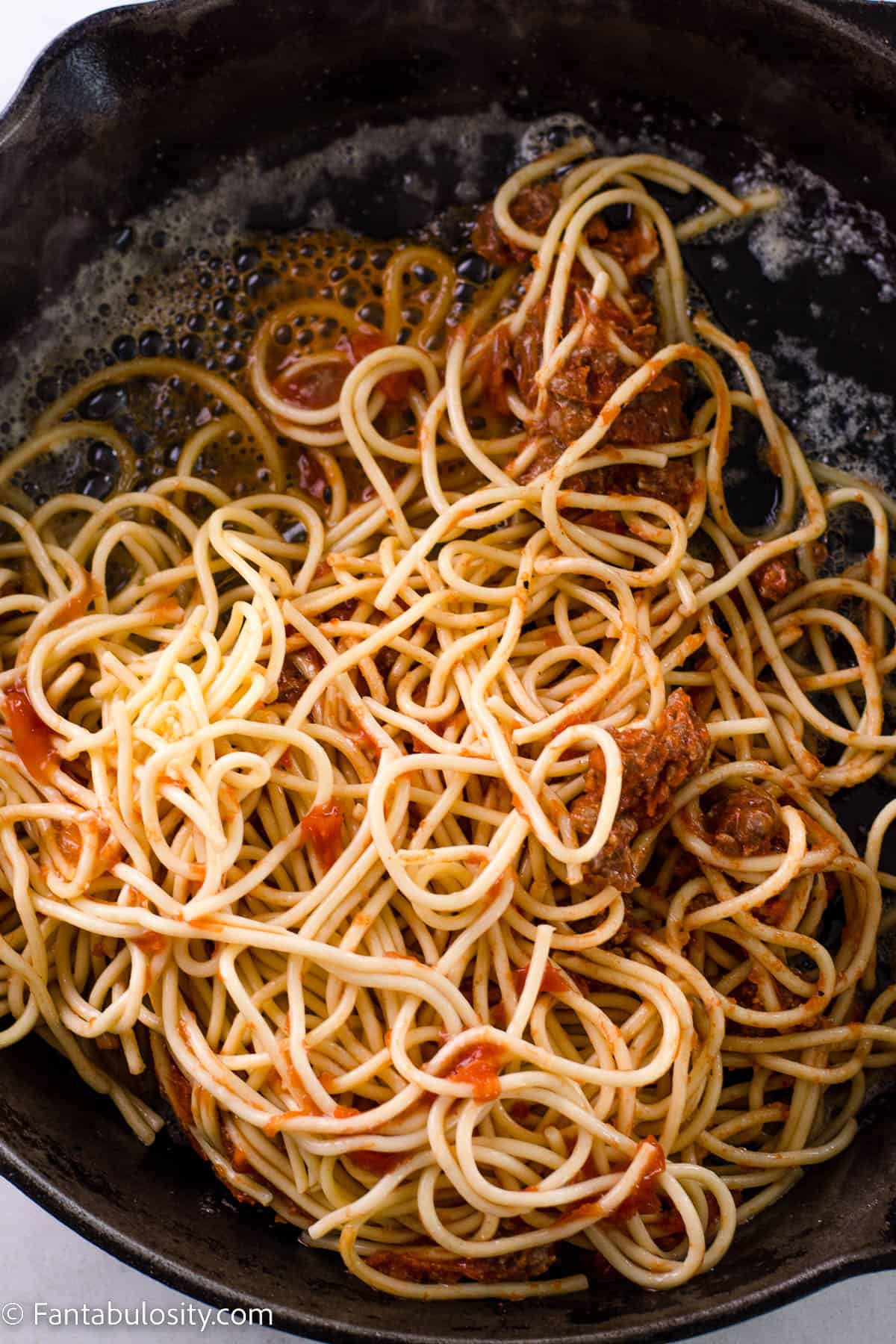 STEP 1. Melt butter. Over medium heat, melt butter (and minced garlic if using instead of garlic powder – garlic powder can wait until step 2) in large frying pan (Image 1). Cook until butter has melted.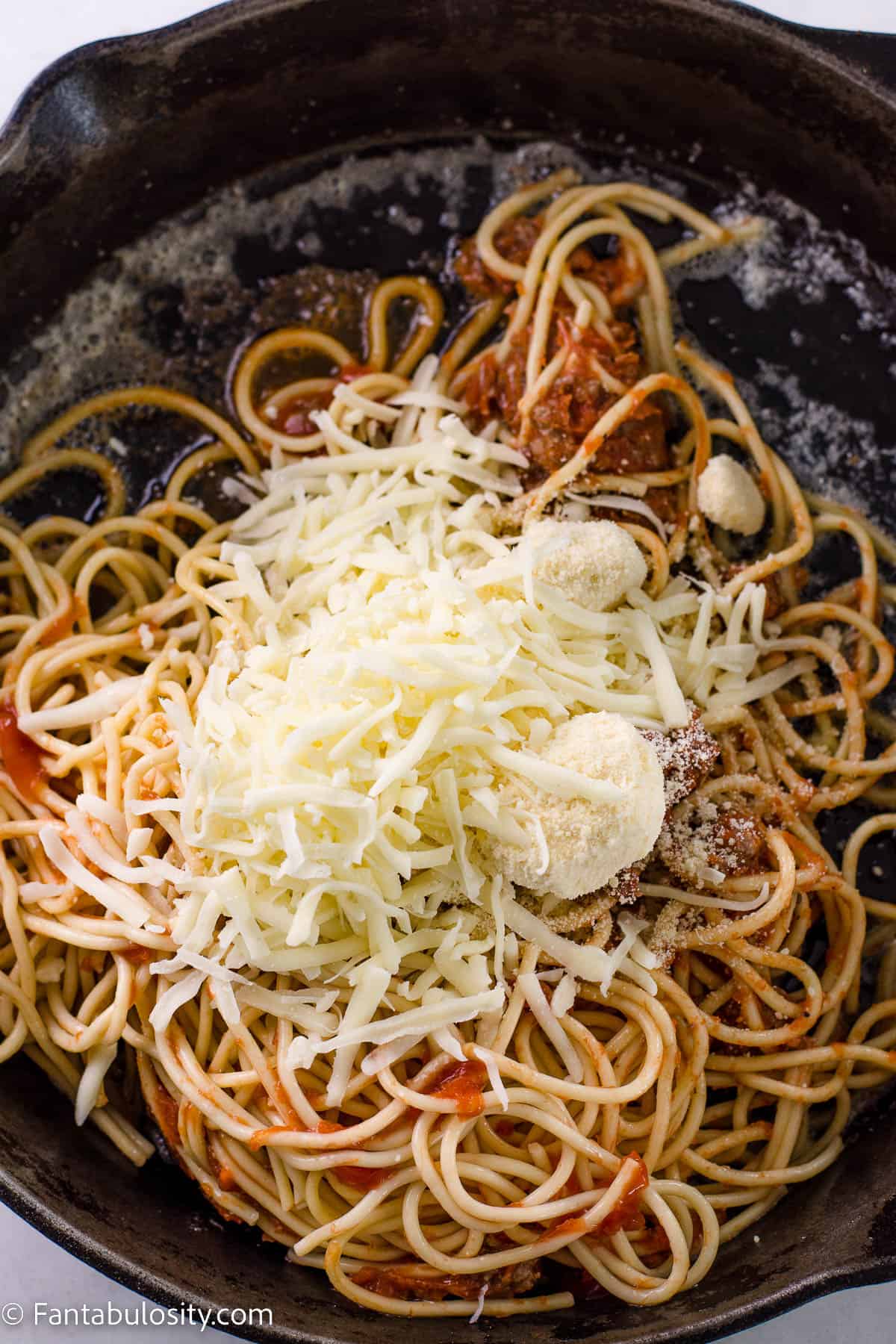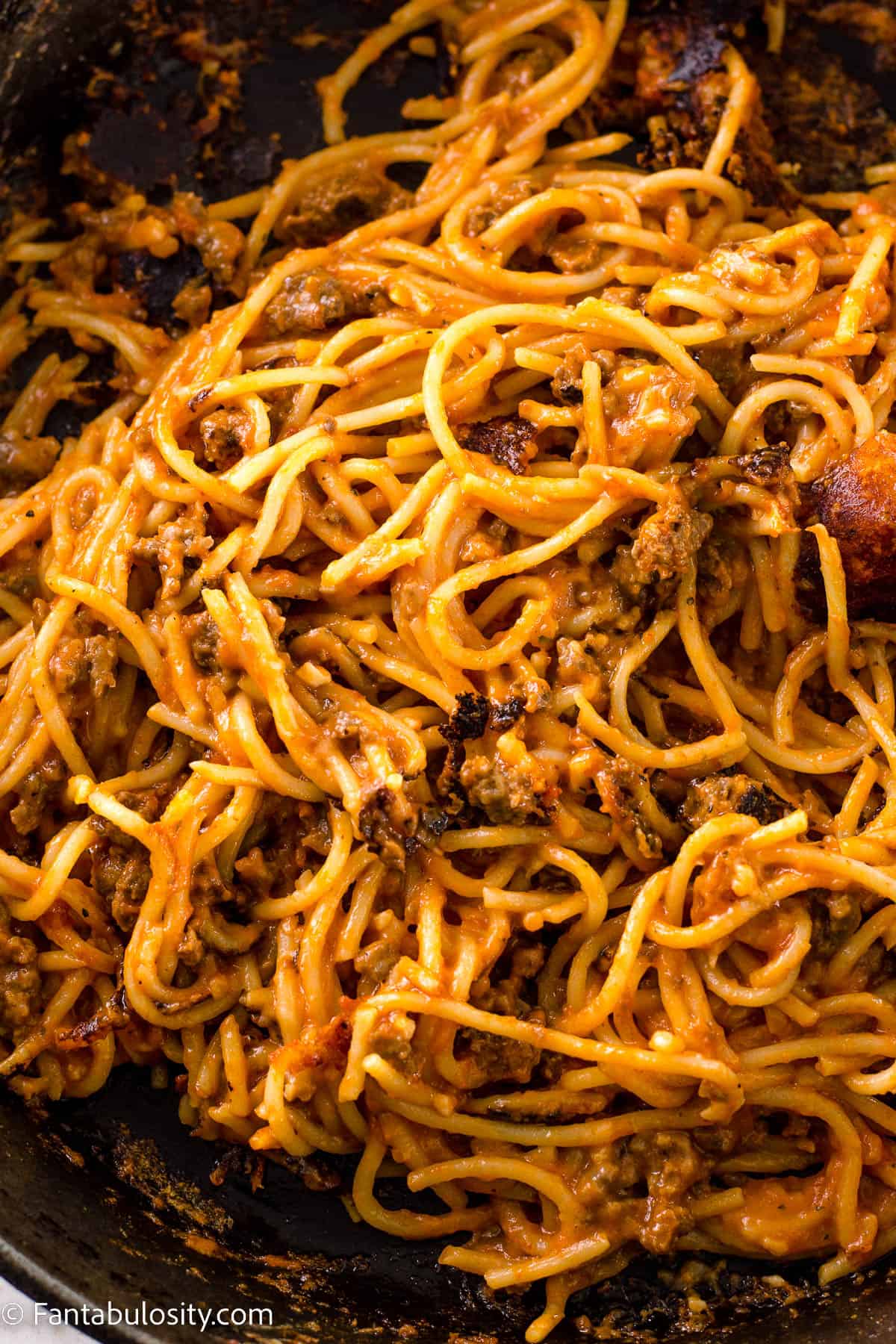 STEP 2. Fry spaghetti. Add leftover spaghetti (Image 2) a half cup of the shredded mozzarella, half of the parmesan cheese, and garlic powder (unless you used minced garlic instead, in step 1) to the melted butter. Cook on medium-high heat for 8-10 minutes, stirring occasionally (Images 3 and 4).
Tip: One of the best things about fried spaghetti, is the seared cheese and portions of spaghetti noodles that become crisp while cooked over the high heat. So allowing it to sit and sear for a minute or two, can really develop that "fried" flavor.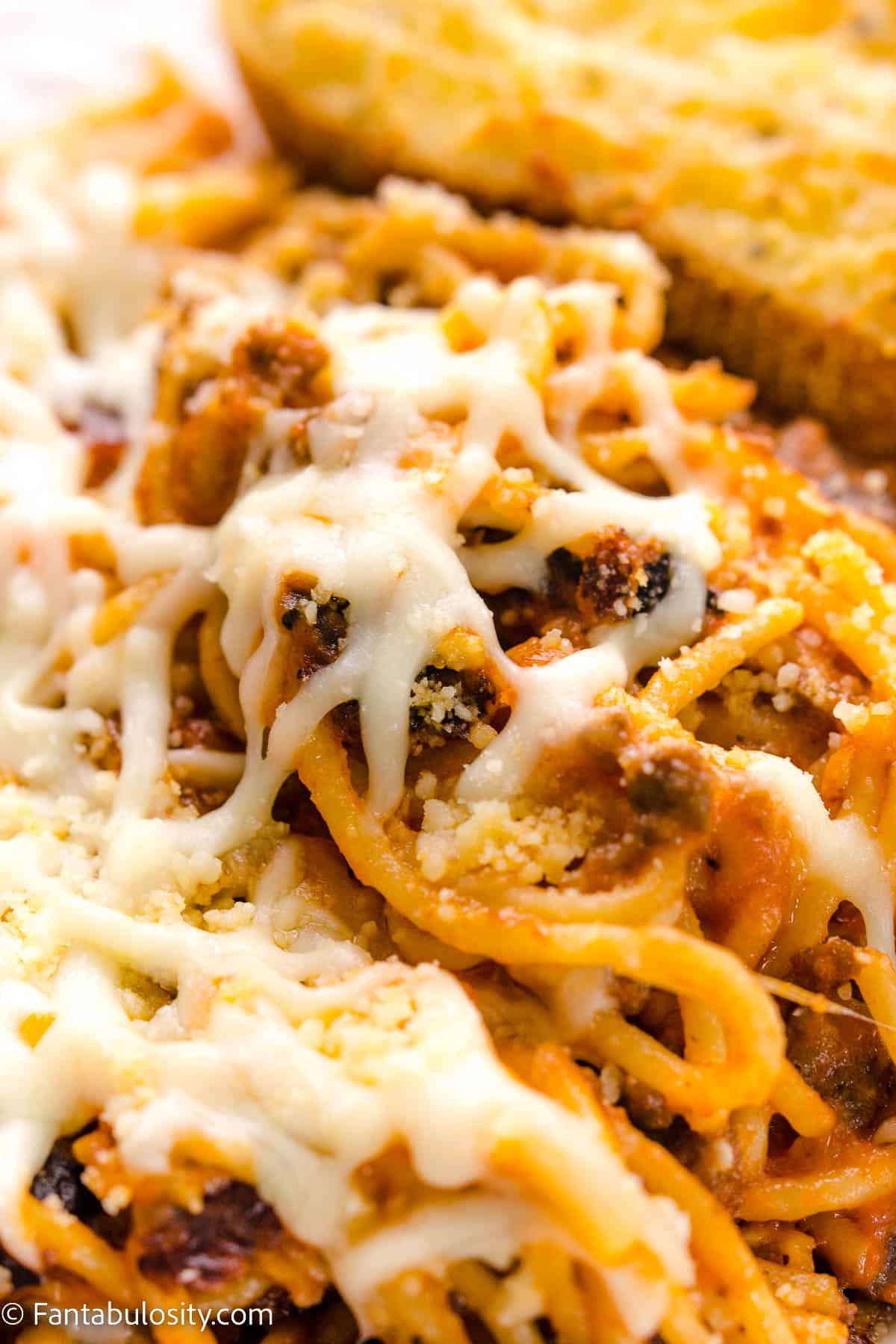 STEP 3. Pour the remaining cheese on top and cover, cooking for an additional couple of minutes to melt the cheese, and then serve (Images 5 & 6).
💭 Recipe Pro Tips
If you need to make it with fresh spaghetti instead. Although we only make this with leftover spaghetti, you should be able to use fresh spaghetti instead. Just make your favorite spaghetti recipe beforehand and cook as directed in this recipe.
Make a double batch. If you love meal planning, you can make an extra batch of spaghetti and freeze it, and save it for when you want to make fried spaghetti later.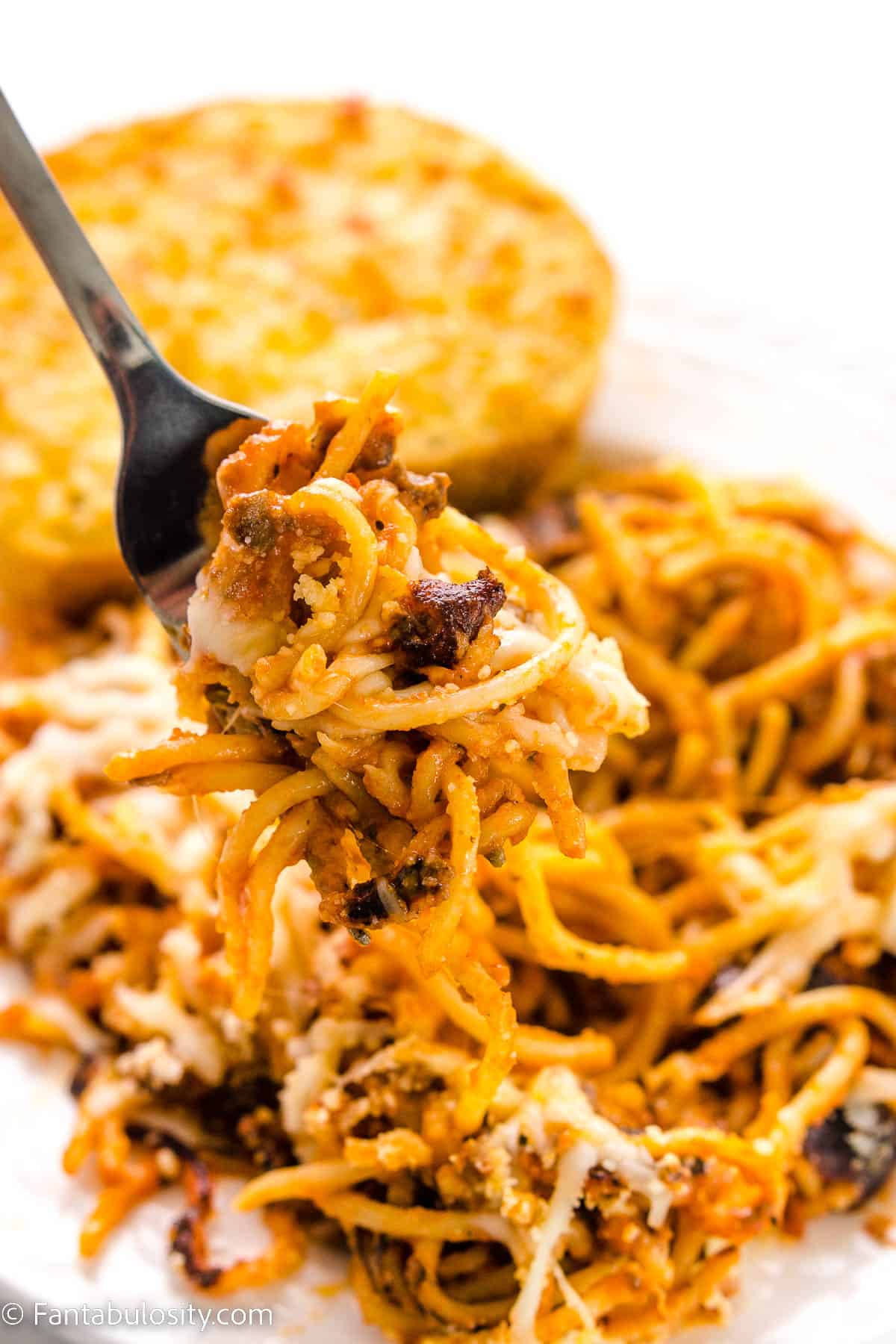 📋 Recipe FAQs
What happens if you fry spaghetti noodles?
It gives the noodles a crispy, chewy edge texture that's different than boiled spaghetti.
Do you boil pasta before frying it?
Yes, the pasta needs to be cooked (boiled) before frying it.
Do I need to add more marinara sauce to fried spaghetti?
We don't feel like it's necessary to add more marinara and the liquid from the sauce could actually prevent the spaghetti from frying nicely. It's better if the leftover spaghetti actually soaks up most of the liquid for the best results.
❄️ Storage
If you have leftover fried spaghetti, simply store it in an airtight container for up to 3 days. (DO NOTE: It's best to enjoy the fried spaghetti within 3-4 days of the original cook date of the spaghetti, not necessarily 3-4 days of when the fried spaghetti was made.)
🍜 More Pasta Recipes
If you love easy pasta recipes, you're also going to love these that are reader favorites:
Did you make this? I'd be so grateful if you left a "star" rating below to let me know what you thought! Then, the next time you need a quick and easy recipe, come back to Fantabulosity to browse all of my easy recipes!
📖 Recipe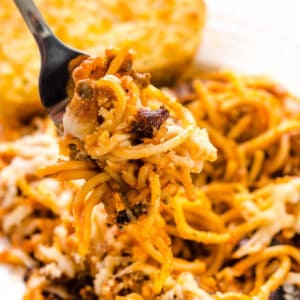 Fried Spaghetti
Fried Spaghetti: An easy and delicious way to cook leftover spaghetti! Simple ingredients, and it's ready in about 10 minutes!
Ingredients
2

tablespoons

butter

1

teaspoon

garlic

or garlic powder

4

cups

leftover spaghetti

cooked

1

cup

shredded mozzarella

divided

½

cup

parmesan cheese

divided
Instructions
Add butter (and garlic if using minced garlic — garlic powder can wait until step 2) to a frying pan or skillet, and cook over medium heat in a frying pan until butter has melted.

Add leftover spaghetti, a half cup of the shredded mozzarella and half of the parmesan to the melted butter and garlic powder (if using).

Cook on high heat for 8-10 minutes, stirring often.

Pour the remaining cheese on top and cover, cooking an additional couple of minutes to melt the cheese, and then serve!
Nutrition
Serving:
1
cup
|
Calories:
1062
kcal
|
Carbohydrates:
178
g
|
Protein:
42
g
|
Fat:
19
g
|
Saturated Fat:
10
g
|
Polyunsaturated Fat:
2
g
|
Monounsaturated Fat:
5
g
|
Trans Fat:
0.2
g
|
Cholesterol:
46
mg
|
Sodium:
435
mg
|
Potassium:
565
mg
|
Fiber:
8
g
|
Sugar:
7
g
|
Vitamin A:
462
IU
|
Vitamin C:
0.2
mg
|
Calcium:
342
mg
|
Iron:
3
mg
Nutritional information is based on third-party calculations and should be considered estimates. Actual nutritional content will vary with brands used, measuring methods, portion sizes and more.