The Easy Sausage Pasta Bake is not just an easy meal. The pasta is coated in a marinara sauce, surrounded by flavorful sausage, and topped off with a generous sprinkle of mozzarella cheese.
As with our other pasta recipes, this one is comfort food at its best, promising a burst of flavors with each bite. What makes this dish even more irresistible is its simplicity and speed – you'll have this hearty dish and crowd-pleasing dinner on the table in no time.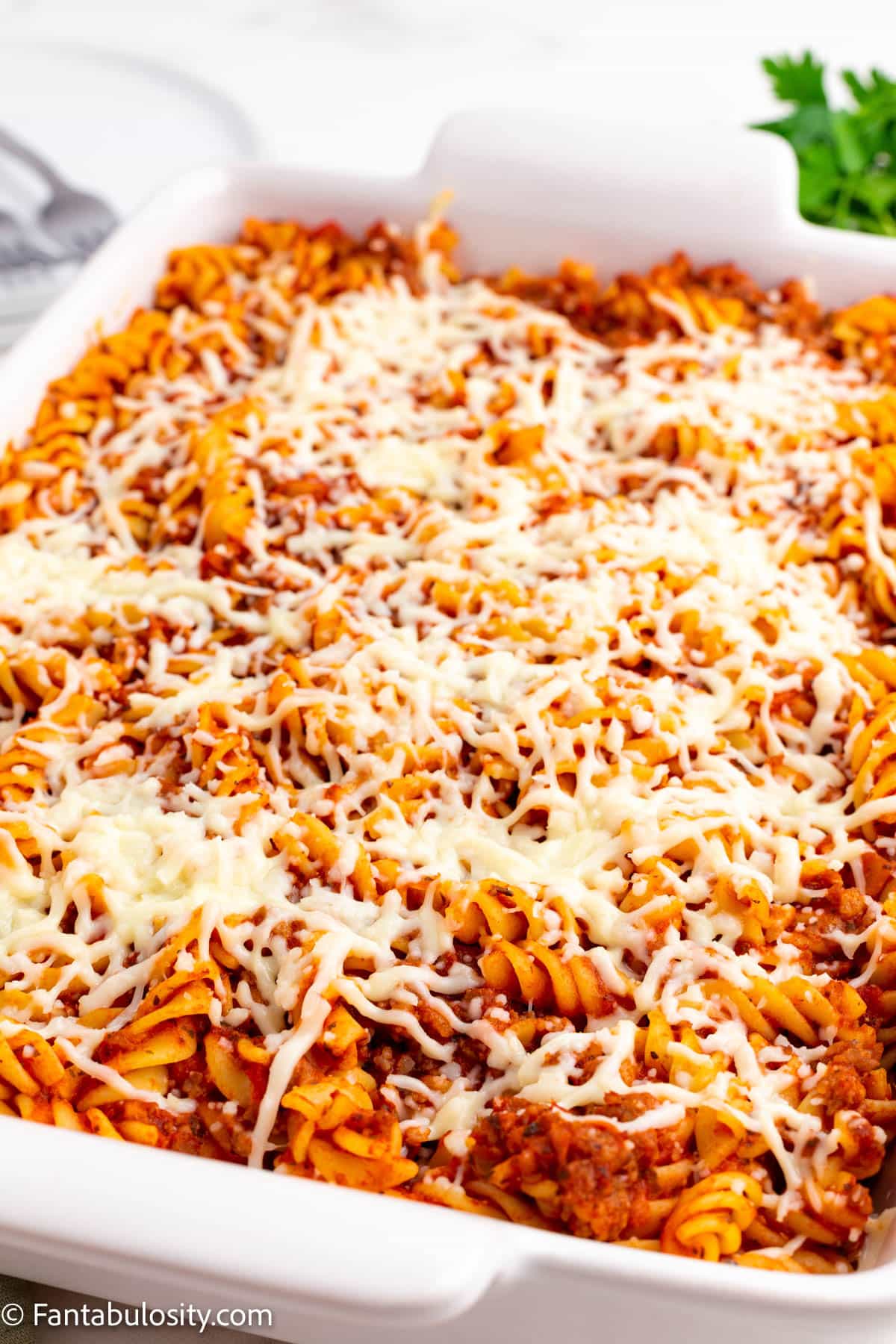 Still, have some sausages to use? First, check out my tips on How to Cook Sausages in the Oven and find new ways to enjoy them. Then you could try Sausage and Egg Casserole for a weekend brunch.
Jump to:
❤️ Why You'll Love This Recipe
Easy to make: By using a good quality sauce, this becomes a very simple recipe to make.
Big batch meal: You can easily double the ingredients to make a big batch if you have lots of mouths to feed!
Ready in only 45 minutes: This recipe, from start to finish, only takes 45 minutes so you don't need to start cooking long before you need to serve it.
🧾 Ingredients Needed
I've highlighted a couple of ingredients below with some relevant notes. Aside from this, the ingredients needed are pretty basic.
Sausage – We use the mild Jimmy Dean's sausages for this recipe as the kids love them and they aren't too strongly flavored.
Sauce – Prego Three Cheese Sauce is our go-to option for this recipe but you can use any spaghetti sauce you like.
Pasta – Spiral pasta works well for this recipe as the sauce sticks to it nicely and it is less messy than something like spaghetti! Rigatoni pasta is another great choice.
📖 Substitutions
Sometimes substitutions are necessary because of ingredients that are unavailable or needed for dietary restrictions. Here are some suggestions that can help:
Sausage – You can use a hot Italian sausage or even something like a turkey sausage in this recipe depending on what everyone enjoys.
Pasta – Swap the spirals for any other type of pasta that holds sauce well so something like penne would work perfectly if that's what you have handy.
📖 Variations
Here are a few easy variations you can try:
Vegetable Boost: Add a handful of your favorite vegetables to the mix. Bell peppers, zucchini, or even spinach could offer a welcome crunch and added nutritional value.
Cheese Variety: While mozzarella is a classic choice, feel free to experiment with different cheeses. A blend of parmesan and cheddar, for instance, could add a new depth of flavor.
Meat Alternatives: If you want to go meatless, replace the sausages with a plant-based substitute or add in some hearty mushrooms.
Spice it Up: For those who enjoy a bit of heat, consider adding some crushed red pepper flakes, chili flakes, or a dash of cayenne to the sauce.
Seafood Variant: Swap the sausages for shrimp or scallops for a delicious seafood twist. Remember to adjust cooking times accordingly!
👩🏻‍🍳 How to Make Easy Sausage Pasta Bake
This sausage pasta bake is broken into 2 components:
prepare the ingredients
bake everything together
*Be sure to see the recipe card below for the full ingredients list & instructions!*
STEP 1: Heat the oven. Preheat the oven to 350°.
STEP 2: Cook the sausage. In a skillet, crumble the sausage into clumps and sauté with onion until the cooked sausage is browned and the onion is tender. When halfway through cooking, incorporate garlic and continue cooking for an additional 2 minutes. Remove any excess grease by draining. (Image 1)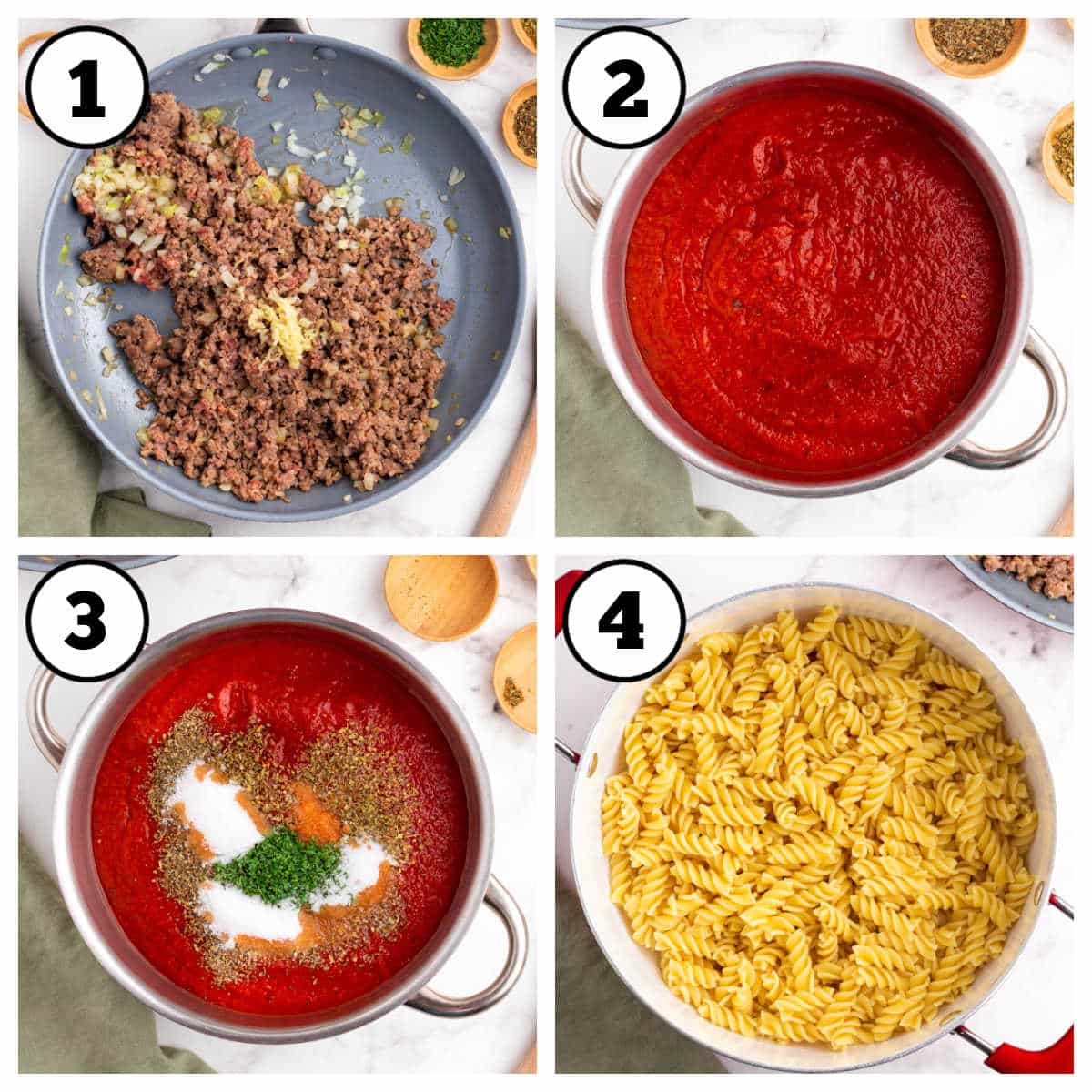 STEP 3: Make the sauce. In a spacious pot, combine spaghetti sauce with basil, oregano, parsley, salt, and sugar. Allow the mixture to simmer gently for approximately 20 minutes, ensuring to stir occasionally. (Images 2 & 3)
STEP 4: Cook pasta. Prepare spiral pasta as per the instructions provided. (Image 4)
STEP 5: Combine and add to the oven. Combine the sausage, onion, garlic cloves, and spiral pasta with the spaghetti sauce, ensuring they are well-mixed. Transfer the mixture to a large baking dish and sprinkle the top generously with mozzarella cheese. (Images 5 – 8)
STEP 6: Cook and serve. Bake until the cheese is perfectly melted and golden brown, creating a delightful and gooey texture.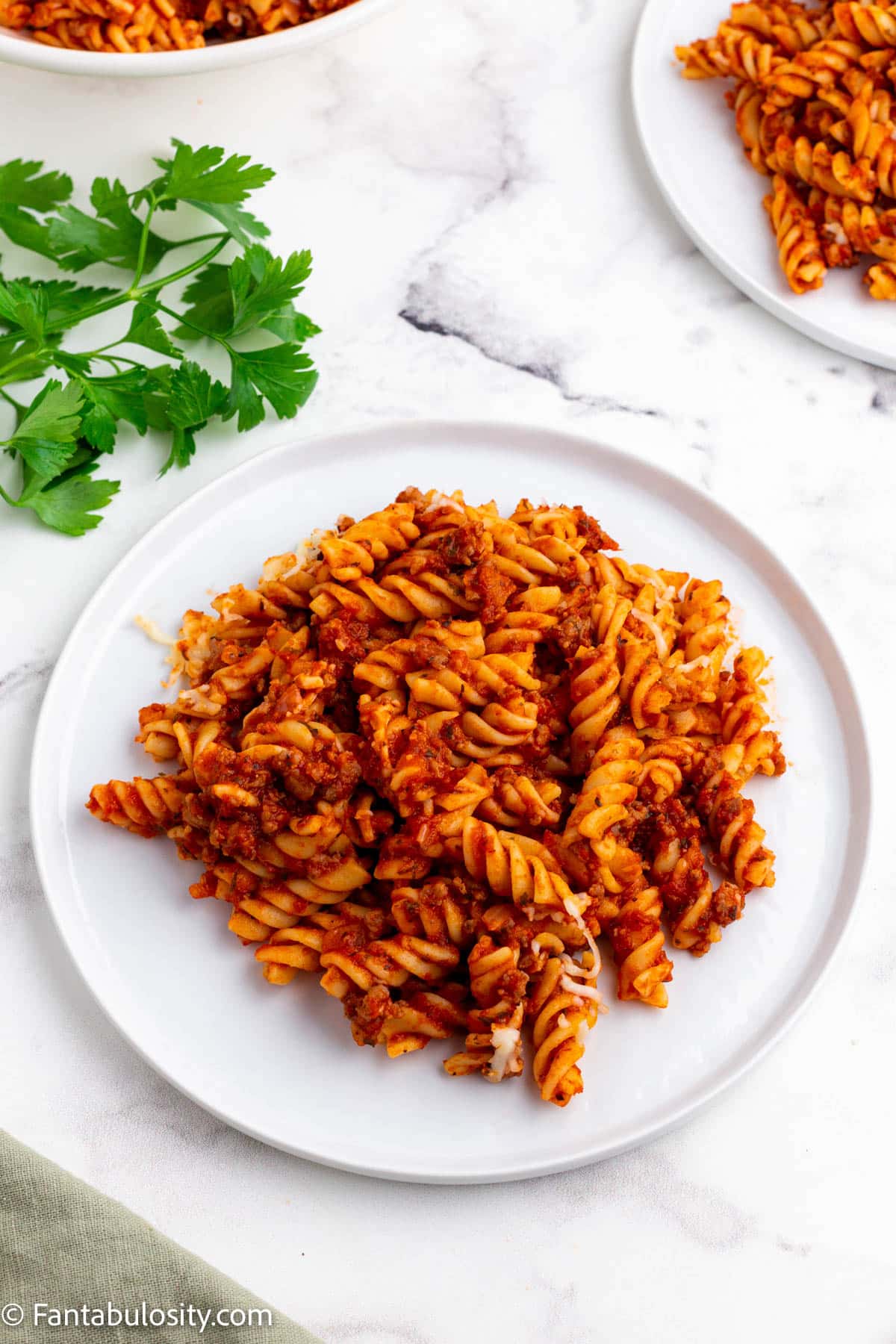 💭 Recipe Pro Tips
Choosing the right sausage: For the best flavor, consider using a high-quality sausage. It'll add significant depth to the dish.
Pasta cooking tip: Cook the pasta until it's just under al dente. Remember, it will continue to cook in the oven, which will prevent it from becoming too soft.
Cheese selection: While we recommend using mozzarella, feel free to experiment with other cheeses like sharp cheddar or even gruyere for a more unique flavor.
Baking dish: Choose a deep baking dish to accommodate all the ingredients and prevent the sauce from bubbling over.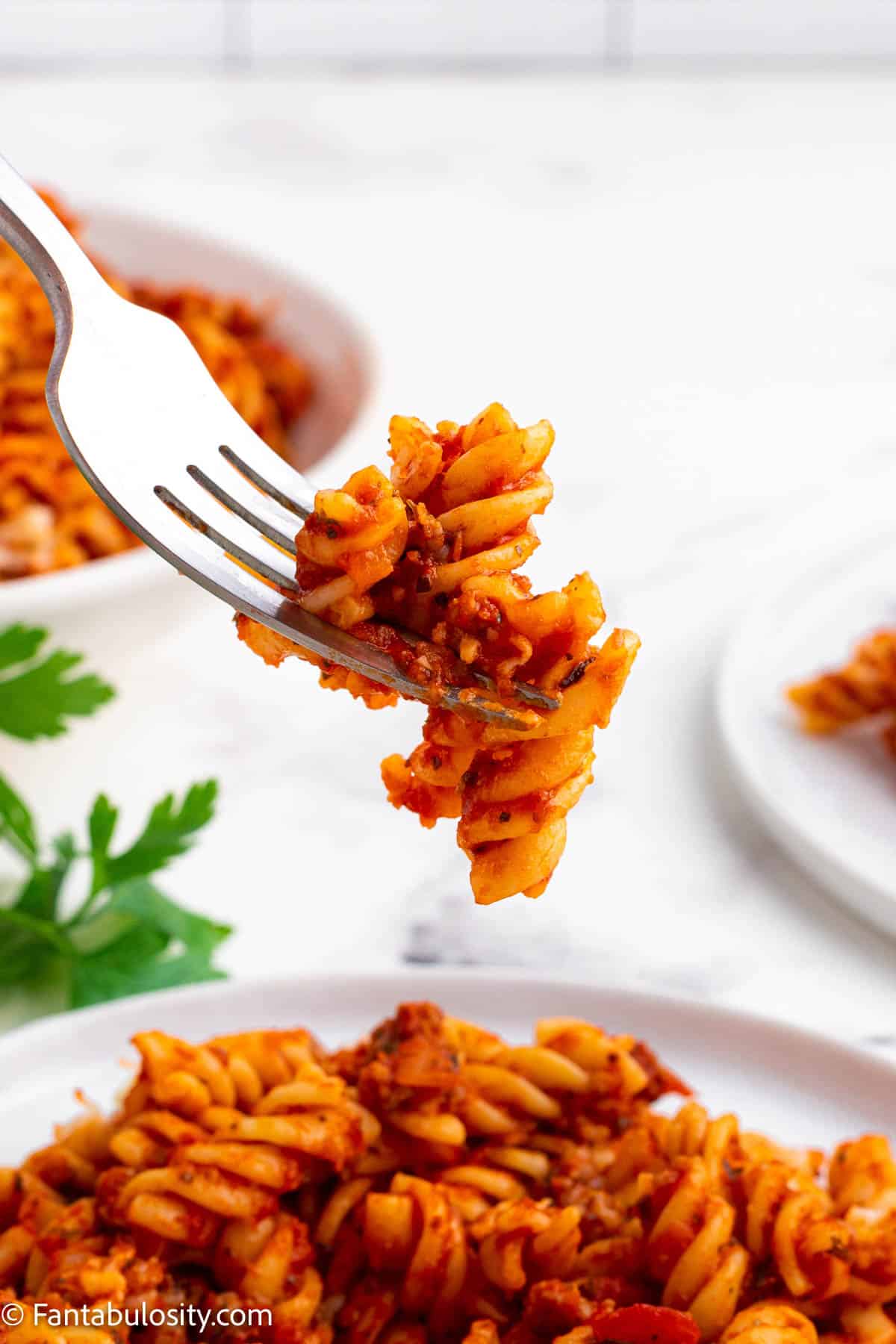 📋 Recipe FAQs
Do you boil pasta before pasta bake?
Yes, you should boil the pasta before incorporating it into the pasta bake. However, it's crucial to only cook the pasta until it's just under al dente, as it will continue to cook in the oven. This helps to prevent the pasta from becoming overly soft and losing texture after baking.
Can you prepare this pasta bake in advance?
Absolutely! This recipe can be prepared up to the point of baking and refrigerated overnight. Just be sure to allow extra baking time because the pasta bake will be starting from a chilled state.
Can I use a different type of meat?
Yes, this recipe is very versatile and can work with various types of meat. You can substitute the sausage with ground beef, chicken, or turkey. Remember to adjust the cooking times accordingly.
I'm vegetarian. What can I use instead of sausage?
For those following a vegetarian diet, you can replace the sausage with a plant-based substitute or use a variety of vegetables like bell peppers, zucchini, mushrooms, or eggplants for added heartiness.
What if I don't have all the herbs listed?
While the combination of basil, oregano, and parsley creates a flavorful pasta sauce, you can adapt to what you have available. Italian seasoning is a great substitute that combines several herbs in one.
🍽 What to Serve with Sausage Pasta Bake
The Easy Sausage Pasta Bake is a hearty meal in itself, but a few complementary sides can elevate your dining experience even further. A simple, fresh green side salad with a tangy vinaigrette can cut through the richness of the pasta, providing a refreshing contrast.
For a cozy, comforting meal, serve with a side of garlic bread or plain crusty bread to mop up any delicious tomato sauce. Alternatively, a steamed vegetable medley or roasted Brussels sprouts can add some nutritional value and color to the dish.
❄️ Storage
Leftovers of the Easy Sausage Pasta Bake can be stored in the refrigerator for up to 4 days. Make sure to cool it completely before transferring it to an airtight container. When ready to serve, reheat in the microwave or in the oven at 350° until warmed through. You may even want to try making fried spaghetti out of the leftovers!
As for freezing, yes, this pasta bake is freezer-friendly! Prepare the pasta bake as directed, but hold off on baking. Allow it to cool completely, then cover it tightly with both plastic wrap and aluminum foil or transfer it to a large freezer bag and press out as much air as possible before sealing. You can store it in the freezer for up to 2 months.
When ready to eat, thaw overnight in the refrigerator, then bake as directed. Note that the texture of the pasta might be a bit softer after freezing but the flavors will still be delicious.
🍝 More Pasta Recipes You'll Love
We love pasta because there are so many ways to cook and serve it. One easy weeknight meal is the Instant Pot Cajun Pasta which is full of flavor but also easy to cook if you have an Instant Pot. Or if time is short, try this 30-Minute Taco Pasta Recipe as a great option that has loads of taste without tons of work.
Did you make this? I'd be so grateful if you left a "star" rating below to let me know what you thought! Then, the next time you need a quick and easy recipe, come back to Fantabulosity to browse all of my easy recipes!
📖 Recipe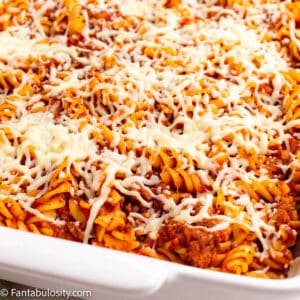 Easy Sausage Pasta Bake
The Easy Sausage Pasta Bake is a simple and delicious option for a main meal for the whole family, that uses simple ingredients.
Ingredients
16

oz

Jimmy Deans sausage mild

1

small onion chopped

2

cloves

garlic minced

1

tablespoon

olive oil

1

lb

spiral pasta

2

jars

24oz spaghetti sauce (I like to use Prego Three Cheese)

1 ½

teaspoon

dried basil

1 ½

teaspoon

dried oregano

½

tablespoon

parsley

½

teaspoon

salt

4

teaspoon

sugar

½

cup

mozzarella cheese

optional
Instructions
Preheat the oven to 350°.

Cook spiral pasta according to direction.

In a skillet, break up the sausage into clumps and onion until the sausage is browned and the onion is soft.

Halfway through cooking, add in garlic and cook for an additional 2 minutes.

Drain.

In a large pot, add spaghetti sauce, basil, oregano, parsley, salt, and sugar, and let it simmer for about 20 minutes. Stir in between.

Transfer the sausage together with onion and garlic and spiral pasta into the spaghetti sauce and combine well.

Pour into a 13×9 casserole dish. Sprinkle mozzarella cheese on top.

Put in the oven until the cheese is melted.
Notes
Tips:
You can choose to substitute mild sausage for hot sausage or turkey sausage.
Can you make this pasta in advance?
Yes! This can be prepared up to the point of baking and then be refrigerated overnight. Just be sure to allow extra baking time because the pasta bake will be starting from a chilled state.
Nutrition
Serving:
1
serving
|
Calories:
612
kcal
|
Carbohydrates:
62
g
|
Protein:
23
g
|
Fat:
29
g
|
Saturated Fat:
10
g
|
Polyunsaturated Fat:
4
g
|
Monounsaturated Fat:
13
g
|
Cholesterol:
65
mg
|
Sodium:
813
mg
|
Potassium:
414
mg
|
Fiber:
3
g
|
Sugar:
6
g
|
Vitamin A:
103
IU
|
Vitamin C:
4
mg
|
Calcium:
97
mg
|
Iron:
2
mg
Nutritional information is based on third-party calculations and should be considered estimates. Actual nutritional content will vary with brands used, measuring methods, portion sizes and more.