Valentine's Day Heart Cookie Decorating for Beginners: Some of the perfect cookies to start out with, when you're first learning and practicing how to decorate with royal icing.
You've all followed along on my cookie decorating journey, from my first attempt. You've been so encouraging, and (ahem) enabling my cookie decorating purchase obsession. 😉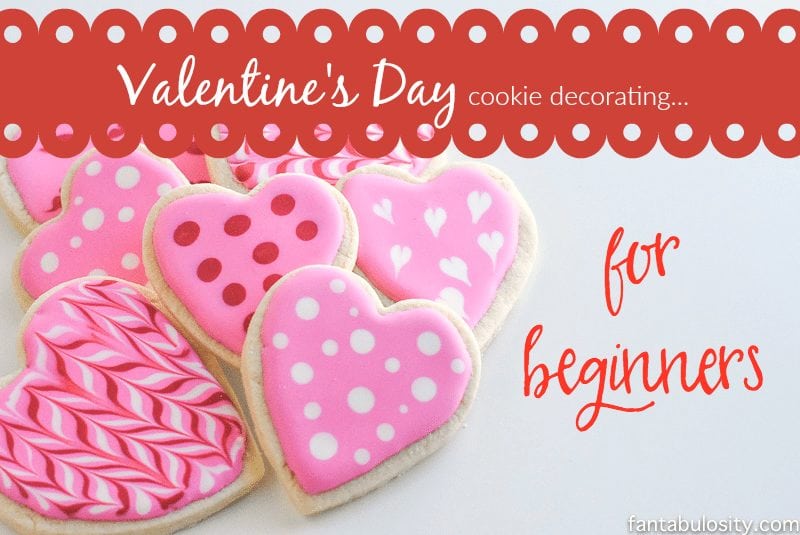 It's possible that I'm going backwards, in my cookie decorating skillzzz. I'm not going to lie. I watched SweetAmbs on Facebook lately, and when she posted her Valentine's Day Heart Cookies, I thought,
Oh I can SO do that.
I even had people share the video to my blog page, saying,
Jessica! Look! You should try these next!
For heavens sakes… others even had faith in me.
Valentine's Day Heart Cookies for Beginners
Well, some turned out… um… acceptable…
Others… Not So Much.
Pinterest Fail
But there's hope:
Although they're FAR from perfect, I did have some luck with the way most of them turned out. So… that told me that heart shaped cookies, with a few simple designs, would be a good Valentine's Day Cookie idea, for a beginner.
Don't look too close, or you'll potentially find more "pinterest fails," and let me just bask in the "accomplishment," for a moment. 🙂
I'll never be as good at SweetAmbs, but she sure is fun to follow to get ideas from. Plus, it makes for some pretty fun Pinterest fail moments.
As always, I created a video of my cookie decorating attempt, so you can follow along, if you're more of a visual person.
Valentine Heart Cookies with Royal Icing
Click the "Pin It' button, to pin this post for later, when you tackle the cookie decorating, yourself!
Until next time,