Indulge in the irresistible flavors of this Corn Dip, a dish sure to astonish your taste buds and leave your guests craving more. This easy-to-make recipe is a stellar blend of sweet, savory, and creamy elements, making it the perfect appetizer recipe for any occasion such as summer cookouts, a game night, or even a last-minute delicious snack.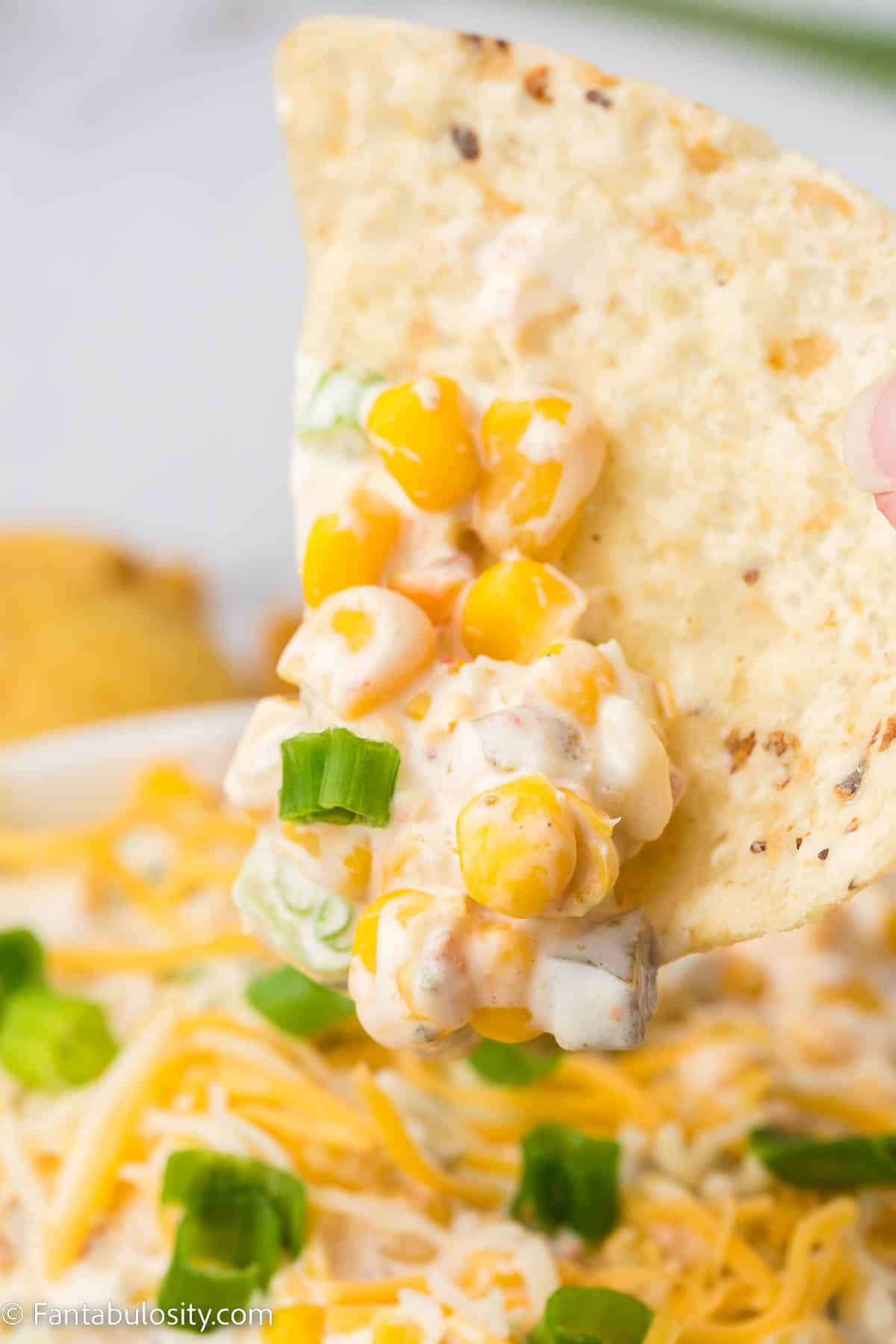 Imagine the taste of succulent corn, blended with tangy cheese and a secret blend of spices, served with a crunch of fresh tortilla chips. This will quickly become one of your favorite dips.
Have the urge to make some more corn recipes after trying this dip? A simple idea is Instant Pot Corn on the Cob which works as a side dish for almost any main meal. Or you could try using it in a main course such as Pasta with Corn and Tomatoes that will fill up the whole family.
Jump to:
❤️ Why You'll Love This Recipe
Easy to make: The dip is quick to prepare and just needs time to chill, no cooking required!
Serve hot or cold: If you do want a warm dip, you can also easily heat this up with the instructions below.
Create a big batch: The recipe makes around 5 cups but you can create a bigger batch as needed.
🧾 Ingredients Needed
I've highlighted a handful of ingredients with some relevant notes. Aside from this, the simple ingredients needed are pretty basic.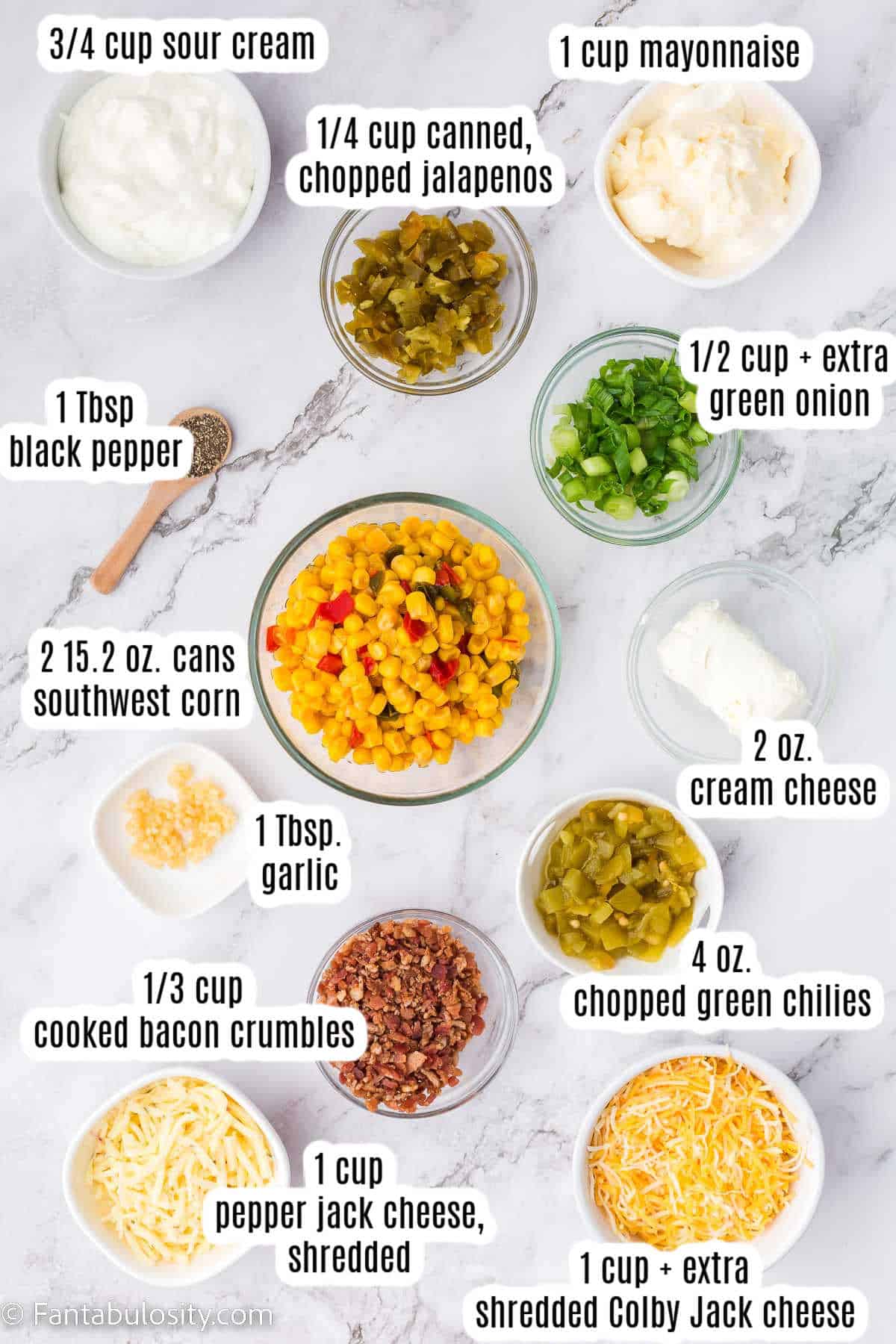 Corn – We use southwest corn for the best results, it comes in a can and is very easy to use.
Cream – Sour cream is the best for the recipe and is mixed with mayonnaise and cream cheese to get the best dip consistency.
Jalapenos – We use canned jalapenos, just give them a thorough drain before using. You can use fresh ones if you prefer.
📖 Substitutions
Sometimes substitutions are necessary because of ingredients that are unavailable or needed for dietary restrictions. Here are some suggestions that can help:
Green chili peppers: If green chili peppers are unavailable, feel free to substitute them with any other chili peppers you have on hand. For a milder flavor, use canned chili peppers. You can also try green chilies.
Jalapenos: If jalapenos are too spicy for your liking or you can't find them, you can substitute them with bell peppers for a milder flavor. If you still want a bit of heat, consider using mild Anaheim peppers.
Green Onions: Chives can be a great substitute for green onions, offering a similar but milder flavor. If you need a stronger flavor, you can use small amounts of white or yellow onions instead.
Colby Jack Cheese: In the absence of Colby Jack cheese, you can use a mix of Colby and Monterey Jack cheese. Cheddar cheese can also serve as a substitute due to its similar texture and taste.
Pepper Jack Cheese: If you don't have access to Pepper Jack Cheese, Monterey Jack is a good alternative. For a spicy kick similar to Pepper Jack, you can add a dash of crushed red pepper or a small amount of jalapenos to the Monterey Jack cheese.
📖 Variations
This Crack Corn Dip recipe is quite versatile and allows for several tweaks, based on your personal preference or dietary needs:
Vegan Crack Corn Dip: Substitute dairy products with vegan-friendly alternatives. Use vegan cream cheese, vegan mayonnaise, and vegan sour cream for the base. Vegan cheese can replace Colby Jack and Pepper Jack cheese.
Spicy Crack Corn Dip: If you have a penchant for a hotter dip, consider doubling the jalapenos and adding a dash of hot sauce. You could also include a pinch of cayenne pepper or another delicious way is to use a hotter variety of chili peppers.
Mexican-style Crack Corn Dip: Add a Mexican twist by incorporating black beans, diced tomatoes, and a sprinkle of taco seasoning. You could also top the dip with fresh cilantro and a squeeze of lime juice for added zest. You'll love this Mexican Corn Dip for the perfect Mexican appetizer!
Bacon Corn Dip: For a meatier version, include crispy, pre-cooked bacon pieces into the mix. The smoky flavor of the bacon pairs wonderfully with the creamy, sweet corn base for this great dip.
👩🏻‍🍳 How to Make Crack Corn Dip
This Crack Corn Dip recipe is broken into 2 components:
Make the basic dip
Add the extra flavor
For optimal mixing, it is recommended to use cream cheese at room temperature. To quickly soften the cream cheese, place it in a microwave-safe serving bowl and heat it in 30-second intervals until it stirs smoothly into your dip mixture.
*Be sure to see the recipe card below for the full ingredients list & instructions!*
STEP 1: Mix the dip. In a large bowl, blend together mayonnaise, sour cream, cream cheese, and garlic until thoroughly combined, resulting in a velvety and smooth mixture. (Image 1-2).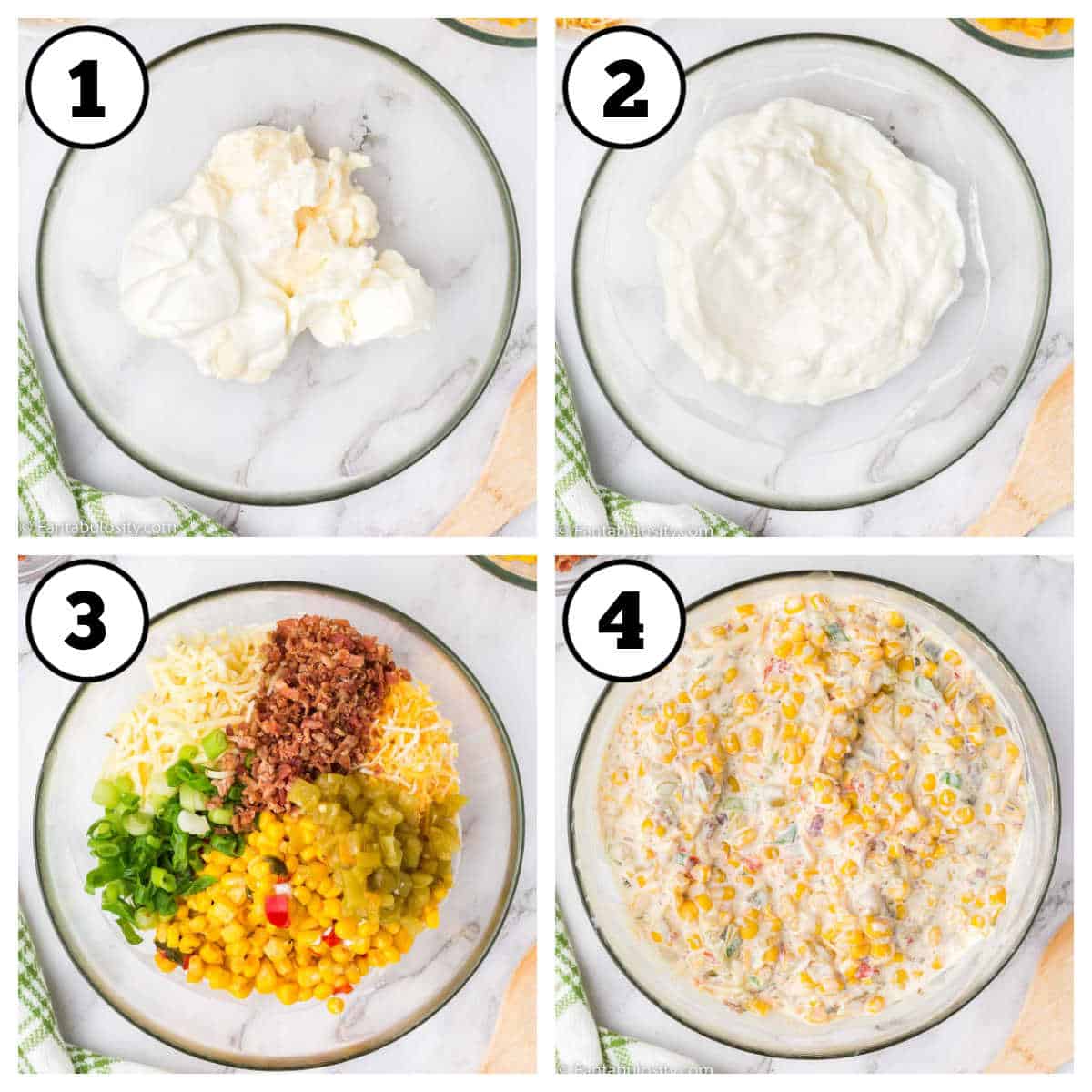 STEP 2: Add the flavor. Incorporate southwest corn, green chili peppers, jalapenos, green onion bacon crumbles, Colby jack cheese, pepper jack cheese, and ground black pepper into the mayonnaise mixture. Ensure thorough blending for a delectable combination. (Image 3-4).
STEP 3: Chill the mixture. Refrigerate, covered, for a minimum of 1 hour to achieve optimal chilling.
STEP 4: Add toppings and serve. Before serving, generously sprinkle your favorite corn chips with extra Colby jack cheese and a garnish of finely chopped green onions.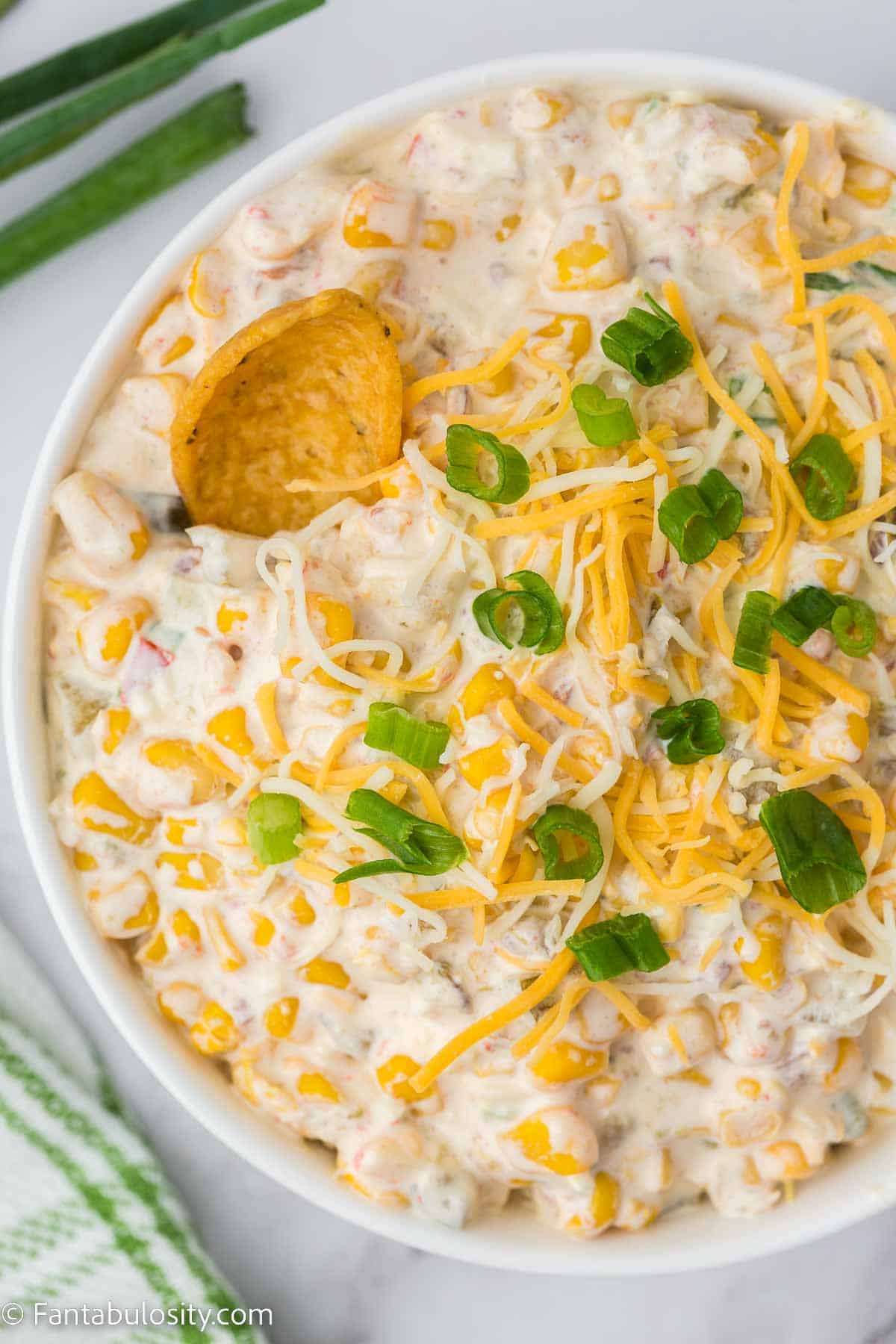 BONUS STEP: How to heat the dip. Begin by preheating your oven to 350 degrees. Next, generously grease an 8×8 baking dish. Carefully place the crack corn dip into the prepared baking dish, ensuring it is evenly spread. Cover the dish and heat it for approximately 20 minutes, or until the dip is heated throughout and the cheese is beautifully melted.
Sprinkle extra Colby jack cheese on top and bake the dip uncovered for approximately 5 minutes, or until the cheese is melted and gooey. Serve warm with corn chips for a deliciously satisfying treat.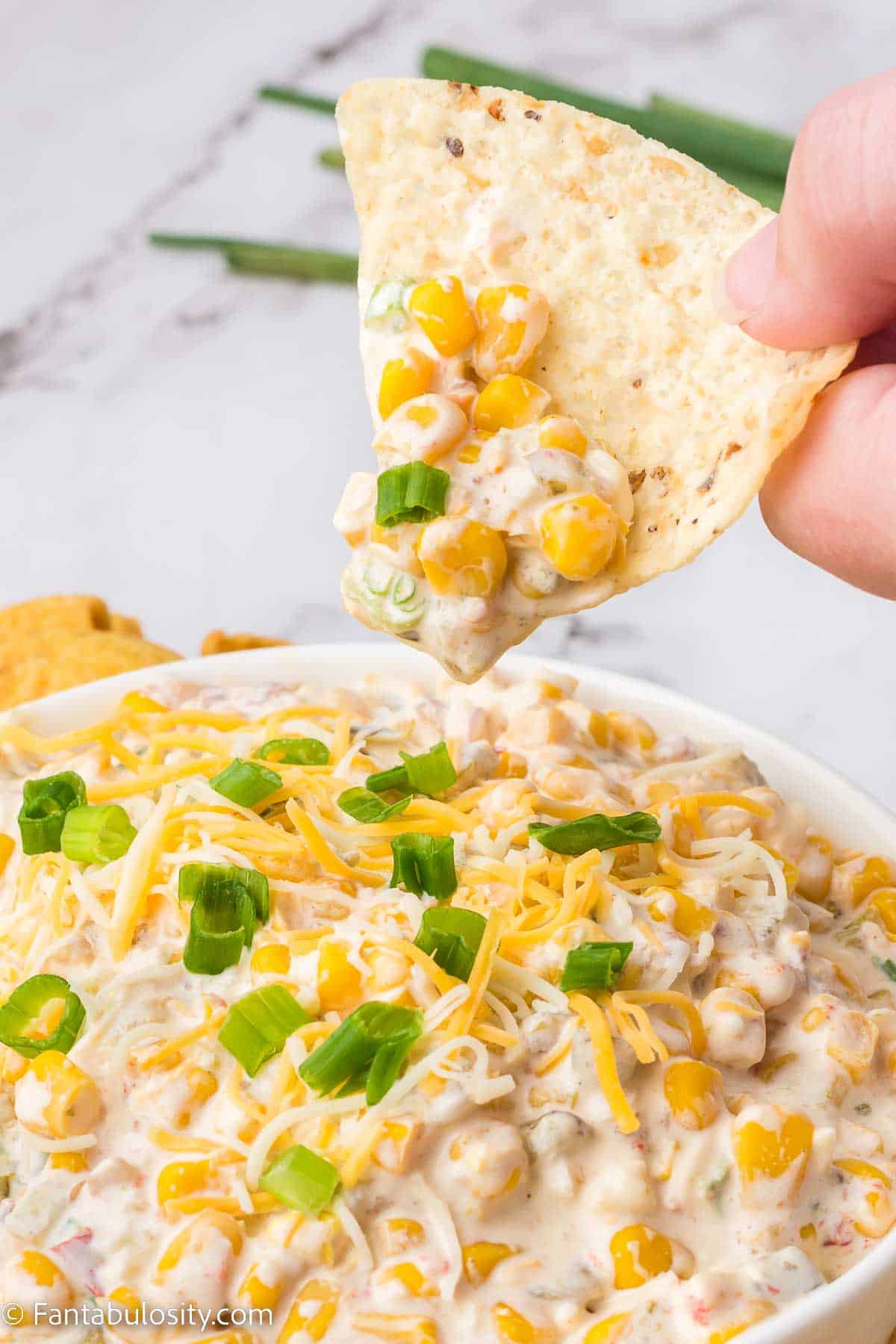 💭 Recipe Pro Tips
Cheese Recommendations: Cheeses can vary drastically in flavor. For a unique touch, try using smoked cheeses or cheeses infused with herbs or spices.
Dip Consistency: If you prefer your dip to be thicker, consider reducing the amount of sour cream or adding more cheese. Conversely, for a thinner dip, you could add a splash of milk or a bit more sour cream.
📋 Recipe FAQs
Is there a vegan alternative for this dip?
Yes, you can make a vegan version of this dip by using dairy-free alternatives for the cream cheese, mayonnaise, sour cream, and cheese. There are numerous plant-based products available in the market that can be used as substitutes.
What can I substitute for jalapenos if I don't want the dip to be spicy?
If you want to reduce the heat, you can substitute jalapenos with bell peppers. They provide a similar texture without spiciness.
Can I use pre-shredded cheese for this recipe?
While pre-shredded cheese is certainly convenient, shredding your own cheese is recommended for the best results. Pre-shredded cheese often contains anti-caking agents and doesn't melt as smoothly.
Do I have to use store-bought southwest corn, or can I make my own?
You don't need to rely on store-bought southwest corn; instead, you can create your own blend and incorporate it into this recipe. Southwest corn consists of a delightful combination of yellow corn, poblano peppers, and red peppers, seasoned with a touch of chili spice.
Why is my dip soggy?
It is important to thoroughly drain all canned ingredients to achieve the desired consistency of a firm dip. Failure to do so may result in a slightly liquid texture, whereas a firm dip texture is preferred. Additionally, refrigerating the dip will further enhance its firmness, provided that the canned ingredients were properly drained beforehand.
🍽 What to Serve with Crack Corn Dip
Crack Corn Dip pairs beautifully with a variety of snacks and side dishes. Here are a few suggestions:
Tortilla Chips: The classic choice for any dip, the crunch and light flavor of tortilla chips make them an excellent carrier for the rich, creamy dip.
Vegetables: For a healthier option, serve with an array of colorful, crisp vegetables such as carrot sticks, celery sticks, bell pepper strips, and cucumber slices.
Toasted Baguette: Thinly sliced and lightly toasted baguette rounds impart a delightful crunch and a subtle, toasty flavor that complements the corn dip perfectly.
Crackers: Choose from a variety of crackers, like whole grain, multigrain, or Ritz for added flavor and texture.
Grilled Chicken or Steak Skewers: For a heartier appetizer, try serving the dip alongside grilled chicken or steak skewers. The bold, smoky flavors of the grilled meat contrast beautifully with the creamy, cheesy dip.
Pita Chips: Thick, crunchy pita chips can hold up to the hearty corn dip without getting soggy. Plus, they add a lovely toasted flavor.
Remember, you can always mix and match these options to create a serving platter that caters to all tastes and dietary preferences. Plain potato chips are also a great option for last-minute snacks.
❄️ Storage
Storing and preserving Crack Corn Dip is quite straightforward. After serving, immediately refrigerate and store leftovers in an airtight container. This dip will stay fresh in the refrigerator for up to 3-4 days.
If you're thinking about freezing, Crack Corn Dip freezes well due to the high dairy content. To freeze, place the dip in a freezer-safe container, leaving about half an inch of space at the top to allow the dip to expand as it freezes. It can be frozen for up to 2 months. When ready to use, defrost overnight in the refrigerator.
To make Crack Corn Dip ahead of time, prepare it as instructed, excluding the additional cheese topping and baking steps. Seal in an air-tight container and refrigerate until ready to use. This dip can be made up to 2 days in advance. When ready to serve, add the additional cheese topping and bake as per the instructions, adding a few extra minutes to the baking time to account for starting from a chilled state.
🍰 More Appetizer Recipes You'll Love
Want some more ideas for an easy appetizer and dips? One of our favorites is this Rotel dip with ground beef. Or you could try a Baked Brie with Maple Syrup and Bacon for a melting cheese option that everyone will enjoy.
Did you make this? I'd be so grateful if you left a "star" rating below to let me know what you thought! Then, the next time you need a quick and easy recipe, come back to Fantabulosity to browse all of my easy recipes!
📖 Recipe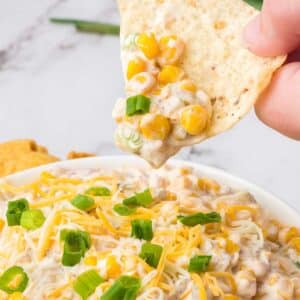 Crack Corn Dip
This corn dip is easy to make and has tons of flavor with the type of corn, all the cheeses and flavors of jalapenos, green chili peppers, and bacon!
Ingredients
1

cup

mayonnaise

3/4

cup

sour cream

2

ounces

cream cheese

softened

1

tablespoon

garlic

minced

2

15.2 cans

southwest corn

drained well

1

4 ounce can

chopped green chili peppers

drained

1/4

cup

canned chopped jalapenos

drained

1/2

cup

green onion

chopped, plus extra for topping

1/3

cup

bacon crumbles

1

cup

Colby Jack Cheese

shredded, plus extra for topping

1

cup

pepper jack cheese

shredded

1

tablespoon

ground black pepper
Instructions
In a large bowl, combine mayonnaise, sour cream, cream cheese, and garlic until well mixed and smooth.

Add southwest corn, green chili peppers, jalapenos, green onion bacon crumbles, Colby jack cheese, pepper jack cheese, and ground black pepper to the mayonnaise mixture and combine well.

Cover and chill in your refrigerator for at least 1 hour.

Top with extra Colby jack cheese and chopped green onions before serving with your favorite corn chips.
Notes
Using pre-shredded cheese: While pre-shredded cheese is certainly convenient, shredding your own cheese is recommended for the best results. Pre-shredded cheese often contains anti-caking agents and doesn't melt as smoothly.
Nutrition
Calories:
610
kcal
|
Carbohydrates:
5
g
|
Protein:
14
g
|
Fat:
59
g
|
Saturated Fat:
21
g
|
Polyunsaturated Fat:
21
g
|
Monounsaturated Fat:
15
g
|
Trans Fat:
0.1
g
|
Cholesterol:
96
mg
|
Sodium:
628
mg
|
Potassium:
169
mg
|
Fiber:
1
g
|
Sugar:
2
g
|
Vitamin A:
939
IU
|
Vitamin C:
3
mg
|
Calcium:
414
mg
|
Iron:
1
mg
Nutritional information is based on third-party calculations and should be considered estimates. Actual nutritional content will vary with brands used, measuring methods, portion sizes and more.