This crab cake sandwich recipe combines the irresistible flavors of tender, flaky crab meat with a crispy golden crust, all nestled between two soft buns. Sandwich recipes are an easy dinner idea or even lunch recipe and this crab cake sandwich makes any meal, less boring!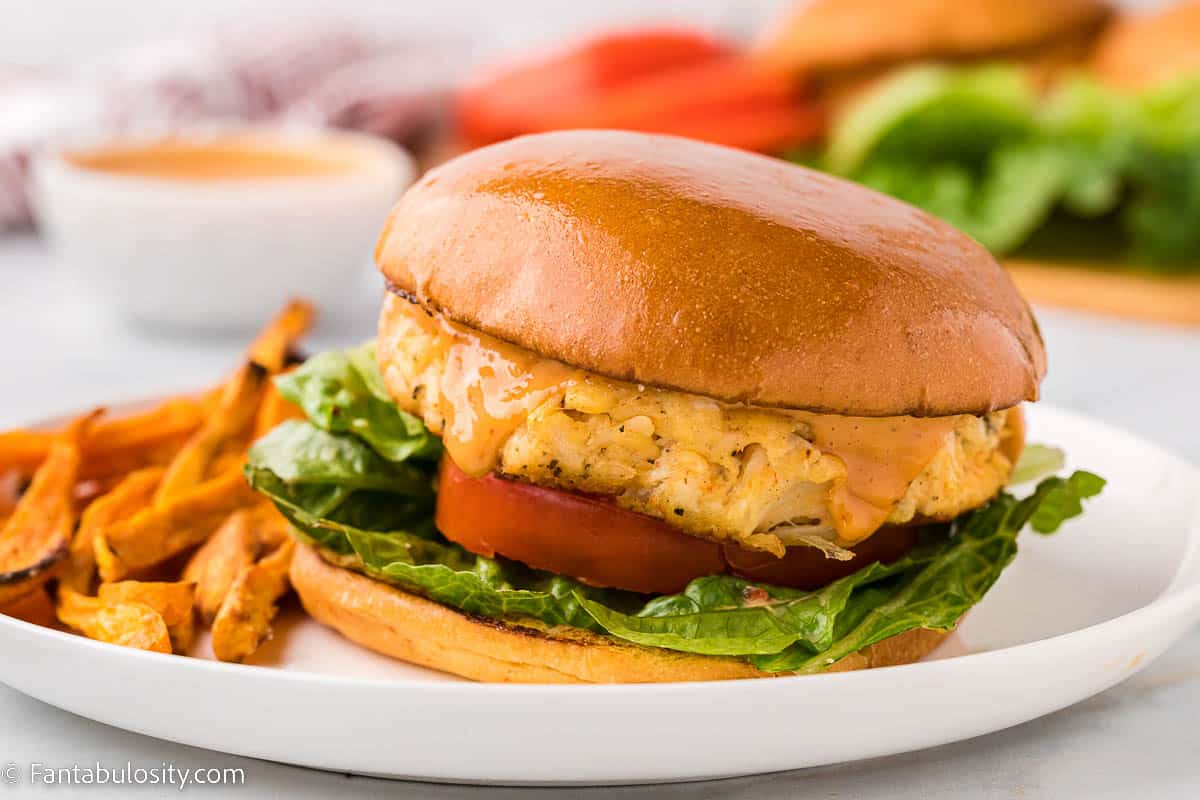 Whether you're a seasoned home cook or just starting out in the kitchen, this Crab Cake Sandwich is sure to impress your taste buds and leave you craving more. So, let's dive into the fantastic world of this incredible dish that's bound to become a new favorite in your house! This is also a fancier, warm version of a crab sandwich but if you're looking for a cold, lunch-style sandwich, this crab salad sandwich is perfect!
Still have some crab left after the recipe, or do you just want to try more dishes with crab (even imitation crab)? You could make a delicious Crab Pasta Bake for the family or try a Crab Salad. Or share your new favorite ingredient and make an Easy Crab Bisque instead.
Jump to:
❤️ Why You'll Love This Recipe
It is easy to personalize: You can change the seasoning and vegetables added to the crab cakes to make it just how you like it
Easy to increase the portions: Need more than 4-6 servings? Then you can easily create more crab cakes to feed a bigger group.
Ready in only 50 minutes: There's only a short prep period and a little cooking time, with most of the recipe time for chilling, so you can do something else in the middle!
🧾 Ingredients Needed
I've highlighted a couple of ingredients with some relevant notes. Aside from this, the ingredients needed are pretty basic.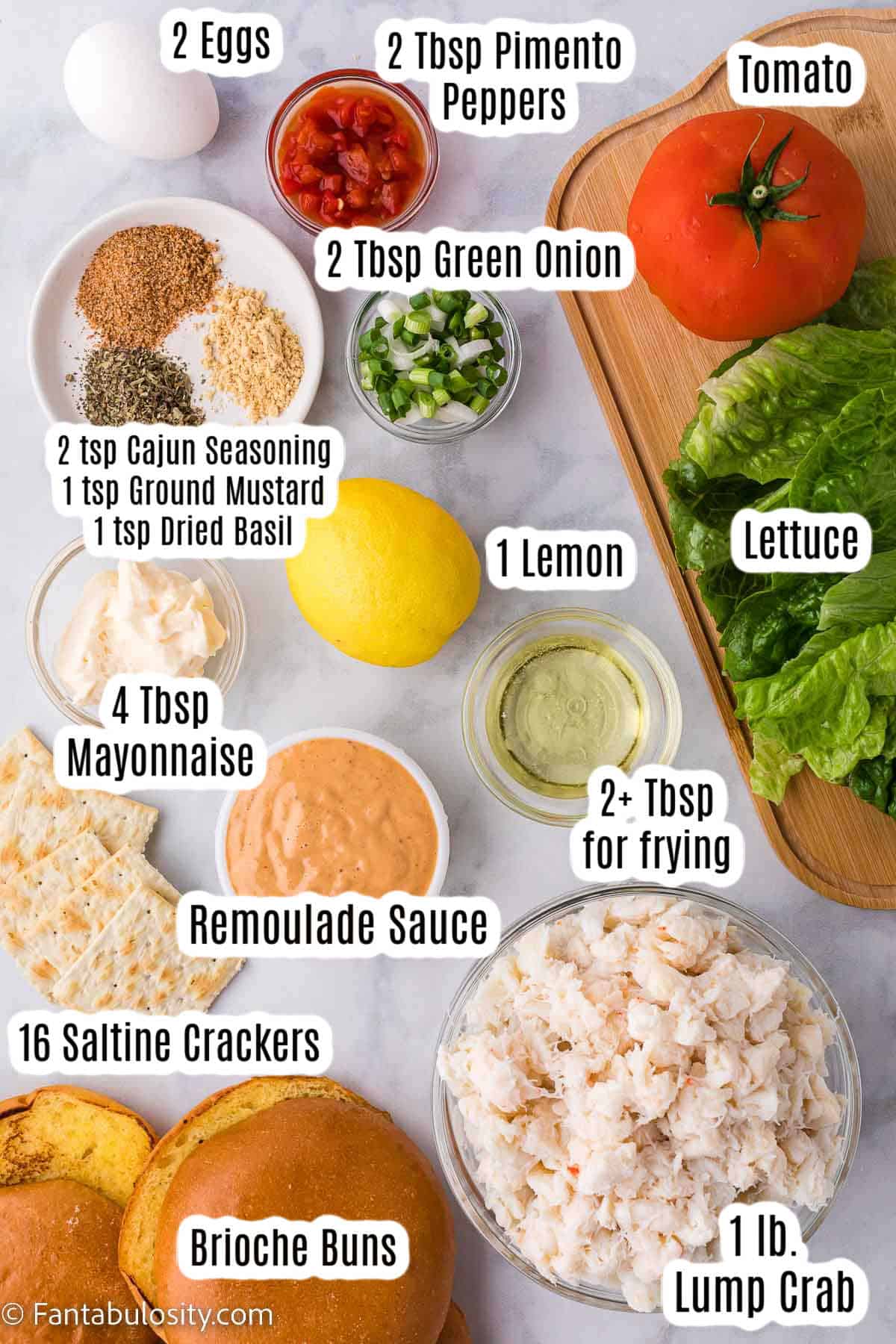 Crab meat – You'll need about a pound of crab meat for this recipe. If you use canned Lump Crab meat, make sure to drain it well, as too much liquid makes the crab cakes fall apart.
Crackers – Saltine crackers are perfect to add extra crunch to this recipe, finely crush them before adding them to the mix.
Seasonings – We used my favorite Tony's Chacheries for the Cajun seasoning, along with ground mustard and some dried basil.
📖 Substitutions
Sometimes substitutions are necessary because of ingredients that are unavailable or needed for dietary restrictions. Here are some suggestions that can help:
Saltine crackers: You can replace saltine crackers with other types of crackers like Ritz or whole wheat crackers. Alternatively, you can use breadcrumbs (either plain or seasoned) or panko crumbs for a similar texture.
Cajun seasoning: You can create your own blend by combining common spices like paprika, garlic powder, onion powder, cayenne pepper, black pepper, dried thyme, and dried oregano. Adjust the ratios according to your taste preferences. If you prefer a milder flavor, you can use Old Bay seasoning or Creole seasoning instead.
Ground mustard: Dijon mustard or yellow mustard can be used as a substitute for ground mustard. You can also use dry mustard powder or a pinch of turmeric for color and a slight mustard flavor.
Green onions: Chopped chives, shallots, or red onions can be used as a substitute for green onions. They will provide a slightly different flavor but still add a nice touch to your crab cakes.
Pimento peppers: You can replace pimento peppers with diced red bell peppers or roasted red peppers for a similar taste and texture. If you'd like a spicier kick, try using diced jalapeño peppers or banana peppers.
Feel free to mix and match these substitutions to suit your taste buds and make the perfect crab cakes for you and your loved ones!
📖 Variations
Crab cake sandwiches are versatile and can be customized to suit different taste preferences. Here are some delicious variations you can try:
Sauces: Swap out the remoulade sauce for other sauces like homemade tartar sauce, garlic aioli sauce, chipotle mayo, sriracha mayo, or hot sauce for a spicy kick.
Bread: Experiment with different types of bread, such as ciabatta, sourdough, or even a pretzel bun, to change up the texture and flavor of your sandwich.
Cheese: Add a slice of your favorite cheese, such as cheddar, Swiss, pepper jack, or provolone, for a gooey, melty twist.
Toppings: Enhance your crab cake sandwich with additional toppings like lettuce, tomato, avocado, coleslaw, pickles, caramelized onions, or bacon for extra flavor and texture.
Seasoning: Incorporate unique seasonings into your crab cake mixture, such as curry powder, za'atar, or Italian seasoning, to create a different flavor profile.
Seafood mix: Combine crab meat with other seafood, like shrimp or scallops, for a more complex and luxurious taste.
Gluten-free: Make your crab cakes gluten-free by using gluten-free breadcrumbs with the traditional recipe or add some crushed gluten-free crackers instead of regular saltine crackers.
Vegetarian option: Replace crab meat with a mixture of mashed chickpeas or hearts of palm and add extra seasonings to mimic the taste and texture of crab cakes.
With these variations, you can create a crab cake sandwich that caters to your taste buds and dietary preferences while still enjoying the essence of this delicious dish.
👩🏻‍🍳 How to Make Crab Cake Sandwiches
This Crab Cake Sandwich recipe is broken into 2 components:
Mix the ingredients
Cook the crab cakes and serve
*Be sure to see the recipe card below for the full ingredients list & instructions!*
STEP 1: Mix the crab cake ingredients. Set aside the crab, crushed crackers, Cajun seasoning, basil, and mustard powder in a medium-sized mixing bowl and gently stir them together. (Image 1).
STEP 2: Mix the wet ingredients. Beat the egg in a small bowl and then mix in green onion, pimentos, lemon juice, and lemon zest. (Image 2).
STEP 3: Make the crab cakes. Carefully mix the egg mixture with the crab mixture and shape it into burgers, approximately 4 ounces each if making 4. Put the patties on a pan lined with parchment paper or wax paper. (Image 3-5).
STEP 4: Refrigerate the cakes. Chill the cakes in the refrigerator for 30 minutes to 1 hour before baking.
STEP 5: Heat the pan. Wait to take the cakes out of the refrigerator until after the large skillet has been heated to medium heat with olive oil added to it. Then, place the crab cakes in the hot and ready pan.
STEP 6: Cook the crab cakes. To cook the cakes, heat them on each side for 3 to 4 minutes until they turn golden brown. Afterward, take them out of the pan and transfer them onto a baking sheet with paper towels. (Image 6-8).
STEP 7: Create the sandwiches. To prepare the sandwich, simply put all the ingredients together and add your preferred Remoulade sauce on top in soft brioche buns.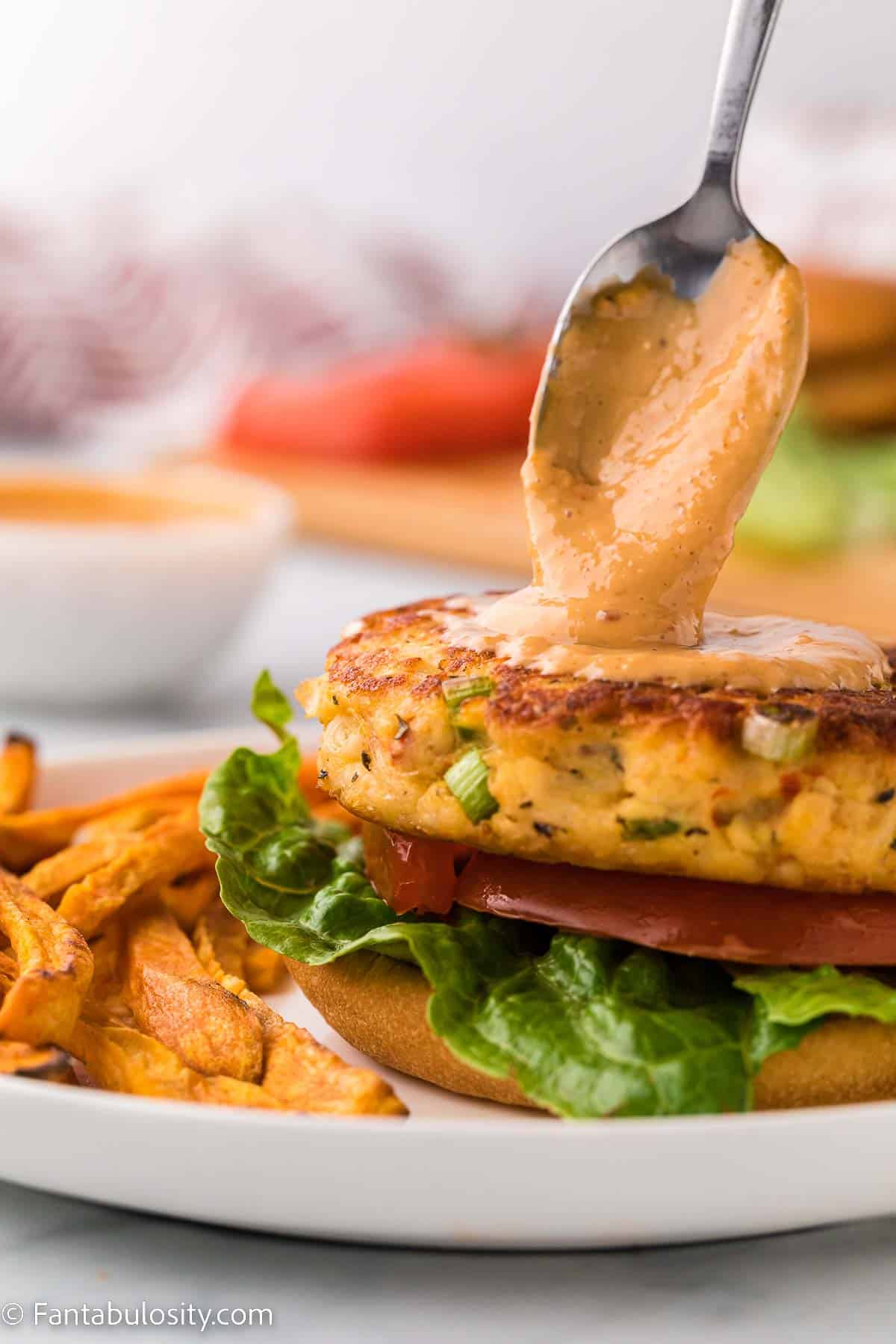 💭 Recipe Pro Tips
Drain crab meat: Make sure to thoroughly drain the crab meat before mixing it with other ingredients. Excess moisture can make your crab cakes too wet and difficult to hold together.
Chill the mixture: Refrigerate the crab cake mixture for at least 30 minutes before forming patties. This allows the flavors to meld together and makes the patties easier to handle.
Forming patties: When shaping the crab cakes, avoid over-packing or compressing the mixture too much. Gently form the patties, which will result in a lighter, more tender texture.
Size consistency: Make sure your crab cakes are of uniform size and thickness to ensure even cooking.
Coat evenly: For a crisp, golden crust, coat the crab cakes evenly with breadcrumbs or panko crumbs before frying.
Hot oil: Ensure the oil is hot (around 350°F or 175°C) before adding the crab cakes. This will help them cook evenly and develop a crispy exterior.
Avoid overcrowding: Cook the crab cakes in batches if necessary, to prevent overcrowding the pan. Overcrowding can lower the oil temperature and lead to uneven cooking.
Gentle flipping: Be gentle when flipping the crab cakes to prevent breaking. Use a wide spatula and turn them only once during the cooking process.
Drain excess oil: Place cooked crab cakes on a paper towel-lined plate to absorb any excess oil before assembling your sandwich.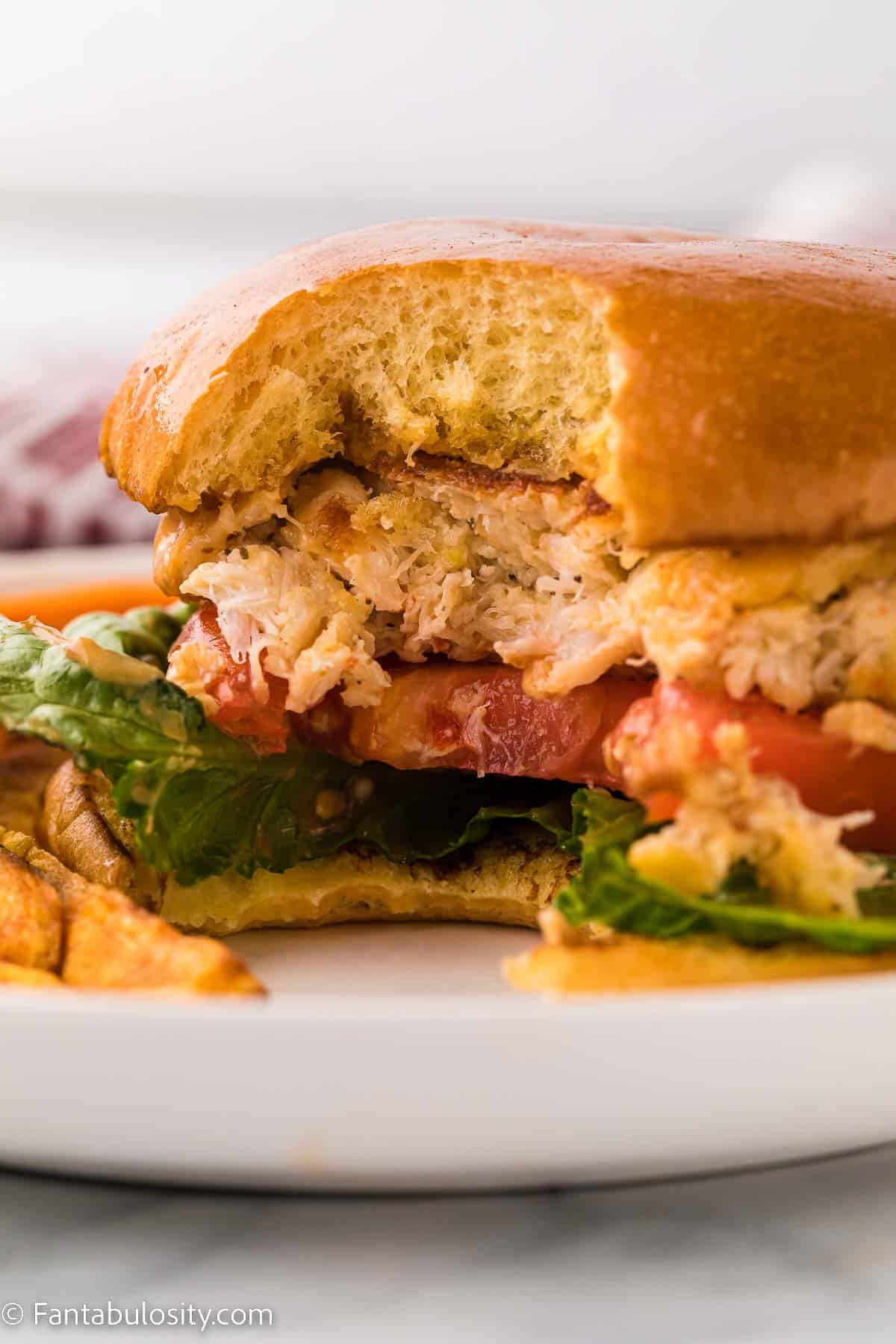 📋 Recipe FAQs
Can I use canned crab meat for this recipe?
Yes, you can use canned crab meat as long as you thoroughly drain it to remove excess liquid. Fresh or frozen crab meat can also be used if you prefer.

Can I bake the crab cakes instead of frying them?
Absolutely! To bake the crab cakes, preheat your oven to 400°F (200°C), place the patties on a parchment-lined baking sheet, and bake for about 15-20 minutes or until golden brown, flipping them halfway through.
What type of crab meat is best for crab cakes?
Lump or jumbo lump crab meat works best for crab cakes, as they provide a nice texture and flavor. However, you can also use claw meat or a combination of different types of crab meat.

🍽 What to Serve with Crab Cake Sandwiches
A variety of side dishes can complement Crab Cake Sandwiches, adding balance and flavor to your meal. Here are some delicious options to consider:
Coleslaw: A classic pairing with seafood, coleslaw adds a refreshing crunch and tanginess to your meal.
Roasted vegetables: Roasted or grilled veggies like roasted broccoli, asparagus, zucchini, bell peppers, or green beans provide a healthy and tasty accompaniment.
Sweet potato fries: Baked or air-fried sweet potato fries add a touch of sweetness and a different texture to the meal.
Green salad: A simple mixed green salad with a light vinaigrette dressing can help balance out the richness of the crab cakes.
Potato salad: A creamy potato salad or a German-style warm potato salad can be a satisfying addition to your crab cake sandwich experience.
Corn on the cob: Grilled or boiled corn on the cob (or even Instant Pot corn on the cob), seasoned with butter and spices, complements the flavors of the crab cakes nicely.
Cucumber salad: A light and tangy cucumber salad with red onions and dill, or creamy cucumber salad, can provide a refreshing contrast to crab cakes.
Crispy chips: Serve your sandwiches with a side of kettle-cooked potato chips or even some homemade tortilla chips for an extra crunch.
Pasta salad: A cold pasta salad with fresh vegetables, olives, and feta cheese can make for a delightful side dish.
Rice or quinoa: Seasoned rice, pilaf, or quinoa can serve as a delicious and filling accompaniment to your crab cake sandwiches.
Feel free to mix and match these side dishes based on your preferences and the occasion, creating the perfect meal to enjoy alongside your mouth-watering Crab Cake Sandwiches.
❄️ Storage
Store leftover cooked crab cakes in an airtight container in the refrigerator for up to 3 days. To reheat, place them in a preheated oven at 350°F (175°C) for about 10 minutes or until heated through.
You can freeze uncooked or cooked crab cakes. Wrap each patty individually in plastic wrap and place them in a freezer-safe container or zip-top bag. They can be stored in the freezer for up to 3 months. Thaw in the refrigerator overnight before cooking or reheating.
🦀 More Seafood Recipes You'll Love
The great thing about seafood like crab meat and shrimp, is that they can be so versatile for so many recipes. Here are some of our favorite recipes featuring crab and shrimp:
Did you make this? I'd be so grateful if you left a "star" rating below to let me know what you thought! Then, the next time you need a quick and easy recipe, come back to Fantabulosity to browse all of my easy recipes!
📖 Recipe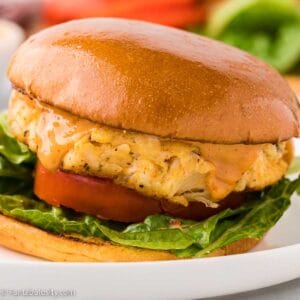 Crab Cake Sandwich
This crab cake sandwich recipe is easy to make and is delicious with your favorite toppings like a remoulade sauce, and soft buns!
Ingredients
1

pound

Lump Crab Meat

16

Saltine Crackers

Finely Crushed

2

Teaspoons

Cajun Seasoning

1

Teaspoon

Ground Mustard

1

Teaspoon

Dried Basil

2

Eggs

Lightly Beaten

4

Tablespoons

Mayonnaise

2

Tablespoons

Green Onion

Sliced

2

Tablespoons

Pimento Peppers

Drained

1

Lemon

Juice and Zest

Brioche Buns

Toasted with Butter

Lettuce

Tomato

Remoulade Sauce

if desired
Instructions
Mix: In a medium-sized mixing bowl, gently stir crab, crushed crackers, Cajun seasoning, basil, and mustard powder together; set aside.

Egg mixture: In a small bowl, gently beat the egg. Then add green onion, pimentos, lemon juice, and lemon zest, then mix.

Combine: Gently combine the egg mixture with the crab mixture. Form into burger-size cakes. About 4 ounces each if making 4. Place patties on a parchment paper or wax paper lined pan.

Refrigerate cakes for 30 min to 1 hour before cooking.

Prep Oil: Add oil to a nonstick pan over medium heat; do not remove cakes from the refrigerator until the pan is hot and ready to cook.

Fry: Cook the cakes on each side for 3 to 4 minutes until golden brown. When done, remove them from the pan and place them on a baking sheet lined with paper towels.

Build: Assemble the sandwich and top with your favorite Remoulade sauce.
Notes
Type of Crab: You can use canned crab meat as long as you thoroughly drain it to remove excess liquid. Fresh or frozen crab meat can also be used if you prefer. To Store Leftover Crab Cakes: Store leftover cooked crab cakes in an airtight container in the refrigerator for up to 3 days. To reheat, place them in a preheated oven at 350°F (175°C) for about 10 minutes or until heated through.
Nutrition
Serving:
1
sandwich
|
Calories:
1149
kcal
|
Carbohydrates:
52
g
|
Protein:
102
g
|
Fat:
58
g
|
Saturated Fat:
11
g
|
Polyunsaturated Fat:
30
g
|
Monounsaturated Fat:
14
g
|
Trans Fat:
0.3
g
|
Cholesterol:
541
mg
|
Sodium:
4792
mg
|
Potassium:
1503
mg
|
Fiber:
7
g
|
Sugar:
6
g
|
Vitamin A:
3567
IU
|
Vitamin C:
123
mg
|
Calcium:
346
mg
|
Iron:
10
mg
Nutritional information is based on third-party calculations and should be considered estimates. Actual nutritional content will vary with brands used, measuring methods, portion sizes and more.