Home Tour Part 18 — Craftsman Home Patio Reveal: It's an outdoor oasis surrounded by white patio curtains, with a white cushion sectional from our craftsman style home.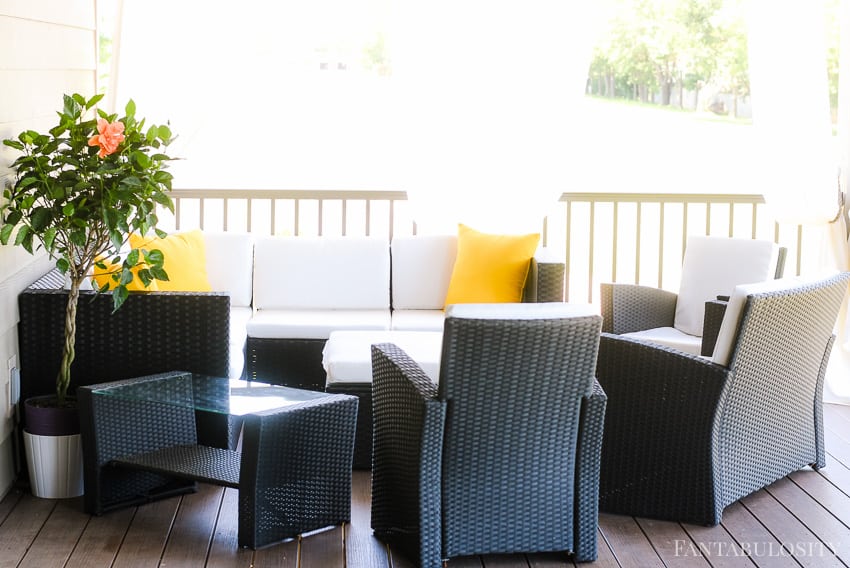 Craftsman Home Patio Reveal
I featured our "old" patio in our home tour a couple of years ago here, and it has been a YEAR from the moment I started thinking about a new patio look, and I'm happy to say that I finally have it how I've wanted it. There have been incredible hurdles through this process, and the crazy part is… there's really not much to it.
I mean, new furniture and some patio curtains. How hard can that be, right?! Well oh mylanta. This patio project quickly turned into a story similar to the storyline in the movie The Money Pit. Although I didn't spend a lot of money on this project, it seemed as if everything kept going wrong from the start. I'd get one item figured out, and then something else would go wrong.
First the Furniture…
I originally ordered the new sectional to have for my Favorite Things Party, but the original seating set that I ordered never made it. (Lost in shipping.) Then after reordering, it went on back order for a few months. When I finally received it, the cushions were gray instead of white, and the furniture was black instead of brown. I kind of went a bit crazy during this time, but I must say that after about 5 months of back and forth… Wayfair sent me the white cushions, and I decided to just live with the wrong color of furniture. So, needless to say, THIS is why my patio wasn't complete and ready to reveal last season.
Then the Patio Curtains…
I LOOOOOVE my patio curtains. (I talked about them a lot in the post about how to DIY the patio curtain tie backs here.) But our house is up on a hill, and the back patio can take a big gust of wind like nobody's business. So through a bit of trial and error, I think we finally have these babies hung on hooks that can take a tornado. Bring it, mother nature!
You can buy the same patio curtains HERE!
You can also buy the outdoor curtain rods that I used HERE!
Plus, get my DIY tutorial for the nautical tie-backs that I made for these, for under $5.00 HERE!
But I'm In Love…
Even though it has been a bit of a struggle here and there, I'm happy to say that the patio is now a place I refer to as my oasis. It's simple and it's relaxing.
Video Tour
Along with the photos that you'll see below, I've created a quick video tour on my YouTube channel to give you an up-close visual experience too!
I've included links to similar furniture pieces at the end of this post, in case you're in the market for your own patio too!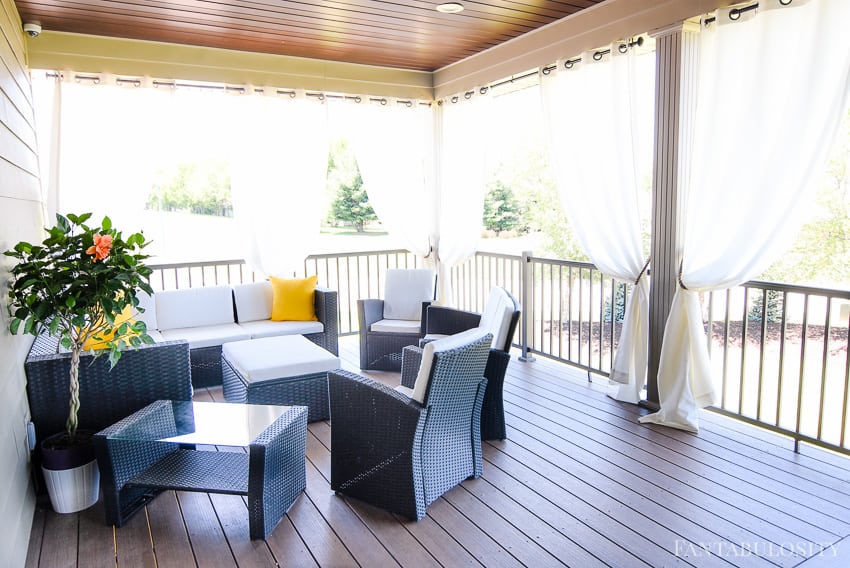 White Cushions? She-Crazy!
When shopping for a new sectional for the back patio, I knew I wanted white-white cushions. My friends thought I was crazy, and STILL think I'm crazy to have white cushions with two messy little boys at home. But I wanted to take the risk, and I'm happy to say that a year later… I'm still happy with the decision.
Scotchgard has been my best friend, and bleach and OxyClean have also been a swell thing to have on hand.
Yellow Throw Pillows
With dark brown (almost black) furniture, and white cushions and patio curtains, I had the hardest time deciding on a pillow color. But when I stopped in at World Market the other day, they had their outdoor pillows on sale and the yellow caught my eye. I'm still not 100% sure I'm going to stick with yellow, but they'll work for now. I'll be honest, I'm keeping my eye out for some pale pink pillows, and will just hope that my hubby doesn't notice them.
Floral Touch
I'm a sucker for a green plant on my patio. I'm not much of a green-thumb, so if it's a plant that can take care of itself, that's even better. I snagged this one at Lowe's the day I took these photos, and my poor little flower died the next day. Looks like succulents are in my future.
Or Fake Grass…
Better than succulents, is FAKE greenery. It may not look the best, but it at least adds a pop of color and can withstand that wind and nasty weather that may come about.
I put this arrangement on my dining table. I love having this table and chairs out for when the kiddos want to eat outside or when we have people over for a cookout.
Outdoor Dining Table
I found the table at Target HERE (it's on sale at the time of this post) and the chairs from Walmart for only $20 last year, but I can't seem to find them online anywhere. EXCEPT these look very similar, but my goodness they want a pretty penny for them!
My Happy Place
The back patio is definitely my happy place. Feel free to virtually come over anytime! You'll more than likely find me out here (yes, I'm sitting out here typing this now) if the weather is above 60 degrees here.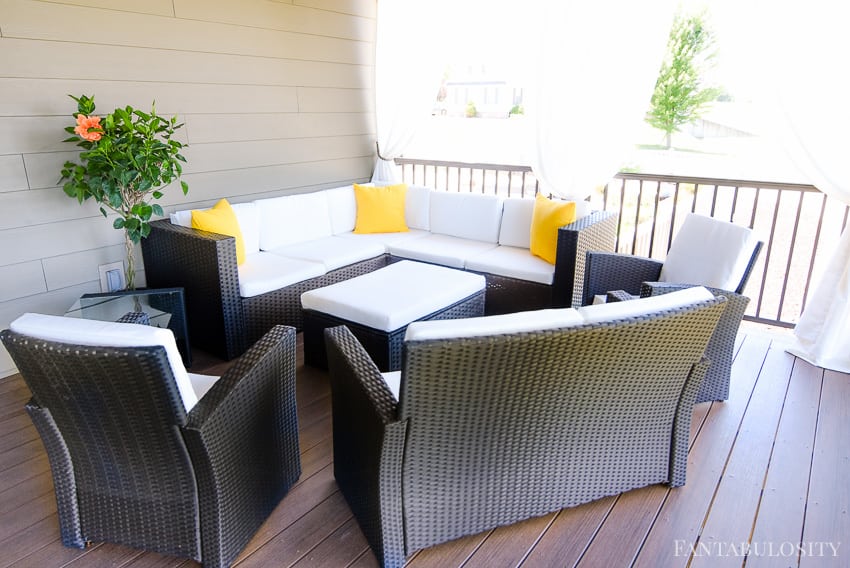 Sectional Details
Sectional seen here against the wall, but with gray cushions: Magari 4 Piece Deep Seating Group
Similar sectional with white cushions: Outsunny Rattan Wicker 7 pc Sectional
Similar sectional with white cushions: Varick Gallery Camron Lounge Seating Group
4–Piece Seating Group Details
Similar 4-piece seating set with gray cushions: Varick Gallery Ferreira Deep Seating Group
Similar 4-piece seating set with beige cushions: Overstock – Costway 4 Pcs Outdoor Seating Set
Similar seating set with white (or they look white) cushions: Best Choice Sectional
Tour the Other Rooms in Our Home: