This is a sponsored post written by me on behalf of Cooked Perfect® Meatballs. All opinions are 100% mine
Easy Meatball Stuffed Bell Pepper Recipe: Making a weeknight favorite, just got easier. Using frozen, pre-cooked meatballs makes this dish a breeze!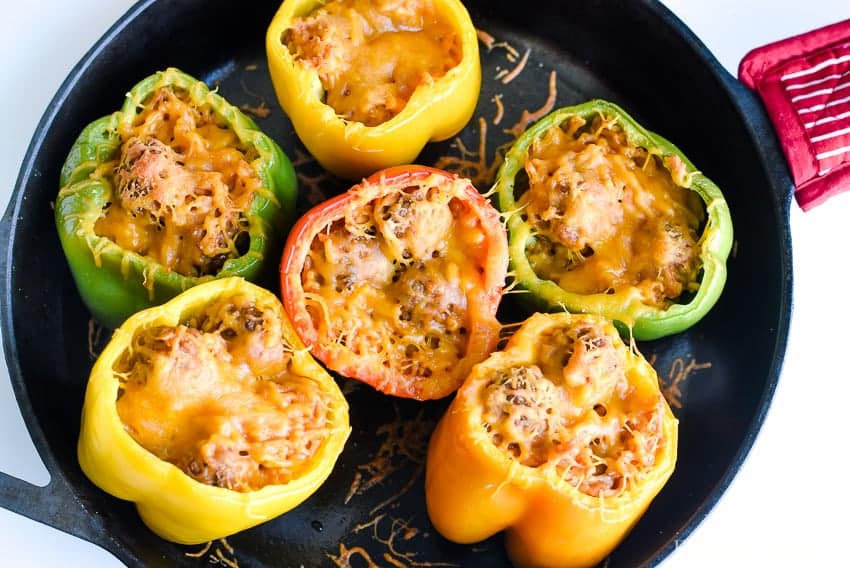 Easy Meatball Stuffed Bell Pepper Recipe
Well it's "back to school" time, and for this momma…it's the first time I've ever had a kiddo heading off to school. I'm terrified. Nervous. Beginning to wonder how for ages, parents have been able to get their kids out of bed and ready to be at school by a certain time every morning. But ready or not… here it is, so I might as well embrace it!
Weeknight Dinner Prep
The last couple of weeks, as I've been prepping school lunch ideas for my kiddo, I've also been planning and prepping for easy weeknight dinners too. I know that my evenings are going to be pretty full, listening to the daily stories told by a six year old, and helping with homework. So that leaves little time for trying to be Julia Child.
One of my favorite things to do, is to turn one of our favorite dishes into a slightly homemade recipe, making it faster, easier, and of course…delicious. So when I began brainstorming the other day about what dinners I could have at my fingertips for the busy weeknights when school starts, stuffed peppers came to mind. Then, I came up with a quick solution for one of our favorites.
"Meatballs! Why couldn't I use meatballs to make a stuffed pepper recipe even easier!"
I could. So I did.
Stuffed Bell Peppers Recipe + Meatballs = Easy
I LOVE a good meatball. Cooked Perfect® Meatballs, located in the freezer section at the grocery story, are super convenient for a quick dinner, or even to add in to a favorite dish.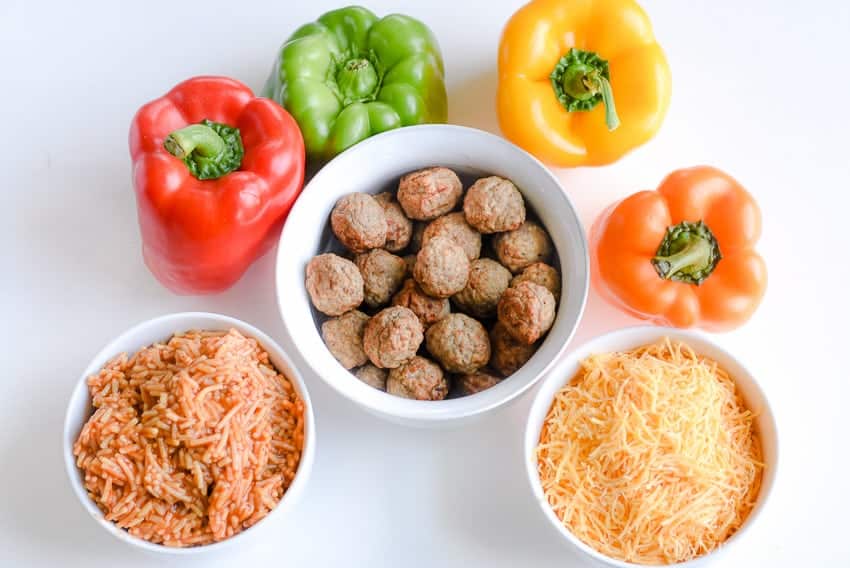 Plus, when you use Cooked Perfect Meatballs – which are made using select meats, real cheeses, and aromatic herbs and spices, and then flame-broiled – it's like they're flavoring your dish for you. They have quite a few flavors to choose from for your favorite recipes too. Flavors like:
Italian Style
Homestyle (This is what I used for this stuffed peppers recipe.)
Angus Beef
Turkey
It was a no brainer to substitute making my own meat mixture for these stuffed bell peppers, with meatballs.
Packaged Flavored Rice
Like with the meatballs, you can pick any flavor of rice you like. But for these, we chose to use a Spanish-flavored rice packet, as it gave the stuffed pepper recipe a traditional flavor.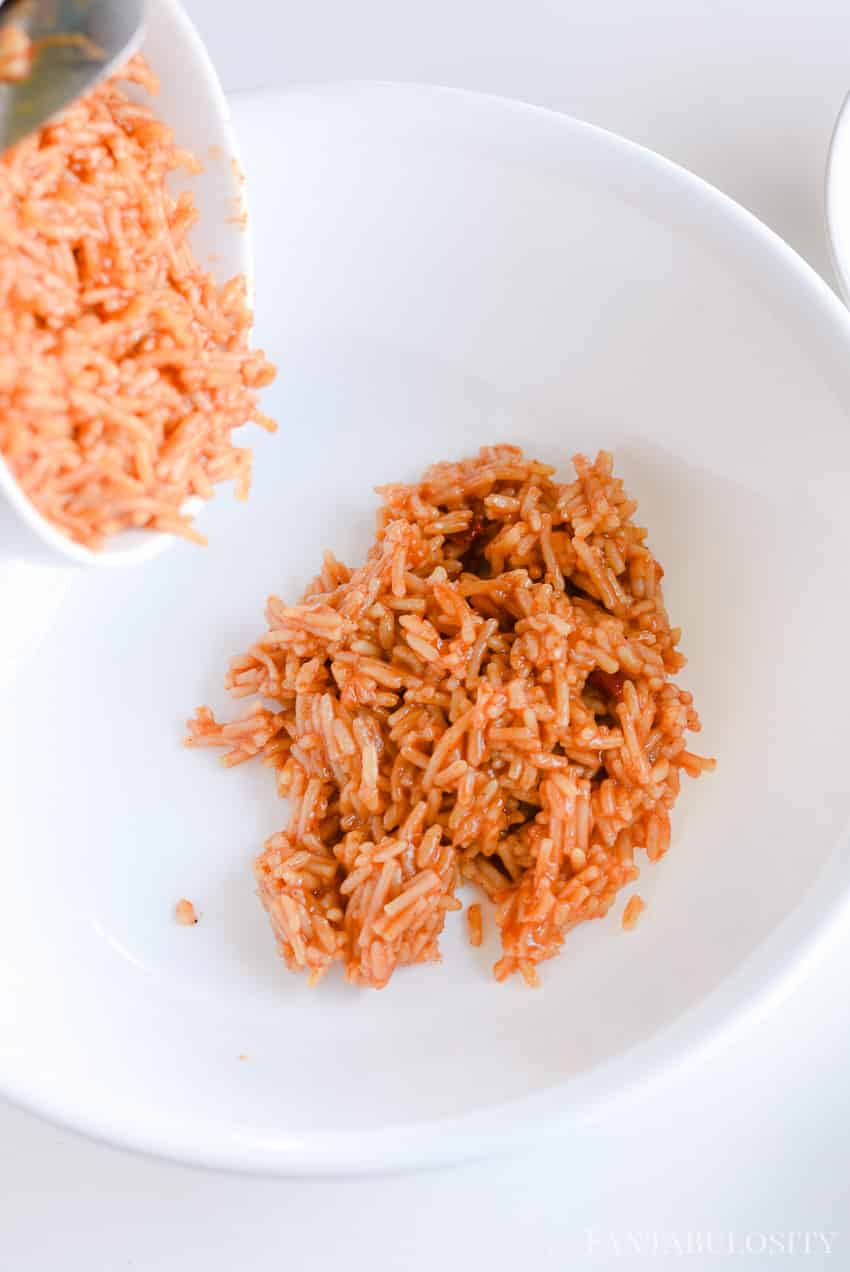 A Little Cheese… or a lot.
I love cheese. I really do. So in this recipe, you'll find that we loaded our peppers with cheese, and topped them with even more cheese.
Meatballs In Minutes
The pure joy that we had when making this, was how easy it was to toss the meatballs in the microwave, and in minutes they were ready to add to our stuffed pepper mixture.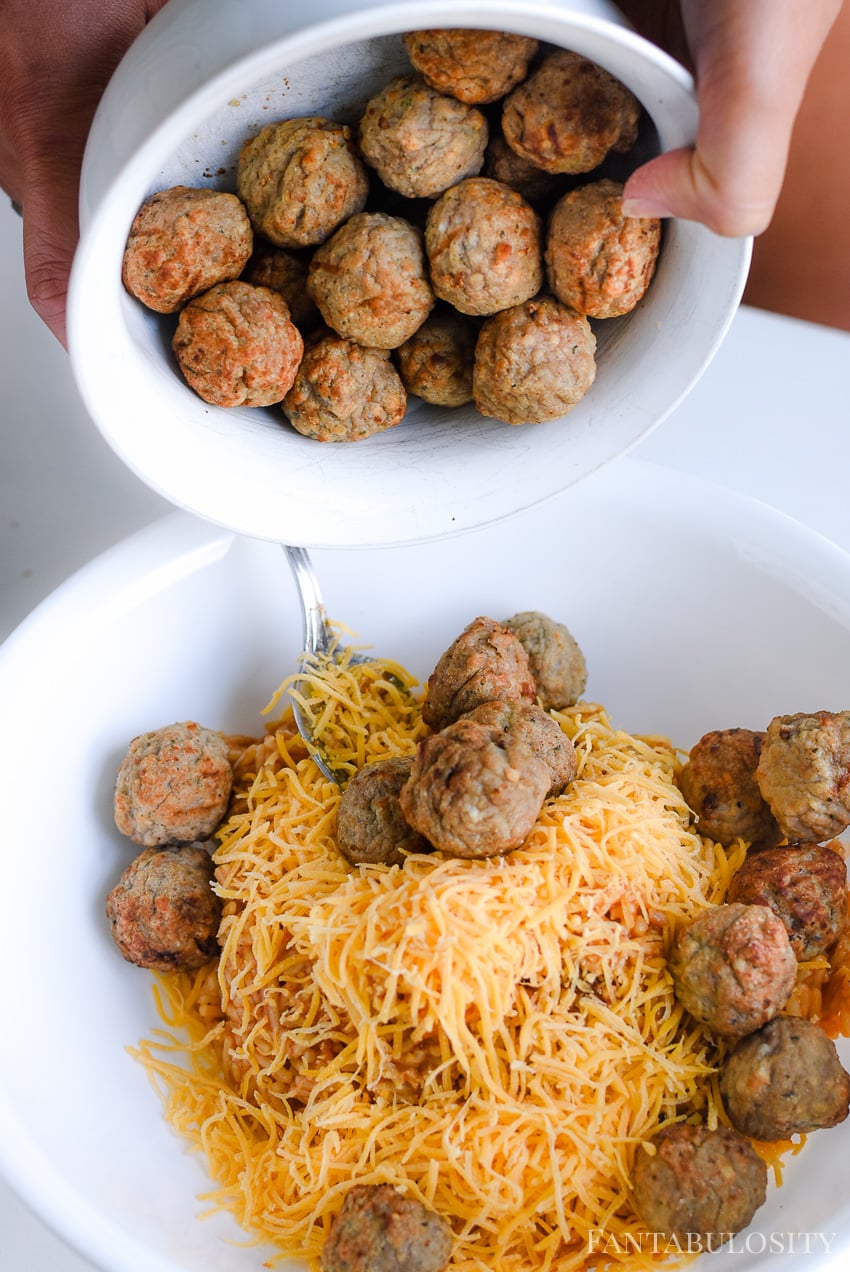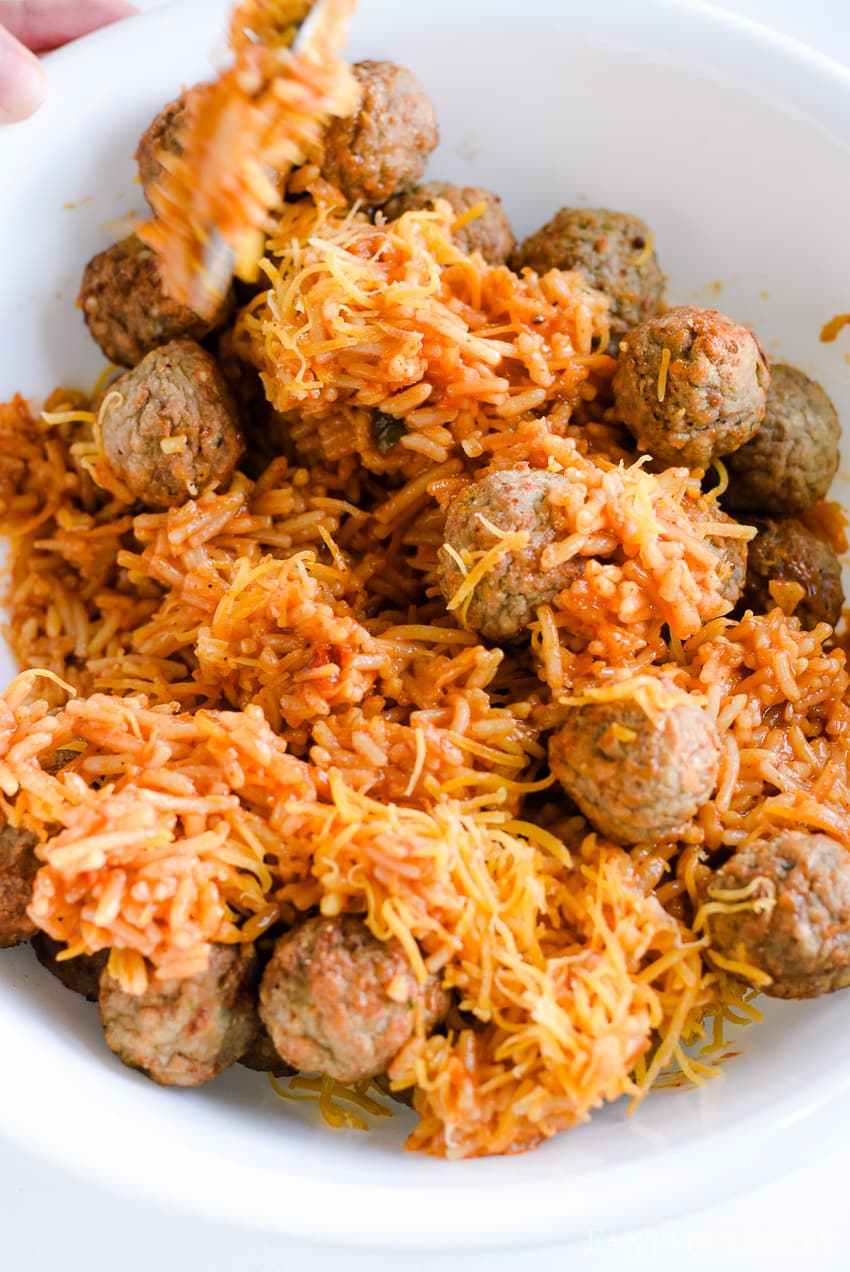 Toss + Stuff
After mixing together the rice, cheese and meatballs, we stuffed each pepper and they were ready for… you guessed it… a bit more cheese, and then ready for the oven!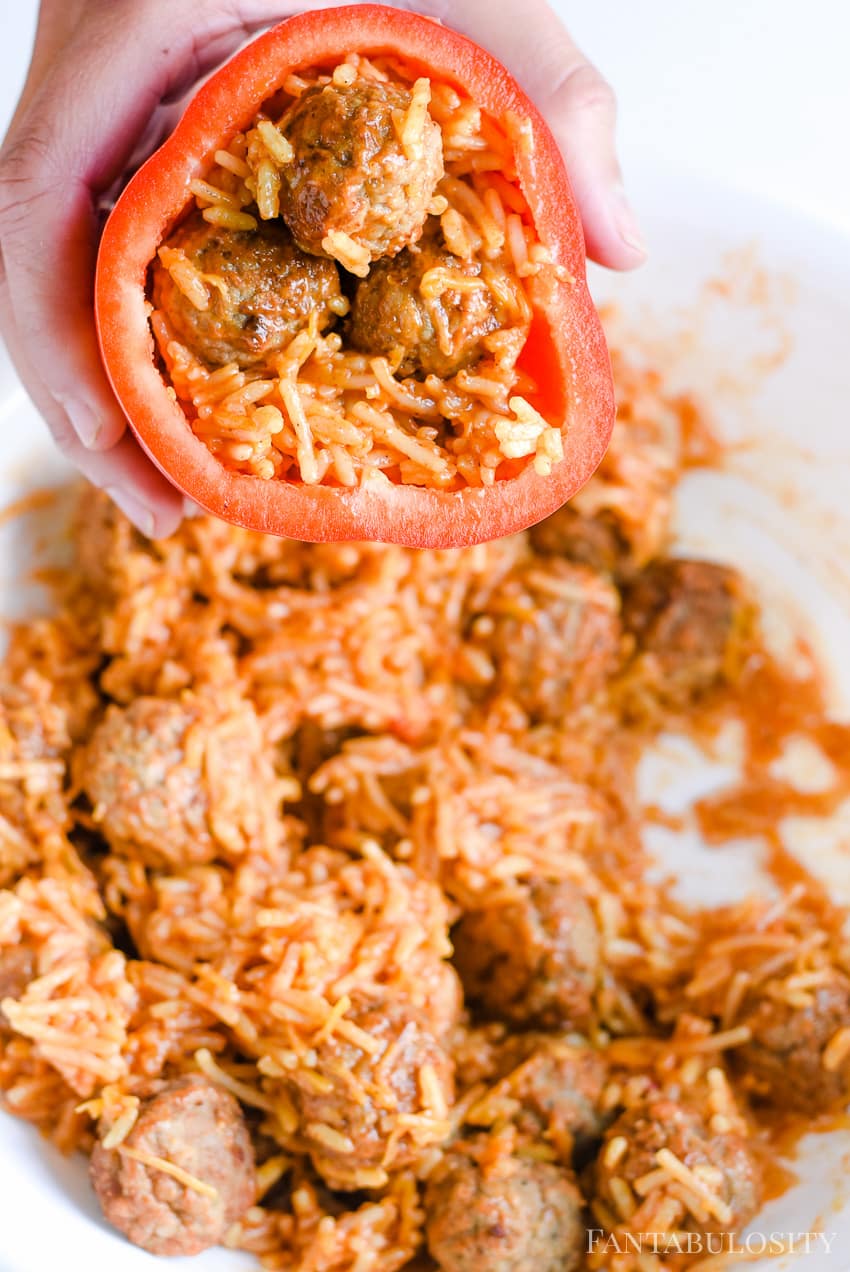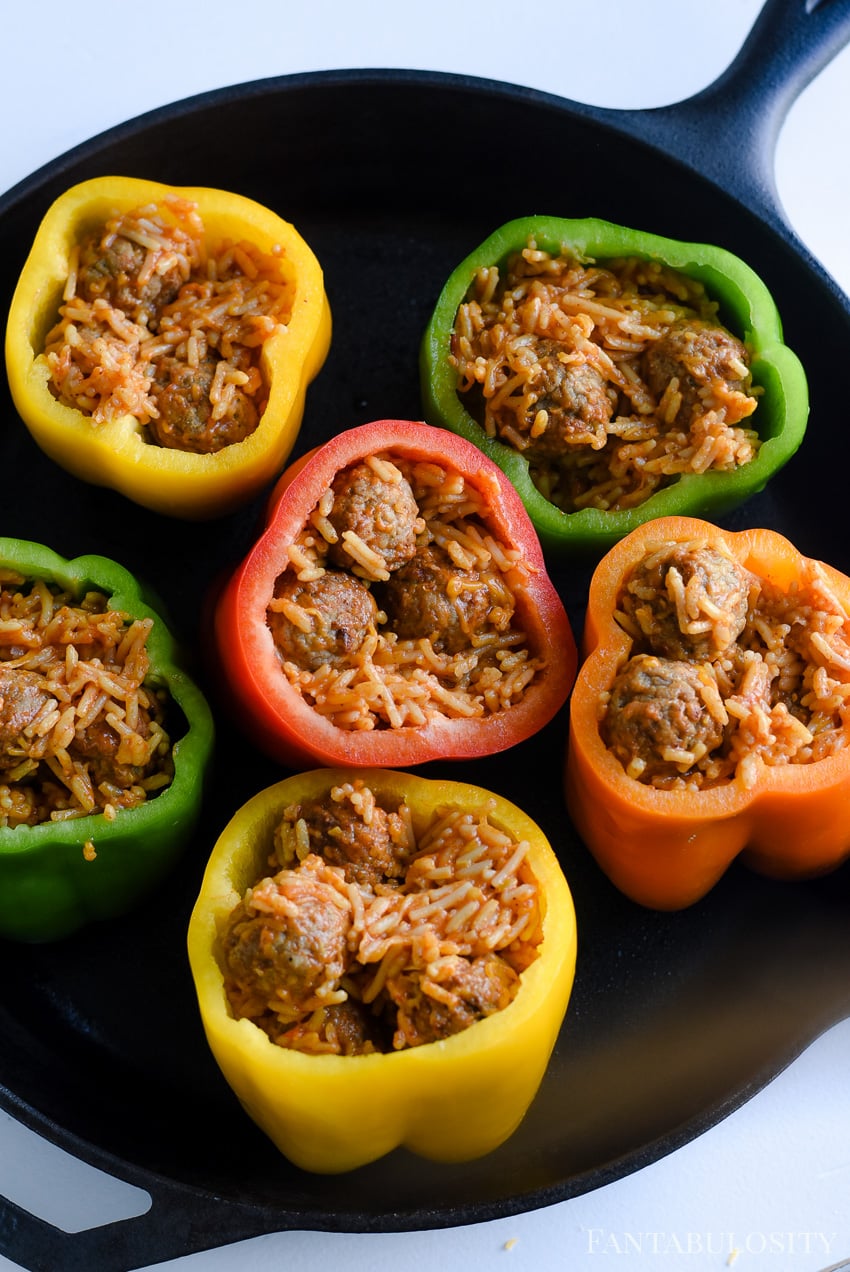 Bake + Smell
While these baked, the smell of the all the flavors coming together made me so hangry that I nearly reached in to sneak a meatball to hold me over.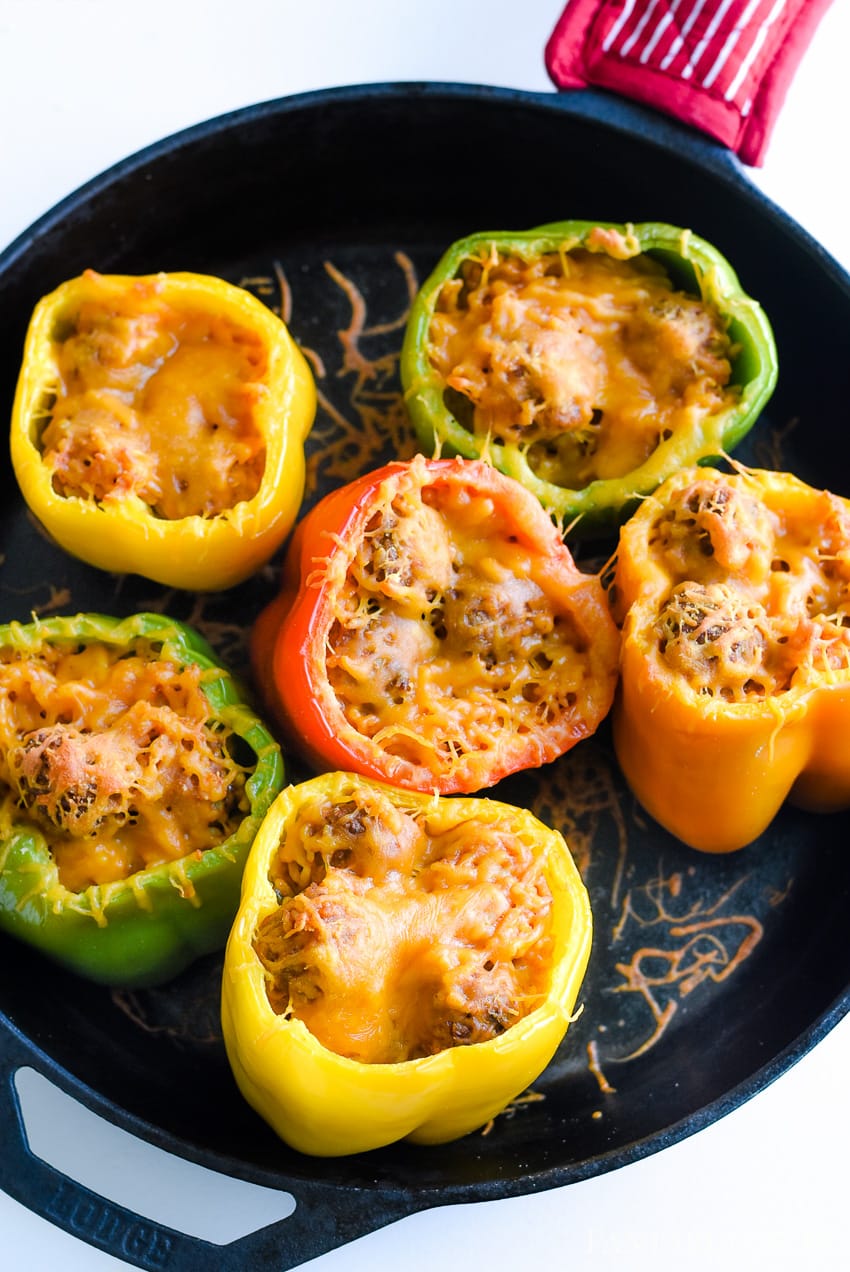 Easy Meatball Stuffed Bell Pepper Recipe
It only takes FOUR ingredients to whip up this easy recipe! Perfect for weeknight dinners, this stuffed peppers recipe is great for the entire fam!
Ingredients
1

14-ounce bag

Homestyle Cooked Perfect® Frozen Meatballs

1

5.6-ounce

Flavored Rice Packet

prepared - we used Spanish rice flavor

1

cup

Shredded Cheese

divided

6

bell peppers

any assorted color
Instructions
Preheat oven to 350 degrees Fahrenheit

Heat Cooked Perfect® Frozen Meatballs according to package directions.

Combine prepared rice, meatballs, and 1/2 cup of shredded cheese.

Cut the tops off of each pepper, and remove cores and seeds.

In a baking dish, line up the peppers with cavities facing up.

Begin spooning equivalent amounts of the meatball and rice mixture in to each pepper.

Sprinkle tops of peppers with remaining shredded cheese.

Bake 25-30 min
Nutrition
Serving:
1
stuffed pepper
Calories:
386
kcal
Carbohydrates:
69
g
Protein:
11
g
Fat:
6
g
Saturated Fat:
2
g
Cholesterol:
18
mg
Sodium:
128
mg
Potassium:
367
mg
Fiber:
3
g
Sugar:
5
g
Vitamin A:
3850
IU
Vitamin C:
152
mg
Calcium:
124
mg
Iron:
1.3
mg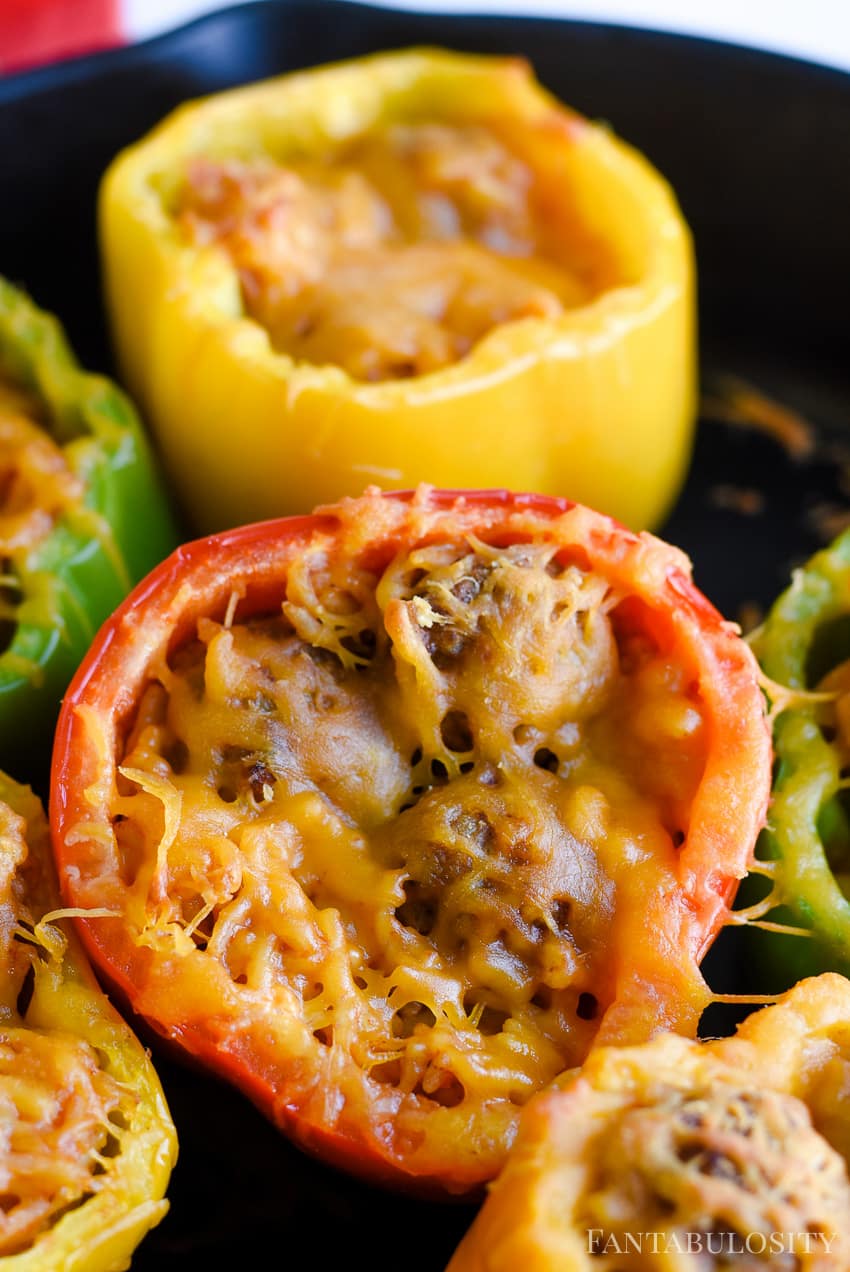 Dig In
Friends, this was BY FAR the easiest stuffed pepper recipe ever created in my kitchen.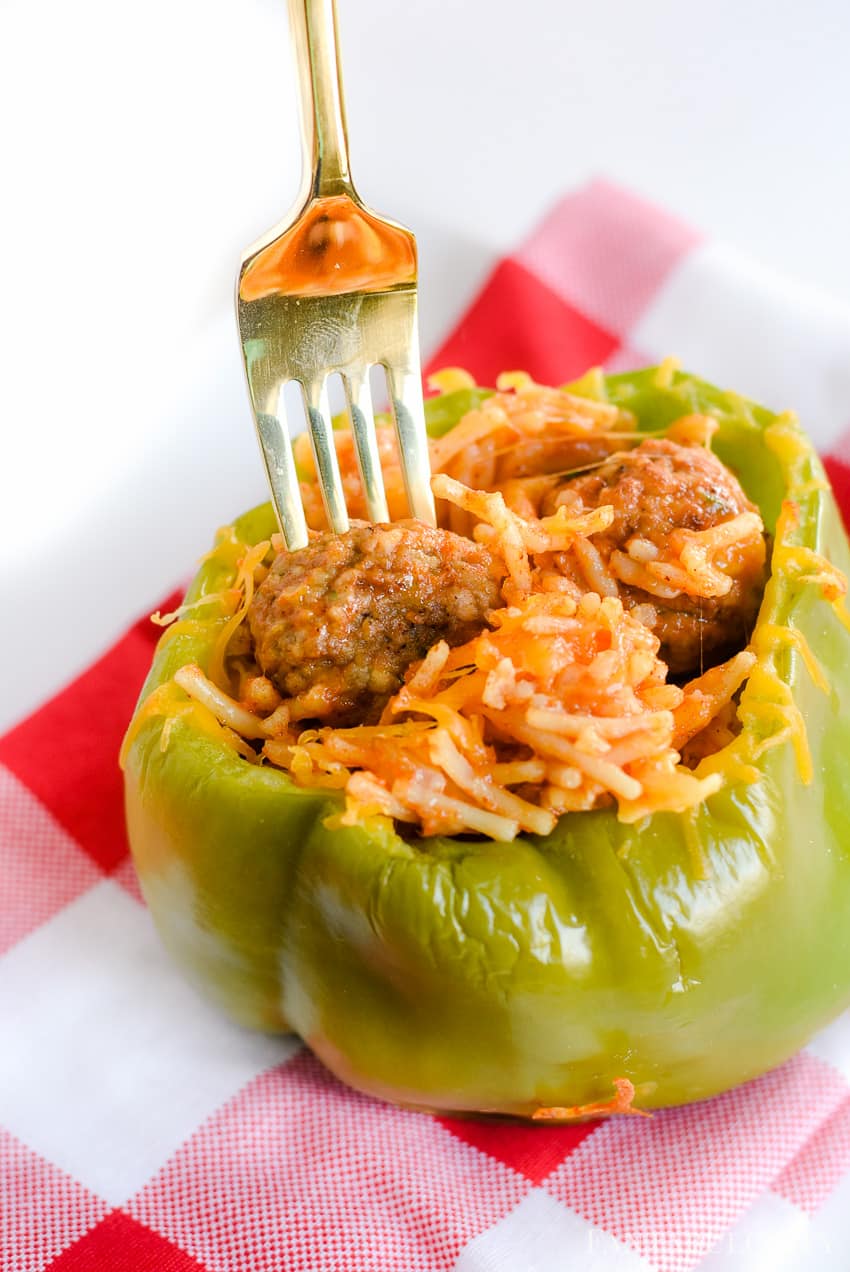 Kid Friendly
With the kids headed back to school, you may want to add this weeknight dinner idea to your mental cookbook or Pinterest board for the super busy nights.
Have a kiddo that's not a fan of peppers? No problem. Take some of the meatball/rice mixture and place it in a small baking dish, and bake until the cheese is melted on top. Your kiddos will love the yummy rice, meatball, and cheese combo.
Where to Buy Cooked Perfect® Frozen Meatballs
I found ours at Schnucks in the freezer aisle, but check your local grocery store (or use their Where To Buy Tool) to find them near you! Plus, if you love meatballs in your house as much as we do, then you'll want to head here: Browse more meatball recipes. THEN… Save $1 when you head to your grocer's freezer isle to snag some too!
Thank you SO much for coming by, and I can't wait to hear if you tried this recipe too! Let me know below in the comments below.
Pin the image below to remember for your weeknight dinner plans…