Get ready to dive into the fantastic world of flavors with our delightful Filet-o-Fish Sliders. These simple sandwiches pack a punch of taste, combining tender, flaky fish with a tangy, homemade sauce and Hawaiian buns.
Perfect for a family gathering or as a quick weeknight dinner, these sliders will be an instant hit with both kids and adults alike for a lunch idea or even an easy dinner idea. So, let's get started and whip up these flavor-packed bites that will leave your taste buds asking for more.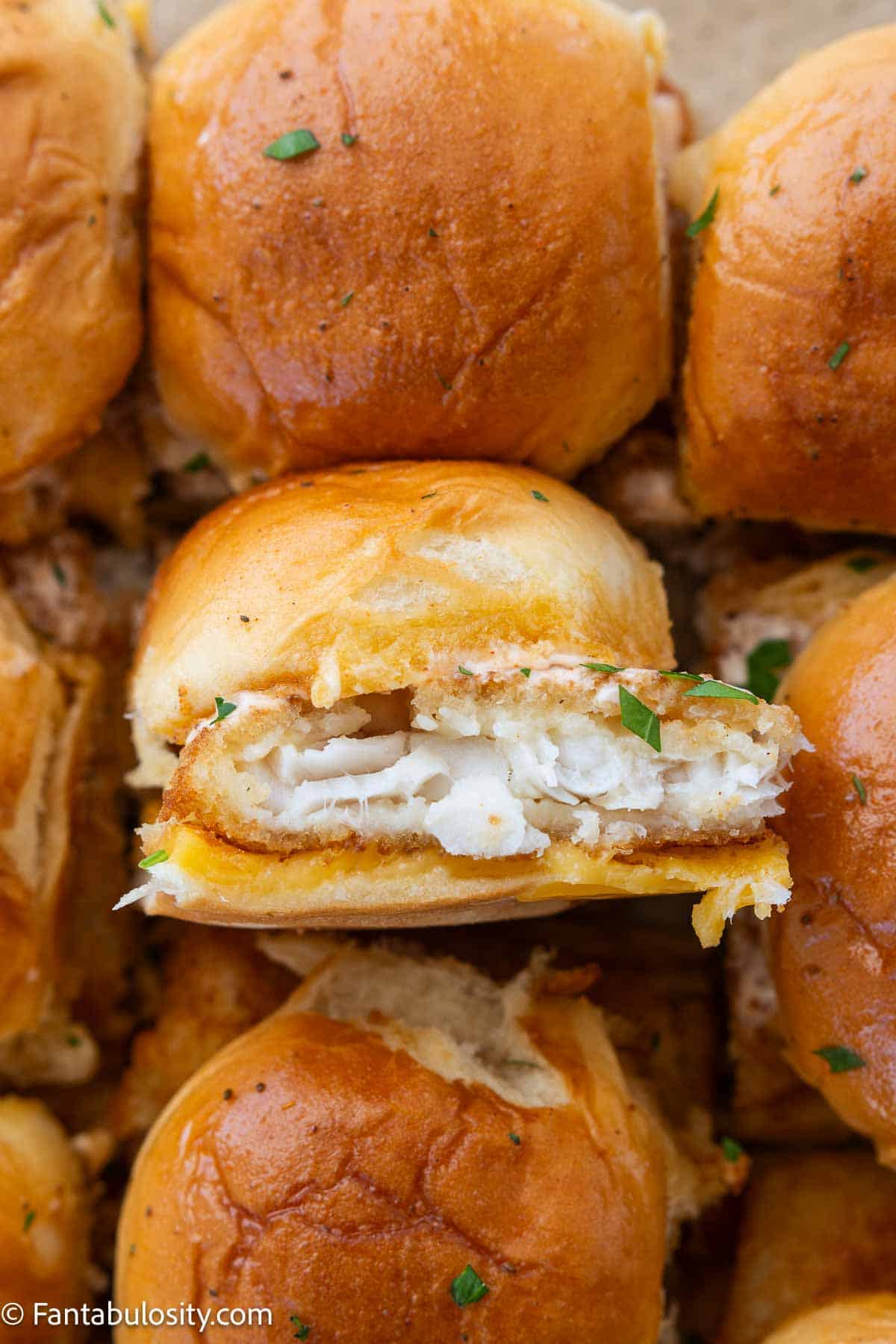 Love the idea of a seafood slider but not looking for a "fried fish" recipe? These salmon sliders give you the seafood vibe but may be a healthier option.
If you want to go for more recipes using those tasty Hawaiian sliders, you'll love our most popular slider recipe, these cheeseburger sliders!
Or, why not try Hawaiian Roll Breakfast Sliders for breakfast? They are a great recipe for a boost to your breakfast menu. Or for a lunch option, try Italian Sliders with Hawaiian Rolls to fill everyone up.
Jump to:
❤️ Why You'll Love This Recipe
It uses a few ingredients: With only 5 ingredients, this recipe uses items that you may even have on hand.
Easy to customize: You can swap out the ingredients easily to use what you have or what you prefer
Quick and simple: These sliders don't take long to make so are ideal for evenings when time is short.
🧾 Ingredients Needed
I've highlighted a couple of ingredients below with some relevant notes. Aside from this, the ingredients needed are pretty basic.
Buns – We used Hawaiian slider buns as there are 9 in the pack.
Fish fillets – I bought 8 fish fillets for the recipe but only ended up using 7 to fill the sandwiches.
Cheese – Any good American cheese will work nicely for this recipe.
📖 Substitutions
Sometimes substitutions are necessary because of ingredients that are unavailable or needed for dietary restrictions. Here are some suggestions that can help:
Hawaiian slider buns: If you can't find Hawaiian slider buns or prefer a different type, you can easily substitute them with any small-sized buns. If you're watching your carbs, consider using whole wheat or multigrain slider buns. For an extra zing, pretzel buns can be an interesting choice.
American cheese: If American cheese isn't your favorite or if you're looking for a healthier option, try using a slice of sharp cheddar for a more robust flavor or a slice of provolone for a milder taste. For those who are lactose intolerant or vegan, there are many non-dairy cheeses available in the market that melt well and taste great.
📖 Variations
If you want to add a unique twist to these Fish Sliders, here are a few suggestions that you might want to consider:
Go spicy: If you're a fan of heat, consider adding a layer of spicy mayo or your favorite hot sauce to your sliders. You could also sprinkle some crushed red pepper flakes or cayenne pepper on the fish fillets before baking them.
Add some greens: For an added health kick, you can add a layer of fresh spinach, arugula, or fresh lettuce to your sliders. This will not only add nutrition but also a nice crunch.
Try a different protein: If fish isn't your favorite protein, you can easily substitute it with grilled chicken, turkey, or even a veggie patty for a vegetarian alternative.
Cheese variety: Experiment with different types of cheese. A smoked gouda or creamy brie can take your sliders to a whole new level of deliciousness.
Add pickles: For a tangy crunch, consider adding sliced pickles to your sliders. Dill or bread and butter pickles both work great.
👩🏻‍🍳 How to Make Fish Sliders
This simple slider recipe is broken into 2 components:
Prepare the ingredients
Make the sliders
caramel buttercream
*Be sure to see the recipe card below for the full ingredients list & instructions!*
STEP 1: Cook the fish fillets. Preheat the oven to 425 degrees Fahrenheit, or as directed on the packaging of your frozen fish filets. Proceed to cook them according to the package instructions. (Image 1 and 2)
STEP 2: Mix the butter. In the meantime, combine butter and 1/2 teaspoon of Old Bay seasoning in a separate bowl, then heat them together in the microwave for approximately 30 seconds until melted. (Image 4)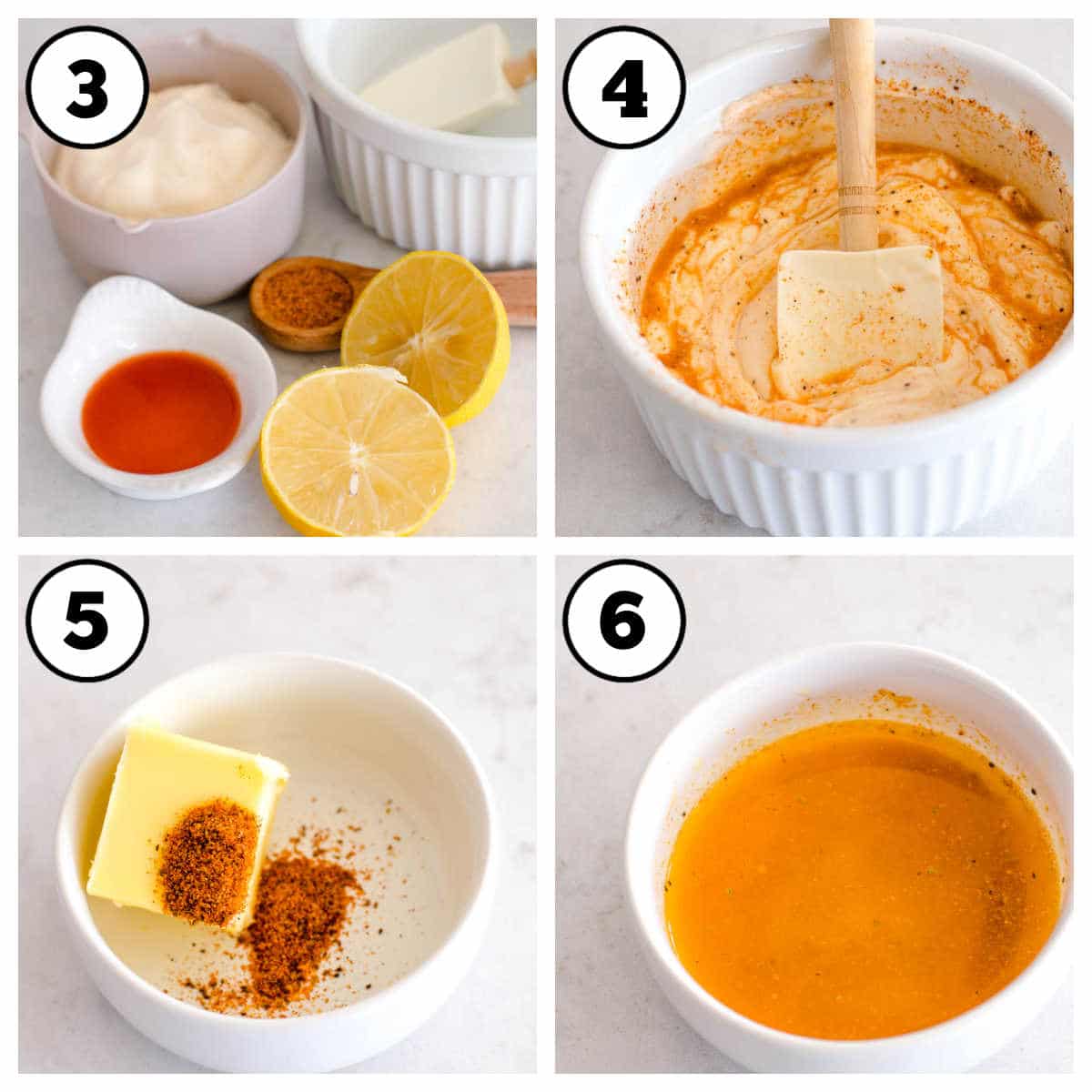 STEP 3: Make the sauce (optional). Prepare the optional sauce by combining the ingredients together. (Image 5-6)
STEP 4: Layer the cheese and butter. Begin by slicing the buns in half. Place a layer of cheese on the bottom buns and generously spread melted butter and seasonings on the top bun. (Image 7-9)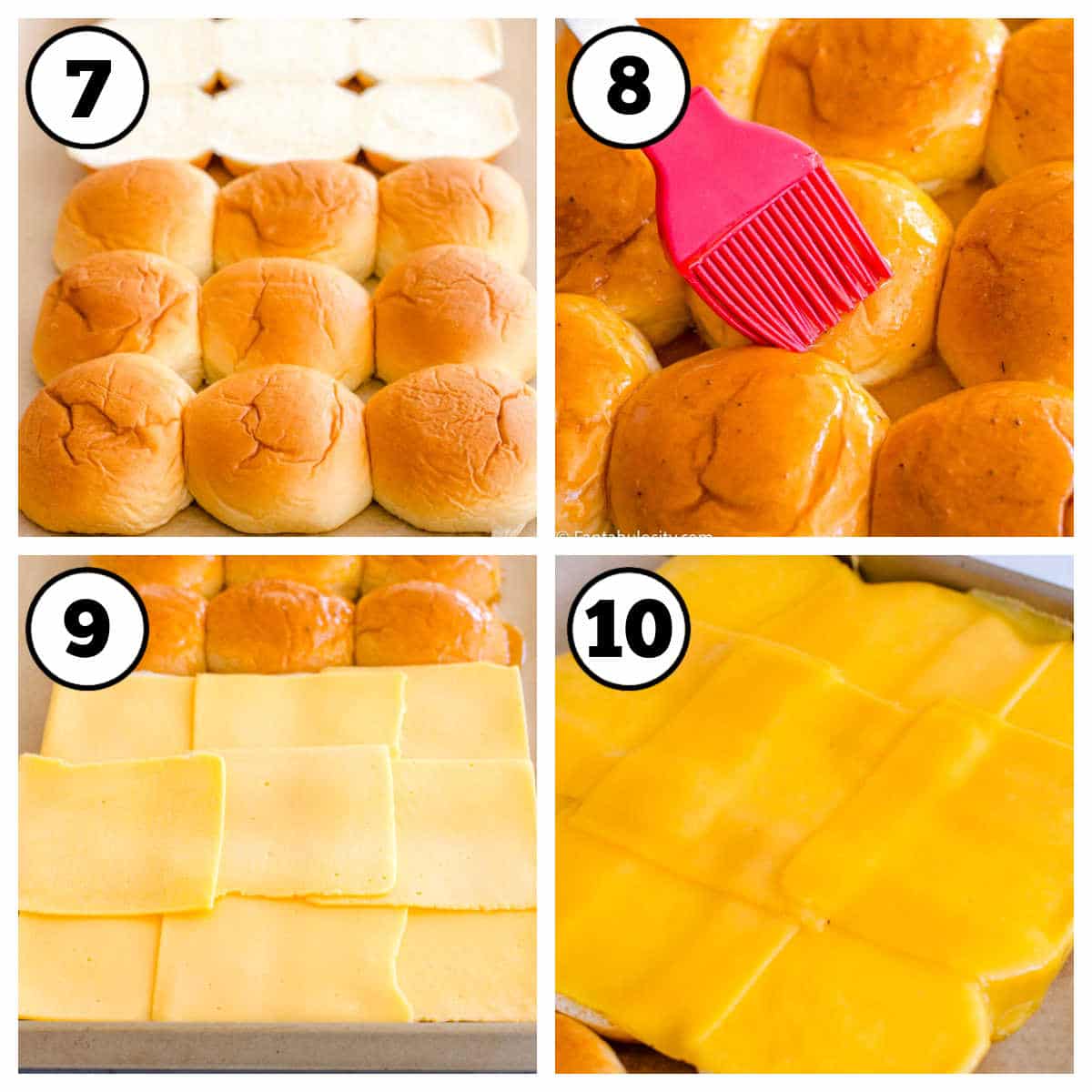 STEP 5: Add extra butter (optional). If desired, you can utilize any remaining melted butter to brush the buns once they are out of the oven. (Image 8)
STEP 6: Heat the sliders. Preheat the oven to 425 degrees and bake for 2-3 minutes, or until the cheese has melted to perfection (Image 10)
STEP 7: Add a piece of fish and sauce then serve. Take out from the oven and place a portion of fried fish on each bun (you may need to cut some pieces in half to fit better). Drizzle with sauce, slice the buns into individual sliders, and savor the deliciousness. (Images 11-14)
💭 Recipe Pro Tips
Choosing the fish: Opt for a mild white fish like cod, haddock, or tilapia. These types are less "fishy" and work great for sliders.
Cooking the fish: Make sure not to overcook the fish. It should be flaky and moist, not dry.
Melting the cheese: Be watchful while melting the cheese in the oven. It should melt evenly and not burn.
Serving hot: Serve the Fish Sliders hot for the best taste. If you're preparing them in advance, you can reheat them in the oven before serving.
Experiment with sauce: Don't be afraid to play around with the sauce. You can add more or less of the ingredients to suit your personal preference.
Slider size: Ensure the fish fillets are the correct size for your slider buns, so they don't overhang. If necessary, cut into smaller fish pieces or use larger buns.
📋 Recipe FAQs
Can I use fresh fish instead of frozen?
Absolutely! If you have access to fresh fish, feel free to use it in place of frozen. You'll need to adjust the cooking times appropriately as fresh fish will typically cook faster than frozen.
Can I use a different type of bread for the sliders?
Yes, you can. While brioche buns are a popular choice for sliders because of their sweetness and soft texture, you can use any type of small bun or roll. Whole wheat or gluten-free buns can be a healthier alternative.
I don't have Old Bay seasoning. What can I use instead?
Old Bay is a blend of spices typically used in seafood dishes. If you don't have it, you can make a similar blend with equal parts of paprika, dry mustard, and celery salt, with a pinch each of black pepper, red pepper flakes, ground nutmeg, and ground cloves.
Can I make these sliders ahead of time?
You can prepare the components of the sliders ahead of time, but they're best assembled and served immediately to maintain the freshness of the fish and the crispness of the buns.
Is there a specific type of cheese that works best for this recipe?
While cheddar is suggested in the recipe, feel free to experiment with your favorite kinds of cheese. Gouda, mozzarella, and Swiss are all delicious options.
Can I grill the fish instead of baking it?
Certainly! Grilling the fish will give it a slightly smoky flavor that pairs well with the other ingredients. Just be sure to oil the grill grates well to prevent the fish from sticking.
🍽 What to Serve with Fish Sliders
Fish Sliders are a versatile dish that pairs well with a variety of sides. Here are some suggestions:
Crispy Sweet Potato Fries: A healthier alternative to traditional french fries, sweet potato fries are a delicious companion to fish sliders. Their sweet, earthy taste complements the savory flavors of the sliders perfectly.
Coleslaw: This classic side dish adds a refreshing crunch to your meal. You can stick with traditional coleslaw or experiment with variations like apple slaw, tangy red cabbage slaw, or a coleslaw mix.
Grilled Corn on the Cob: Grilled corn, especially when seasoned with a little chili and lime juice, offers a delightfully sweet and smoky flavor that will enhance the taste of your fish sliders.
Green Salad: A simple green salad with a light vinaigrette dressing can be a nice, light accompaniment to balance out the heartiness of the sliders.
Pickle Spears: The tangy flavor of pickles pairs well with the rich flavors of the fish and cheese. Plus, they add a nice crunch to your meal.
Pasta Salad: A chilled pasta salad, especially one with a tangy vinaigrette, can make a wonderful side for these hearty sliders.
❄️ Storage
Storing leftover Fish Sliders is a breeze and can come in handy for quick meals throughout the week. Firstly, let the sliders cool down completely. Transfer them to an airtight container or wrap them individually in cling wrap or aluminum foil. Leftover Fish Sliders can be stored in the refrigerator for up to 3 days.
To reheat, preheat the oven to 350 degrees and bake for approximately 10 minutes, or until the sliders are warmed through and the cheese is melty.
It is not recommended to freeze them as the texture of the fish and buns can become soggy upon thawing.
🐟 More Fish Recipes You'll Love
Got a taste for fish and want to try more fish recipes for the whole family? You could start with another really simple one: Fish Finger Tacos, perfect for an evening meal. Or if you have an air fryer, try this simple Easy Air Fryer Tilapia Recipe for something a little different.
Did you make this? I'd be so grateful if you left a "star" rating below to let me know what you thought! Then, the next time you need a quick and easy recipe, come back to Fantabulosity to browse all of my easy recipes!
📖 Recipe
Fish Sliders
These simple sandwiches pack a punch of taste, combining tender, flaky fish with a tangy, homemade sauce and Hawaiian buns. Perfect for a family gathering or as a quick weeknight dinner, these sliders will be an instant hit with both kids and adults alike.
Ingredients
8

Hawaiian slider buns

not the slider rolls

8

frozen fish sandwich fillets

9

slices

Cheese – American

2

tablespoons

butter

1/2

teaspoon

Old Bay seasoning
Optional Ingredients
8

dabs

hot sauce

1

teaspoon

Old Bay

1

lemon juice

3/4

cup

mayo
Instructions
Preheat oven to 425 – or the directions on your frozen fish filets. Cook them accordingly.

Meanwhile, mix butter and 1/2 teaspoon Old Bay and melt together for about 30 seconds in microwave.

Slice buns in half, put cheese on bottom buns, and top the other with melted butter and seasonings.

Put in oven at 425 for 2-3 minutes or until cheese is melted.
Optional Sauce
Mix together hot sauce, Old Bay, lemon juice and mayo.

Optional, use any leftover melted butter to brush buns again after coming out of oven.

Remove from oven and top with fried fish (may have to cut some pieces of fish in half to fit the buns better), top with sauce, slice buns in to individual sliders, and enjoy.
Nutrition
Calories:
158
kcal
|
Carbohydrates:
2
g
|
Protein:
8
g
|
Fat:
13
g
|
Saturated Fat:
8
g
|
Polyunsaturated Fat:
1
g
|
Monounsaturated Fat:
3
g
|
Trans Fat:
0.5
g
|
Cholesterol:
43
mg
|
Sodium:
703
mg
|
Potassium:
61
mg
|
Sugar:
1
g
|
Vitamin A:
397
IU
|
Calcium:
439
mg
|
Iron:
0.3
mg
Nutritional information is based on third-party calculations and should be considered estimates. Actual nutritional content will vary with brands used, measuring methods, portion sizes and more.