Our Oreo Pancake recipe is the ultimate breakfast indulgence that you won't be able to resist. Imagine starting your day with the irresistible combination of fluffy pancakes and your favorite cookie – Oreos!
By blending together the classic flavors of Oreos with simple pancake ingredients, we've created a delightful and easy-to-make breakfast recipe that's perfect for weekend mornings or special occasions.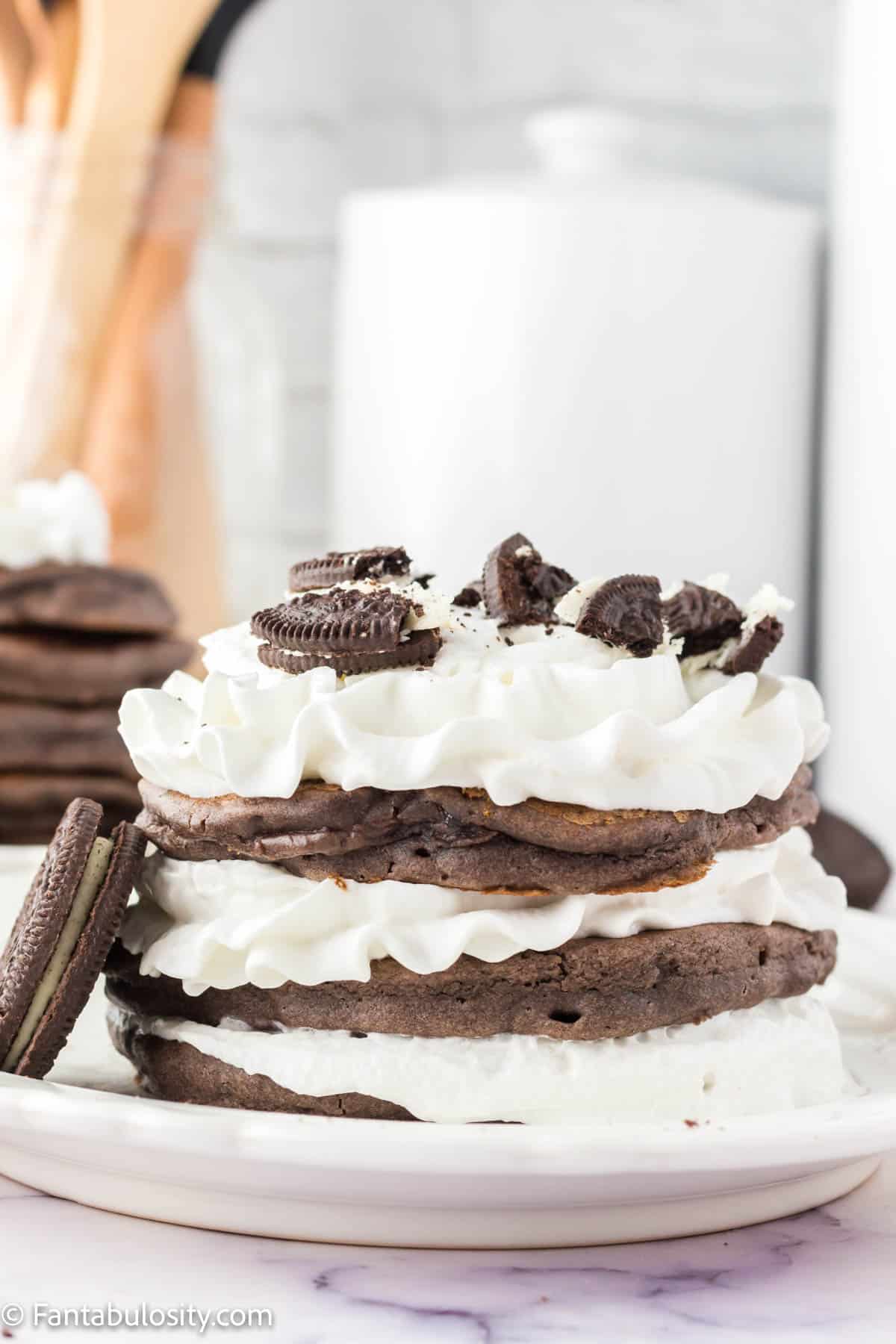 If you find you have some Oreos left when you've made these fluffy Oreo pancakes, why not try making Oreo Cupcakes? Or you could try making a dessert pizza with this Oreo Pizza recipe. Maybe you can keep it simple and make Oreo Mousse or this No Bake Oreo Dessert that works for any occasion.
Jump to:
❤️ Why You'll Love This Recipe
It uses a few ingredients: With only 6 ingredients, this recipe uses items that you may even have on hand.
Great for breakfast or dessert: These pancakes work for a sweet breakfast or as a tasty dessert.
Ready in only 20 minutes: Talk about a quick and easy pancake recipe! This recipe, from start to finish, only takes 20 minutes to cook.
🧾 Ingredients Needed
I've highlighted a couple of ingredients below with some relevant notes. Aside from this, the ingredients needed are pretty basic.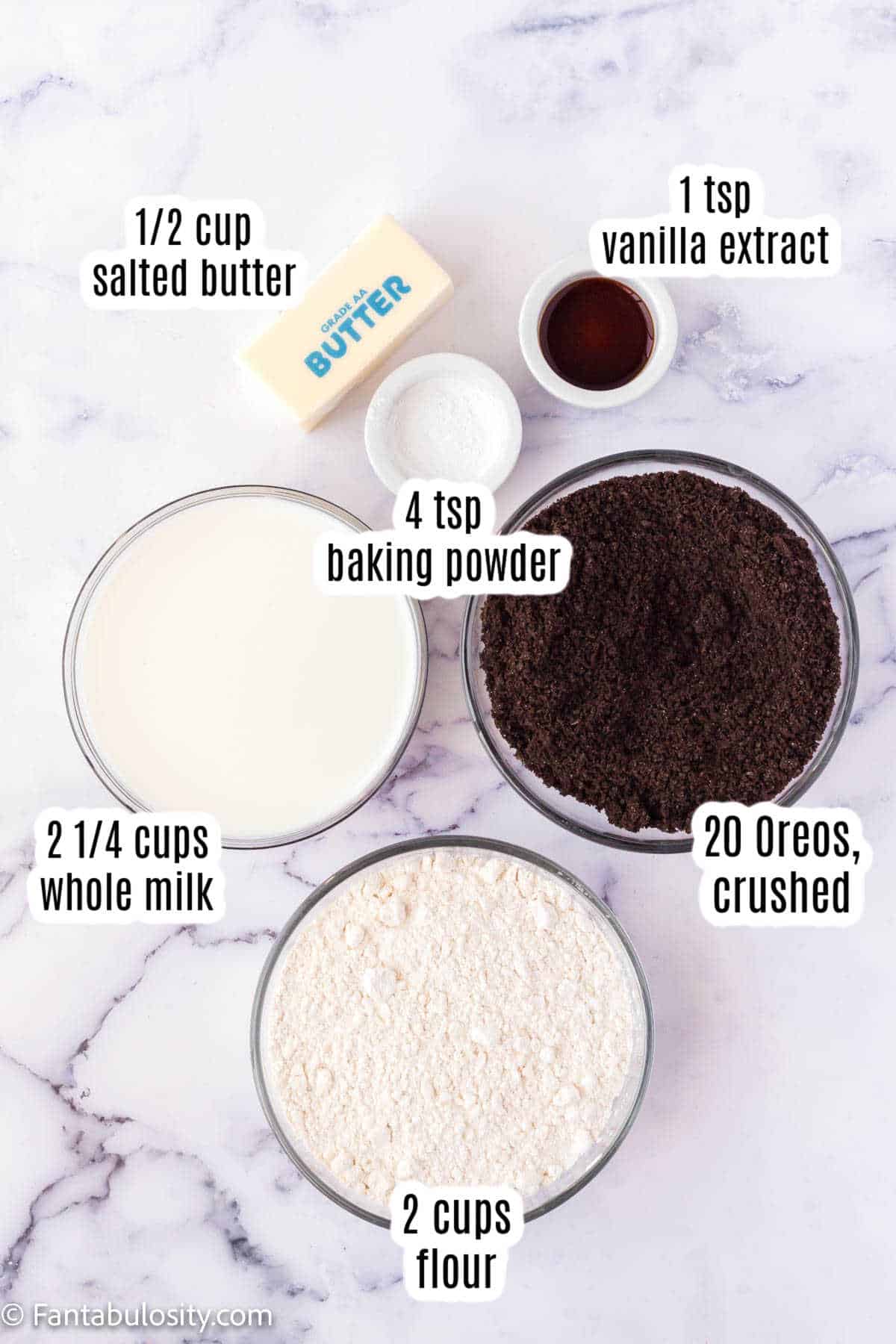 Flour – Use a simple white flour for this recipe to get the best results.
Baking powder – Make sure you add this so that your pancakes are light and fluffy.
Vanilla extract – Add just a little vanilla extract to balance out the chocolate flavor of the Oreos.
📖 Substitutions
Sometimes substitutions are necessary because of ingredients that are unavailable or needed for dietary restrictions. Here are some suggestions that can help:
Vanilla Extract: If you don't have any vanilla extract in your pantry, you can use almond extract or maple syrup for a slightly different, but still delicious, flavor profile. Alternatively, try adding a pinch of cinnamon or nutmeg to bring warmth and depth to your pancakes.
Oreos: Can't find Oreo cookies or want to try something new? Swap them out for any chocolate sandwich cookie or even crumbled chocolate chip cookies. You could also experiment with flavored Oreos, such as Golden Oreos or Mint Oreos, to put a unique spin on your pancakes.
Salted Butter: If you only have unsalted butter, simply add a pinch of salt to your pancake batter to achieve the same balanced taste. You could also use coconut oil or margarine as a dairy-free alternative.
Whole Milk: There are plenty of options if you need to replace whole milk. Try using 2% milk, almond milk, or soy milk for a lighter texture. For an ultra-rich and creamy pancake, opt for half-and-half or a mixture of milk and heavy cream.
📖 Variations
Red Velvet Oreo Pancakes: Add a touch of romance to your pancakes by turning them into Red Velvet Oreo Pancakes. Simply mix in 2 tablespoons of unsweetened cocoa powder and a few drops of red food coloring to your pancake batter. This vibrant twist on the classic Oreo Pancake is perfect for special occasions, like Valentine's Day or anniversaries, and is sure to leave everyone swooning.
Oreo Pancakes with Peanut Butter Swirl: If you're a fan of the heavenly combination of chocolate and peanut butter, this variation is for you! Before cooking each pancake, swirl in a spoonful of melted peanut butter on top of the batter in the pan, creating a marbled effect. The result? A mouthwatering fusion of flavors that will have you reaching for seconds (or thirds!).
S'mores Oreo Pancakes: Bring the taste of the great outdoors to your breakfast table with S'mores Oreo Pancakes. To create this campfire-inspired treat, sprinkle a handful of mini marshmallows and crushed graham crackers over the pancake batter just before flipping. Finish off with a drizzle of chocolate syrup, and you'll have a stack of pancakes that transports you straight to a cozy bonfire under the stars.
👩🏻‍🍳 How to Make Oreo Pancakes
This Oreo Pancakes recipe is broken into 2 components:
Make the batter
Cook the pancakes
*Be sure to see the recipe card below for the full ingredients list & instructions!*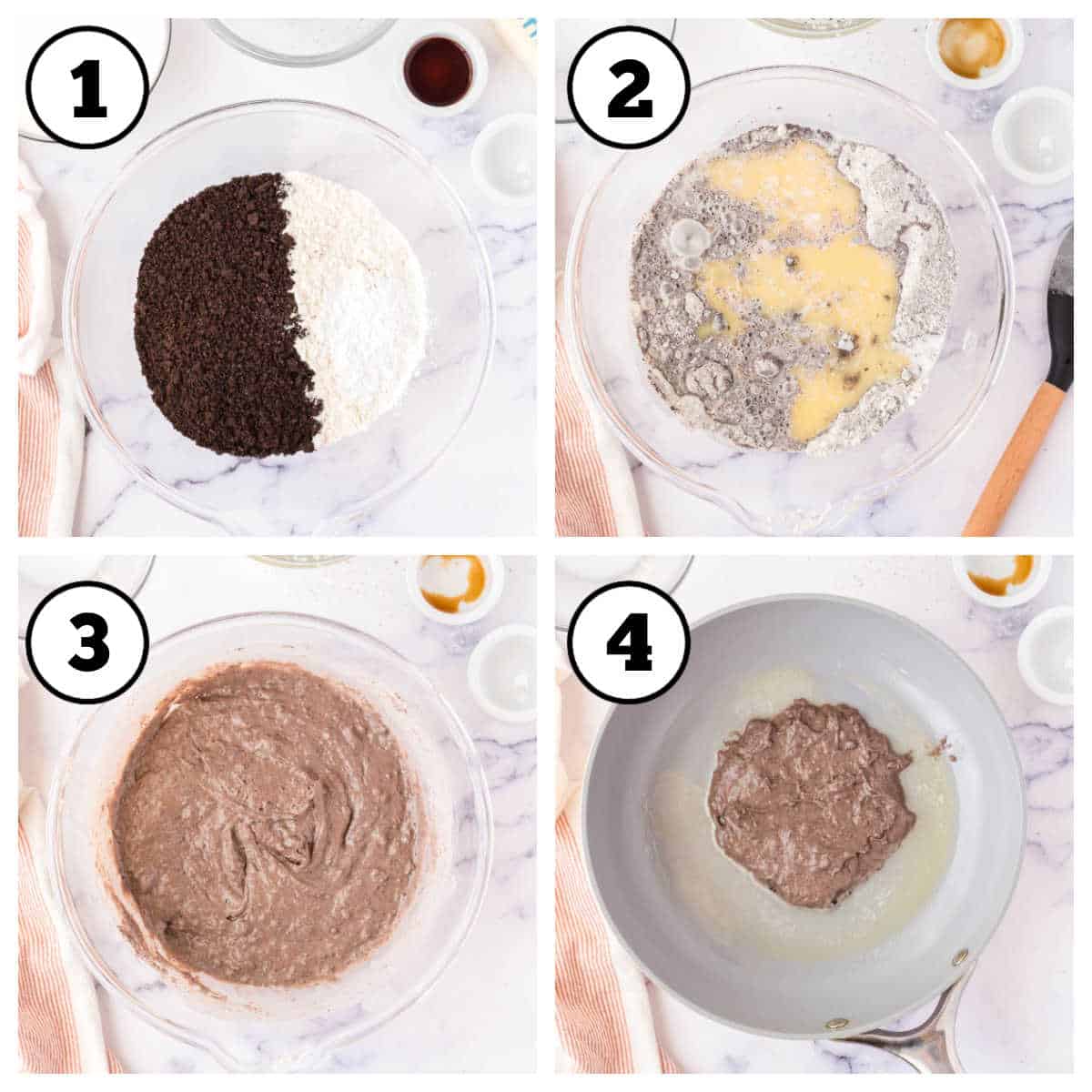 STEP 1: Mix the dry ingredients: In a medium-sized bowl, mix the flour, crushed Oreos, and baking soda. (Image 1).
Tip: If you can, leave the batter for 5-10 minutes before you start cooking.
STEP 2: Add in the wet ingredients: Stir the milk, vanilla extract, and melted butter into the pancake batter until there are no lumps of dry ingredients left. (Image 2-3).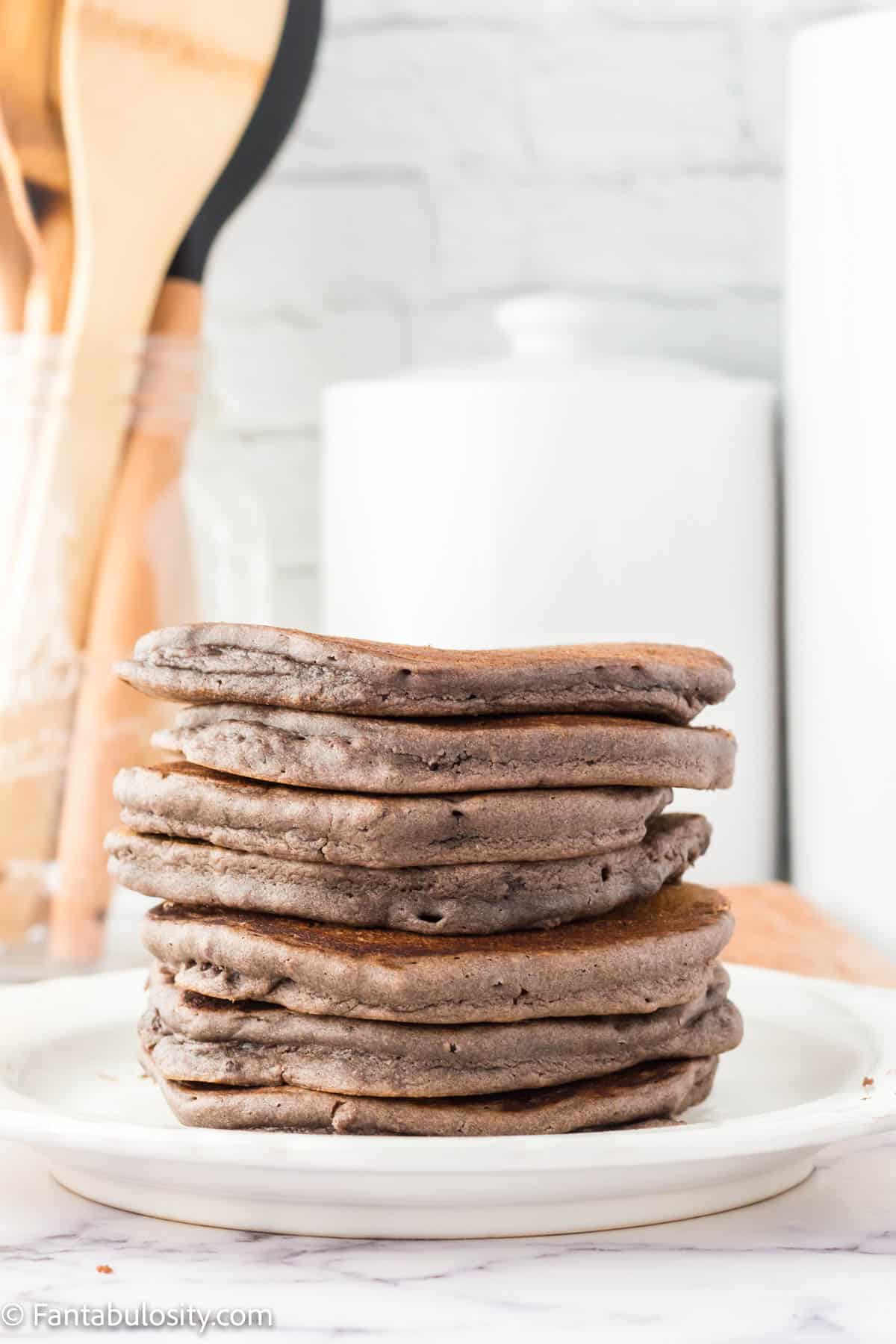 STEP 3: Cook the pancakes: To cook pancakes, first melt a small amount of butter in a skillet over medium-high heat. Next, pour approximately 1/3 cup of batter onto the skillet and cook each side for approximately 2 minutes. (Image 4).
STEP 4: Make the batch: Proceed with this step until you have utilized the entire batter. Afterward, serve and enjoy your pancakes while they are warm!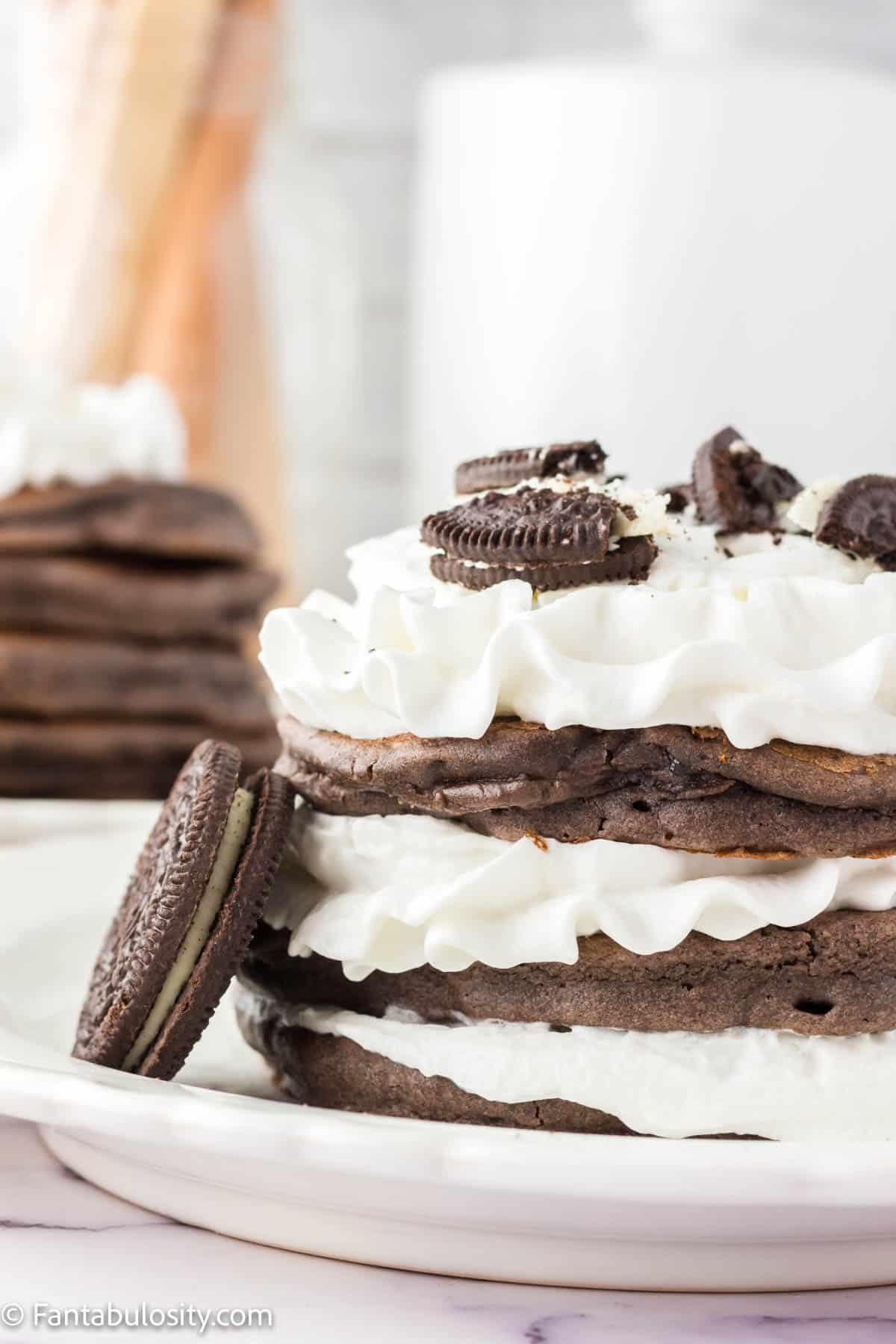 💭 Recipe Pro Tips
Gently fold in crushed Oreos: To ensure your pancakes have just the right amount of Oreo goodness in each bite, gently fold crushed Oreos into the batter instead of vigorously mixing them. This will help maintain the fluffy texture of your pancakes while evenly distributing the cookie pieces.
Preheat your pan and adjust heat as needed: Start by preheating your pan over medium heat and use a small amount of oil or butter to lightly grease the surface. If you notice that your pancakes are browning too quickly, simply lower the heat to prevent burning. Finding the perfect temperature is key to achieving golden-brown, perfectly cooked Oreo Pancakes.
Rest the pancake batter: Let your pancake batter rest for about 5-10 minutes before cooking if you can. This allows the flour to fully hydrate and the baking soda to start reacting, resulting in tender, fluffy pancakes that are sure to impress.
📋 Recipe FAQs
Can I make the Oreo Pancakes ahead of time and reheat them later?
Yes, you can! Simply cook your pancakes as usual, then allow them to cool completely. Once cooled, store them in an airtight container or wrap them in plastic wrap. When you're ready to enjoy, reheat them in the microwave, toaster oven, or on a skillet over low heat until warmed through.

What is the secret to perfect pancakes?
The secret to perfect pancakes lies in a few key factors: using the right batter consistency, preheating your pan to the ideal temperature, and flipping the pancakes at the right time. For batter consistency, aim for a thick but pourable texture; if it's too thin, add a bit more flour, and if it's too thick, add a splash of milk. Preheat your pan over medium heat and adjust as needed to prevent burning. Finally, flip your pancakes when the edges are set and bubbles appear on the surface.

Can I use a different type of cookie instead of Oreos for this recipe?
Absolutely! Feel free to experiment with different types of cookies to create your own unique pancake flavors. Chocolate chip cookies, sandwich cookies, or even gingersnaps could all make delicious alternatives. Just remember to crush the cookies into small pieces for even distribution in the batter.

Is it possible to make these Oreo Pancakes gluten-free or dairy-free?
Yes, you can easily adapt this recipe for dietary preferences. For a gluten-free version, use a gluten-free all-purpose flour blend and gluten-free cookies. To make dairy-free Oreo Pancakes, replace the milk with a dairy-free alternative like almond or soy milk, and use a dairy-free butter substitute or coconut oil in place of the butter.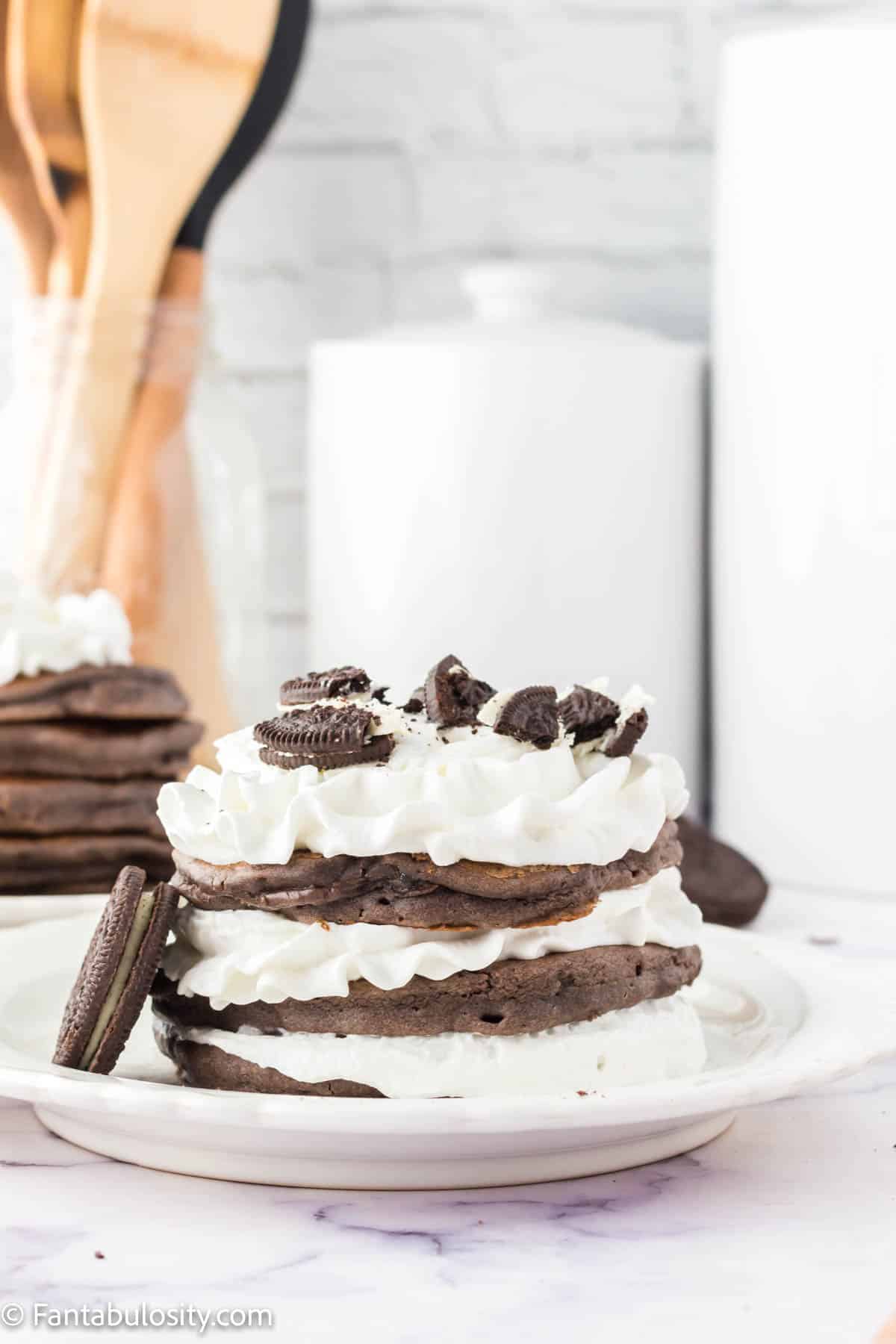 🍽 What to Serve with Oreo Pancakes
When it comes to serving your scrumptious Oreo Pancakes, the possibilities are as endless as your imagination! To elevate your pancake experience and make every bite even more delectable, consider these tantalizing toppings and accompaniments:
Whipped Cream: A generous dollop of whipped cream adds a cloud-like, velvety texture that perfectly complements the rich Oreo flavors. You can use store-bought whipped cream or whip up your own at home for an extra touch of freshness.
Chocolate Syrup Drizzle: For the ultimate chocolate lover's dream, drizzle your Oreo Pancakes with a silky ribbon of chocolate sauce. This delightful addition will create a beautiful presentation and enhance the overall chocolatey goodness.
Fresh Fruit: The easiest way to balance out the indulgence of your pancakes by adding some fresh fruit to your plate. Sliced strawberries, bananas, or a handful of vibrant berries will not only add a pop of color but also provide a refreshing contrast to the richness of the Oreos.
Powdered Sugar Dusting: For a touch of elegance and a hint of extra sweetness, lightly dust your Oreo Pancakes with powdered sugar. This simple yet sophisticated finishing touch will make your breakfast feel like a gourmet treat.
❄️ Storage
For short-term storage (up to 2 days), place the stacked pancakes in an airtight container or a resealable ziploc bag, and store them in the refrigerator.
For longer storage (up to 2 months), tightly wrap the stack of pancakes in plastic wrap or aluminum foil, then place them in a resealable freezer-safe plastic bag. Be sure to squeeze out any excess air and seal the bag tightly before storing it in the freezer.
When you're ready to savor your leftover Oreo Pancakes, reheat them in the microwave, toaster oven, or on a skillet over low heat until warmed through. If reheating from frozen, let the pancakes thaw at room temperature for about 10 minutes before reheating to ensure even warming.
🥞 More Pancake Recipes You'll Love
Want to experiment more with pancakes? Then here are some ideas to try. First, you can try these Amazing Fluffy Pancakes which are a great way to have simple regular pancakes for any occasion. Then try a simple classic such as Easy Blueberry Pancakes that you can make for breakfast or dessert. Finally, you can try something a little different such as these Pumpkin White Chocolate Pancakes for a seasonal treat.
Did you make this? I'd be so grateful if you left a "star" rating below to let me know what you thought! Then, the next time you need a quick and easy recipe, come back to Fantabulosity to browse all of my easy recipes!
📖 Recipe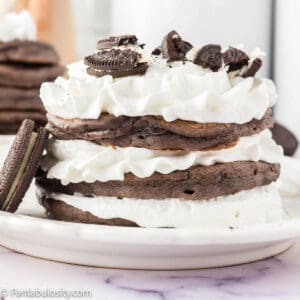 Oreo Pancakes
Delicious pancakes with a tasty Oreo flavor for a sweet treat for breakfast and brunch or just for a fun snack!
Ingredients
2

cups

white flour

20

Oreos

crushed

4

teaspoons

baking powder

2 ¼

cups

whole milk

1

teaspoon

vanilla extract

1/2

cup

salted butter

melted
Instructions
Batter ingredients: Combine the flour, crushed Oreos, and baking soda in a medium sized bowl.

Mix: Whisk in the milk, vanilla extract, and melted butter until no clumps of dry ingredients remain in the pancake batter.

Cook: Heat a small amount of butter in a skillet on medium high heat. Pour about 1/3 cup of batter onto the skillet and cook both sides for about 2 minutes.

Repeat: Continue this process until you have used all of the batter. Serve!
Notes
You can store these pancakes in the fridge for about 5 days. Alternatively, you can freeze these pancakes for up to 3 months. Simply reheat the pancakes in the microwave when you are ready to eat them.
These pancakes are great served by themselves or with whipped cream and a drizzle of chocolate syrup.
Because you leave the creamy Oreo filling in the recipe, there is no need to add extra sugar to the pancake batter.
Nutrition
Serving:
1
pancake
|
Calories:
266
kcal
|
Carbohydrates:
33
g
|
Protein:
5
g
|
Fat:
13
g
|
Saturated Fat:
7
g
|
Polyunsaturated Fat:
1
g
|
Monounsaturated Fat:
4
g
|
Trans Fat:
0.3
g
|
Cholesterol:
26
mg
|
Sodium:
157
mg
|
Potassium:
275
mg
|
Fiber:
1
g
|
Sugar:
10
g
|
Vitamin A:
311
IU
|
Calcium:
124
mg
|
Iron:
3
mg
Nutritional information is based on third-party calculations and should be considered estimates. Actual nutritional content will vary with brands used, measuring methods, portion sizes and more.