Pancake Toppings: A list of popular toppings for pancakes that include favorites syrups, fruits, savory, healthy toppings like keto, and more!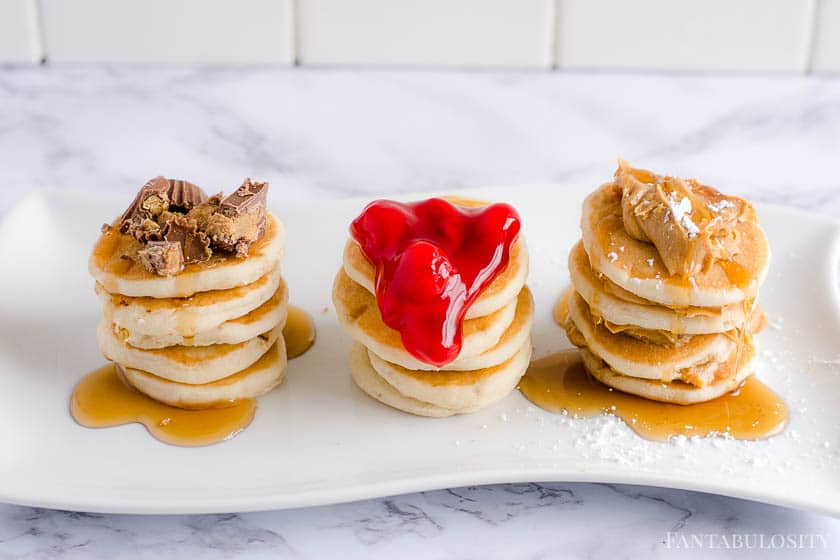 We LOVE pancake recipes around here and find it fun to mix things up from time to time with toppings and "mix-ins".
Usually, we'll see what we have on hand in the pantry or the freezer and then experiment and see what kind of pancakes we can come up with!
So if you're looking for pancake toppings ideas for a weekend breakfast or if you're hosting a pancake bar for a party, then this list will come in VERY handy, but don't forget to check on what you already have on hand, and see what kind of creations you can come up with!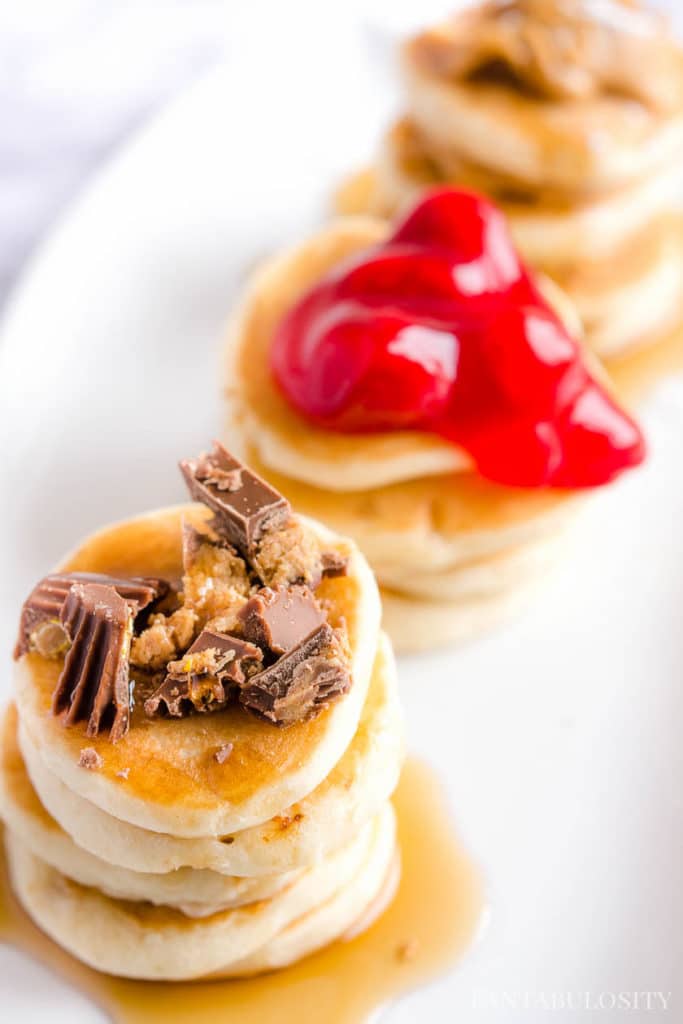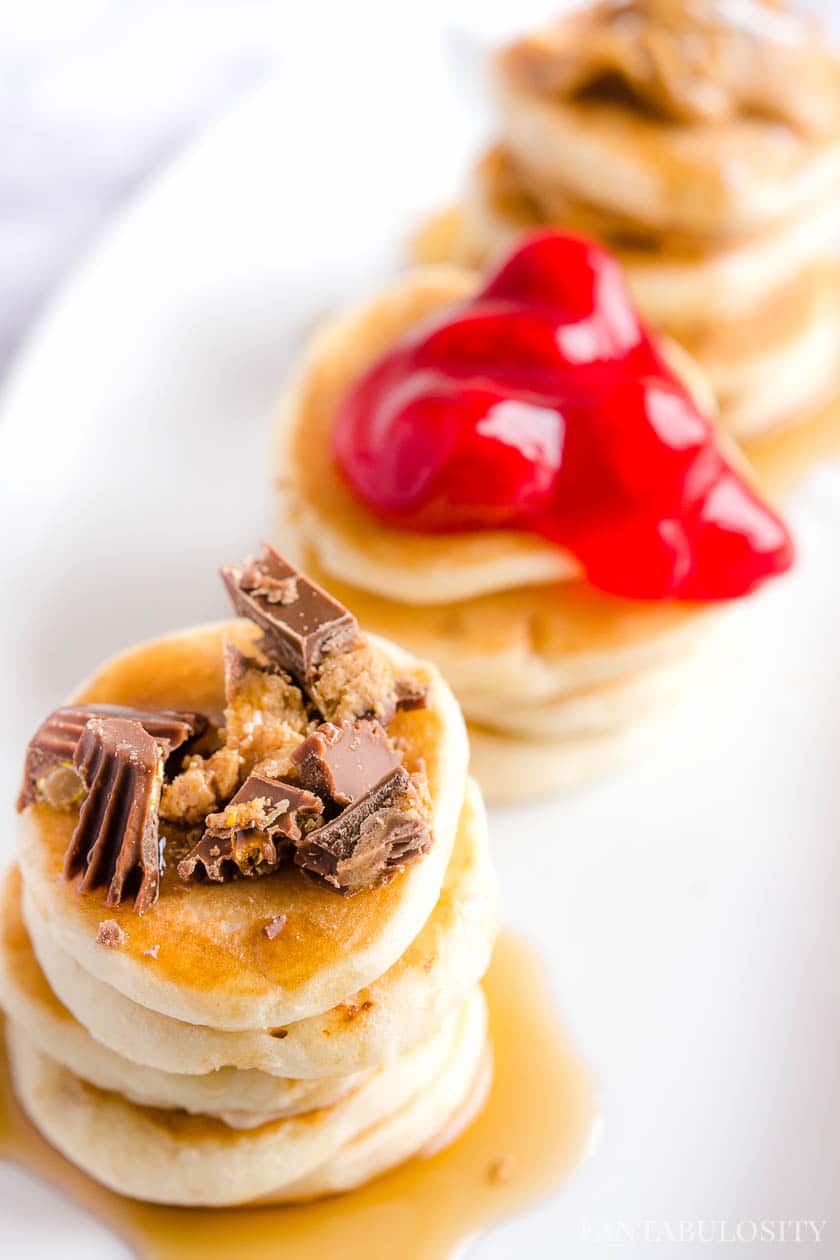 Pancake Recipes You'll Love:
Pancake Toppings Ideas
Some items can serve as a topping, can be mixed right in to the pancake batter or belong in multiple categories! So you actually may see duplicate items in each section.
Syrups
Maple Syrup
Fruit Flavored Syrup (i.e. blueberry)
Honey
Caramel Sauce (Check out this low carb/no sugar syrup I used for my son's keto diet)
Chocolate Syrup
Molasses
Condiments
Butter
Nutella
Peanut Butter
Almond Butter
Cashew Butter
Jelly/Jam/Marmalade
Fruit Compote
Apple Butter
Yogurt
Fruit Toppings
Strawberries
Peaches
Blackberries
Blueberries
Yogurt covered blueberries
Raspberries
Sugared cranberries
Bananas
Lemon Zest
Kiwi
Mango
Apples
Apple Pie Filling
Cherry Pie Filling
Chocolate Pie Filling
Lemon Pie Filling
Strawberry Pie Filling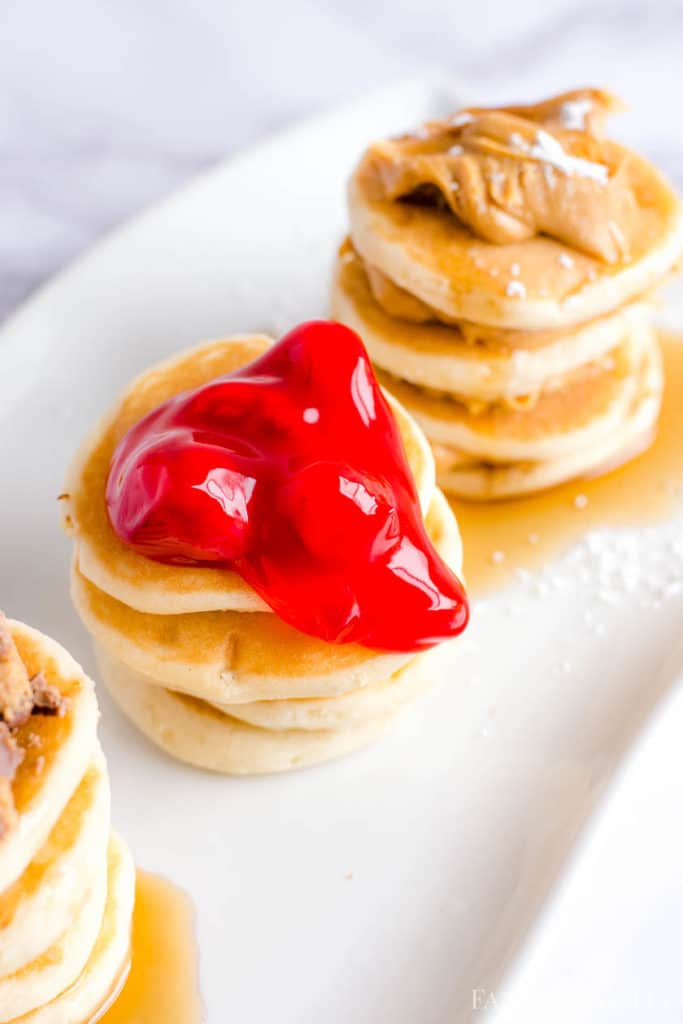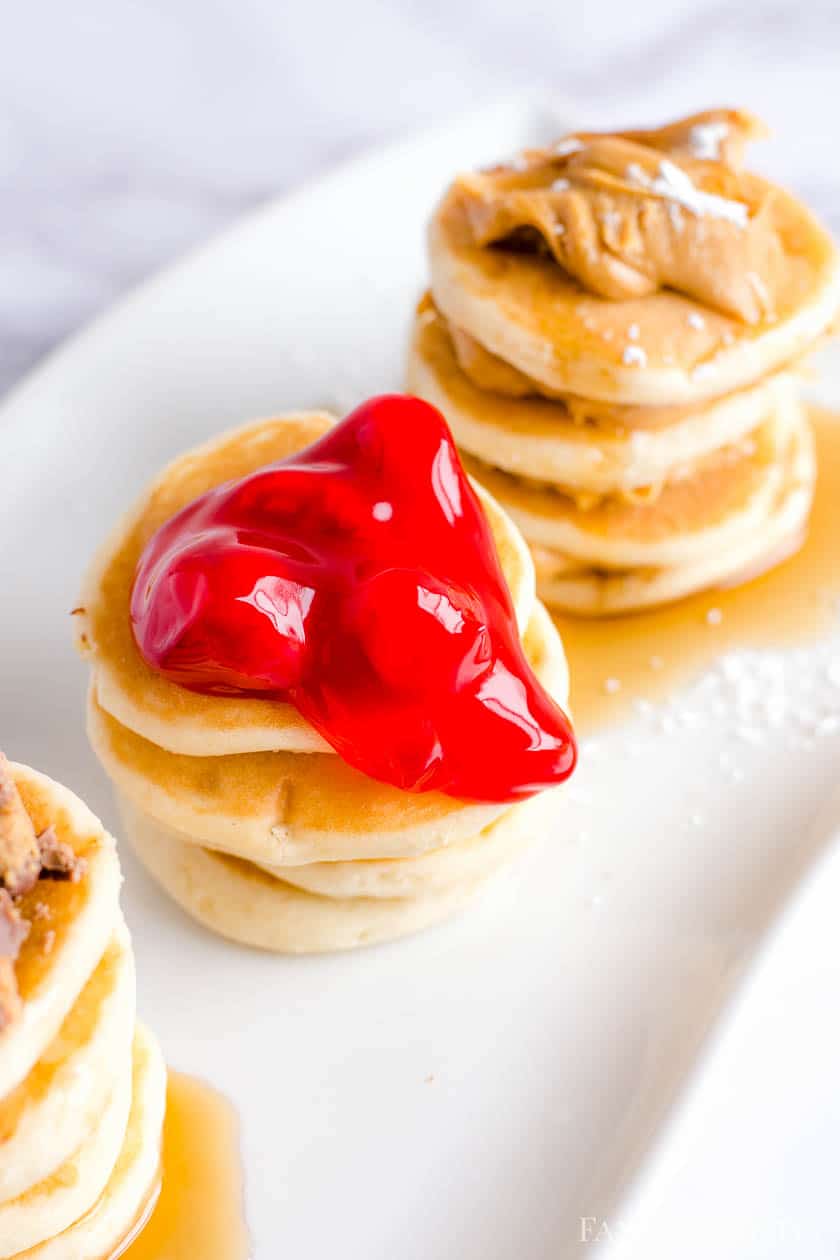 Sugary Toppings for Pancakes
Powdered Sugar
White Sugar
Brown Sugar
Whipped Cream
Cream Cheese & Powdered Sugar "Frosting"
Sprinkles
Marshmallows
Candy
M&M's
Snickers
Reese's Cups
Butterfinger
Peppermints/Candy Canes
Dark Chocolate
Gummy Bears/Worms
Poprocks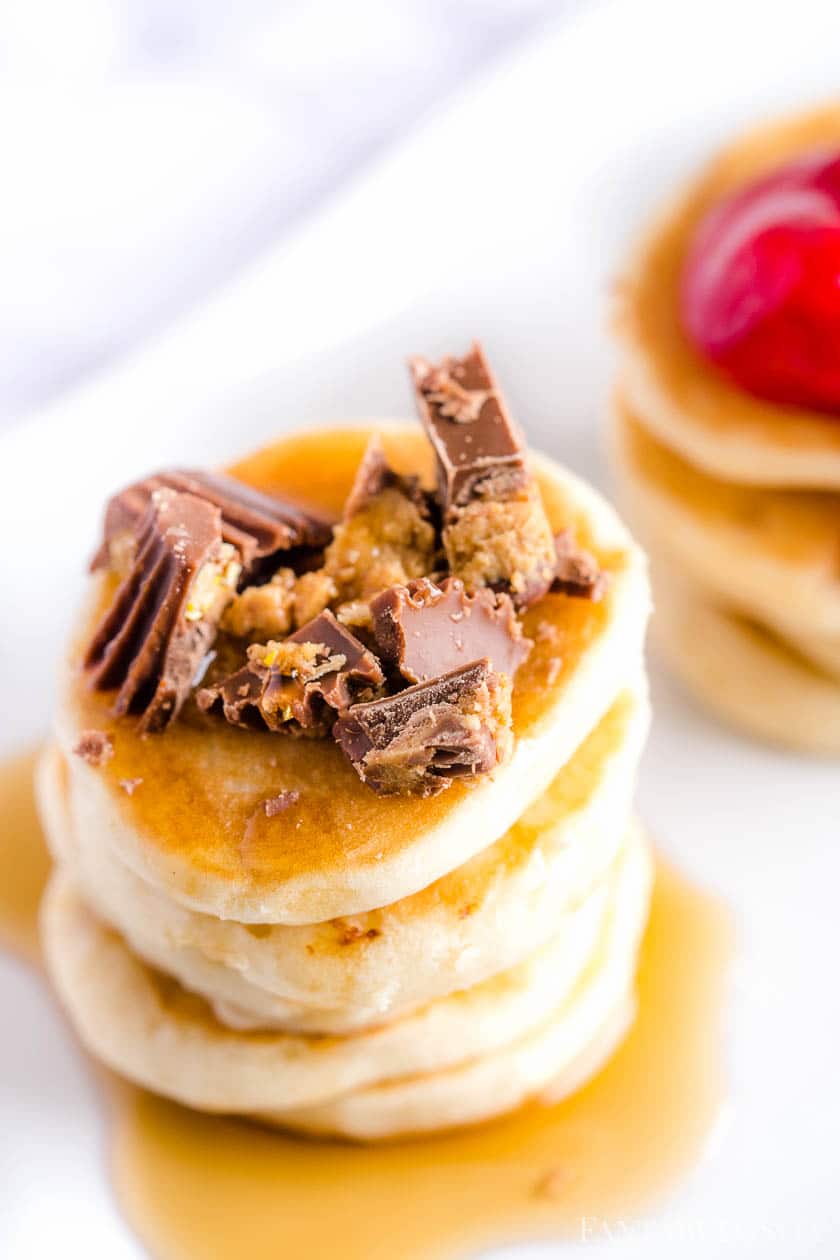 Crunchy, Crumbles, Baking Goodies
Milk Chocolate Chips
White Chocolate Chips
Butterscotch Chips
Toffee Bits (Heath)
Sugared Pecans
Flaked, Sweetened Coconut
Marshmallows
Graham Cracker Crumbs
Crushed Cookies (Oreo's, Gooey Butter, Nutter Butters, etc.)
Crushed Brownies
Cookie Dough
Cereal (Fruity Pebbles, Corn Flakes, Lucky Charms, Honey Bunches of Oats, etc.)
Extracts
To mix in with syrups, whipped cream, etc.
Peppermint Extract
Almond Extract
Lemon Extract
Orange Extract
Butter Extract
Healthy Pancake Toppings
Fruit (See fruit ideas above.)
Keto Pancake Toppings
Bacon
Flavored Extracts (See flavor ideas above.)
Sugar-Free Syrup
Nut Toppings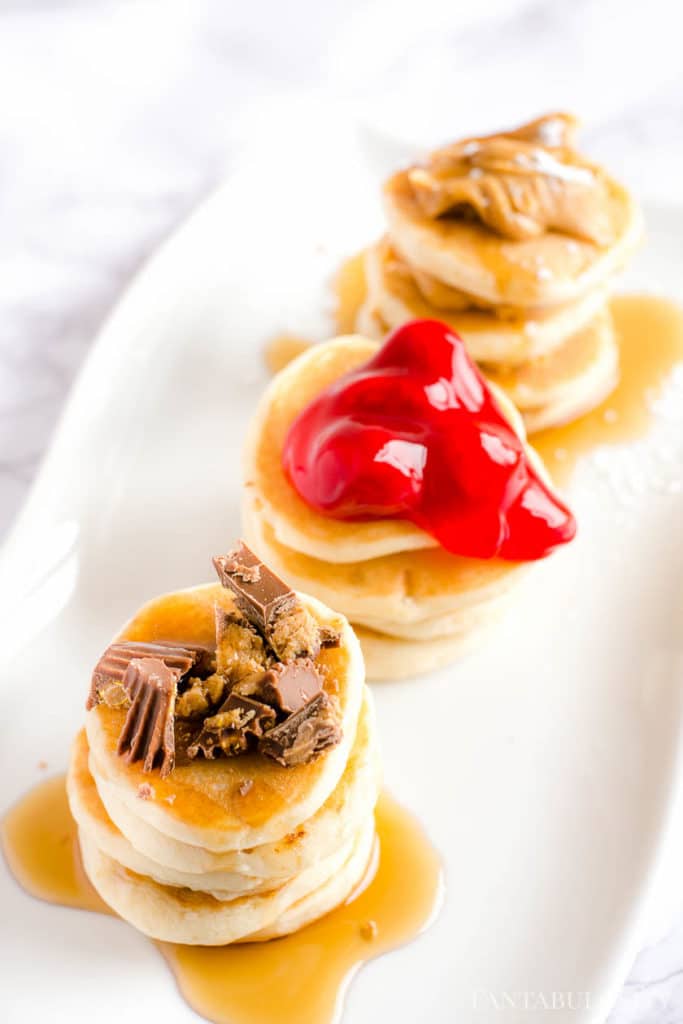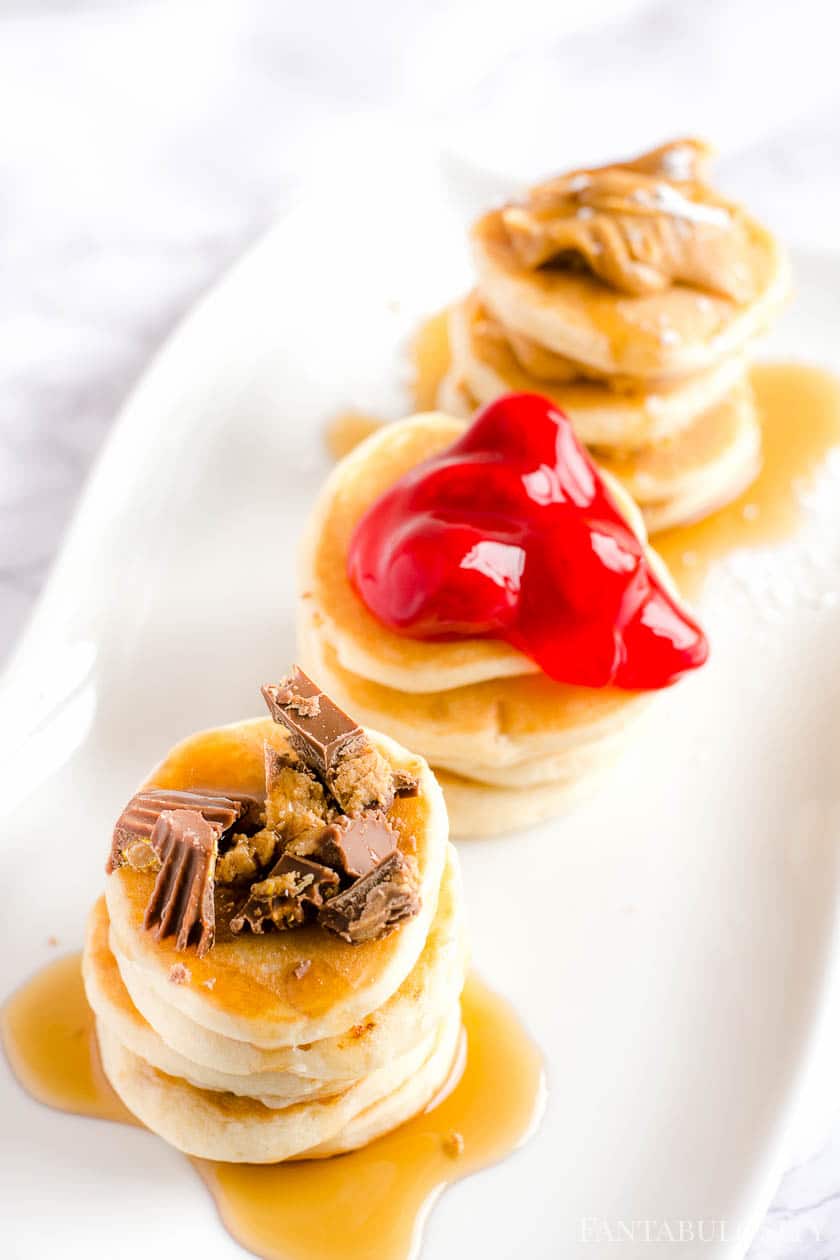 Seeds + Grains
Spices
Savory Toppings
Crumbled Bacon
Egg
Ricotta
Spinach
Veggie + Floral
More Pancake Toppings?
Did I miss your favorite? I'd love to hear what you enjoy on your pancakes so I can add it to the list!
Drop a note in the comments, or let me know via Facebook or Instagram!
Love Breakfast Recipes?
I do too, and that means you'll find a LOT in our breakfast recipe archives!
But some of the reader favorites are:
Pin this image to remember it!