This American Flag Fruit Pizza is an eye-catching red, white, and blue dessert recipe, that features a soft sugar cookie dough base, a luscious frosting layer, and vibrant blueberries and raspberries artfully arranged to resemble the American flag for the Fourth of July!
If you're making desserts for the 4th of July, you're also going to love our 4th of July cupcakes and our mini trifle cups that use a lot of the same ingredients as this flag pizza!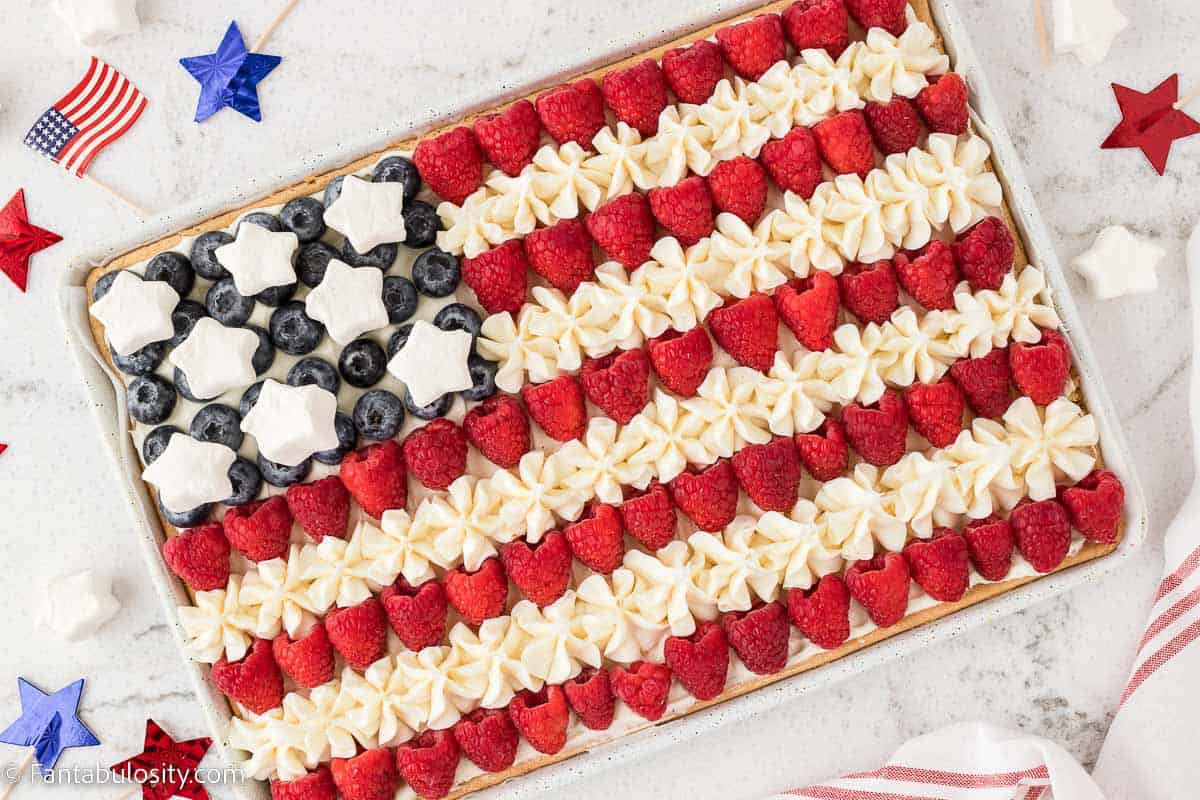 Not only is this fruit pizza visually stunning, but it's also bursting with bright, fruity flavors that will delight your guests. Read on to discover how easy it is to create this fantastic recipe that's sure to become the star of your festive spread for occasions such as Memorial Day or to celebrate Independence Day on July 4th.
If you love the idea of fruit pizza and want to try another sweet pizza idea, check out this Oreo Pizza Recipe for a chocolate lovers version. Or you could go for a simple fruit salad to keep up the healthy theme with this Honey Lime Fruit Salad recipe.
Jump to:
❤️ Why You'll Love This Recipe
It uses a few ingredients: With only 5 ingredients, this recipe doesn't need anything too complicated to make.
Colorful and fun: The recipe looks as amazing as it tastes and is great for holidays such as serving a 4th of July fruit pizza on a themed party table.
Ready in only 60 minutes: With just 15 minutes cooking and the same for prep then 30 minutes to cool, the recipe is ready in only an hour.
🧾 Ingredients Needed
I've highlighted a couple of ingredients below with some relevant notes. Aside from this, the ingredients needed are pretty basic.
Dough – We used a 16.5 ounce roll of refrigerated sugar cookie dough for this recipe as it is easy to use and very tasty.
Frosting – The best frosting for the recipe that we found was a simple store-bought white tub. A 16 ounce tub will work perfectly. Or you can make it from scratch if you prefer.
Marshmallows – We love to add Marshmallow Stars to the fruit pizza but they are optional.
📖 Substitutions
Need to trade out some ingredients? Here are some suggestions that can help:
Sugar Cookie Dough: Instead of refrigerated sugar cookie dough, you can make your own from scratch or use any other type of cookie dough such as shortbread or even a pre-made pie crust.
Blueberries: If you don't have fresh blueberries, you can substitute them with blackberries, black grapes, or even small pieces of dark purple plums to maintain the color contrast in the flag design.
Raspberries: In place of raspberries, you can use halved strawberries, red currants, pitted cherries, or small pieces of red plums for the red stripes on your fruit pizza.
📖 Variations
Store-bought cookie dough is a great option for this recipe. But if you feel adventurous and want to make your own, you definitely can.
Homemade Sugar Cookie Dough: To make your own sugar cookie dough, combine 2 3/4 cups all-purpose flour, 1 teaspoon baking soda, 1/2 teaspoon baking powder, 1 cup unsalted butter (softened), 1 1/2 cups white sugar, 1 egg, and 2 teaspoons vanilla extract in a bowl. Mix until a dough forms and then refrigerate for at least 1 hour before using.
👩🏻‍🍳 How to Make American Flag Fruit Pizza
This fruit pizza recipe is broken into 3 components:
Create the pizza base
Add the frosting
Finish with fruit
Be sure to allow your sugar cookie crust cool completely before decorating!
*Be sure to see the recipe card below for the full ingredients list & instructions!*
STEP 1. Prepare the equipment. Set your oven to 350F or 325F if using a non-stick baking sheet. Take a 13 x 9-inch baking pan and cover it with parchment paper.
STEP 2. Slice the cookie dough. Slice the cookie dough roll into slices around 1/4-inch thick. Press them into the baking pan evenly.
STEP 3. Cook the dough. Cook the dough for 15 minutes until it is golden brown then remove it and allow it to cool completely on the cooking rack. (Image 1).
STEP 4. Add the frosting. Take the tub of frosting and spread it across the whole of the cooled pizza base. (Image 2).
STEP 5. Add the berries. Start with 5 rows of blueberries from the top left corner where the stars would be on the blue portion of the flag pattern. (Image 3).
Then add the raspberry stripes starting at the top and leave a space between each row to create the red and white stripes. (Image 4).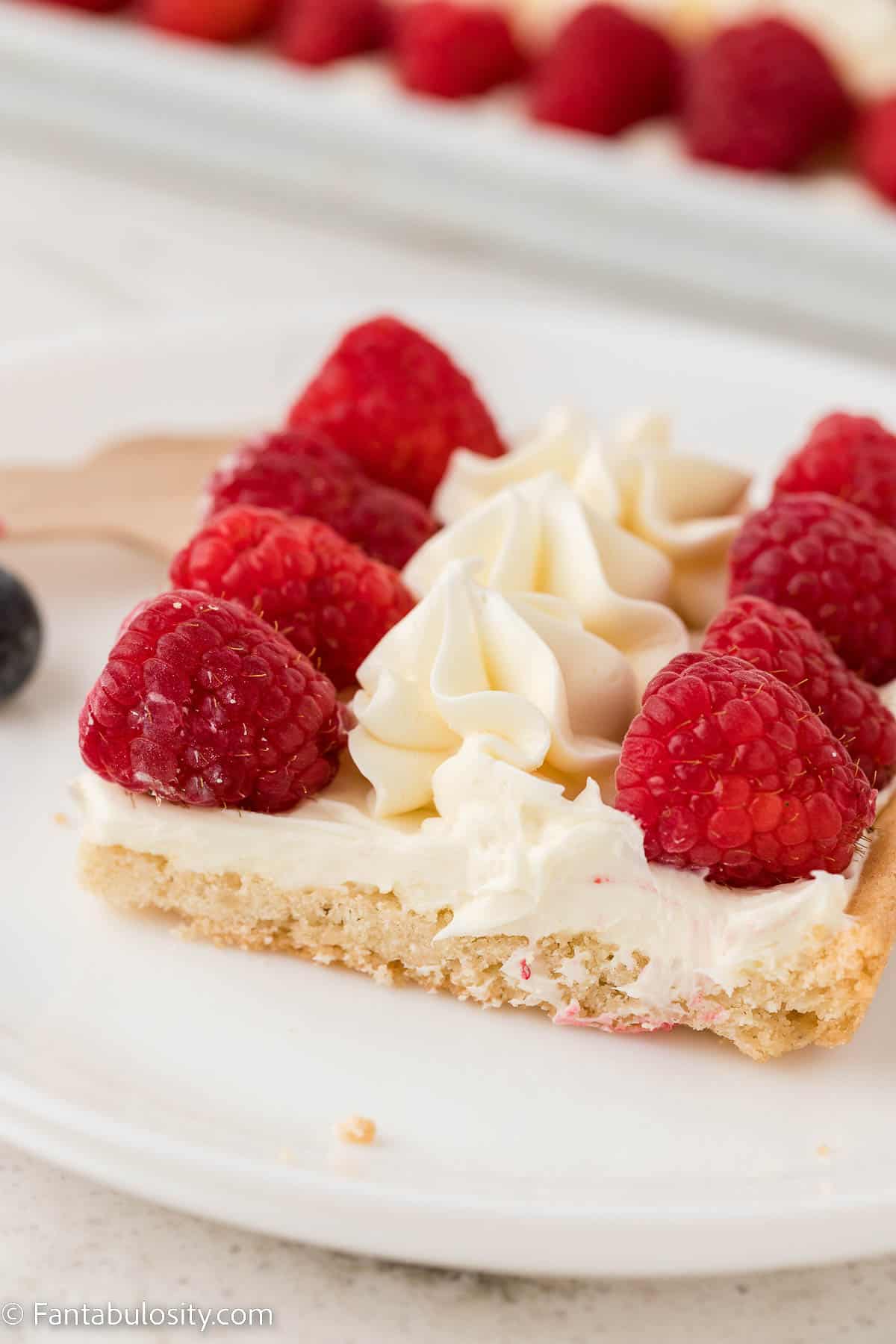 STEP 6. Pipe the frosting stripes. Now take a #1M star piping tip and add a row of stars on the white areas between each row of raspberries. If you are adding the marshmallow stars, add these on top of the blueberries.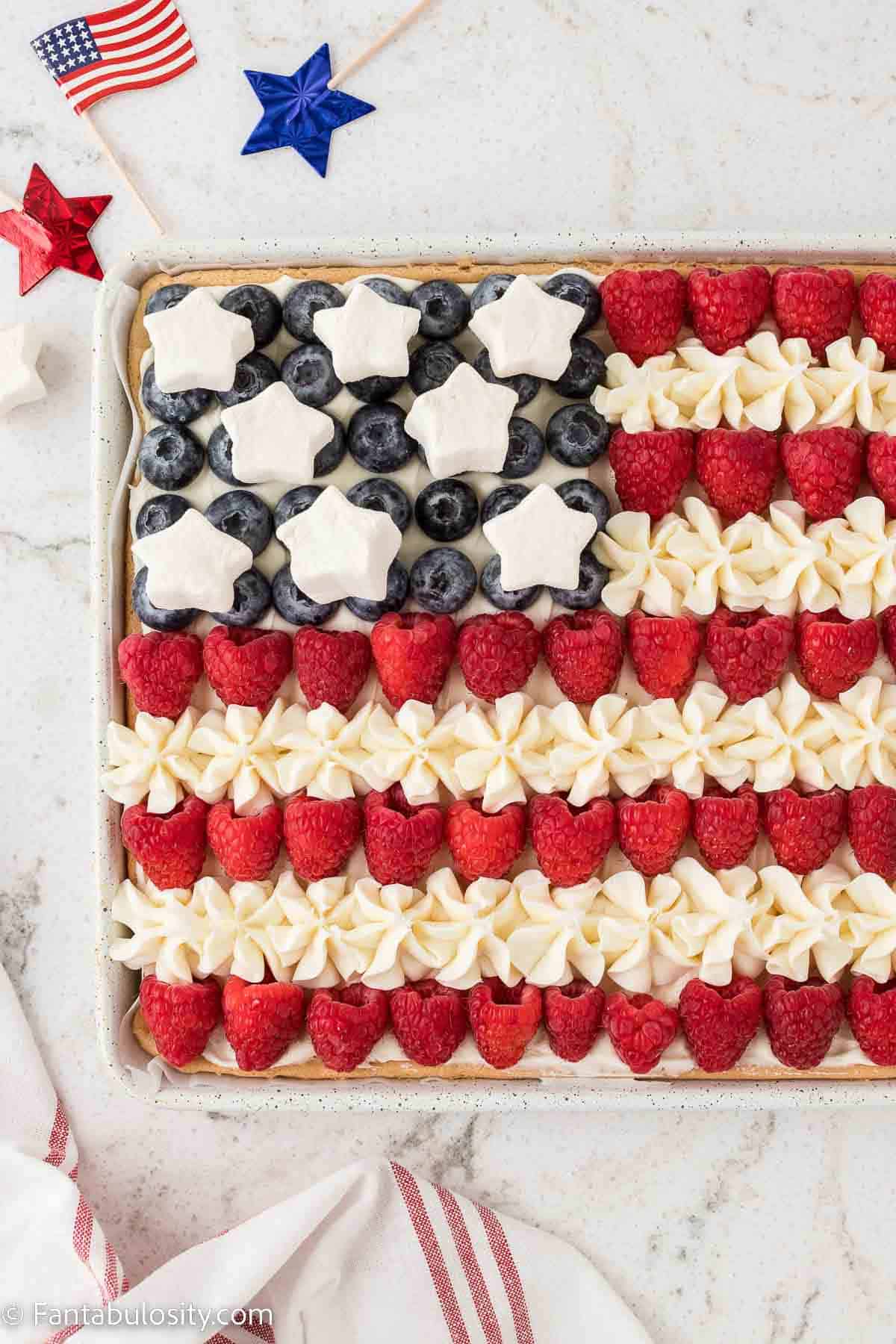 STEP 7. Cool and serve. Allow the pizza to chill in the refrigerator then serve!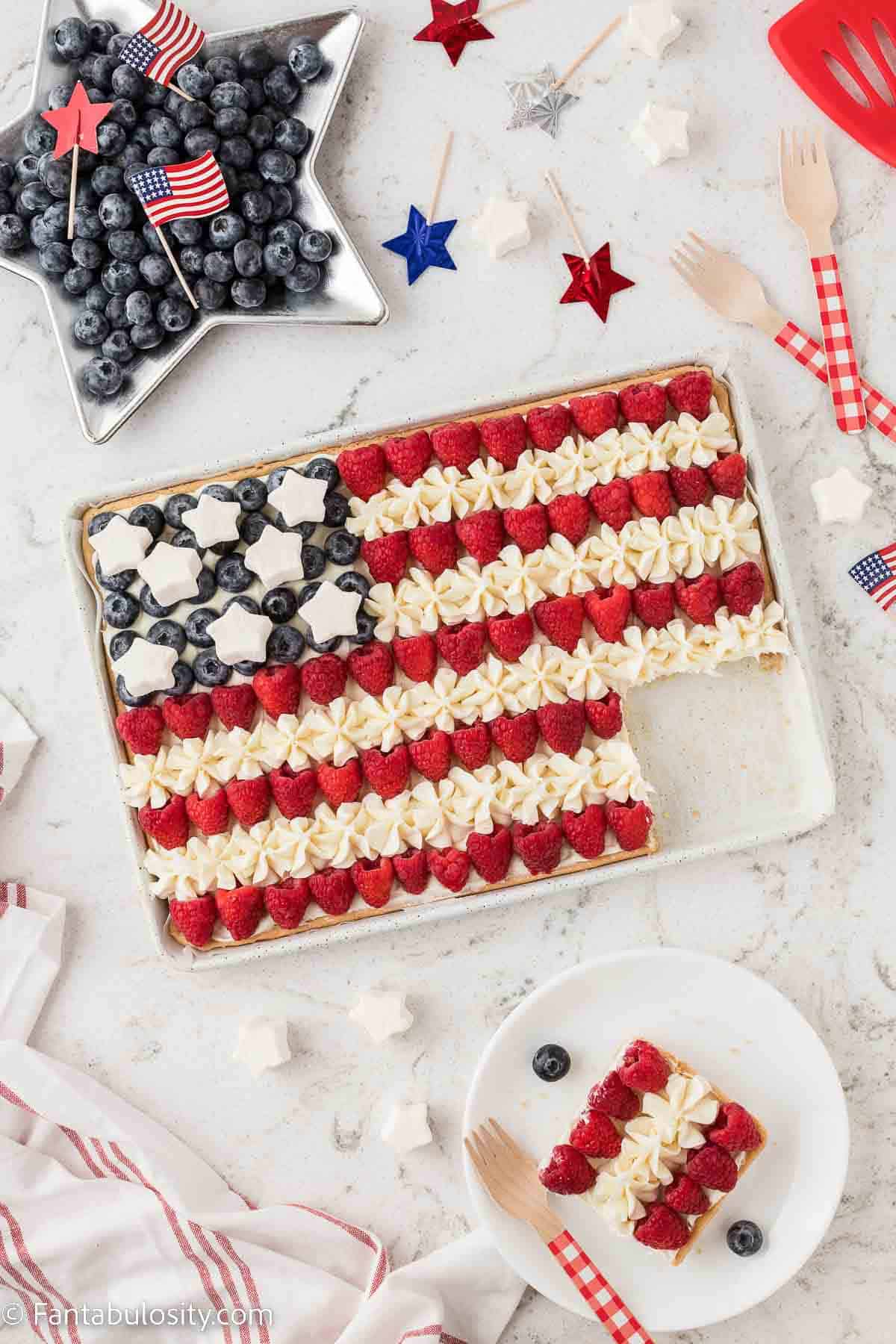 💭 Recipe Pro Tips
Let the dough soften first. Be sure to set the tube of dough out 10 minutes ahead to allow time to soften so you can press the dough onto a baking sheet.
Pat dry your fruits: To prevent your fruit pizza from becoming soggy, make sure to wash and thoroughly pat dry your fruits with a paper towel before arranging them on the pizza.
Add a glaze: To give your fruit pizza a glossy finish and prevent the fruit from drying out, you can brush a simple glaze made of fruit preserves or apricot jam (heated and strained) over the top of the fruit.
Use a pizza cutter or sharp knife: When cutting your fruit pizza, use a pizza cutter or a sharp knife to ensure clean, even slices. Be sure to cut through the crust and fruit layers in one motion to avoid tearing the toppings.
📋 Recipe FAQs
Can you make the fruit pizza recipe ahead of time?
To ensure the best texture and taste, assemble your fruit pizza as close to serving time as possible. This will help prevent the crust from getting soggy and keep the fruits looking fresh.
Do I have to use sugar cookie dough for the base?
No, you don't have to use sugar cookie dough. You can substitute it with other types of cookie dough, like shortbread or even a pre-made pie crust.
Can I make a fruit pizza with gluten-free or vegan sugar cookie dough?
You can use a gluten-free or vegan sugar cookie dough recipe to create a fruit pizza that meets your dietary needs. Just make sure to adjust the frosting and fruit toppings accordingly to maintain a gluten-free or vegan dessert.
🍽 What to Serve with American Flag Fruit Pizza
American flag fruit pizza is a fun and delicious dessert on its own, but you can also serve it with additional treats to make your celebration even more special. Here are some ideas:
Ice cream or frozen yogurt: A scoop of vanilla ice cream or frozen yogurt pairs well with the fruity flavors of the fruit pizza and adds a cool, creamy contrast.
Whipped cream: Serve a dollop of whipped cream on the side for an extra touch of indulgence.
Fruit salad: Prepare a simple fruit salad with a mix of seasonal fruits to complement the fruit pizza and offer a lighter, refreshing option.
Grilled fruit skewers: For a fun and interactive dessert option, grill fruit skewers with a variety of fruits like pineapple, peaches, and strawberries. This can be a great addition to a summer barbecue alongside the fruit pizza.
Patriotic-themed treats: Offer another patriotic dessert like red, white, and blue rice krispie treats, cake pops, or decorated sugar cookies to enhance the celebratory atmosphere.
Cheese platter: Assemble a cheese platter with a variety of cheeses, crackers, and nuts for guests who prefer a savory option alongside their dessert.
Chocolate fondue: Set up a chocolate fondue station with marshmallows, pretzels, and additional fruits like strawberries and bananas for dipping.
❄️ Storage
Store any leftover fruit pizza covered in the refrigerator for up to 2 days. The crust may become soft over time due to the moisture from the fruit and cream cheese layer.
It's not recommended to freeze a fruit pizza, as the texture of the fruits and frosting may be compromised once thawed. However, you can freeze the sugar cookie dough base separately for up to 3 months.
🫐 More Fruit Recipes You'll Love
If you have some blueberries left, why not try this simple Blueberry Waffles Recipe as a tasty breakfast idea? Or you could pop the raspberries into a Spring Mix Apple Raspberry Salad.
Did you make this? I'd be so grateful if you left a "star" rated-review below to let me know what you thought! Then, the next time you need a quick and easy recipe, come back to Fantabulosity to browse all of my easy recipes!
📖 Recipe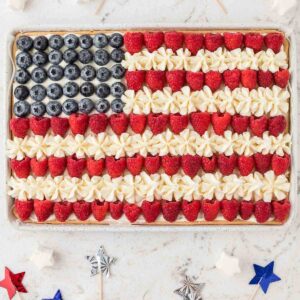 American Flag Fruit Pizza
This red, white and blue dessert pizza, is a delicious and simple patriotic dessert for your next holiday party!
Ingredients
16.5

ounce

roll refrigerated sugar cookie dough

2 x 16

ounce

tub store-bought frosting

white

1

pint

blueberries

washed and dried

12

ounces

raspberries

washed and dried

star marshmallows

(optional)
Instructions
Preheat your oven to 350°F (or 325°F if using a nonstick baking sheet). Prepare a 13 x 9-inch baking pan with parchment paper.

Slice your roll of cookie dough into ¼-inch thin slices, and then press the slices of sugar cookie dough into the pan evenly.

Bake for 15 minutes or until the cookie is beginning to turn golden brown. Allow the cookie to cool completely on a cooling rack.

Once cool, take (1) 16-ounce tub of icing and spread it evenly over the entire cookie.

Now let's create 5 rows of blueberries in the top left corner where the stars would be on the flag.

Next, use the raspberries as the stripes on the flag. Starting at the top, place a row of raspberries, leave about an inch of space, and create another row. Repeat until you reach the bottom of the "flag.".

Place your other frosting tub in a piping bag with a #1M star piping tip. Pipe a row of stars in between each row of raspberries.

Serve chilled, and enjoy!
Notes
See blog post for more tips to help make this recipe a success! Top Tip: Be sure to allow your sugar cookie base to cool completely before decorating! Storage: Store any leftovers in the refrigerator for up to 2 days. Do note that the crust may become soft over time due to the moisture from the fruit and cream cheese layer.
Nutrition
Serving:
1
slice
|
Calories:
192
kcal
|
Carbohydrates:
31
g
|
Protein:
1
g
|
Fat:
7
g
|
Saturated Fat:
2
g
|
Polyunsaturated Fat:
2
g
|
Monounsaturated Fat:
3
g
|
Cholesterol:
2
mg
|
Sodium:
96
mg
|
Potassium:
72
mg
|
Fiber:
2
g
|
Sugar:
23
g
|
Vitamin A:
23
IU
|
Vitamin C:
6
mg
|
Calcium:
7
mg
|
Iron:
1
mg
Nutritional information is based on third-party calculations and should be considered estimates. Actual nutritional content will vary with brands used, measuring methods, portion sizes and more.