Whether you're looking for a side dish, dessert or even salad recipes to use with apples, I think you'll love these apple salad recipes that I've gathered for you!
In the Fall, it's easy to have a plentiful supply of apples, but the lovely part of recipes using apples is that apples can be found all year long to help keep your kitchen full of yummy recipes so these ideas should come in handy no matter when you're finding them!
Here you'll find salads with apples, dessert dishes and side dishes that are perfect for dinner or even to make for the potluck gathering that you're attending soon!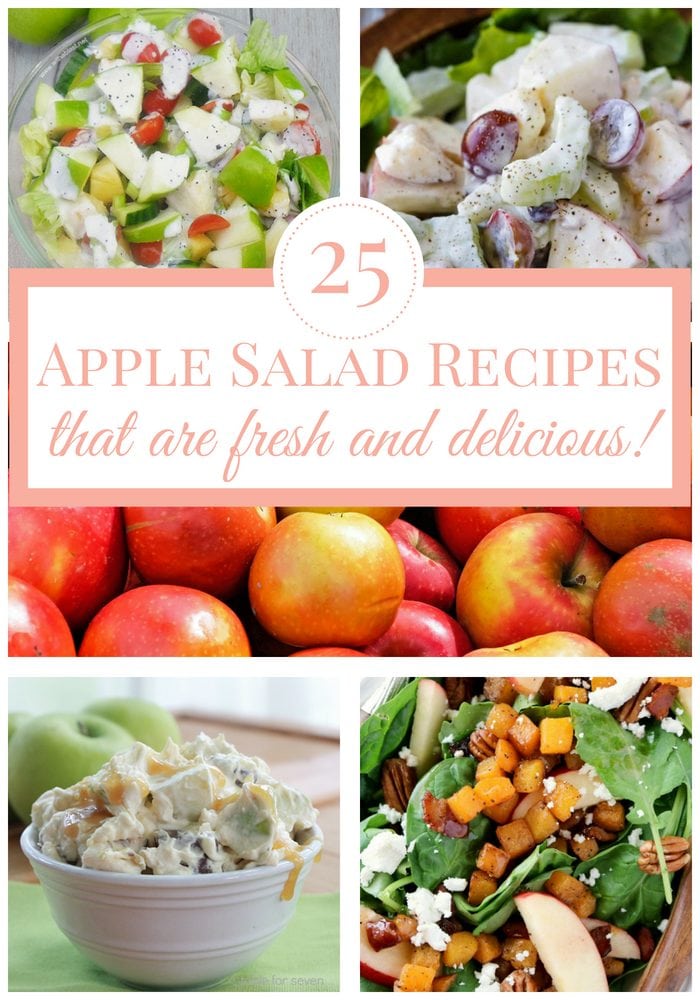 25 Apple Salad Recipes
1. Perfect in a pinch, this Spring Mix Apple Raspberry Salad is a fantastic side dish idea! Fantabulosity
2. Apples, herbs and a heart-healthy dressing? Yes! Couscous and Apple Salad The Organic Kitchen
3. How about Caramel Apple Salad for a dessert? Cooking with Karli
4. Greek yogurt lovers will LOVE this Apples Medley Salad! Homemade Food Junkie
5. A combo of beets and apples in this Shredded Beet Salad is the crunch I desire! Earth Food and Fire
6. This Apple Pineapple Ceviche reminds me of the Caribbean! Table and Hearth
7. Get your grains in with this Brown Rice Salad with Apples and Pecans! Thyme & Love
8. Coconut Bacon? Count me in for this Brussel Sprout Apple Salad! Thyme & Love
9. The vibrant colors of this Spinach and Quinoa Salad with Apple and Pecans is calling my name! Kristine's Kitchen Blog
10. Blue cheese lovers unite with this Blue Cheese Apple Walnut Slaw! Flavour and Savour
11. Can't forget about goat cheese lovers though with this Roasted Butternut Squash Salad! The Anthony Kitchen
12. Perfect for the Fall season is this Fall Flavours Apple Salad! Homemade and Yummy
That's only half of them…
For real! You've only seen half of the amazing recipes I've found for you. Take a look at these other apple salad recipes you're going to want to pin for later on Pinterest!
13. A protein-packed Turkey Apple Cranberry Pecan Salad is perfect for a hearty lunch! Renee's Kitchen Adventures
14. You say the word "Snickers" and you can count me in for this Snicker Apple Salad.
15. Looking for a Waldorf Salad? Look no further! Simply Stacie
16. Not only good in the summer, this Summer Apple Salad is great all year long! With a Blast
17. If a gluten-free apple salad recipe is on your agenda, here's a great Apple Grape Salad! My Gluten-Free Kitchen
18. Skip the mayo with this Greek Yogurt Chicken Salad! The Honour System
19. Curried Chicken Salad with apples, sounds like a flavor firework! Yum! The Honour System
20. Tuna Salad on Apple Slices gives us low carb Apple Tuna Salad Sliders! Tinsel Box
21. I can almost hear the crunch in this Crispy Apple Raisin Walnut Salad!
22. Get in your greens with this Kale Apple Salad with Cranberry Vinaigrette! Craving Something Healthy
23. Or snag an extra sweet spin on this Sweet Potato Apple Salad with Basil Vinaigrette. Flying on Jess Fuel
24. Apple Zucchini Salad is one way to use up those garden veggies in the Summer! Two Sleevers
25. Brussels sprouts can be such a fun spin on "lettuce" in salads, especially in this Warm Brussels Sprouts Salad! Veggies Save the Day
BONUS: What the heck, I couldn't resist sharing the newest apple salad recipe that I created in the kitchen the other day… so make that 26 apple salad recipes!
Apple Salad with a Creamy Yogurt and Pudding Dressing! Fantabulosity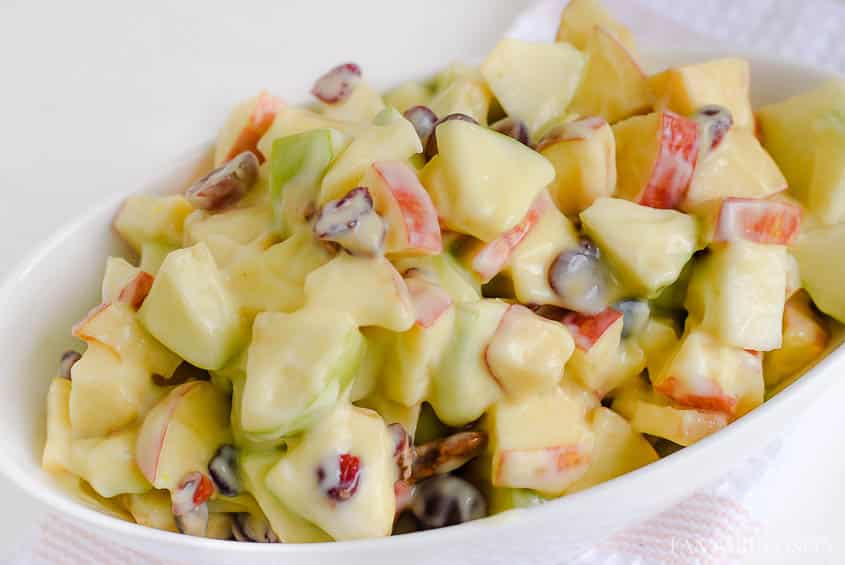 Have a favorite apple salad recipe? Share it right here in the comments below!