Whether you're looking for a side dish, dessert, or even salad recipes to use with apples, I think you'll love these apple salad recipes that I've gathered for you!
In the Fall, it's easy to have a plentiful supply of apples, but the lovely part of recipes using apples is that apples can be found all year long to help keep your kitchen full of yummy recipes so these ideas should come in handy no matter when you're finding them!
Post originally published in August 2018, updated in May 2023.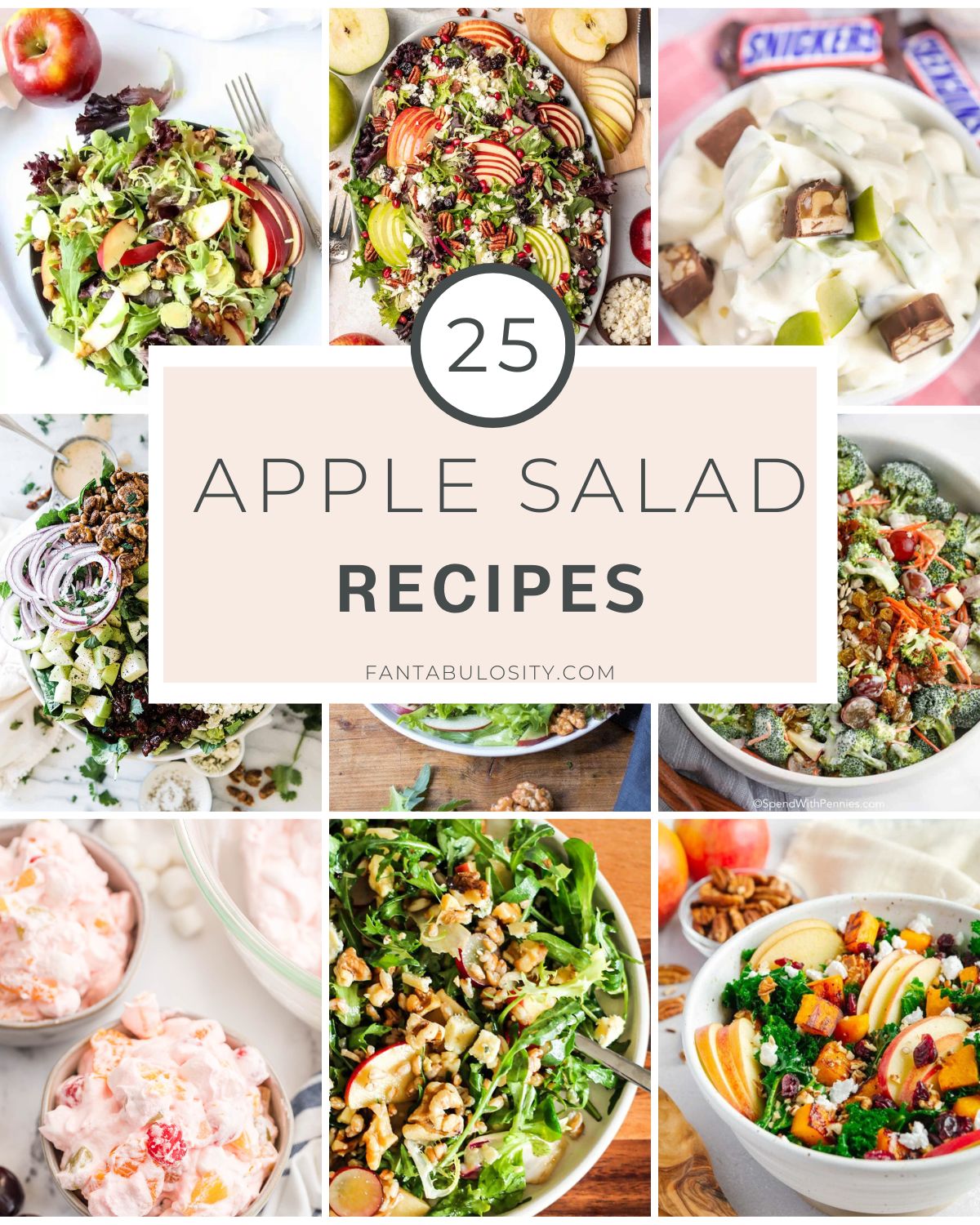 Here you'll find salads with apples, dessert dishes, and side dishes that are perfect for dinner or even to make for the potluck gathering that you're attending soon!
25 Apple Salad Recipes
This fruity salad has the best cool and creamy dressing. Use cool whip and canned fruit with marshmallows. Add some fresh apples to give this salad a crispy texture that is delicious.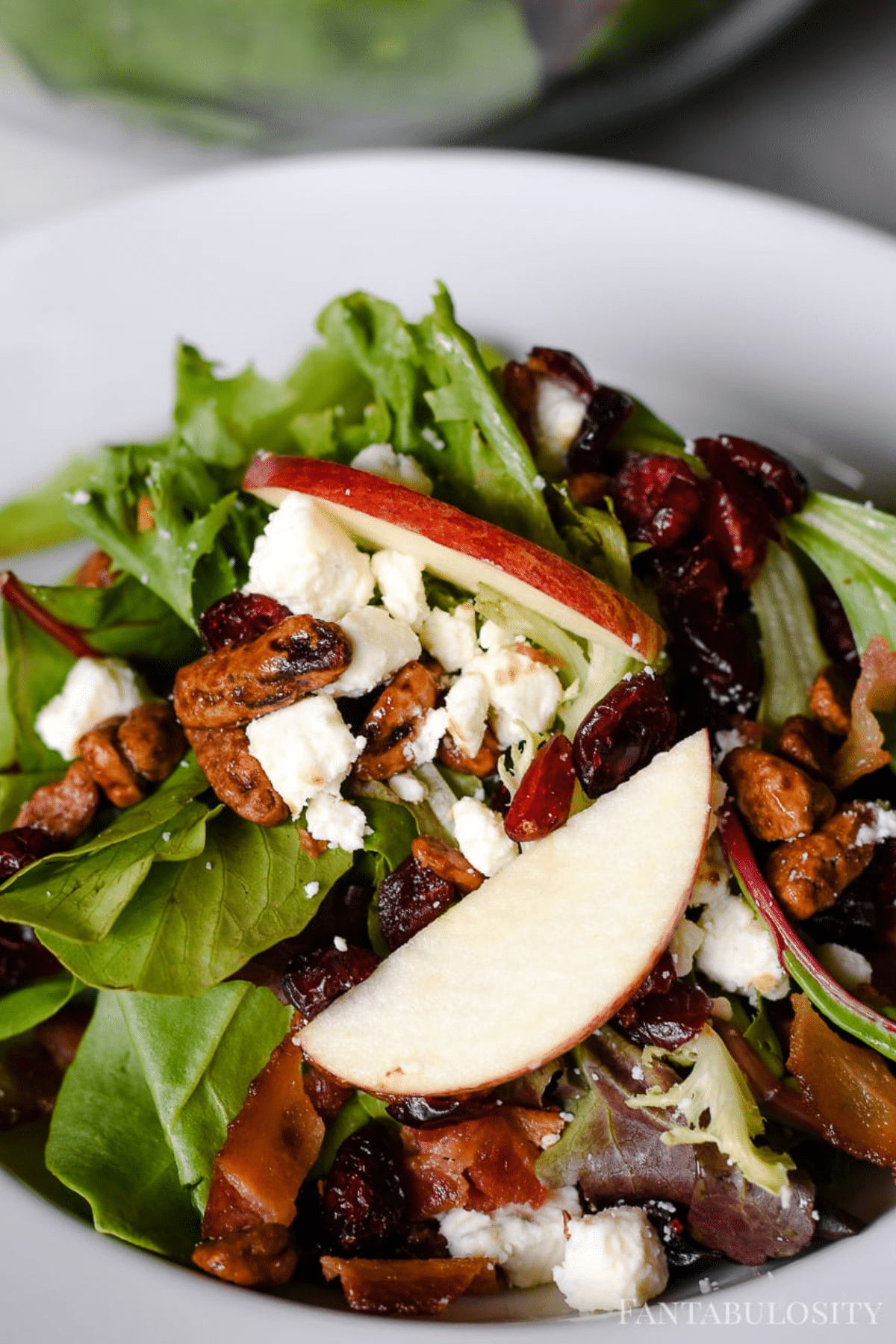 Add berries and apples to a simple spring mix for a fruity twist on a classic. You can make a meal of this or serve it on the side.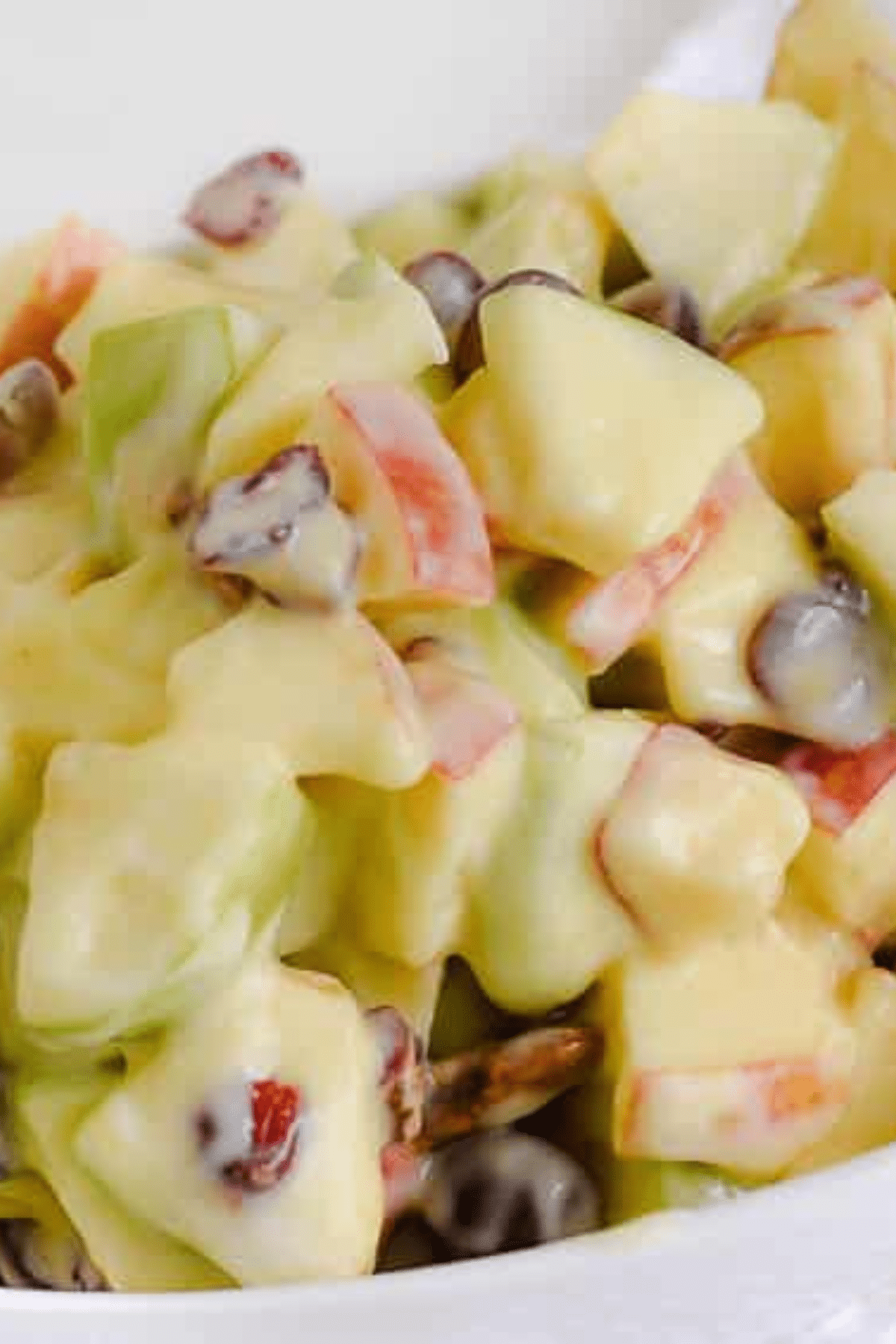 Apple Salad with a Creamy Yogurt and Pudding Dressing
The creamy yogurt and pudding dressing combined with the crunchiness of apples is a combo that's hard to resist.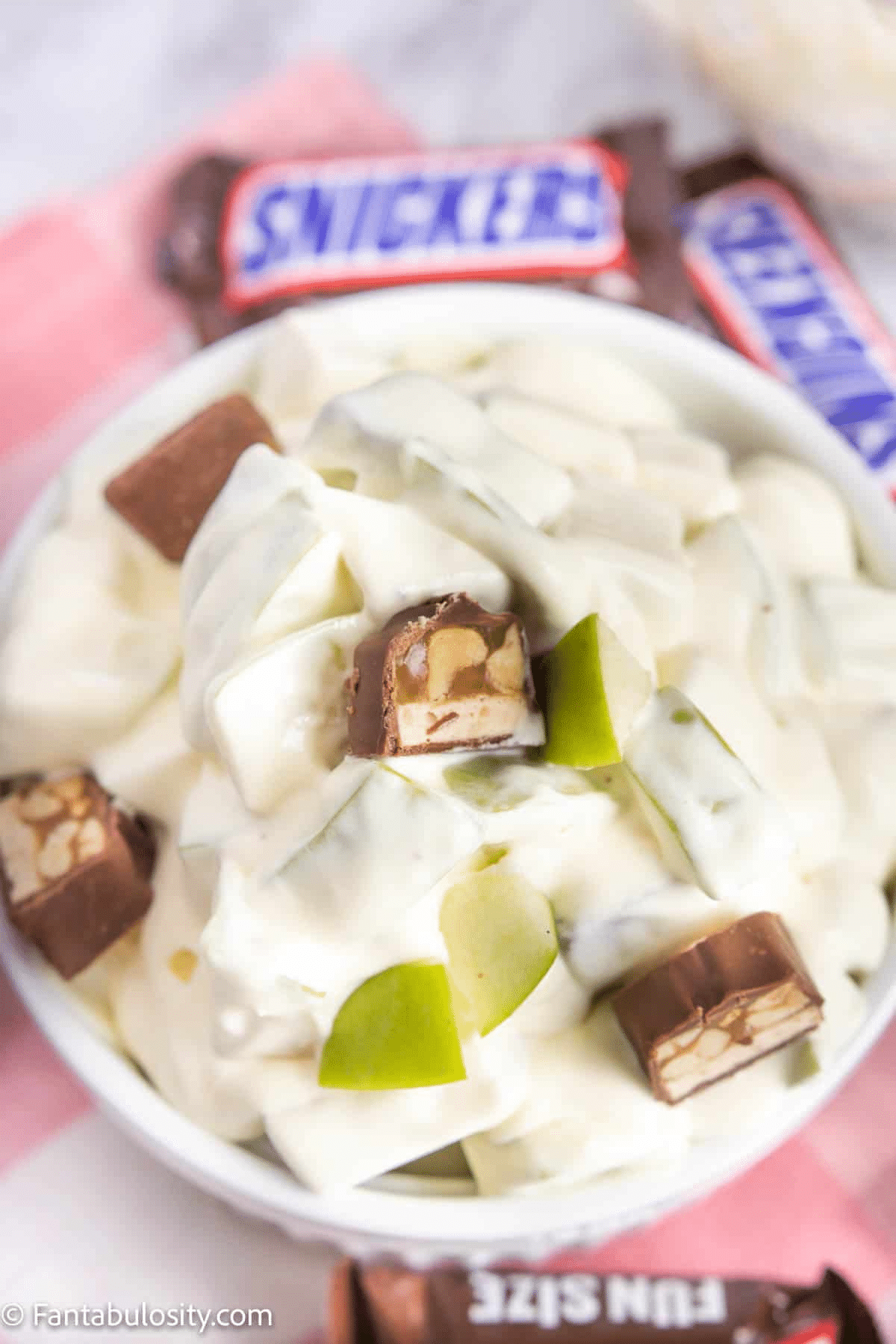 This dessert salad has so much going for it! It has apples to make it a little healthier, but it has plenty of Snickers candy mixed in to keep it sweet and delicious!
Adding chicken and apples to a salad is one way to make for a fulfilling and healthy meal. This has a great combination of ingredients for unbeatable texture and flavor.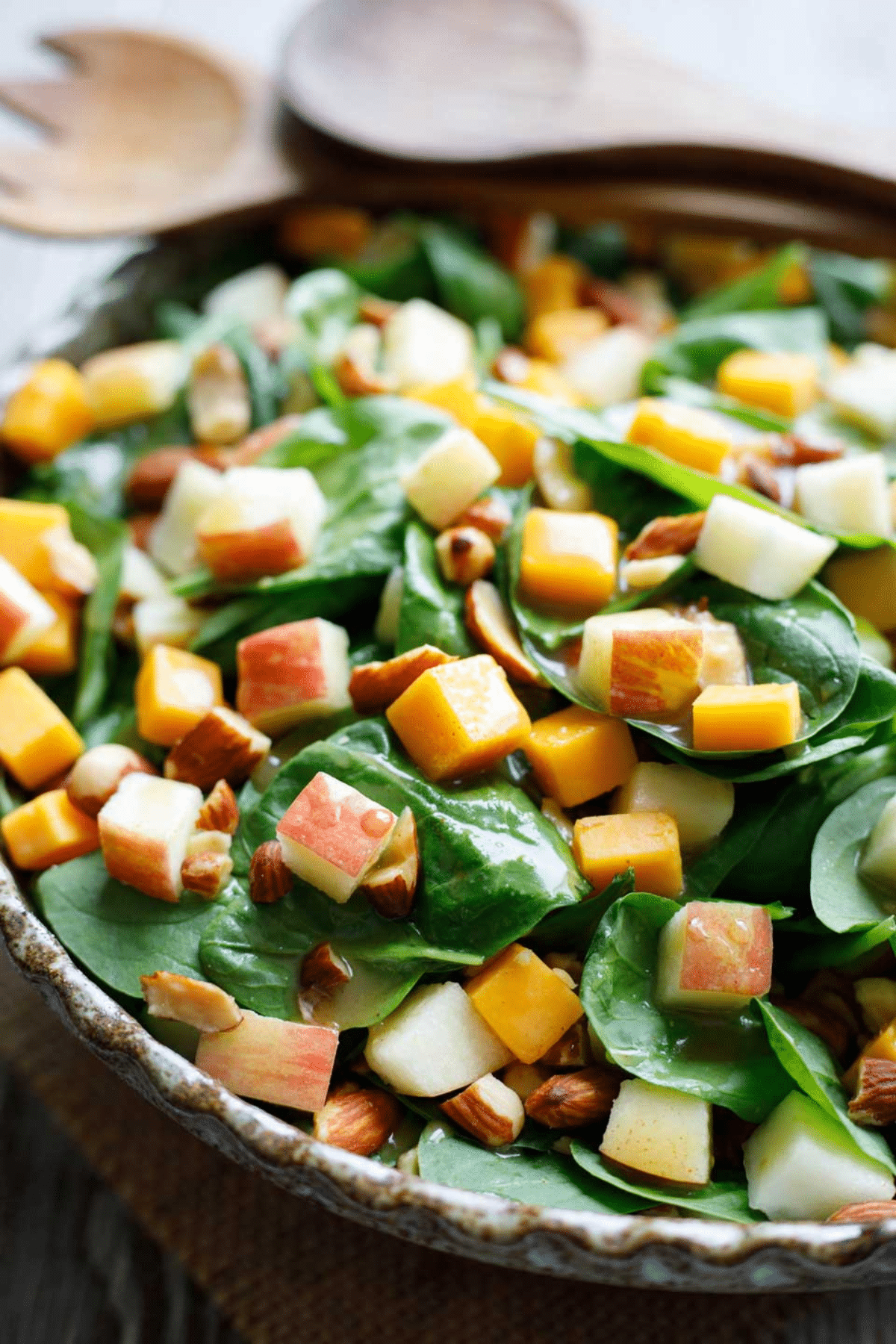 This apple salad has crunchy apples and nuts, and creamy cheese and healthy greens for a great meal.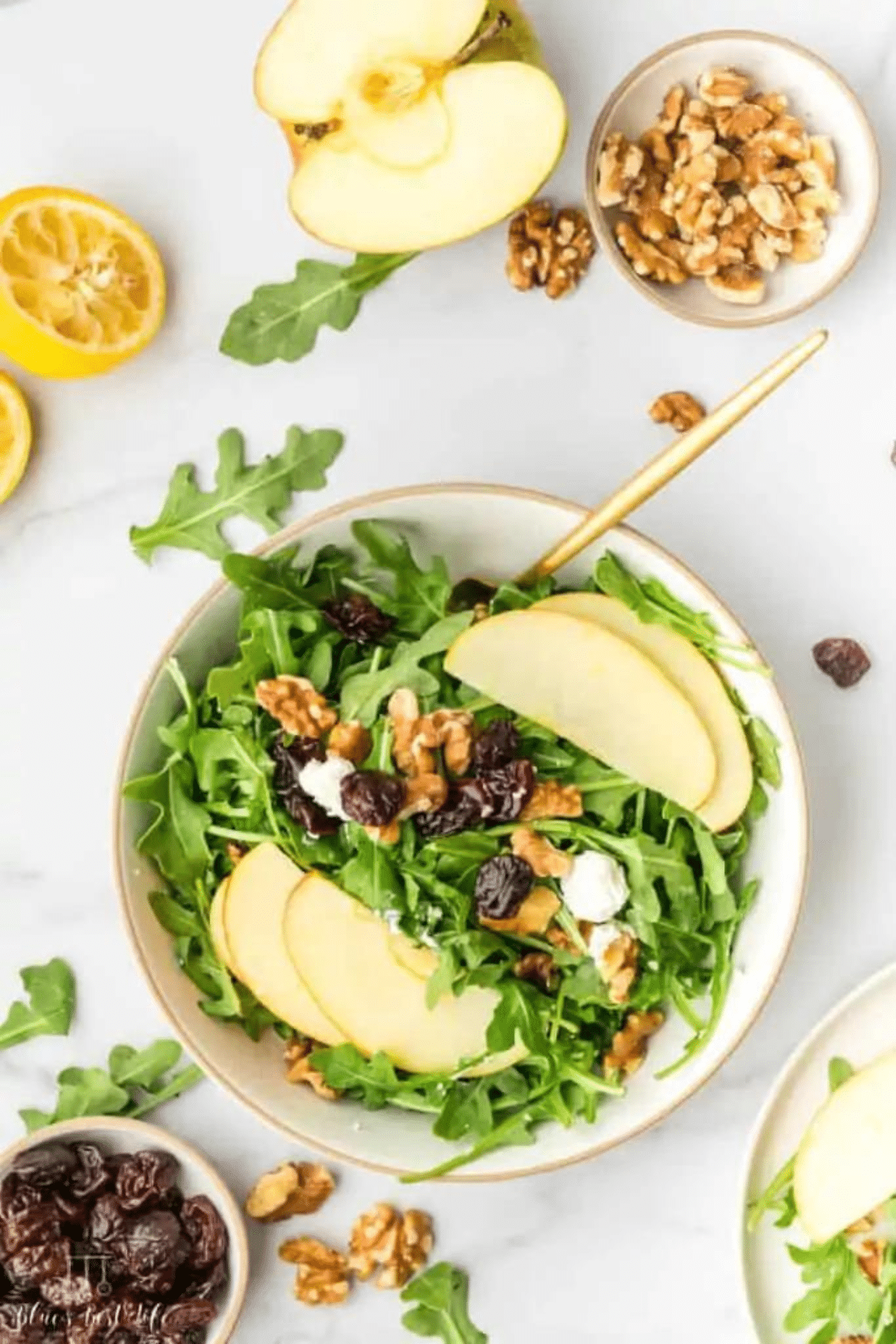 This simple salad is so satisfying! Make this with apples and arugula and be sure to add goat cheese and walnuts for texture and flavor.
Shaved brussels sprouts and apples make such a good combination for a healthy salad. Serve this for lunch or dinner that hits the spot and doesn't weigh you down.
Blue Cheese, Grape and Apple Salad
Blue cheese, apples and grapes are such a good combination for a salad. Make this to enjoy for lunch, or serve it with grilled meat for dinner.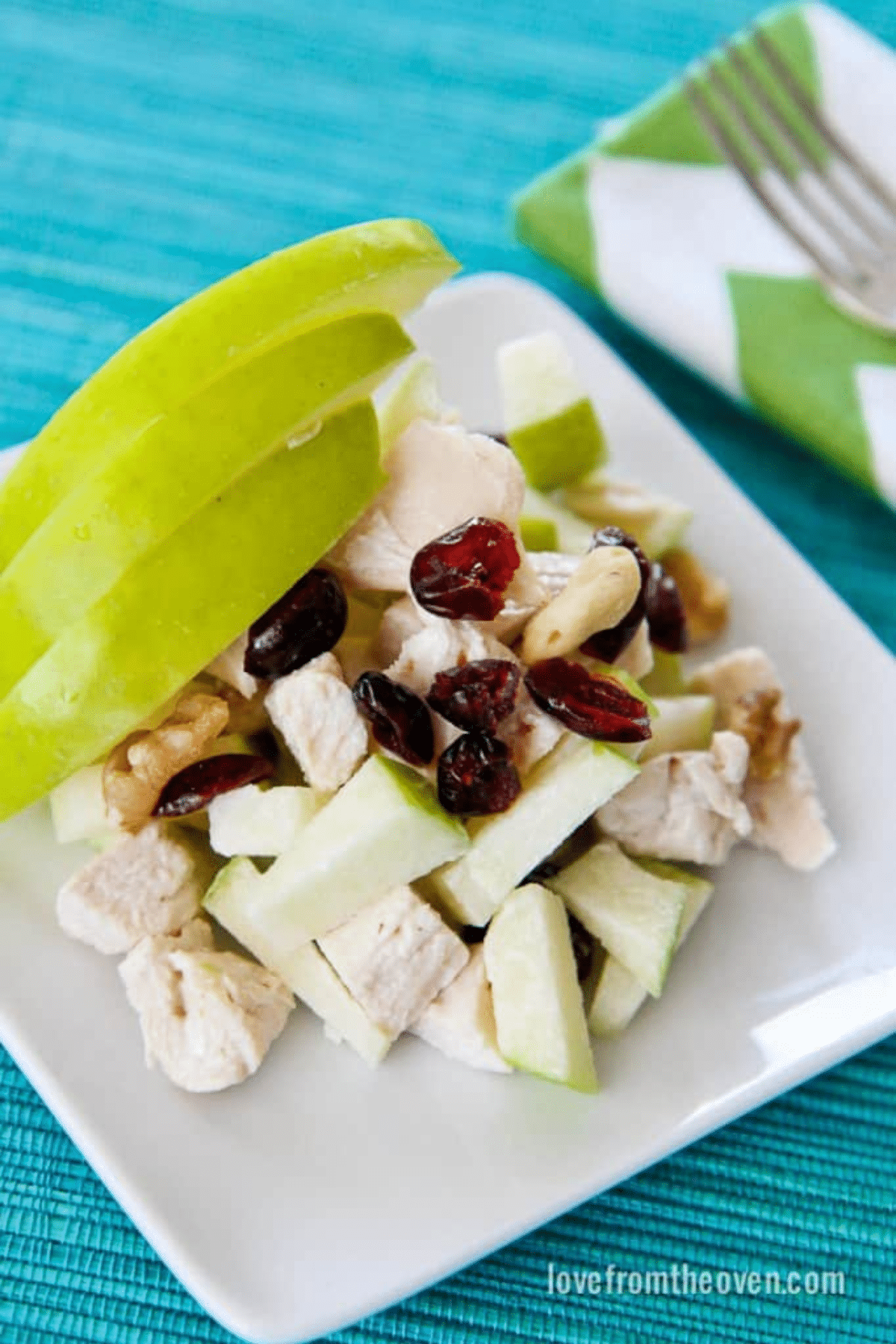 Chicken and apples go together great in this easy and tasty salad. Make this for a fast and flavorful lunch you can pop in a picnic basket for a great summer meal.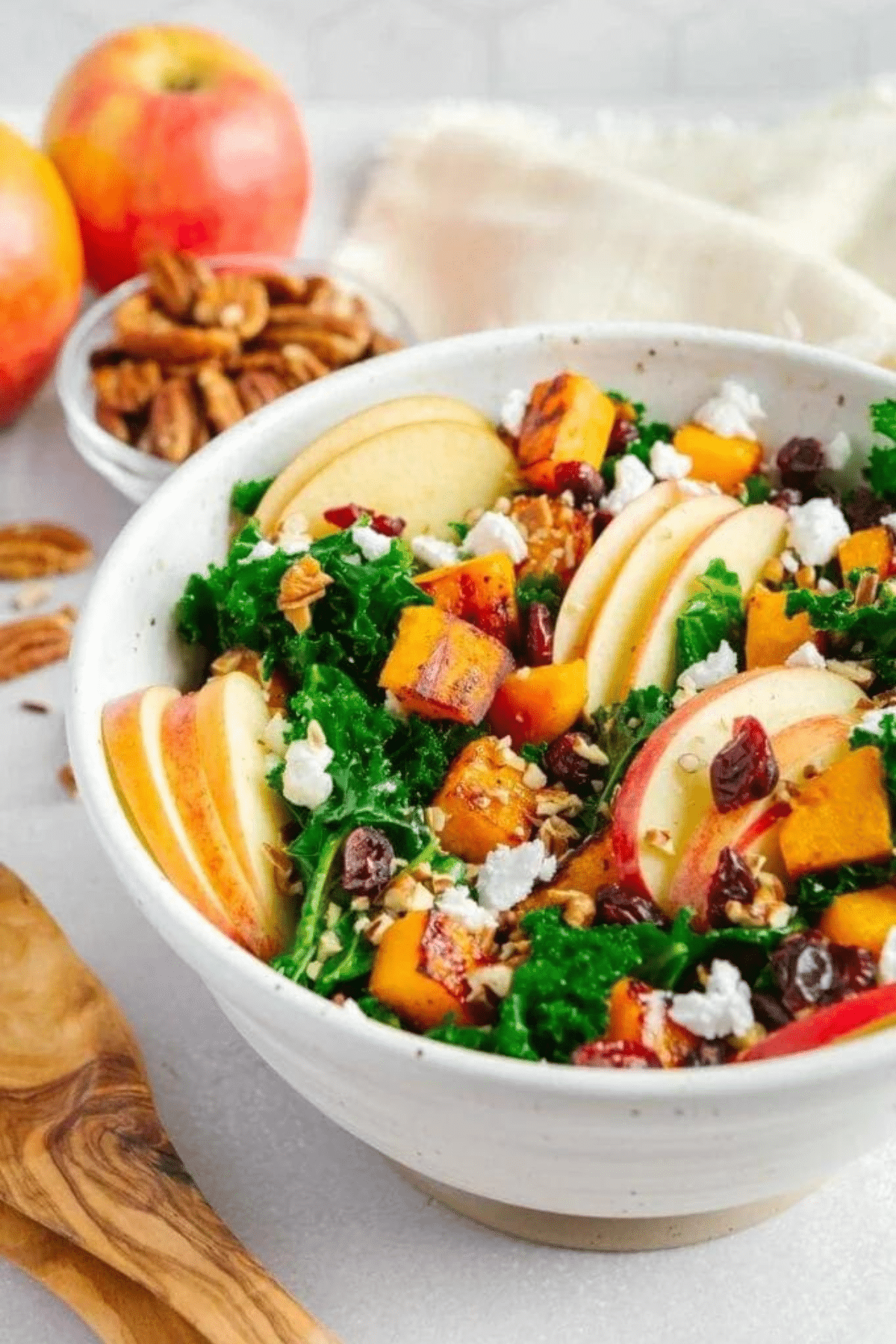 This salad has the best harvest flavors in every bite. With maple roasted squash, crispy apples, dried berries and a great dressing, this salad has a little something for everyone.
Make an apple salad with refreshing cucumbers for a unique and delicious flavor that pairs well with so many main meals.
Waldorf salad is a potluck staple. This recipe turns out perfectly every time for a crowd pleasing side or dessert option.
This fruity salad has all of the best flavors for a filling and refreshing healthy meal. This is great for a summer lunch to share with friends.
Spinach and apples make for a delicious and easy combination for a healthy salad. You will love the crispy apples with walnuts and goat cheese.
Pomegranate and Brussels Sprouts Salad
This salad starts with brussels sprouts sliced thin, and adds crunchy nuts, juicy pomegranate and crisp apples to make a really good salad with plenty of honey mustard dressing!
Bring the colors of the rainbow to the table with this crunchy and delicious salad. It has plenty of apples, broccoli, nuts, carrots and grapes to offer a medley of tasty flavors for your next potluck or party.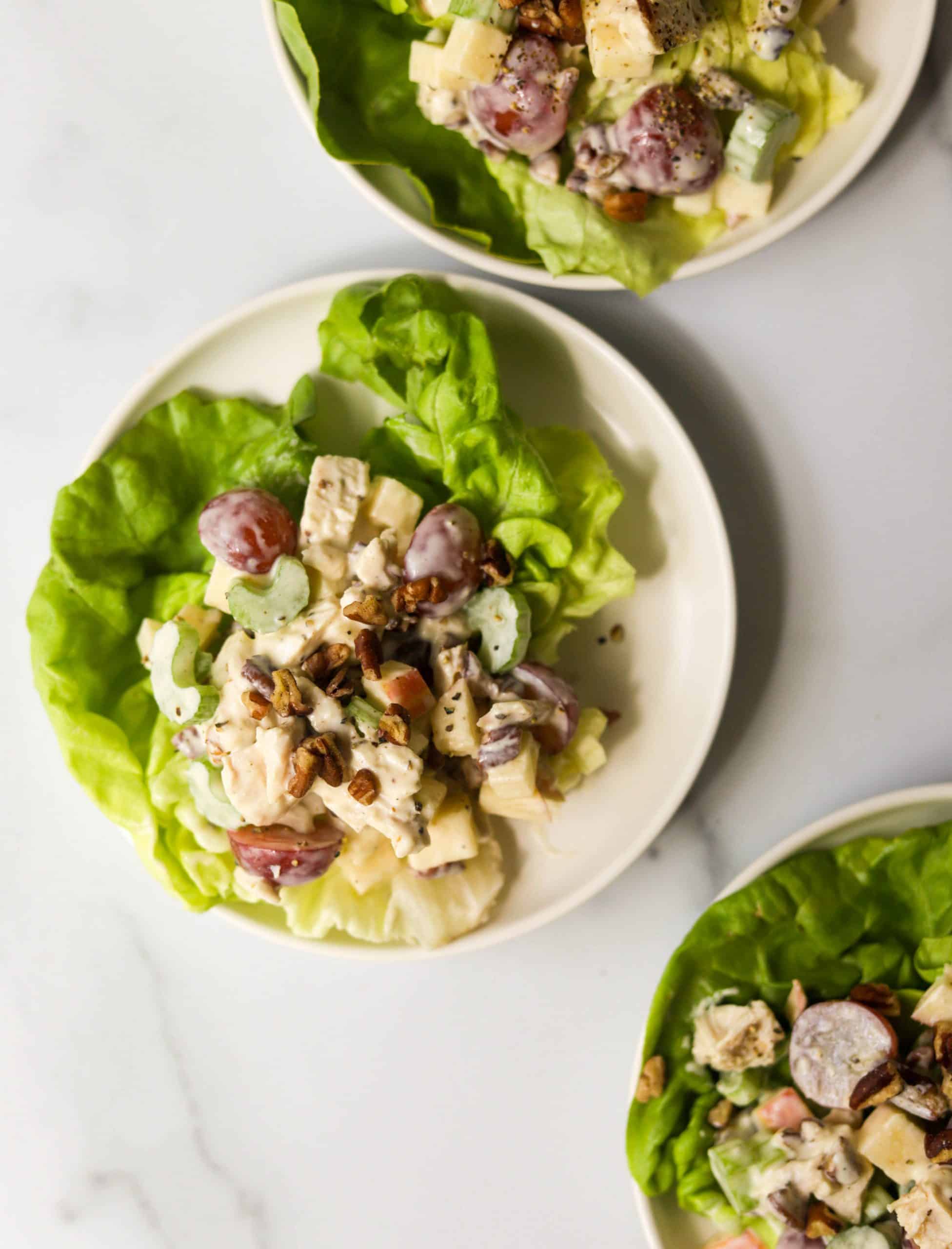 Adding fruit and nuts is an easy way to make your chicken salad pop with great flavor. This will be a favorite fall lunch that is easy to meal prep ahead of time.
Walnuts are the star of this salad, but it has plenty of apples, greens and onions to give it texture, crunch and so much flavor!
Simple Cabbage and Apple Salad
Simple is always a good idea on a busy night. This recipe uses cabbage and apples to make a great side for grilled meats, or sandwiches.
You can skip the trip to Buca di Beppo and get the iconic flavors of their apple gorgonzola salad at home with this easy to recreate dish.
Pomegranate and Apple Harvest Salad
Pecans, apples, avocado and pomegranate make this salad burst with fresh flavor in every bite.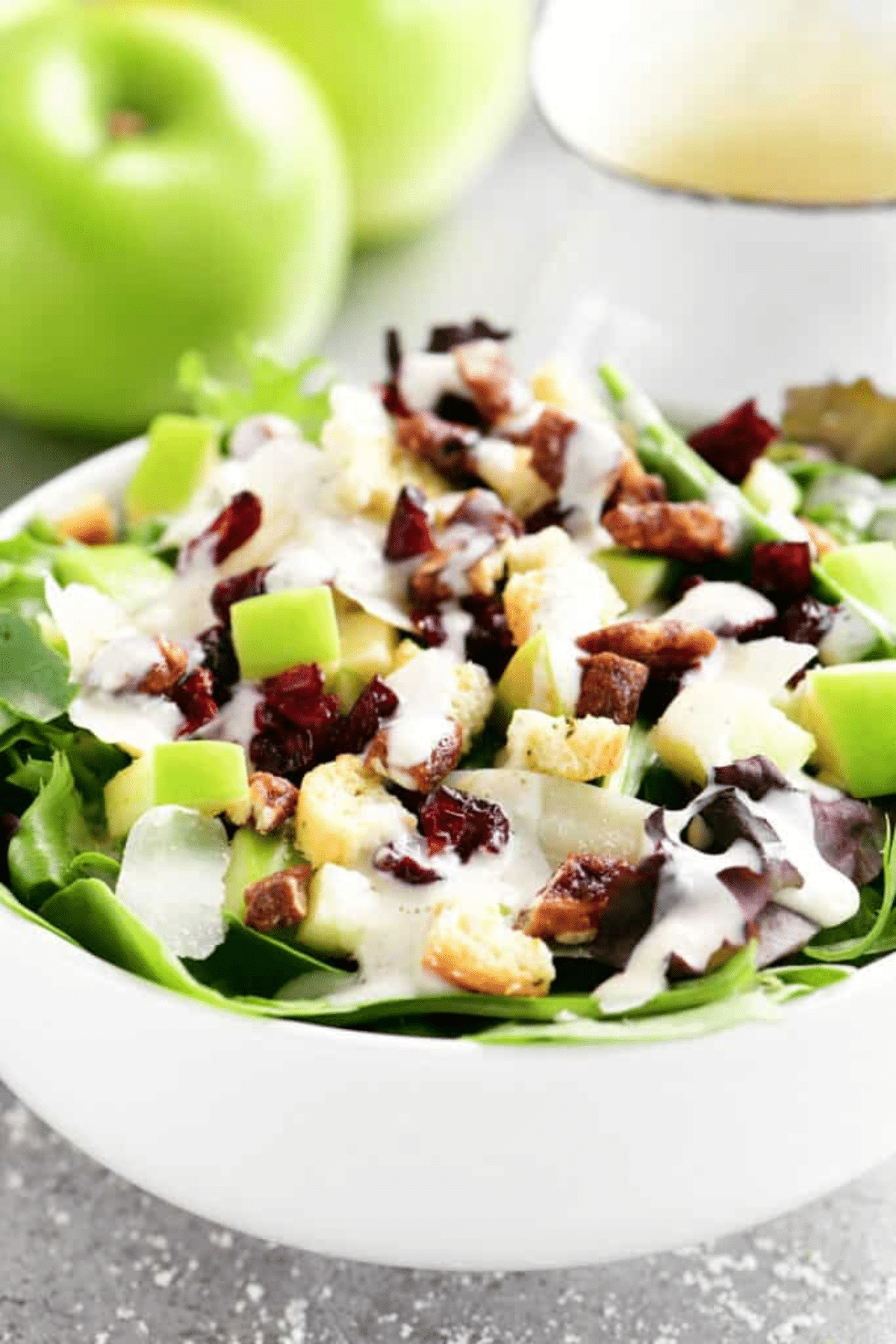 Cranberries and apples come together to make a fresh and flavorful salad that you can serve all fall long for the best healthy lunches.
Crispy apples, crunchy broccoli, and plenty of dressing come together in under 15 minutes to make a colorful and flavorful salad.
This fresh salad has ample fall flavors in an easy to assemble form. You will want to pack this and take it along on a picnic with someone special on a pretty fall day.
Thinly sliced apples atop of leafy green lettuce with nuts, cheese and dressing make for a salad that captures the best flavors of the fall harvest in one easy to make salad.
Love our Recipe Collections?
If you love having themes for some of your favorite types of food, you'll love these other recipe collections: