Gift Ideas for Teenage Guys: Instead of giving the guy who has everything a handful of cash again this year, here are gift ideas he may love!
---
Gift Ideas for Teenage Guys
Why are teenage boys so hard to shop for?
With two boys of my own, I'm not sure I'm looking forward to gift-buying when they get older. Course, when it's your own kids, it may be easier than buying for a boyfriend, brothers, nephews, cousins, friends, etc.
So to help those of you out with great gift ideas for teenage guys, I've done a little research and have given you a GREAT list of ideas to choose from!
P.S. Did you get my free printable Christmas Gift List download yet? You'll want to get your hands on that pronto!
Ok, so let's get to the items I've found online for you to help make your Christmas shopping a little easier.
Note that most of these gift ideas are from Amazon, just because if you're familiar with Fantabulosity, you know I survive on Amazon prime, and I'm assuming you may too.
However, you may also find some items here from Target, Nike, and Urban Outfitters!
Many of these links contain affiliate links.
Gifts for Teenage Guys
MoonPod – PERFECT for gamers or a guy who loves to relax in his room or in front of the tv on the weekends! Sit, lay, recline… it does it all!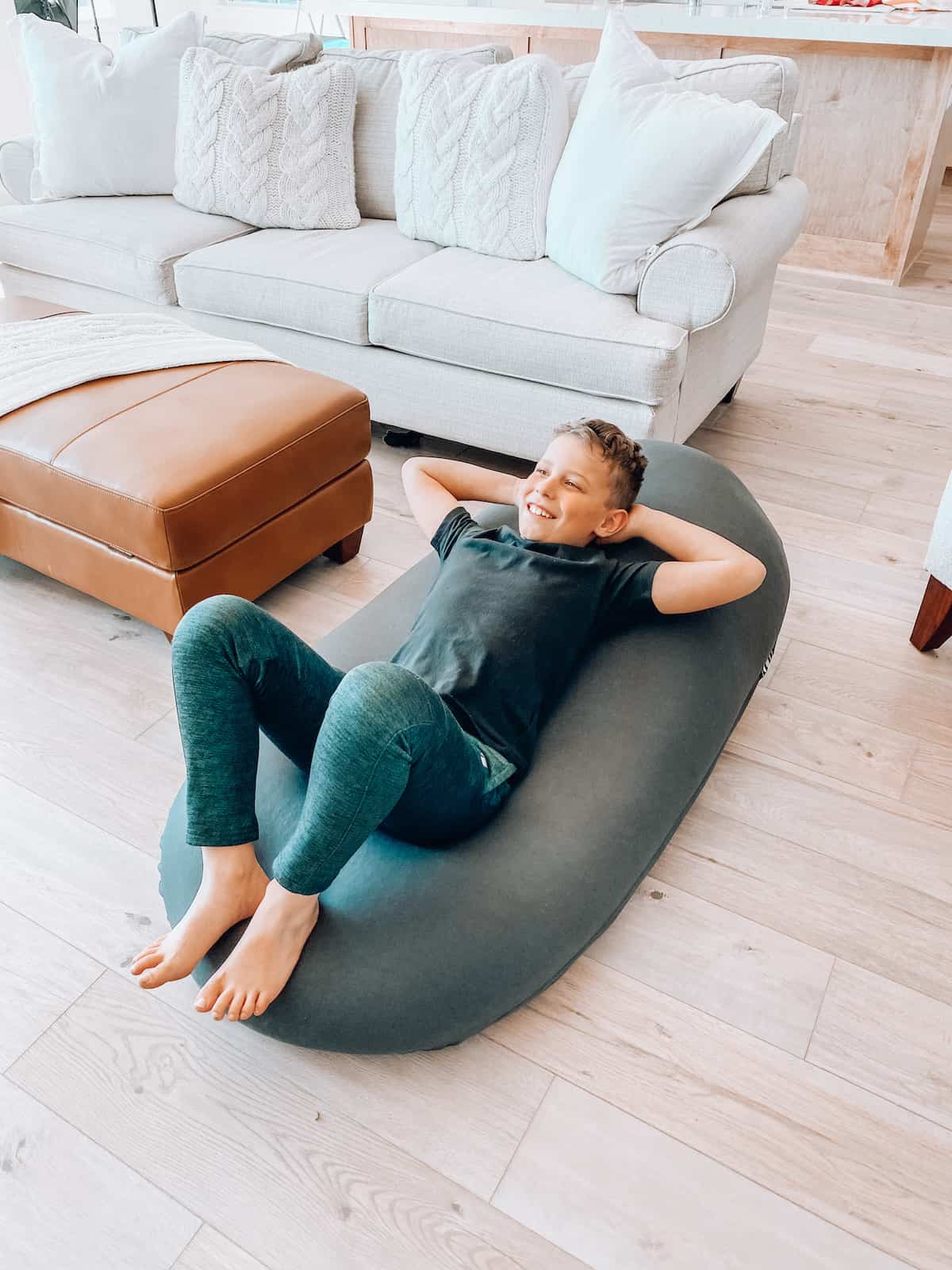 Bluetooth Beanie Hat – With as many podcasts, YouTube videos and TikTok videos that teenagers are watching these days, this Bluetooth beanie hat will come in handy during the colder months!
Cornhole Game Set – Cornhole is a game for all ages, but more and more teenagers are playing this on the weekends with their friends!
Drone – No matter if they want to catch amazing views on the senior trip or if they need a hobby for the weekend, a drone will be the perfect addition!
Nike White Tennis Shoes – White tennis shoes are HOT this season and so many boys are wearing them!
Vineyard Vines Tees – As with teenage girls, some guys like to wear this style too!
Skateboard – Have a vsco guy on your list? If he doesn't have a skateboard, odds are he'd love one!
Phone Case – As much as teenage guys use their phones, a phone case is a safe bet!
Bluetooth Speaker – Make listening to music easier while hanging out with friends with this Bluetooth speaker!
Under Armour Socks – Whether it's for football practice or just to wear with his new slides, he'll love a new pair of Under Armour socks!
YETI Hopper Sidekick Dry – When he's going for a long day of soccer games, send him with this YETI bag to keep goodies in, instead of a typical cooler/lunch box.
Yeti Trucker Hat – Does he love hats? A Yeti hat may just be on his wishlist!
Personal Charging Hub – Help keep him organized with this charging hub, to charge his phone and all of his electronics!
Phone Charger – Speaking of charging a phone, no one can have too many phone charges. Give him something that he can actually use!
Roku Streaming Stick – If he's going off to college or needs something for the den, this streaming stick will help him watch whatever he loves to binge out on!
Cordless Electric Shaver – Like it or not, he may be ready to shave! Give him something nice to use, to learn on.
Apple AirPods with Charging Case – A HOT gift for the last year has been Apple Airpods and almost any guy would love these!
Gas Gift Card – He's driving to visit his girlfriend, back and forth to practice or just to hang out with his buds… he'll love using a gas gift card instead of his savings account!
Favorite Things – Arrange some of his favorites in to a reuseable container like a tackle box, plastic storage container for his dorm room or a basket! (sunflower seeds, jerky, candy, socks, scratch off's, fast food gift cards, etc.) Need an idea for your boyfriend? This Red Hot gift basket idea may be your style!
Did I Miss Something?
I'm sure there are SO many other items out there that a teenage guy would love, and I want to hear about it!
Drop a note in the comments and let me know what it is so I can add it to this one to help others out!
What About Gift Ideas for Teenage Girls?
Oh I have that list too! Head over to see the 23+ Gift Ideas for Teenage Girls!