Laser Hair Removal Tips: Nervous? Not sure what to expect? Did you have your first treatment and not sure what's next? These will help!
This post has been sponsored by Milan Laser Hair Removal, where I have also received services in exchange for this post. HOWEVER, all thoughts and opinions are my own… as always.
Well, as I admitted in my "How to Prepare for a Romantic Weekend with your Husband" blog post, "grooming thyself" is something that I recommend when preparing for some time away with the one you love.
However… not only is grooming important for those moments, but we would also like it to be easier to do or take care of, every other day of the year too, right? (See my top favorite beauty treatments!)
Well, if you also read about my first experience with laser hair removal, then you know I'm already a big fan. I chose Milan Laser Hair Removal for my treatments and I would recommend it over and over again. The results, the friendliness of the staff and the drastic drop in time that I spend shaving is already a perk.
So if you read that post and you found yourself still having a lot of questions like:
"What kind of aftercare is required with laser hair removal?"
Or would love some tips to make it the best experience ever… then I've got ya covered. And if I don't cover what you're wondering, I'm just an email or comment away! Besides, someone else may have that question too!
Plus, keep reading to find out how you (yes, YOU!) can get 60% off of your own laser hair removal services, just for being a Fantabulosity reader!
Laser Hair Removal Tips
For those of you who haven't had a laser hair removal procedure yet and are a little nervous or just have some questions about how it works, here's what you can expect.
What to Expect:
Is laser hair removal painful?
I've had two treatments on my bikini area and underarms, and I'll be honest… it didn't hurt for me like I've heard some others say. HOWEVER, I also found out that the strength of the laser gets stronger as the treatments carry on, and it can depend on the area being treated.
The awesome ladies at Milan also shared with me that if you are concerned about the pain, you can take Motrin or Ibuprofen an hour before a treatment to help take the edge off any potential discomfort (What kind of pain is it? Read my first post to find out exactly what I thought!)
Is it awkward?
Well, that depends on you and the body area that you're having treated. Are you getting your bikini area treated and are super shy? You may find it awkward until you arrive.
The staff is so friendly and they don't make you feel nervous or awkward at all. But… if it makes you feel better, they'll give you a stress ball to help alleviate some of the tension you might feel. Or, here's a tip… I use this time to check in with my friends through text. It keeps my mind off of what's going on and for giggles, I tell them what I'm currently doing so they're the ones that feel awkward. #friendshipgoals
Different hair can mean different things.
For the most part, the laser that is chosen (the alex or the yag) is based on skin tone. Different hair color may be a consideration when increasing the power of the laser– but as long as the hair is not white, gray, or peach fuzz the laser will work on it! If you're not sure if laser hair removal will work on your hair color… it's best to have a free consultation so that you can find out if it's a good option for you!!
How to Prepare for Laser Hair Removal:
There are a few things to keep in mind when you're prepping for your treatments.
Always wear sunscreen! For safety reasons, sun-kissed or tan (or sun fried — eeeeek!) skin can not be treated. If you show up with tan lines or skin that is different from its natural-to-you color, you will be unable to receive a treatment.
Don't apply self-tanner anywhere close to the time that you go and don't have it lingering on your skin. Why? Becauses elf-tanner actually does tan people. The chemical in self-tanner reacts to skin cells and darkens them. In a lot of ways, it's the same concept as going out into the sun. The laser targets the color in the root of your hair. Tanned skin makes it harder for the laser to pinpoint the root of your hair and this decreased ability to target just the root of the hair could lead to a burn. Read my spray tanning tips to find out the best ways to make your tans last!
The shave (and exfoliate). A common misconception is that you shouldn't shave a while before your treatment to allow the hair to grow out. But, are you ready for this?
The better the shave, the better the treatment. It's best to shave the day of or the day before a treatment because it allows the laser to focus all the energy beneath the surface of the skin. It is absolutely true. So shave the area of treatment before your appointment!
Have Clean skin, and make sure that there's not any product applied before your treatment for safety.
Medication complications. This is another reason why going to your consultation is so important! Please feel comfortable sharing any medication you are on. Certain medications like oral Accutane or some antibiotics could also lead you to be photosensitive and could lead to being burned. The providers have seen every kind of medication imaginable on health history forms – so please don't be embarrassed to tell them anything.
Aftercare:
Exfoliation is key. You need to shed the hair that was "killed" from the treatment. Exfoliating before and a few days after helps the treatment be more effective and get rid of any hair stuck under the surface. Exfoliation is effective from a washcloth or you can go as far as using a sugar scrub!
Follow your individual treatment plan! Every person's hair is different so every laser hair removal plan is unique. Milan's Unlimited Package is great in that whether you need 7 treatments or more, you will find your hair removal plan to be tailored to your needs. Staying consistent in your treatments is the best way to truly get "hair-free" as quickly as possible.
You COULD see some temporary discoloration. Some people do experience flushing after treatments. Flushing is temporary and typically goes away in 20-30 mins. (Some people get treated on their lunch breaks and then are good to go back to work after!) And I didn't notice any discoloration during my treatments but I still felt I should mention it because everyone is different.
You can go to the gym afterward or carry on about your day! Laser hair removal is one of the easiest and safest cosmetic treatments a person can do! There's no downtime! (Although you'll more than likely find me heading next door to Target after I complete a treatment, rather than heading to the gym.)
Plucking/bleaching/waxing in-between? NO! Please no waxing, tweezing, etc. The hair follicle needs to be intact in order for the laser to find it and deactivate the food supply from it. If you pull it out, your treatments are not effective! Typically they want people to wait 4 weeks from their last tweezing or waxing before their treatment.
A Look Inside Milan Laser Hair Removal
I feel like I'm headed in for a spa treatment every time.
It's so clean, and welcoming and I feel right at home.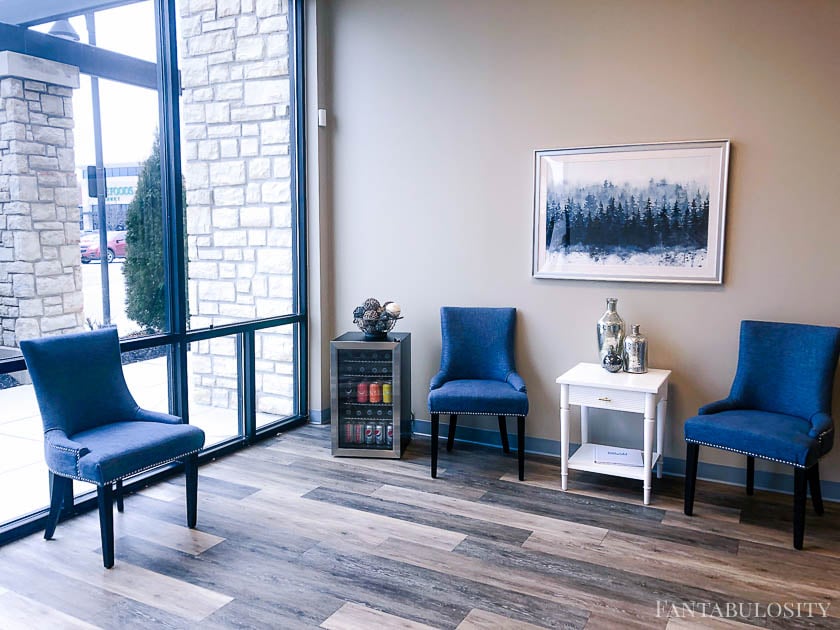 First, the waiting room is so inviting and I love that they offer a complimentary soda or sparkling water while you wait. (Hey, it doesn't take much to please this gal who rarely gets out to treat herself to some pampering.)
Now, if this is your first time, then you'll go on a tour and then spend some time in a consultation room.
If you've already had your consultation, you'll head right on back to the treatment room and get ready for your service!
You can bet on fresh clean linens, a robe (or wrap) and a pair of safety glasses waiting for you.
The technician will ask you a few questions before getting started (he/she needs to make sure that her notes are still the same or that nothing has changed since your last visit, so they can select the proper settings on the laser for your treatment).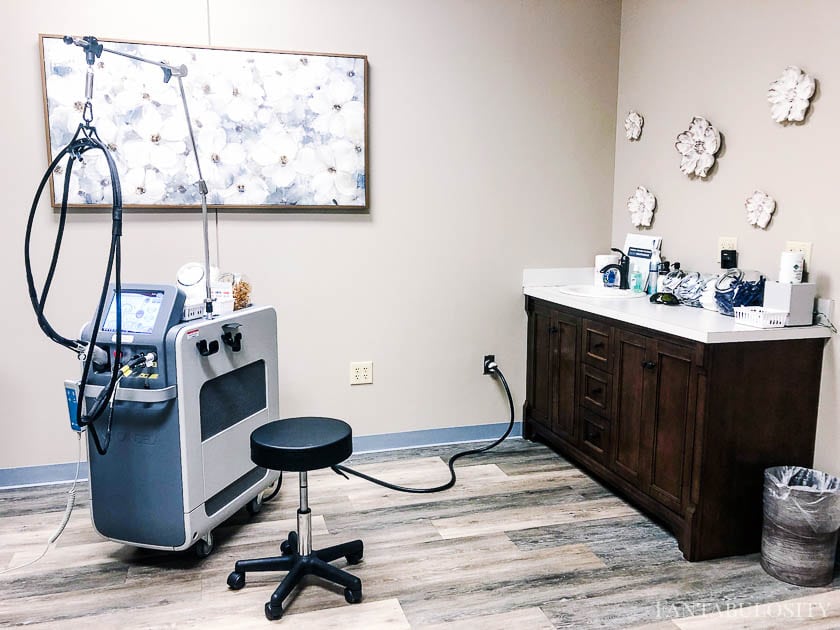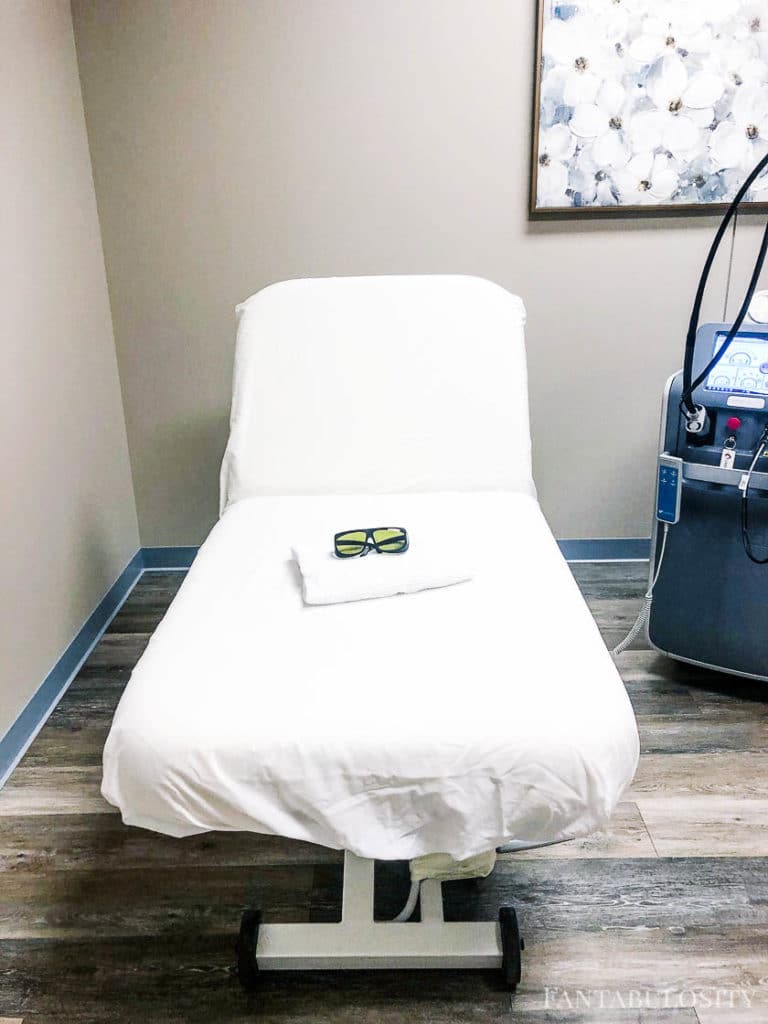 Once you've answered the pre-treatment questions, it will be time to kick back and wait for your treatment, just like I did below.
Side note: Just ignore those ugly green toenails. It's a long story and it involves my husband, a pedicure, and a misunderstanding. I'll explain more in the Fab Society where I tend to share the more personal details with my closest gal pals… so you may want to join that waiting list now so you don't miss it.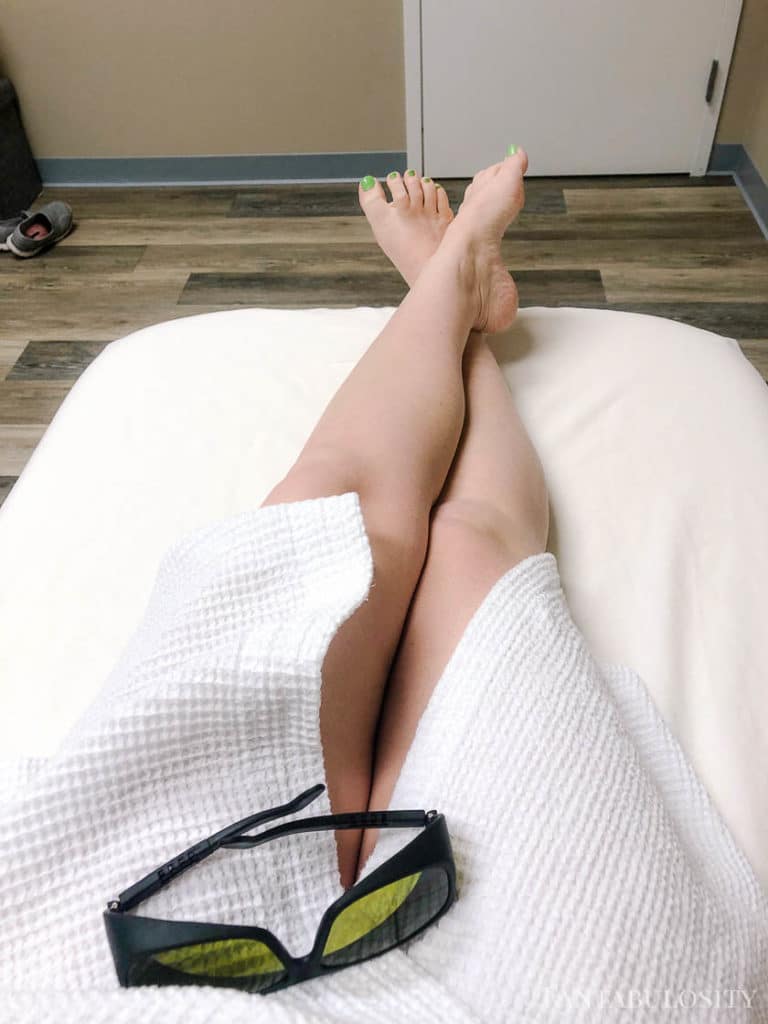 But those glasses? Those are required during your treatment to protect your eyes. (I'd definitely rather wear cute glasses from Befitting, haha, but it's about protection, not style.)
60% OFF for YOU! Yes… YOU!!!
Friends, I still don't know HOW this is possible, and I honestly didn't expect this kind of discount for you when I first started talking to them, but you may want to take advantage NOW in case they change their mind! Haha!
Milan has offered to give you 60% off of your laser hair removal service, for any body area of your choice…. at any Milan Laser Hair Removal location. So when you call to schedule your consultation, just make sure to give them the code: FANTABULOSITY60 so they know to put it in the system for you! I am THRILLED to say that some Fantabulosity readers have already taken advantage and I've even received messages like:
So make sure you give them the coupon code: FANTABULOSITY60 when you call to set up your appointment!
Still Have Questions?
If you're still wondering about something specific or are on the fence, let me know. If I don't know the answer, I have a direct line to my favorite Milan gals and I'm happy to ask them for you!