How to Make Guacamole: Easy Recipe + The BEST! – This authentic homemade guacamole tops all guacamole recipes, using everyday ingredients to make a dip everyone will love!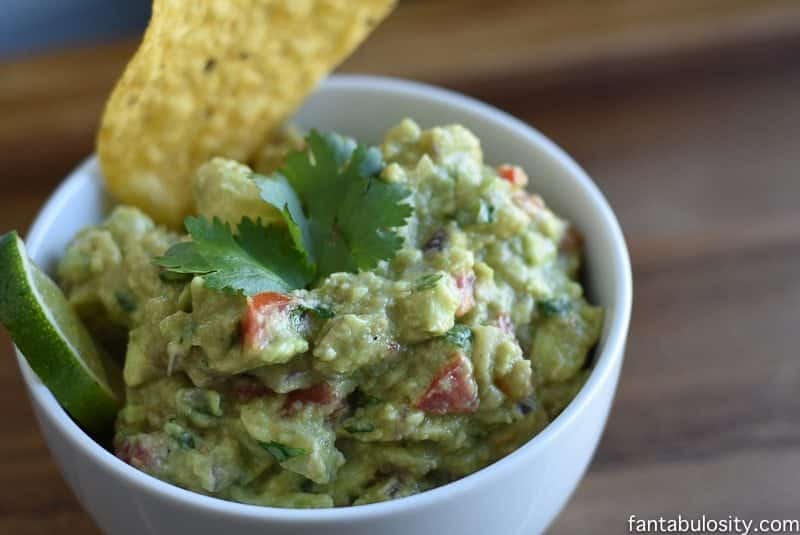 Guacamole Recipe: Easy, Simple and the BEST!
I am confident that this is the BEST Guacamole recipe you'll make.
At least in my house it's the best… (and with over 100,000 pins on Pinterest, I'd say it's a favorite of others too!)
And if you're an avocado fan in general, then you'll DEFINITELY want to see this amazing resource of avocado toast recipes that will blow your mind with all the ways to use your avocados!
"So how do you make guacamole?"
I can't tell you how in the world I came up with this recipe, but somehow it "worked." Feel free to scroll to the very bottom of this post to get the FULL recipe ingredients, instructions and all the details on the recipe card.
But I love sharing tips and photos along the way in case you're a visual person, so you'll find videos, photos and a lot of fun tips as you scroll!
This recipe is incredibly easy and really quick too! (Two of my favorite characteristics of my quick and easy recipes.) So let's hop to it!
Authentic Guacamole Recipe
Mexico is my favorite place to vacation, and the first thing that I order when I arrive is authentic guacamole. (See one of my favorite all-inclusive Mexico Vacations, when I surprised my husband for his 30th birthday, by keeping this trip a secret for over a YEAR!)
So when I started experimenting in the kitchen one Sunday afternoon, I knew I wanted to mimic that authentic guacamole as much as I could. I'm so happy to say that I love this recipe JUST as much, as I do when I'm sitting on the beach, soaking in the sunshine… margaritas… and beach, in Mexico.
Guacamole Ingredients
Using everyday ingredients, (unless you don't typically keep fresh cilantro on hand) this will make you love this guacamole dip even more. No running to a gourmet market to grab the ingredients.
As you'll see in my video below, I kind of "wing," it when I make it, and adjust ingredient quantities as needed. For instance, some avocados can be a lot bigger than others, so adding/subtracting ingredients like spices, may be necessary. Also, be cautious of adding too much salt, when serving with salty chips!
Guac Tip: This recipe is easy to double, triple, or quadruple if need be for a larger crowd!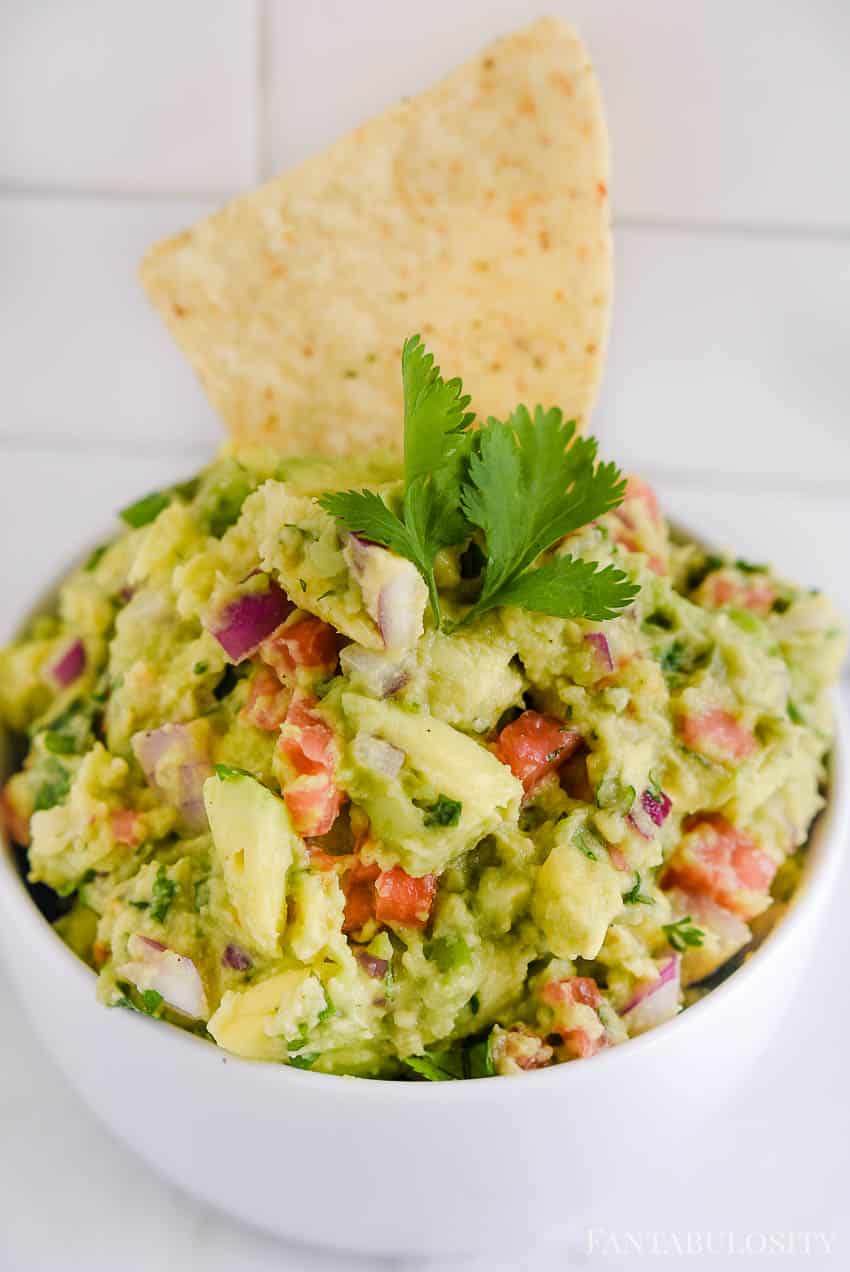 Video: Easy Guacamole Recipe Tutorial
If you have a minute, here's a quick video of my guacamole skills in the kitchen, if you're more of a "see it," & "do it," kinda person.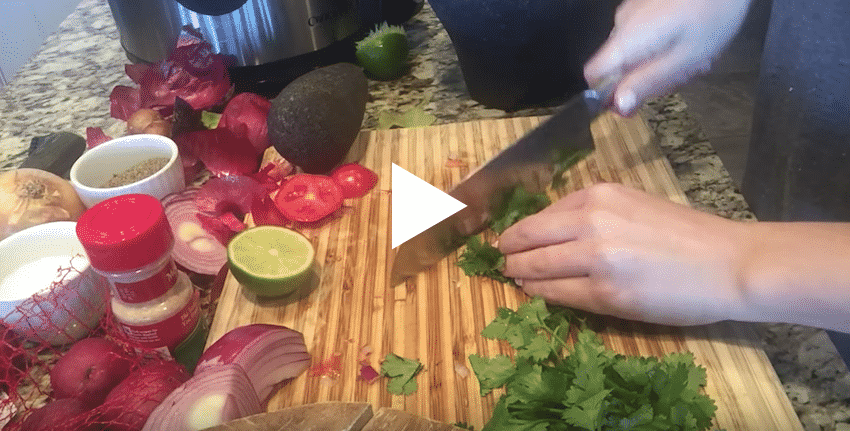 Like cooking videos? Make sure to check out my YouTube Channel for other fun videos (some recipes, some "real life,") too! I'd love to see you over there!
Photo Tutorial: Ingredients Step-by-Step
This makes about 1 1/2 cups of guacamole but also depends on the size of your avocados, onions, and tomatoes.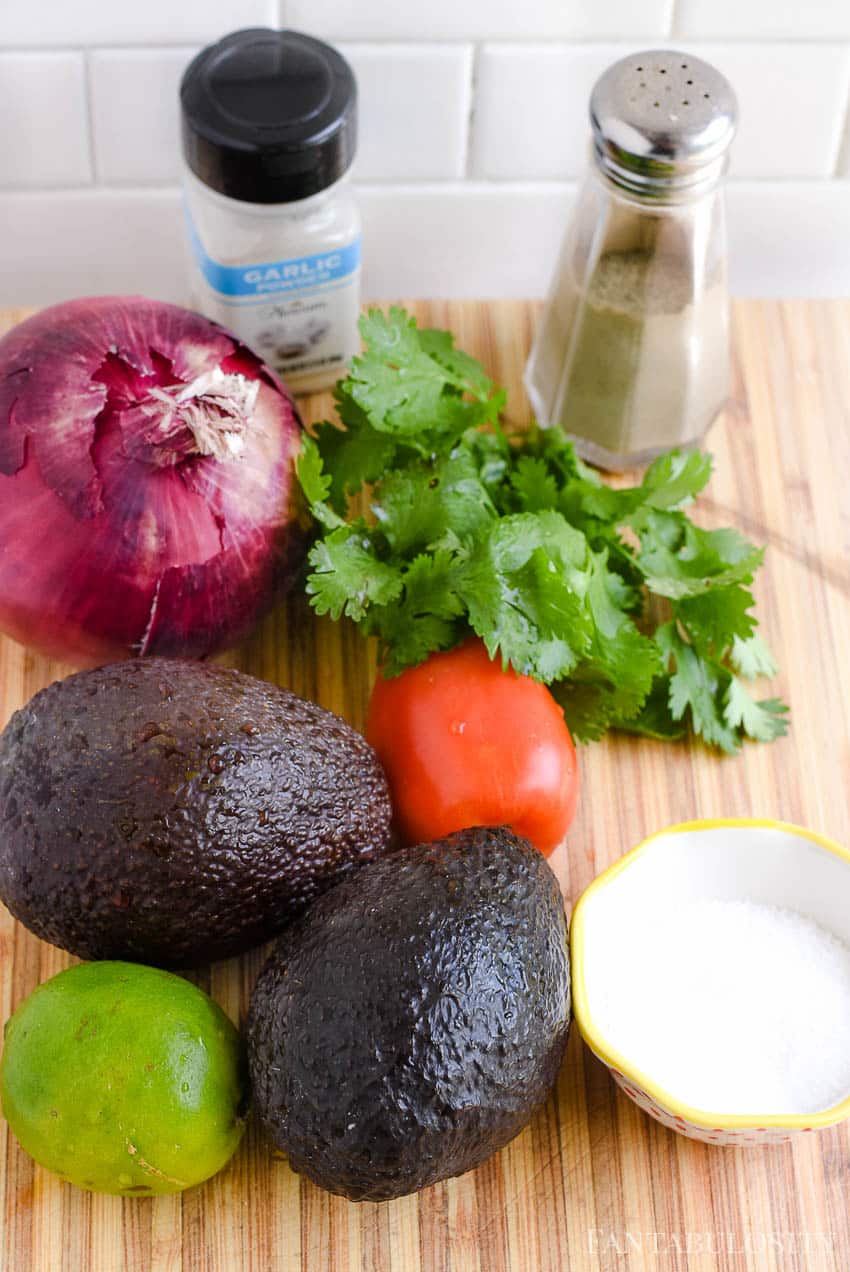 Avocados
I start by peeling and slicing my avocados for the guacamole. You do not have to cut the avocados into small pieces, but I prefer to because it seems like it is much easier to mash up with a fork or stone in a molcajete.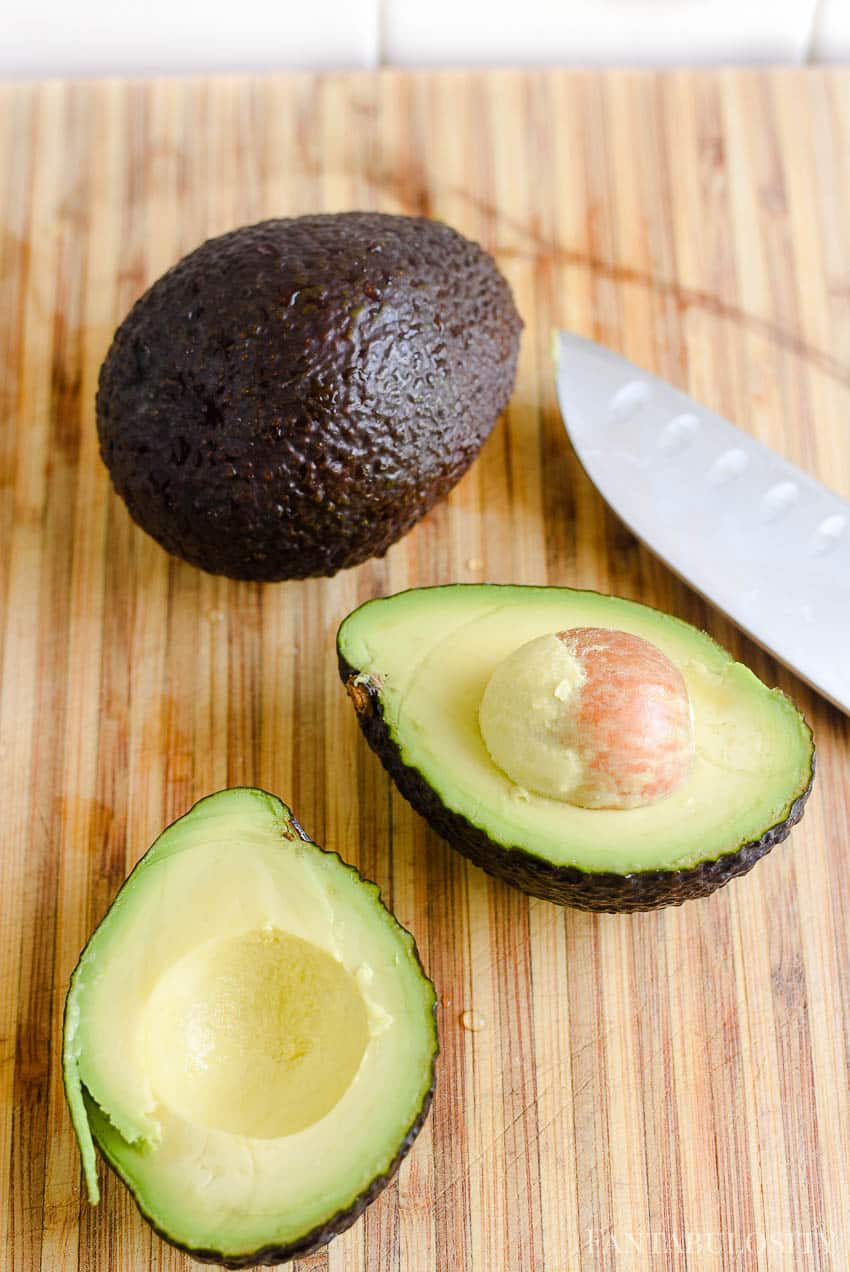 Slice, remove the avocado seed (have you seen the Grow Your own Avocado Tree Kits? I totally want one) and slice into small chunks if you like. Or, just remove the peel and mash the avocados as they are!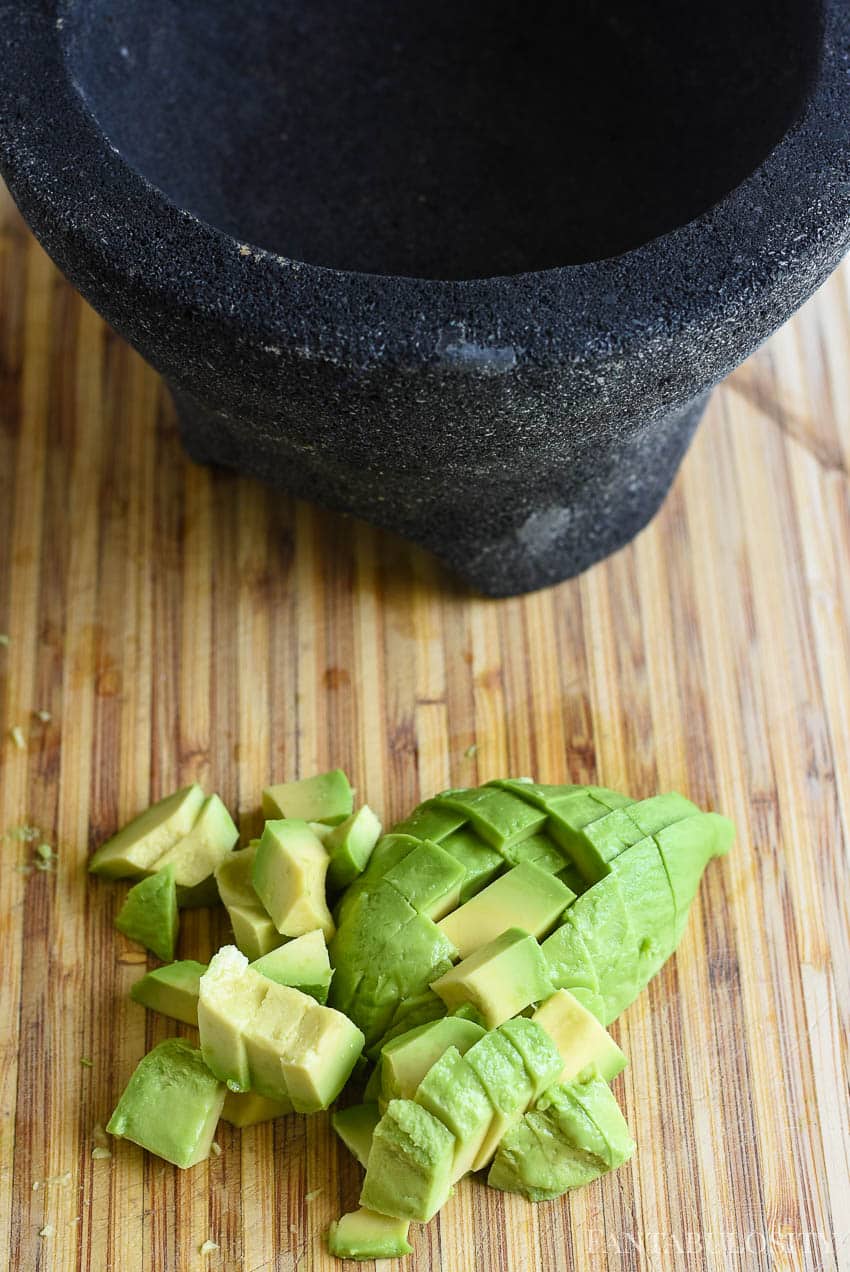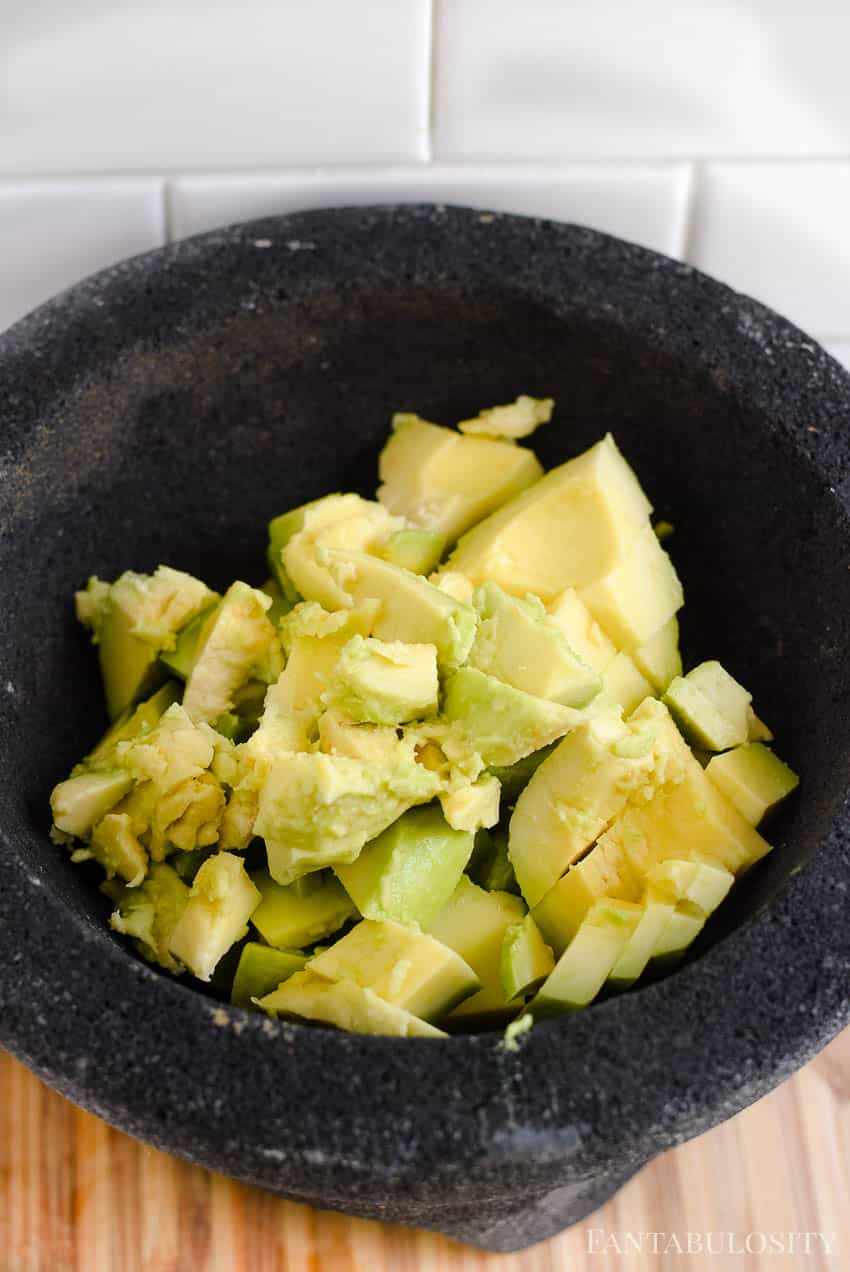 Roma Tomatoes
Next, slice and dice your roma tomatoes. I prefer to remove any white membranes and juices from the tomatoes to protect the flavor.
Red Onion
Grab your onion, peel, and dice a quarter of it. If your onion is really big, you may prefer a smaller amount of onion… or, if it's a small onion, you may prefer to do half. It really does depend on the size and your preference.
For this recipe, I used a large red onion and used a 1/4 of it. I LOVE red onion too and the more the better. So hopefully that will help you gauge your guacamole recipe!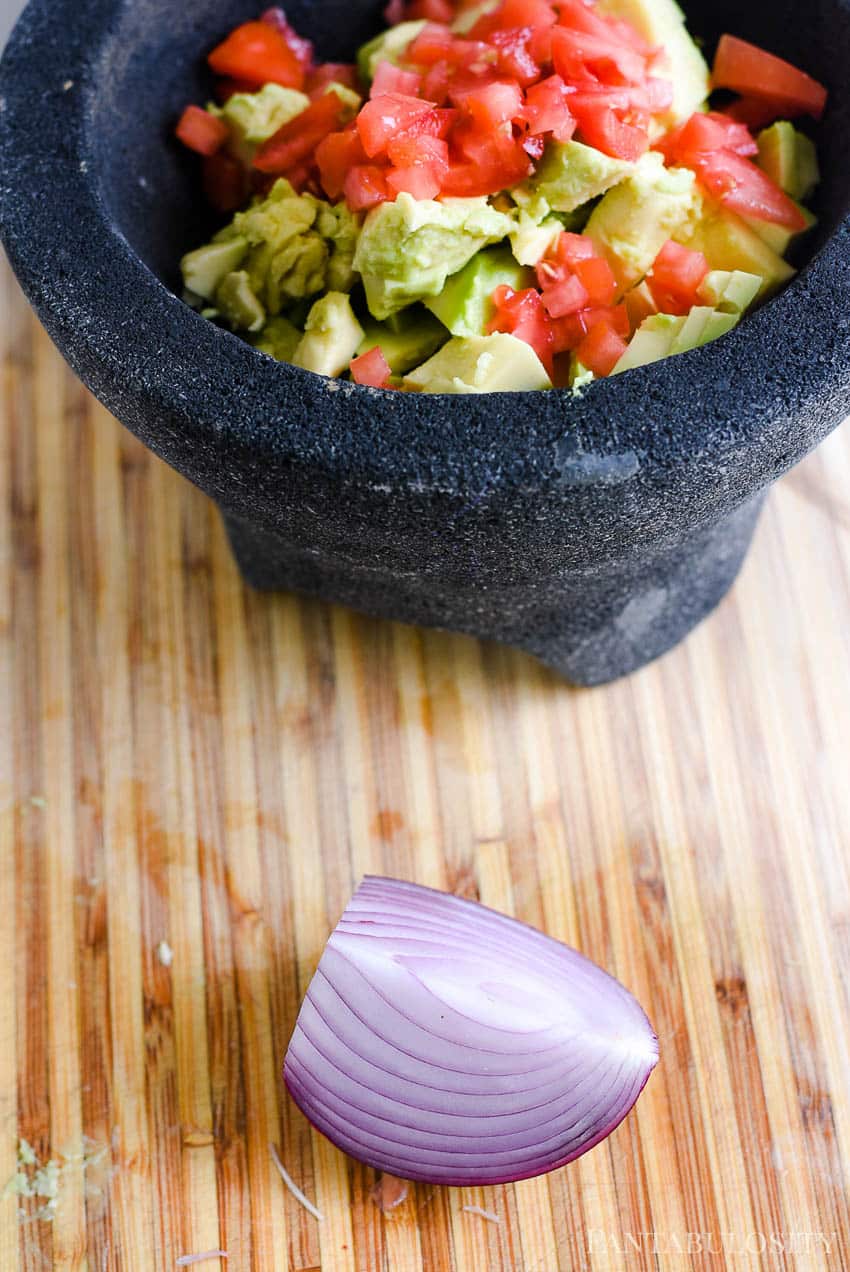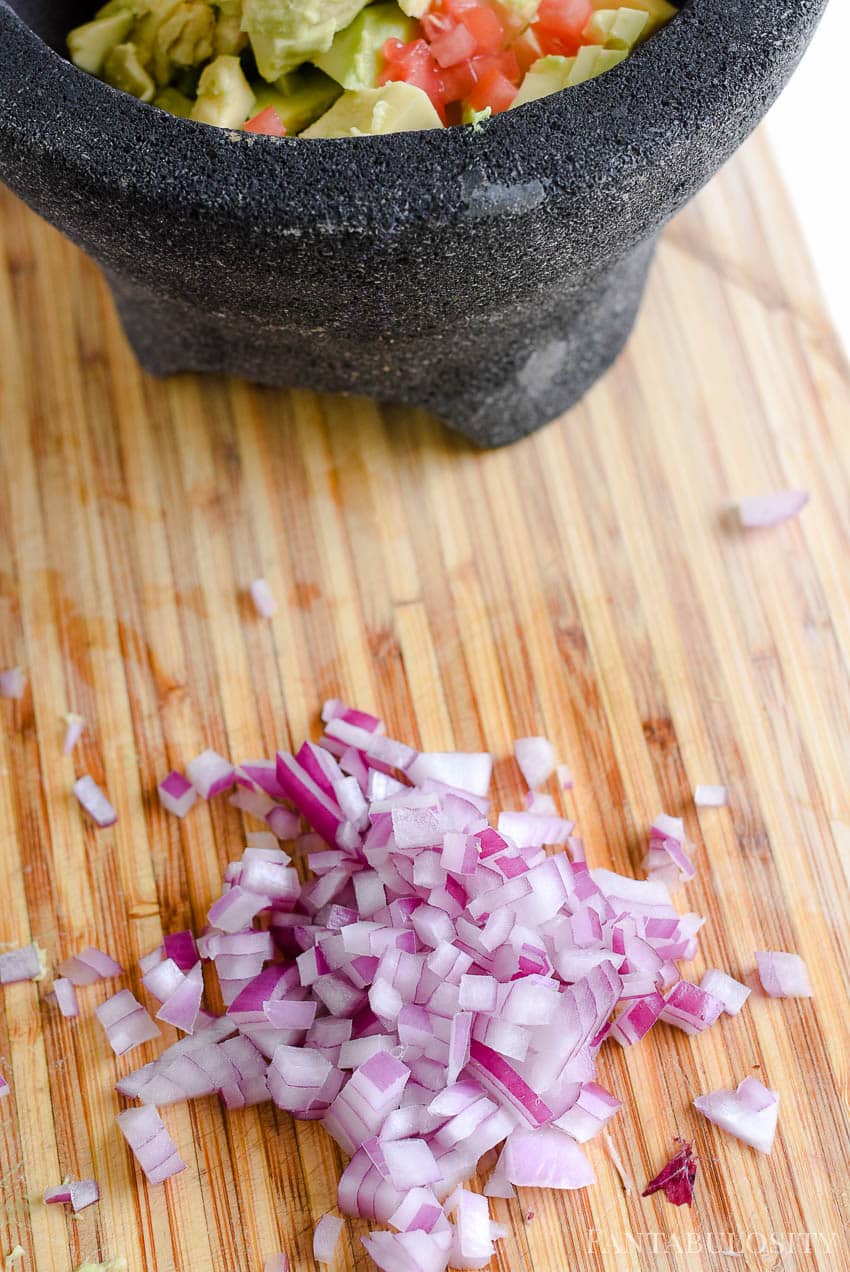 Fresh Cilantro
Now when I say a "pinch" of fresh cilantro…I mean a big ole pinch. I LOVE fresh cilantro and would probably put a ton of it in my recipe if other's liked it as much as I do.
To help you decide how much to try the first time, I grab my thumb, and a couple of fingers and pinch off a section of leaves. (Probably about a 1/8 cup???) But of course feel free to add more if you taste test it at the end and can't distinctively notice the cilantro!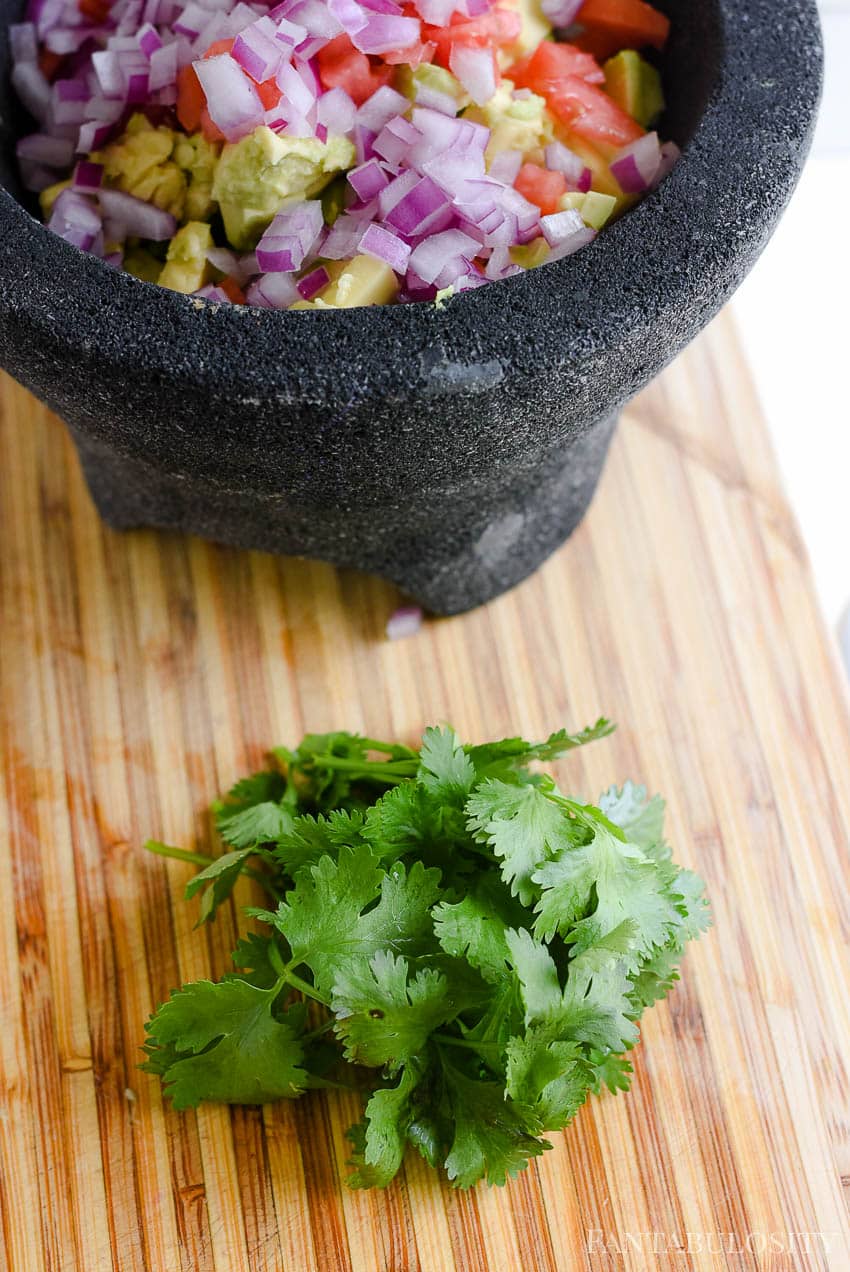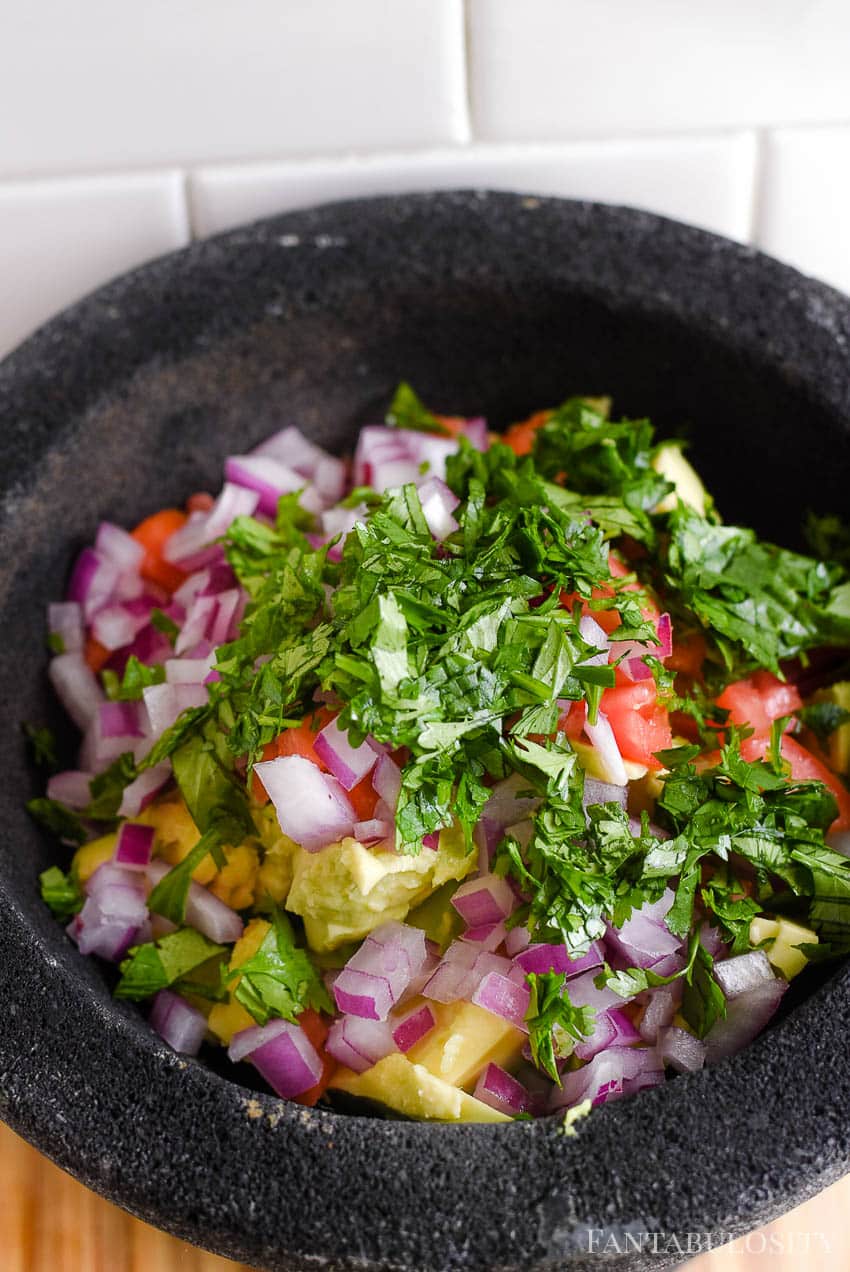 Spices
I prefer kosher salt, but if you have table salt… know that it is totally fine! Using kosher salt in most of my recipes is pretty standard for me, so you'll find me using it in this one too.
I've heard that some have made this guacamole recipe with garlic cloves instead of garlic powder, and I bet that's glorious. However, I rarely keep fresh garlic on hand, so garlic powder it is.
Standard black pepper is a staple for me too and have noticed myself increasing the amount each time I make this. I do love a good hint of pepper!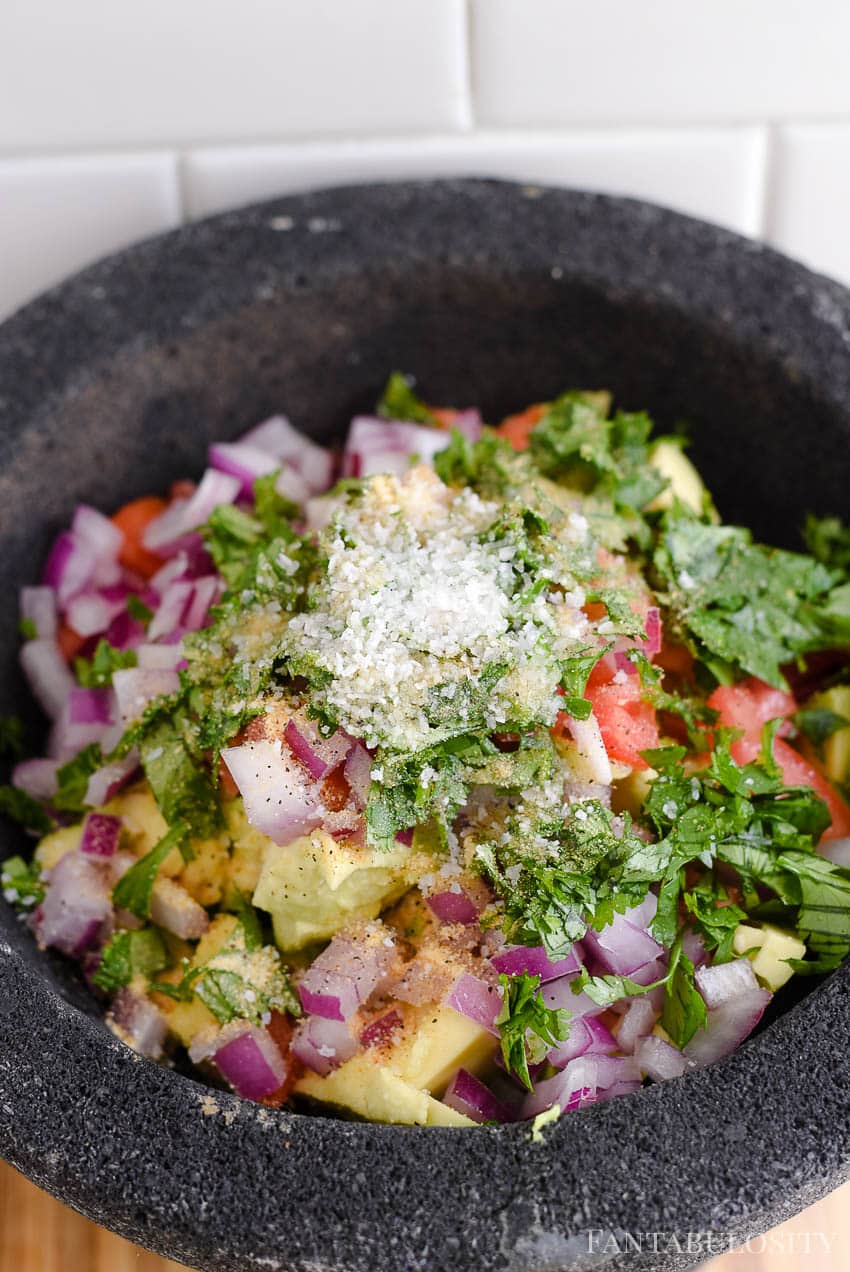 Fresh Juice from a Lime
For no particular reason, I save the lime juice for last. I feel like it just finishes off the dish with a fun "twist". (Haha, that was a really sad "mom joke" wasn't it?)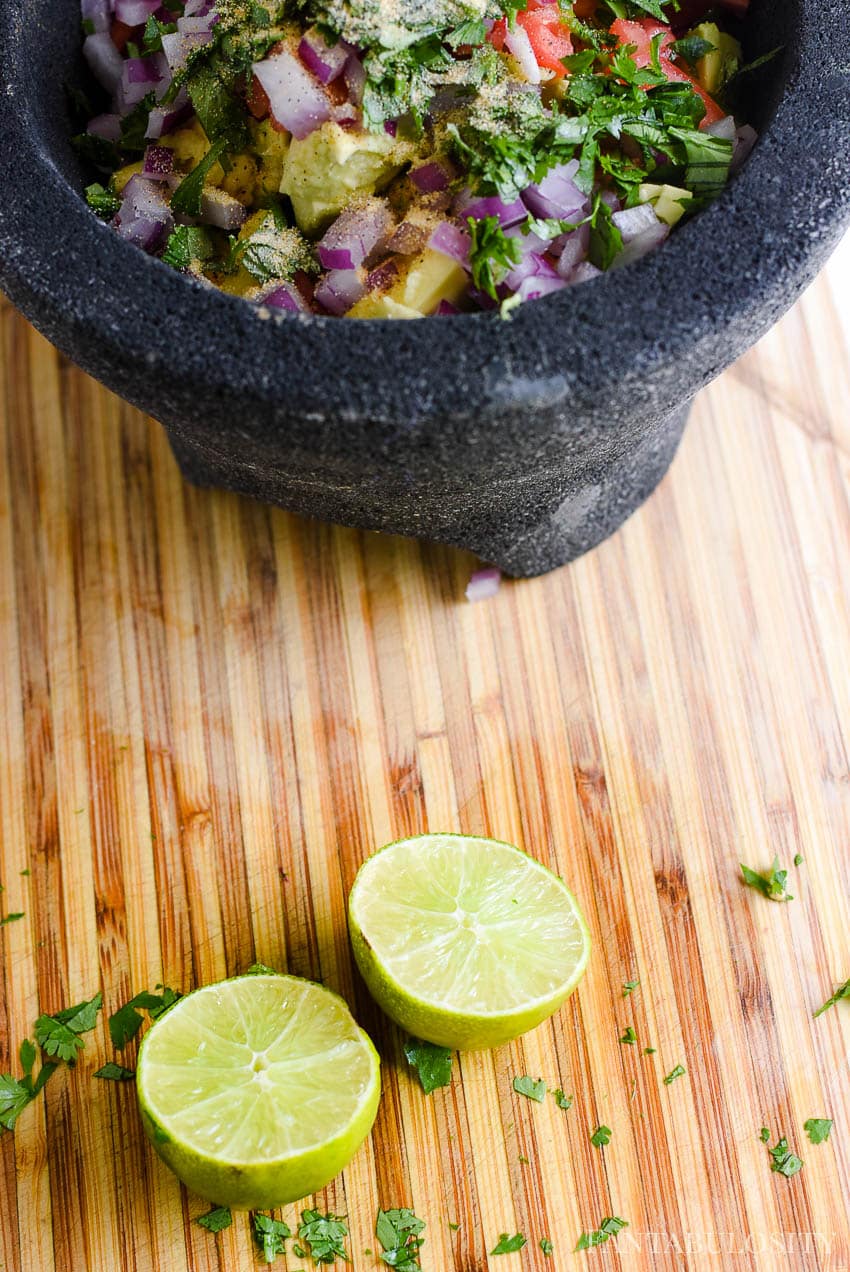 Molcajete
In just seconds, I'm able to mash all of the guacamole ingredients together in the molcajete and it's ready to eat!
Feel free to use a regular bowl and a fork/spoon to make your guac of course, but I'm such a sucker for the molcajete!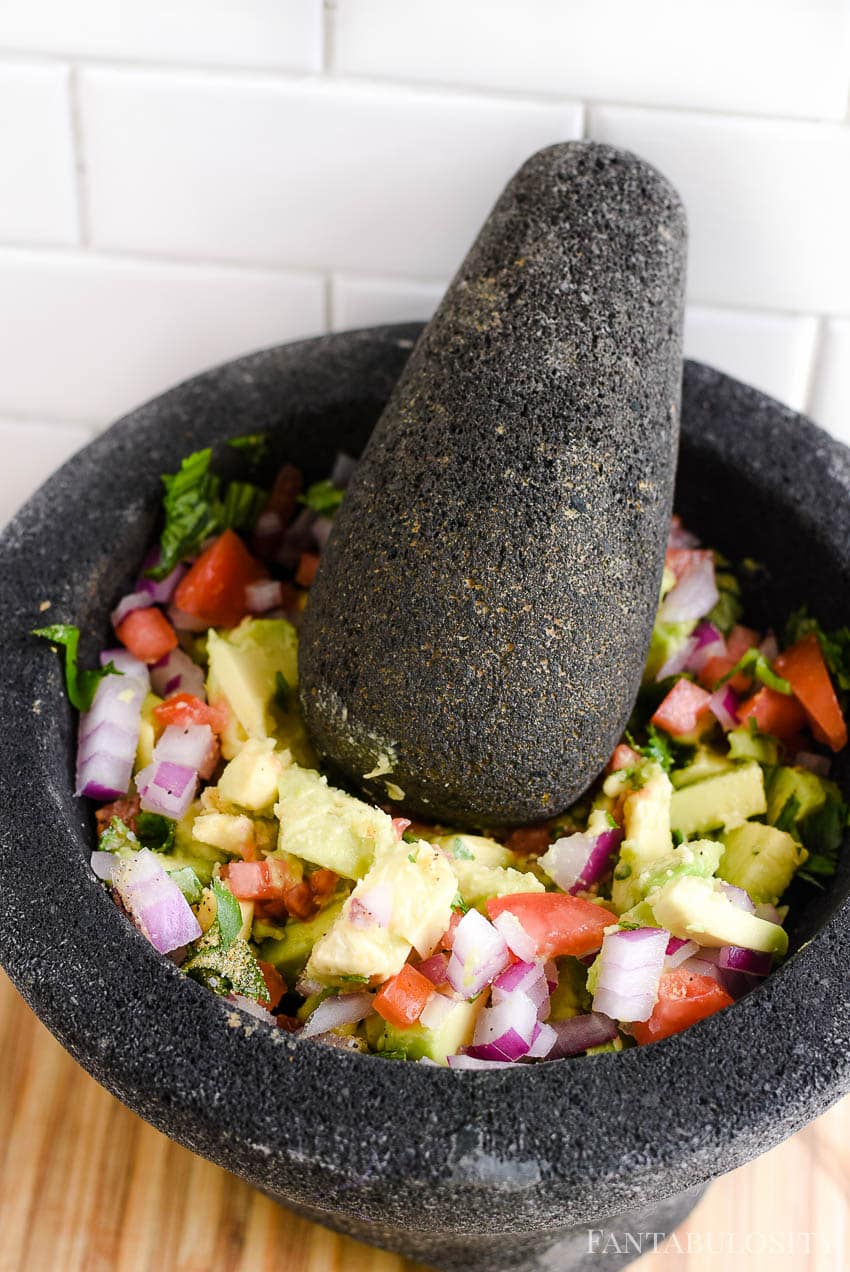 Taste Test
Before serving, I always love to grab a chip to make sure it's not lacking a certain ingredient. I'm usually adding more salt, (because I'm scared of adding too much) and more garlic powder… but I'd rather add more because it's much harder to take it away!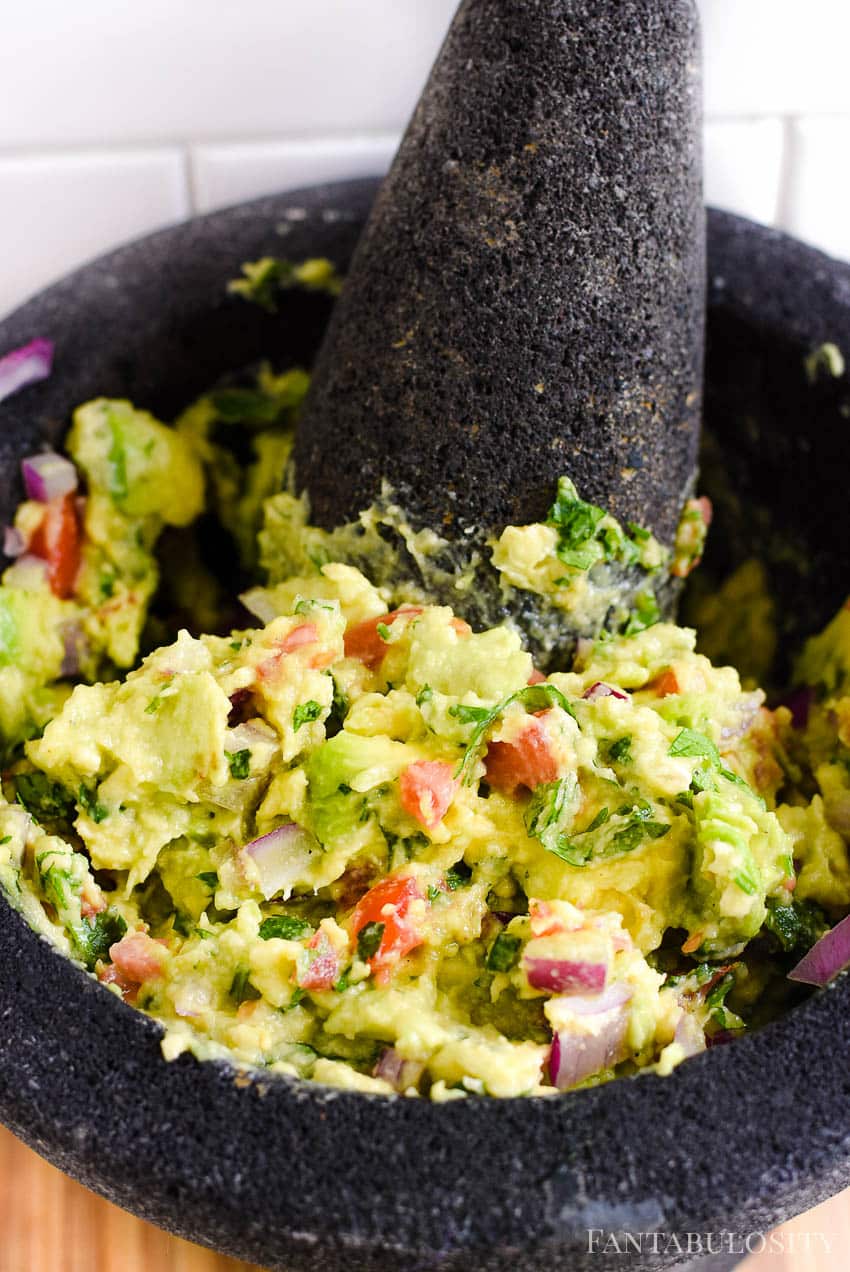 Remember, you can grab the full recipe at the end of this blog post.
Basic or Kick it Up a Notch…
It's a basic enough recipe that you can use it alone with chips, fill wontons with it, or include it on a nacho bar! Or, take it along as a snack for a beach picnic for a filling and easy snack!
Then, if you like a little spice, feel free to add some chili powder for a kick! But we like it just as described below in the recipe! Other fun guacamole ingredients would be cottage cheese, hot sauce, cumin, sour cream, bacon, shredded queso, and so much more!
Having fun making your own spin on how to make guacamole!
Pro Tip: Serve with "hint of lime" chips and it's dynamite!
What can I do with leftover avocados?
Did you buy too many avocados? Head over to find out how I keep my avocados fresh and from turning brown!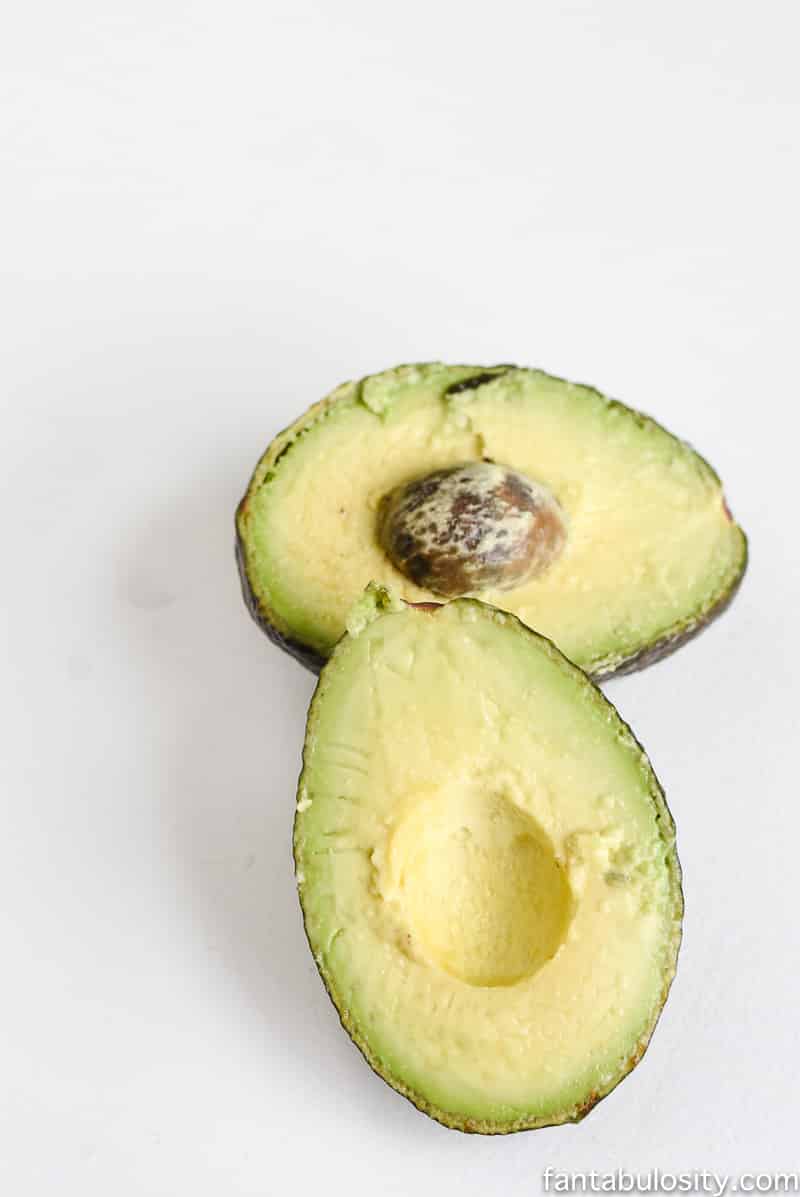 Want more quick and easy recipes to serve alongside your guac?
If you like quick and easy, then you've come to the right place. I wanted to make sure I caught you before you headed to the guacamole recipe details below.
Now, I know how to find my way around the kitchen, but I'm no professional chef.
So what this means is that I like to experiment, but the main goal is to keep it quick… tasty, and slightly-homemade if possible.
I'm a mom of two little boys, so a big extravagant meal doesn't always take place in our home. But I do love food, so I want it GOOD. You can always count on a quick & easy approach, but tasty! See more easy recipes for more Fantabulosity Recipes, like our favorite Beef Tenderloin Recipe:
or The BEST Side Salad Recipe on the planet, with just a couple of secret touches.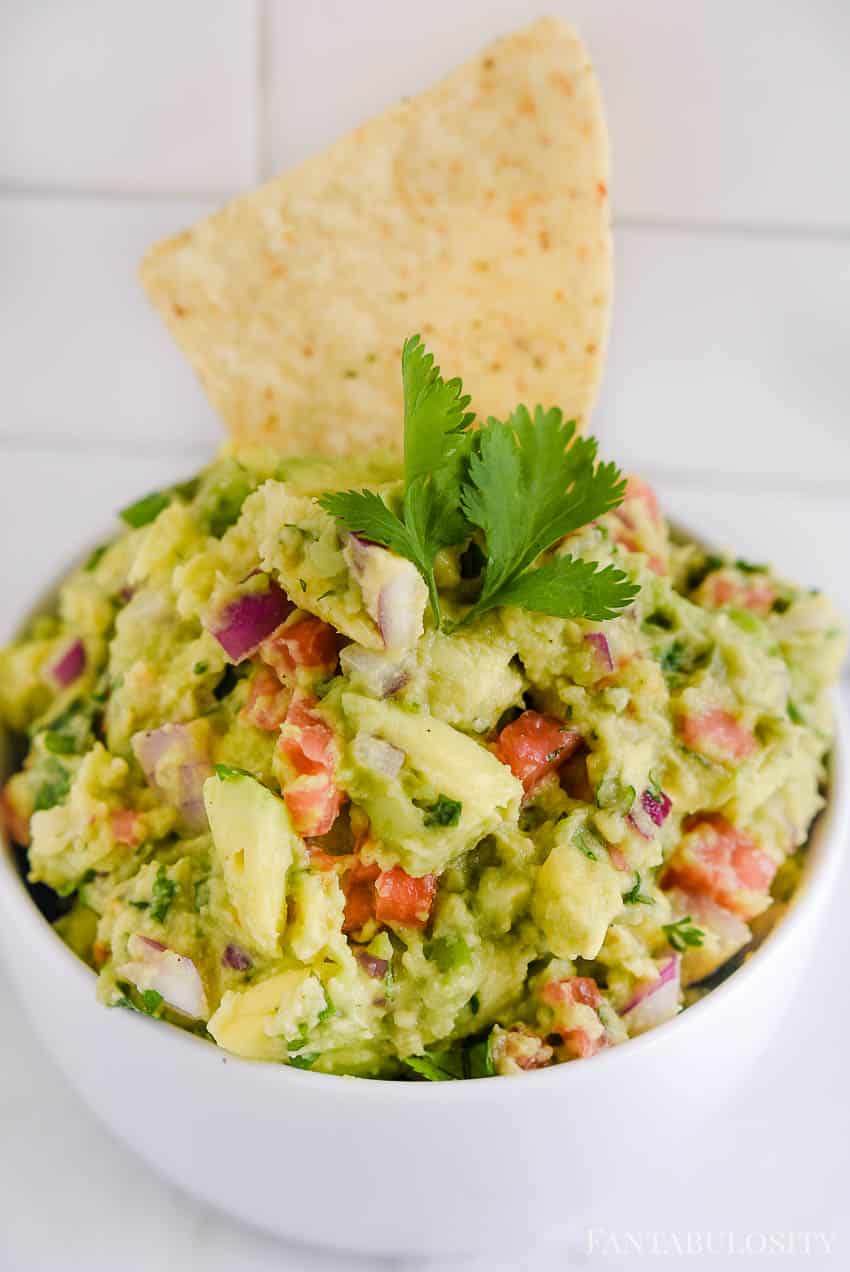 Did you make this along with the hundreds of thousands of others who did, on Pinterest? I'd love to hear what you thought of it in the comments below!
📖 Recipe
Guacamole Recipe – Easy and the BEST!
How to Make Guacamole: Easy Recipe + The BEST! – This authentic homemade guacamole tops all guacamole recipes, using everyday ingredients to make a dip everyone will love!

Ingredients
2

avocados

peeled and pitted

1/4

red onion

chopped finely

1

roma tomato

chopped finely

juice from 1/2 lime

pinch

fresh cilantro leaves

chopped

1

teaspoon

garlic powder

pinch

Kosher salt

to taste

pinch

black pepper

to taste
Instructions
Mash avocados, red onion, roma tomato, fresh cilantro, and lime juice in together, until the avocados reach a mild chunky texture. I love using a molcajete to make this!

Add in salt, pepper, and garlic powder.

Serve immediately! Added tip: My favorite chips to serve with this guacamole is the Tostitos Hint of Lime chips! So so good!
Video
Notes
This makes about 1 1/2 cups of guacamole but also depends on the size of your avocados, onions, and tomatoes. 
You can use dried cilantro if that's all you have on hand but using fresh cilantro makes a BIG difference.
Fresh lime juice (from a lime) is preferred over the bottled lime juice.
You can also use fresh garlic instead of garlic powder if desired!
Nutrition
Serving:
1
serving (about 1/2 cup)
|
Calories:
168
kcal
|
Carbohydrates:
10
g
|
Protein:
2
g
|
Fat:
14
g
|
Saturated Fat:
2
g
|
Sodium:
8
mg
|
Potassium:
543
mg
|
Fiber:
7
g
|
Sugar:
1
g
|
Vitamin A:
275
IU
|
Vitamin C:
12.7
mg
|
Calcium:
12
mg
|
Iron:
0.6
mg
Nutritional information is based on third-party calculations and should be considered estimates. Actual nutritional content will vary with brands used, measuring methods, portion sizes and more.