This shop has been compensated by Collective Bias, Inc. and its advertiser. All opinions are mine alone. #WellYesMoment #CollectiveBias
While shopping at Walmart the other day, I saw the prettiest can of soup. (Yes, I'm serious. It literally caught my attention, because of the pretty can. I'm a sucker for bright colors and eye-catching packaging.)  So when I got a little closer, I realized that there was a new soup called "Campbell's Well Yes!™ Soup."
Healthy Lunch Ideas for Work: Paper Bag Style
The soup said that it was made with no artificial colors, flavors or ingredients – and chicken meat raised with NO antibiotics. (I'm also a sucker for products like this, and always feel so much better about eating it/feeding it to my family.)
My husband had recently reminded me that he LOVED eating soup during the winter months, and I realized how easy it would be to grab a can of soup and put it in his lunch for work. (With the new year, we've been trying to eat a little better when we can.) So I decided to give this soup a try, and make a lunch for him that he'd love. (With a few easy tricks up my sleeve… I knew I HAD to share it with you.)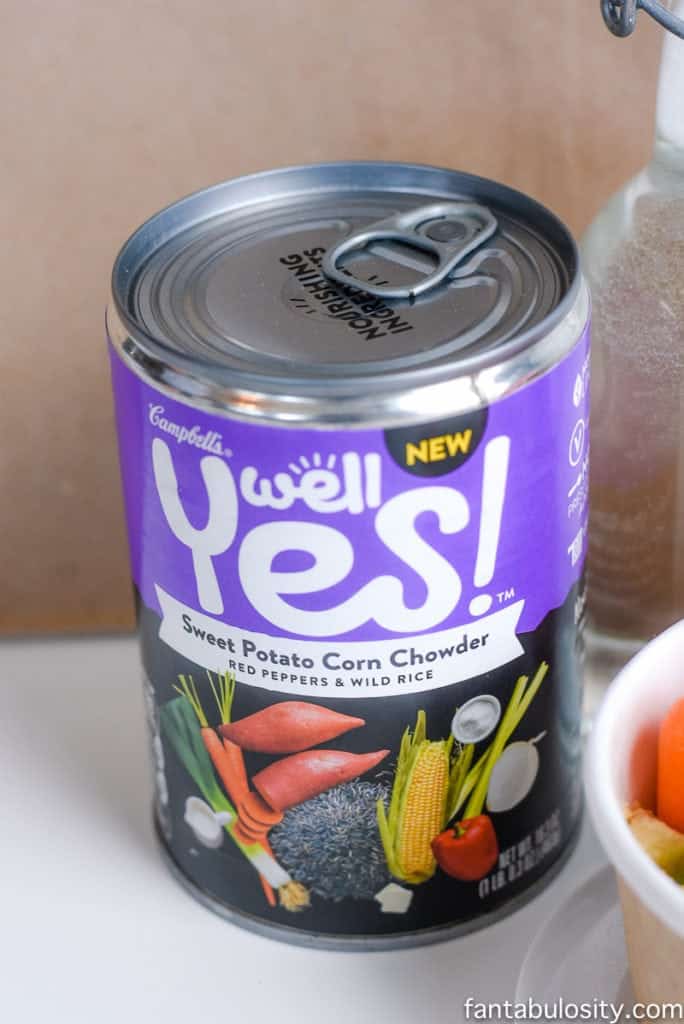 I bought two kinds. The Roasted Chicken with Wild Rice Soup: Contains corn, carrots and sweet potatoes; chicken meat has no antibiotics; non-BPA lining; no preservatives. And the Sweet Potato Corn Chowder: Contains red peppers & wild rice; vegetarian (2/3 cup veggies); non-BPA lining, no preservatives.
Soup:
His lunch the next day consisted of (of course) the Campbell's Well Yes!™ Soup, Sweet Potato Corn Chowder. (One can is 2 servings, so he even had leftovers for the next day if he wanted, and could even store it in the container that I sent with him that I'll show you next!)  The can doesn't require a can opener either, so he won't be left stranded at the office with a can that he can't open.
Veggies & Hummus:
Have you seen the cutie-patootie ways to serve hummus and veggies at a party on Pinterest? They put a dab of hummus in a small serving container, and place the veggie sticks right in the hummus. It's all ready to go, and requires no hassle of spooning the hummus out onto a plate. Using this same idea, I love putting the hummus and veggies in a small container, so I don't have to use more than one container, and then it's all ready to go for him, when he's ready to eat.
Containers:
I absolutely love the little kraft containers that we keep on hand for lunches, leftovers, and party-styling. I included one in his lunch bag for the soup, and one container for the hummus and veggies. Using these, I don't have to worry about getting my plastic dishes back from his office. (Those always seemed to disappear, so I decided it was time to start sending disposable containers.) Then, a disposable spoon is also required, because yet again… I'd never see my nice silverware again if I sent it with him.
Drink:
Sometimes I'll send a bottle with him that he can keep at the office to keep refilling with the water jug. For some reason, these end up making their way back home???
Paper Bag:
Then of course the paper bag to carry it all in. A Walmart bag would be just fine to carry all of this in, but like with the kraft containers, I just love having these bags on hand for lunches/leftovers/food deliveries. They're cute, and manly enough for my husband to take with him, and not feel like his wife is torturing him with pretties like I secretly want to.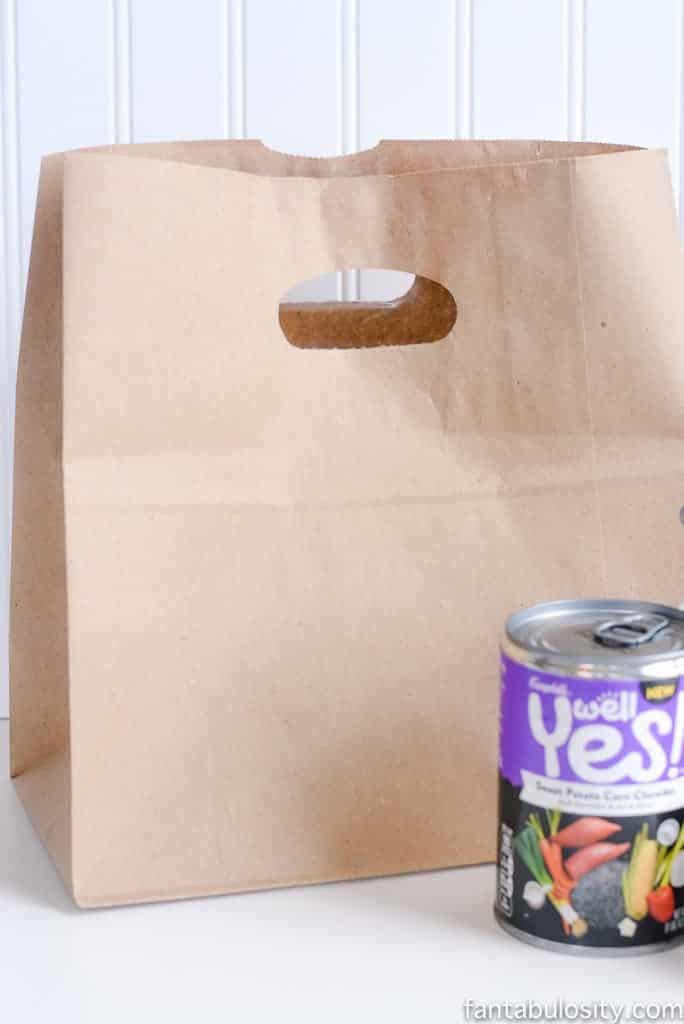 I know that work lunches can get repetitive, and boring at times. So I truly hope that this healthy lunch idea that I packed for my hubby gets the ball rolling for you, and you'll find it easier to pack a lunch for work!
There are in-store demos in select nationwide Walmart stores February 16 – February 19 2017 for the Campbell's Well Yes!™ Soup, and a coupon available in Sunday papers on 3/12- so be on the lookout for a Well Yes!™ offer in your Sunday couponing, if you decide to give it a try! But it's already a super low price at Walmart, so even if you don't have a coupon, it's still within my budget.
Until next time…