Old Fashioned Chicken and Rice Casserole: This chicken rice recipe is more than just a dish; it's a nostalgic trip down memory lane of family dinners around the kitchen table.
Our version of this classic favorite combines the wholesome goodness of chicken with the heartiness of rice, all baked to perfection in a creamy sauce seasoned to please. And the best part? This casserole recipe is easy to whip up, even on your busiest days. Much like our chicken tater tot casserole, our Dorito chicken casserole, and our Stove Top chicken casserole.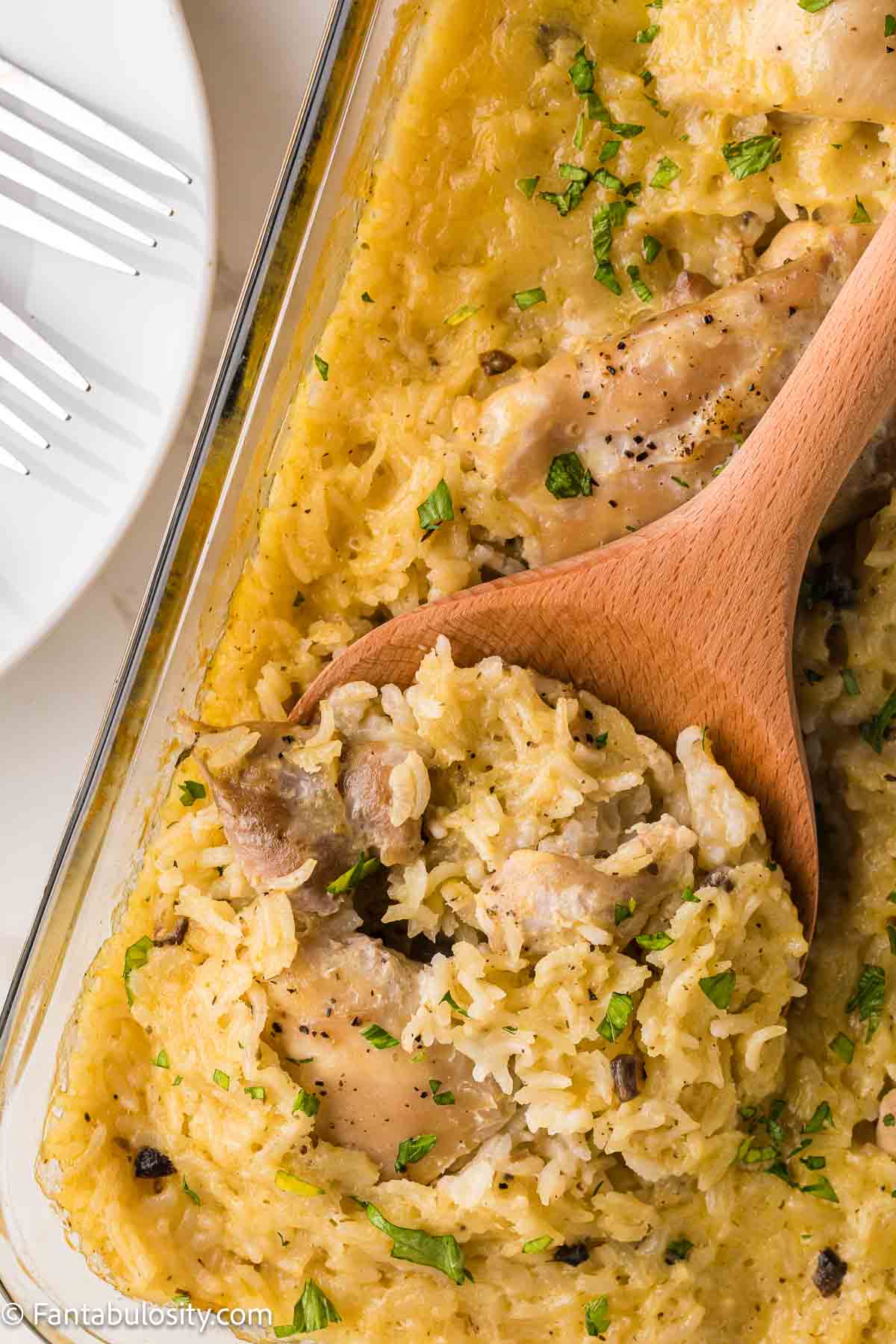 If you have some chicken thighs left to use, you could also make this Bacon Wrapped Chicken Thighs recipe as an ideal appetizer. Or try some Instant Pot Chicken Thighs – Lemon and Herb for another one-pot flavorful meal.
Jump to:
❤️ Why You'll Love This Recipe
It uses simple ingredients: With items like cream of chicken soup and cream of mushroom soup, you can whip up a tasty meal with no unusual ingredients.
Batch recipe: You can easily increase the amount of ingredients you use if you need a big batch for a special event.
One pot recipe: Keep the dishes to a minimum with this one pot recipe, where everything goes into one pan.
Old fashioned recipe: If you love the classics, this old-fashioned recipe will fit right in with your meal plan. Rotate this one with this macaroni and tomatoes recipe for a southern classic.
🧾 Ingredients Needed
I've highlighted a couple of ingredients below with some relevant notes. Aside from this, the ingredients needed are pretty basic.
Canned soup – This easy recipe uses mushroom and chicken canned soups as it adds flavor and creaminess without needing any actual cream.
Broth – Chicken broth is ideal for this as it complements the flavor of the chicken thighs and works well with the canned soup.
Chicken – We use chicken thighs for this recipe as it works perfectly.
📖 Substitutions
Sometimes substitutions are necessary because of ingredients that are unavailable or needed for dietary restrictions. Here are some suggestions that can help:
Mushroom Soup – If you don't have mushroom soup at hand or prefer not to use it, you can opt for cream of celery soup or onion soup mix. They maintain the creamy texture while giving a unique flavor to the dish.
Chicken Soup – Not a fan of canned chicken soup? No problem. You can use homemade broth thickened with cornstarch or vegetable cream soup to switch things up a little. Remember, the aim is to keep that delicious creaminess intact.
White Rice – If white rice isn't your grain of choice, feel free to substitute it with brown rice, wild rice, or even quinoa. Make sure to adjust the cooking time per the grain you choose; these alternatives might take a bit longer.
Chicken Thighs – Chicken breast is an excellent alternative if you want to go lean. For vegetarians, tofu or a hearty mix of mushrooms can work just as well. Remember to adjust your cooking times accordingly.
Parmesan Cheese – If you're dairy-free or just don't have Parmesan on hand, nutritional yeast provides a cheesy flavor while being vegan-friendly. Otherwise, any cheese that melts well, like sharp cheddar cheese or mozzarella, can make a good substitute. Go ahead and experiment with what suits your taste buds! If you love cheese with chicken, this cheesy chicken is a recipe that's also a must-make!
📖 Variations
Southwest Twist: For a little Tex-Mex flair, incorporate some black beans, corn, diced tomatoes, and a hint of chili powder. Top with a sprinkle of shredded Pepper Jack cheese and fresh cilantro for a delightful zest!
Mediterranean Mood: Substitute the chicken thighs with diced lamb or beef, replace white rice with couscous, and add a mix of Mediterranean spices like cumin, coriander, and a dash of cinnamon. Remember to add a sprinkle of feta cheese on top before serving!
Vegetarian Delight: Replace chicken thighs with your choice of protein-packed beans, hearty mushrooms, or nutritious tofu. Pair with your favorite veggies such as bell peppers, zucchinis, or aubergines for a wholesome, meat-free feast.
Seafood Sensation: Swap out chicken for shrimp or chunks of white fish like cod or haddock. Add a splash of white wine for an extra flavor punch. This variation pairs well with a squeeze of fresh lemon and a sprinkle of dill before serving!
👩🏻‍🍳 How to Make Old Fashioned Chicken and Rice Casserole
This simple chicken casserole is broken into 2 components:
Add the ingredients
Bake in the oven
*Be sure to see the recipe card below for the full ingredients list & instructions!*
STEP 1: Prepare the casserole dish. Preheat the oven to 350 degrees f and generously grease a 9 x 13 inch casserole dish with cooking spray or oil.
STEP 2: Mix the ingredients. Combine the soups, broth, cheese, and seasonings in a casserole dish, whisking until smooth. Ensure minimal clumps are remaining in the mixture. (Image 1)
STEP 3: Add the rice. Gently scatter the rice over the soup mixture, stirring it well. This will ensure that the rice is evenly incorporated into the soup, promoting consistent cooking throughout. (Image 2)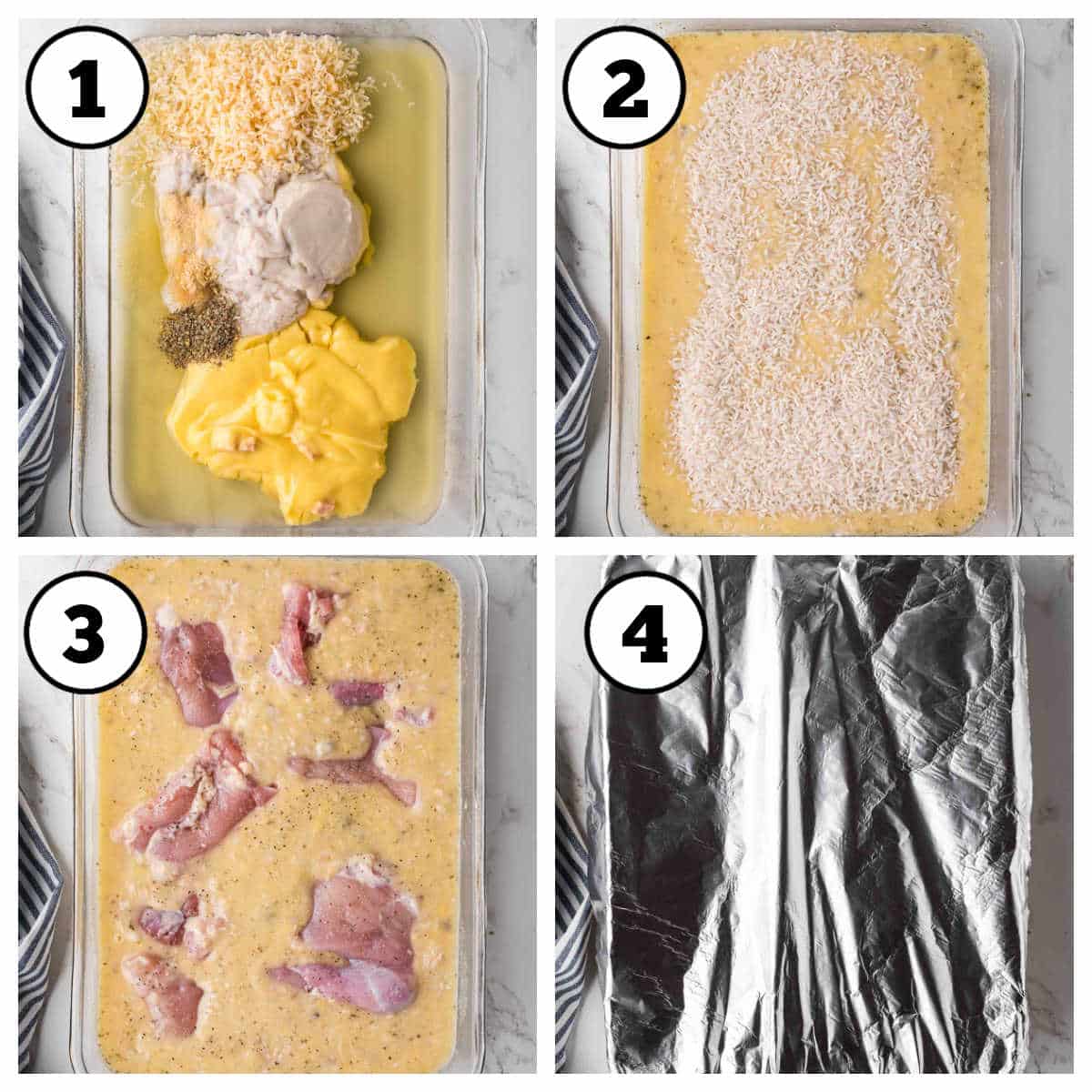 STEP 4: Add the chicken. Add the chicken pieces to the soup and rice mixture, gently pressing each piece down until the edges are submerged. (Image 3)
STEP 5: Season the casserole. Season with salt and pepper according to your taste preferences.
STEP 6: Bake in the oven. Place a layer of foil over the pan and bake for one hour. Then, uncover and continue cooking for an additional 10 minutes until the rice is fully cooked and the edges are bubbly. (Image 4)
STEP 7: Rest, then serve. Remove the dish from the oven and rest for 10 minutes before serving. This step allows the juices to seep back in, resulting in a creamy texture.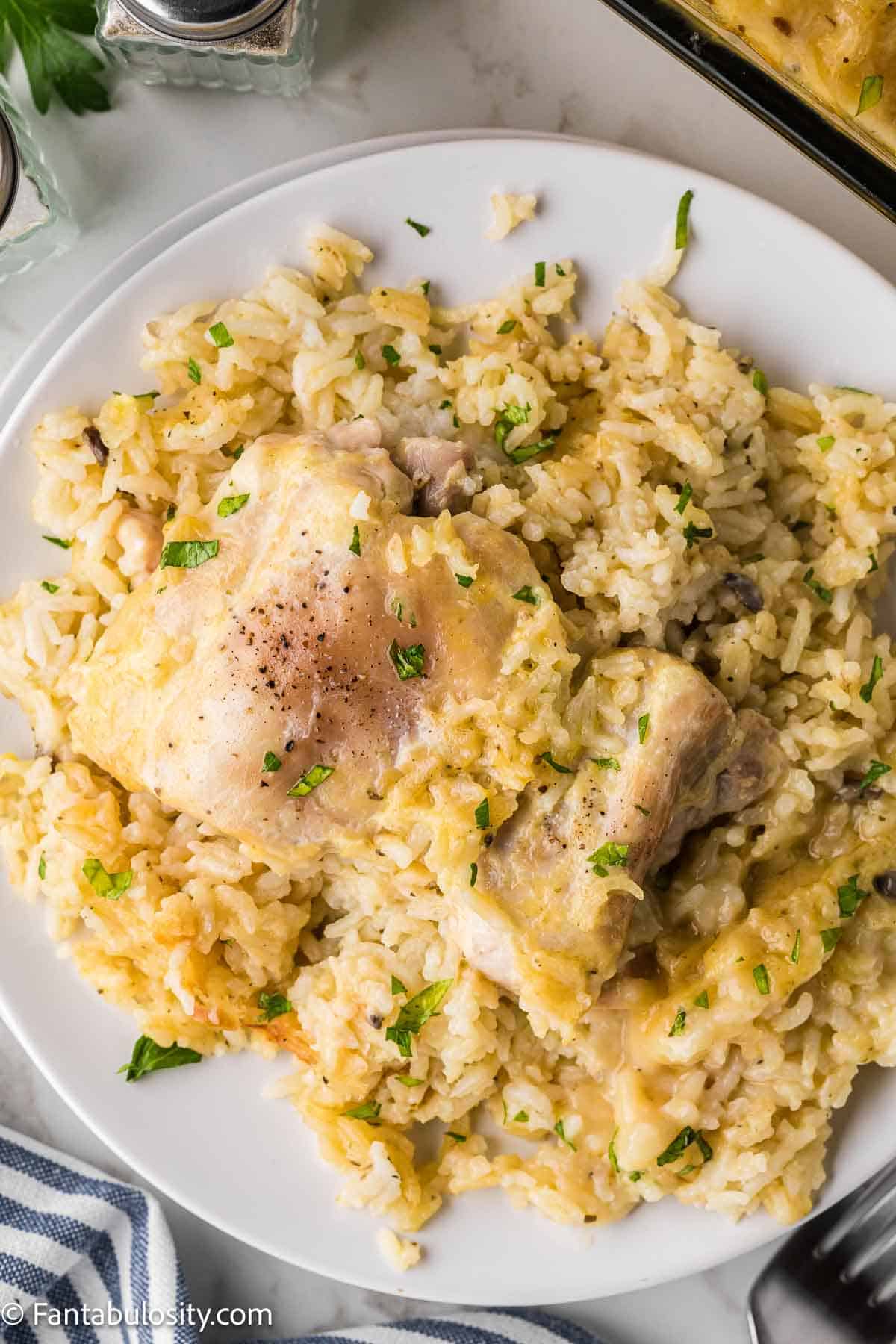 💭 Recipe Pro Tips
Don't rush the baking: Casseroles need time to cook evenly. Rushing this process by increasing the oven temperature could result in a dish that's overcooked on the outside and undercooked inside.
Use a deep dish: The recipe calls for a 9 x 13 inch casserole dish, but if your baking dish is shallow, you may want to opt for a slightly smaller yet deeper dish to prevent spillage in the oven.
Season to taste: The canned soups and cheese naturally contain salt. Taste your mixture before adding salt to prevent an overly salty end product.
Let it rest: Don't skip the resting period after baking! This allows all the flavors to meld together and the rice to absorb any remaining liquid, resulting in a creamier, tastier dish.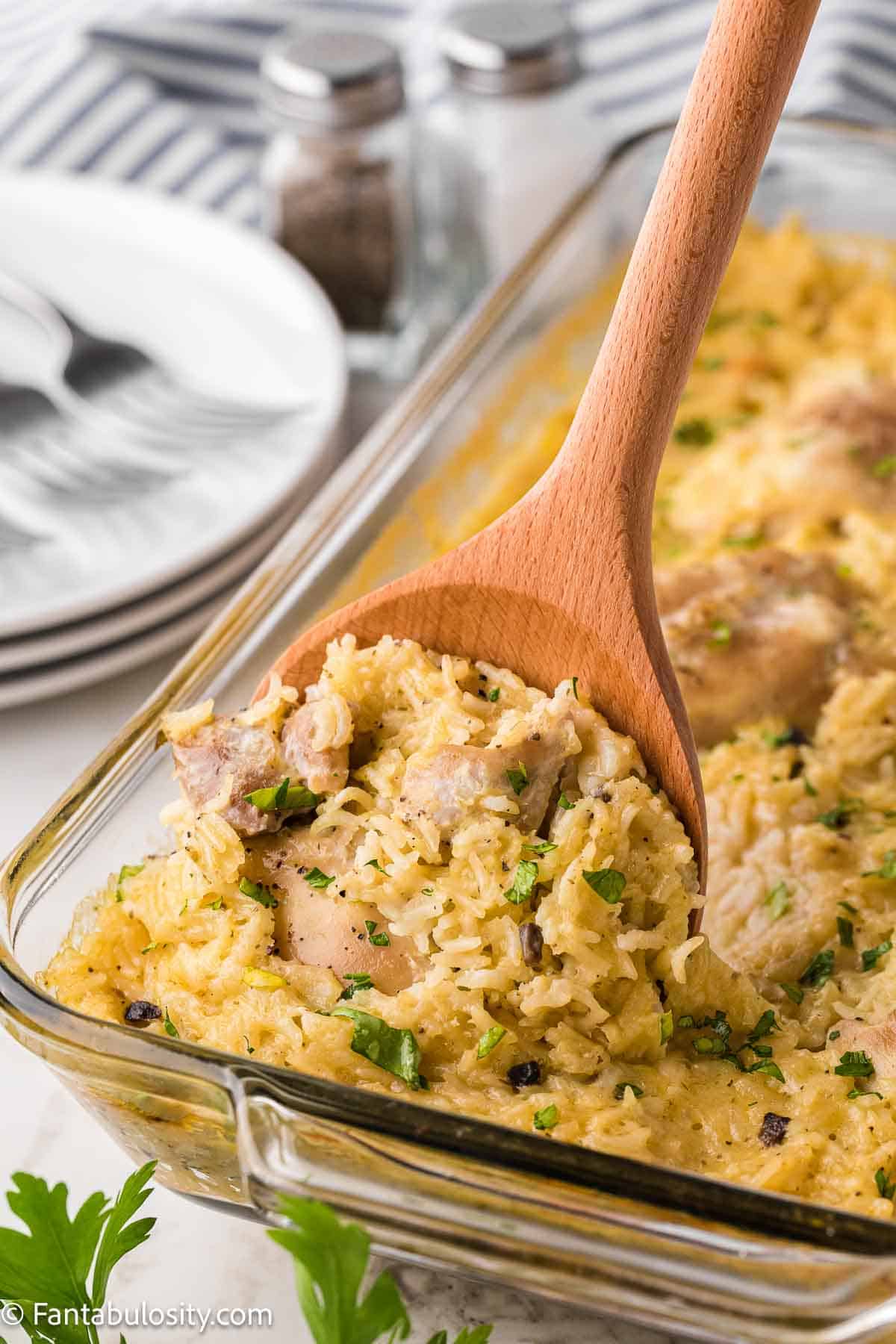 📋 Recipe FAQs
Can I use brown rice instead of white?
Absolutely! Remember that brown rice takes a bit longer to cook than white rice. You might need to increase your baking time by about 15-20 minutes to ensure even cooking.
Is it okay to use cooked chicken in this casserole?
Indeed. If you have leftover chicken, feel free to use it. Just make sure to adjust the cooking time, as the chicken won't need as long to cook. Add it in during the last 15 minutes of baking to avoid overcooking.
Can I make this casserole ahead of time?
Yes, you can! Just prepare the casserole as directed, let it cool, then cover it and store it in the refrigerator. When you're ready to enjoy it, bake it in the oven at 350°F until it's heated through. This makes it a perfect dish for busy school nights or when you expect company. 
Why is my casserole dry?
If your casserole turns out dry, it could be that it was cooked for too long or at too high a temperature. Use a timer to avoid overcooking, and ensure you use the correct oven temperature. Also, ensure the foil cover is secure to hold in moisture while baking. Everyone's oven is different, so getting the timing right might take a few tries.

Can you use other meat in place of chicken?
Absolutely! This casserole can easily be customized to your preferences. Such as skinless chicken breasts, turkey, beef, or for a vegetarian option, you can substitute with tofu. Just adjust the cooking time accordingly and ensure the meat is cooked through before serving.
🍽 What to Serve with Old Fashioned Chicken and Rice Casserole
This Old-Fashioned Chicken and Rice Casserole pairs wonderfully with various sides. For a refreshing contrast to the hearty casserole, consider serving it with a crisp, green salad packed with your favorite veggies – think crunchy cucumbers, ripe cherry tomatoes, and thinly sliced red onions, all tossed in your go-to dressing. The freshness of the salad complements the richness of the casserole beautifully.
If salads aren't your thing, a side of green beans, or even air fryer zucchini may be an easy side dish idea for you! Or something like these candied carrots are a sweet side to pair with the savory casserole. However if you love a good starchy bread with a casserole, like we do, these cheesy garlic biscuits are the perfect fit!
❄️ Storage
Leftovers can be stored in an airtight container and kept in the refrigerator for up to 4 days.
To freeze, allow the casserole to cool completely before wrapping it tightly with aluminum foil and placing it in a freezer-safe container or freezer bag. It will keep well for up to 3 months.
To reheat, thaw the casserole overnight in the refrigerator; if frozen, bake at 350°F until heated through, about 20-30 minutes. If reheating from the fridge, you can either microwave individual servings or heat in the oven at the same temperature. Just ensure it's heated through the middle, and you're all set for another round of this delightful comfort food!
🍲 More Casserole Recipes You'll Love
If this great recipe for easy chicken and rice casserole leaves you wanting to make more, why not try my Southern Broccoli Casserole for a simple and delicious vegetable recipe? Or, for another easy dinner recipe for comfort food style dishes, make this French Onion Beef Casserole for dinner on a cold night the whole family will love.
Did you make this? I'd be so grateful if you left a "star" rating below to let me know what you thought! Then, the next time you need a quick and easy recipe, come back to Fantabulosity to browse all of my easy recipes!
📖 Recipe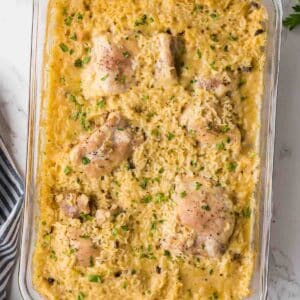 Old Fashioned Chicken and Rice Casserole
This chicken and rice casserole uses simple ingredients and is so easy to make, all while being full of flavor and an absolutely delicious dinner recipe!
Ingredients
1

Can

Cream of Mushroom Soup

1

Can

Cream of Chicken Soup

1

Can

Chicken Broth

½

Cup

Parmesan Cheese

Shredded

½

Teaspoon

Italian Seasoning

½

Teaspoon

Onion Powder

¼

Teaspoon

Garlic Powder

1 ¼

Cup

White Rice

Raw

1 ½

Pound

Boneless Skinless Chicken Thighs

Salt and Pepper to Taste
Instructions
Heat oven to 350 degrees and coat a 9 x 13 inch casserole dish with cooking spray or oil.

Place soups, broth, cheese, and seasonings into the casserole dish and whisk together. Only a few small clumps of soup should remain.

Sprinkle the rice onto the soup mixture, then stir. The rice should be evenly mixed into the soup mixture to ensure even cooking.

Place chicken into soup and rice mixture. Press each piece down into the mixture until the edges are just covered.

Add salt and pepper to taste.

Cover the pan with foil and bake for 1 hour. After one hour, remove the foil and cook for an additional 10 minutes until the rice is done and the edges are bubbly.

Remove the dish from the oven and allow it to rest for 10 minutes before serving. This allows the juices to soak back in and become creamy.
Notes
This dish is also great with pork chops, bone-in thighs, or chicken breast. 

This easy comfort food can be enjoyed alone or with a green vegetable or salad. 

One pot/pan recipe, so less messy dishes to clean!

Store leftovers in an airtight container in the refrigerator for up to one week. 

Reheat in the oven or microwave.
Nutrition
Serving:
1
serving
|
Calories:
389
kcal
|
Carbohydrates:
38
g
|
Protein:
31
g
|
Fat:
11
g
|
Saturated Fat:
4
g
|
Polyunsaturated Fat:
2
g
|
Monounsaturated Fat:
4
g
|
Trans Fat:
0.02
g
|
Cholesterol:
121
mg
|
Sodium:
1139
mg
|
Potassium:
433
mg
|
Fiber:
1
g
|
Sugar:
1
g
|
Vitamin A:
189
IU
|
Vitamin C:
0.1
mg
|
Calcium:
134
mg
|
Iron:
2
mg
Nutritional information is based on third-party calculations and should be considered estimates. Actual nutritional content will vary with brands used, measuring methods, portion sizes and more.