Air Fryer Butternut Squash: An easy and healthy recipe that pairs perfectly with so many main dishes or can be a stand-alone lunch or dinner!
Prep Time: 5 minutes
Cook Time: 20 minutes
Serving: 3 cups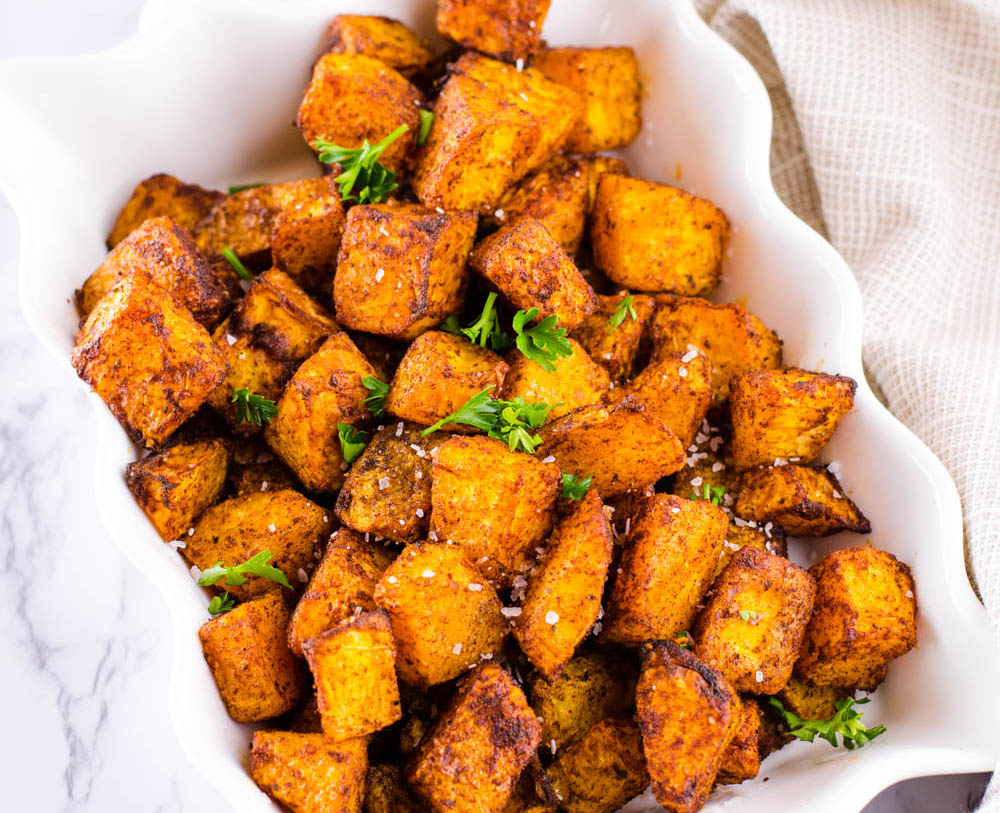 Air Fryer Butternut Squash
If you love air fryer recipes as much as we do, then saddle up your machines ladies (and gents) because this new healthy side dish recipe will easily end up on your weekly meal planning sheet like it has ours!
Jump to:
More Air Fryer Recipes You'll Love:
Are you supposed to peel butternut squash before cooking?
The skin is pretty tough so it is better peeled… but we also like to purchase the pre-cut, cubed, butternut squash that's usually in the produce section at the grocery store.
How do you peel a butternut squash?
If you do have a whole squash and need to peel it, slice off the ends and pop it in the microwave for about 3 minutes. It will really soften the skin and then once it has cooled off enough to touch, you can stand it up on one end and slice the skin off with a knife.
Or, this video on how to prepare, peel, and cut a butternut squash may be very helpful!
What does butternut squash pair well with?
It is a versatile side dish that pairs well with red meats, chicken, and even seafood! Our favorite dishes to serve this with are brats in the oven, Lasagna Stuffed Chicken, the BEST Steak Recipe, or these popular recipes…
How to cook butternut squash in the air fryer:
For this recipe, I used a package of pre-cut, cubed butternut squash that comes in about 3 cups of squash. However, this recipe is VERY forgiving so if you don't have quite that much or more than that, you should be ok!
If you have a whole butternut squash, scroll up to see how to easily peel yours!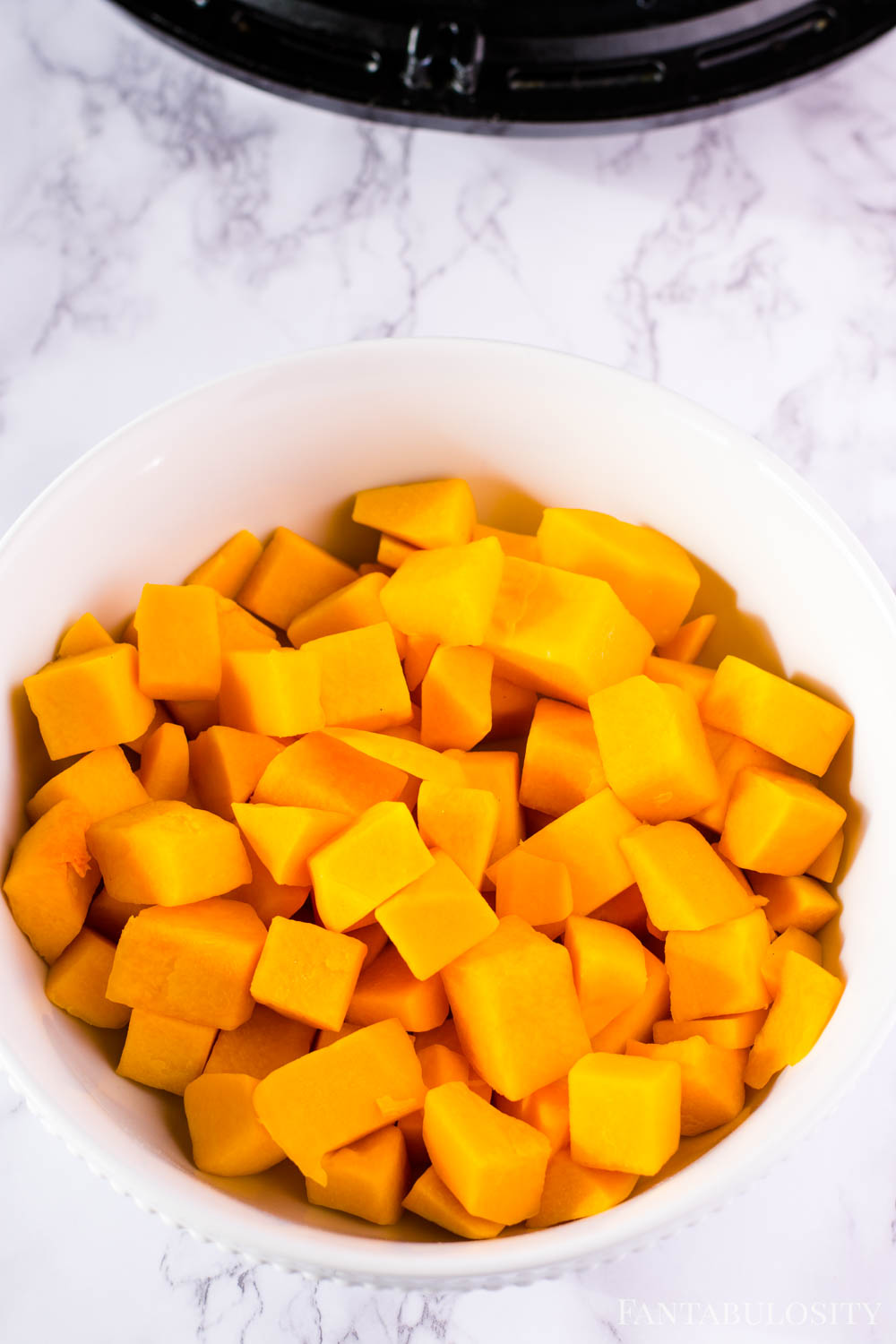 In a bowl, add cubed butternut squash…
… the spices: cinnamon, smoked paprika (if you don't have smoked that's ok!), salt and pepper.
Then add in the olive oil and mix together squash is evenly coated with oil and spices!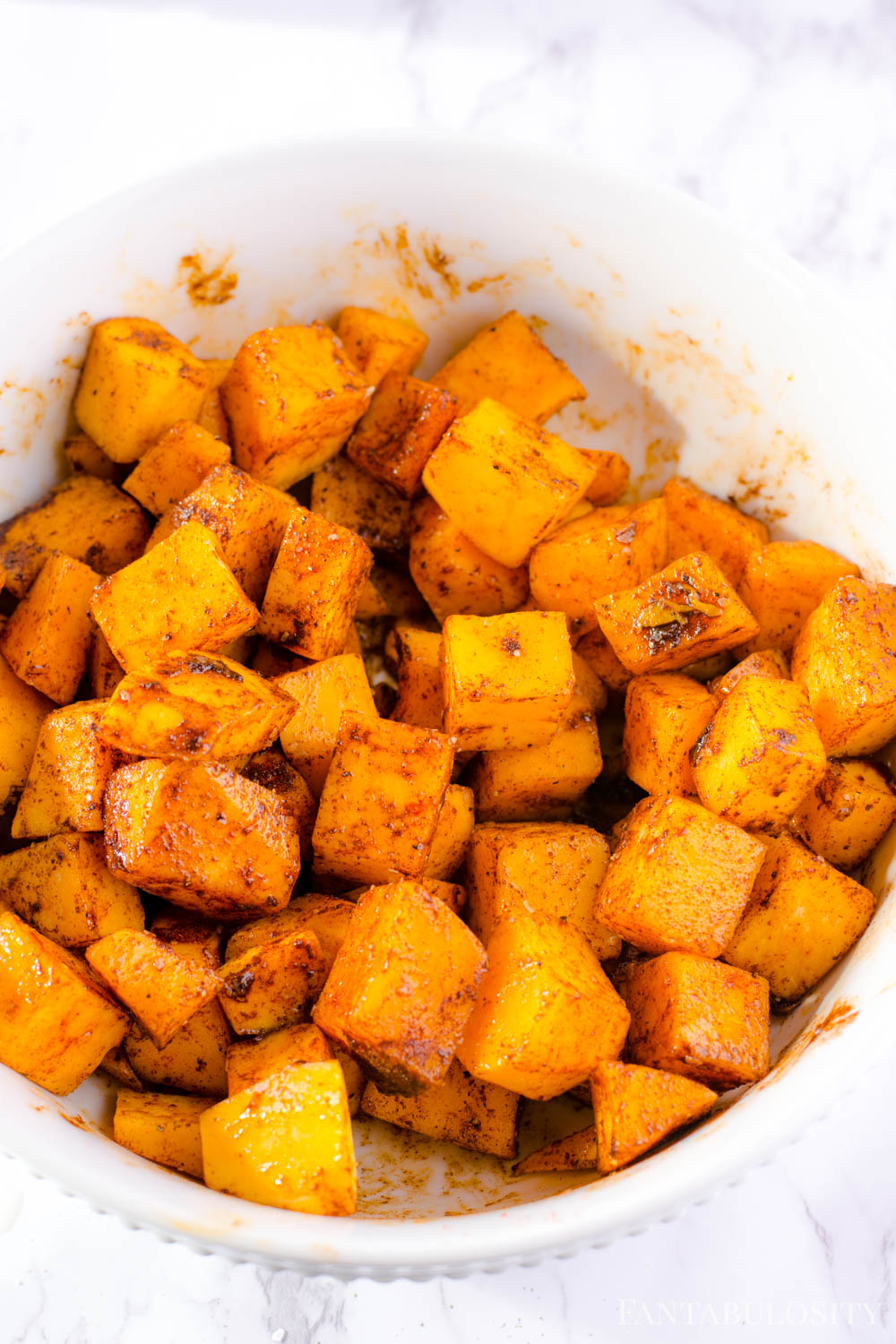 How long do you cook squash in an air fryer?
You shouldn't need to coat your air fryer with cooking spray since you've coated your squash in olive oil (but I know some air fryers suggest it, so feel free if you want to).
Cook squash in 400° air fryer for about 20 minutes.
(You can preheat if you want, but I don't typically preheat my air fryer so sometimes I like to just add a couple of minutes on at the end if not cooked through.)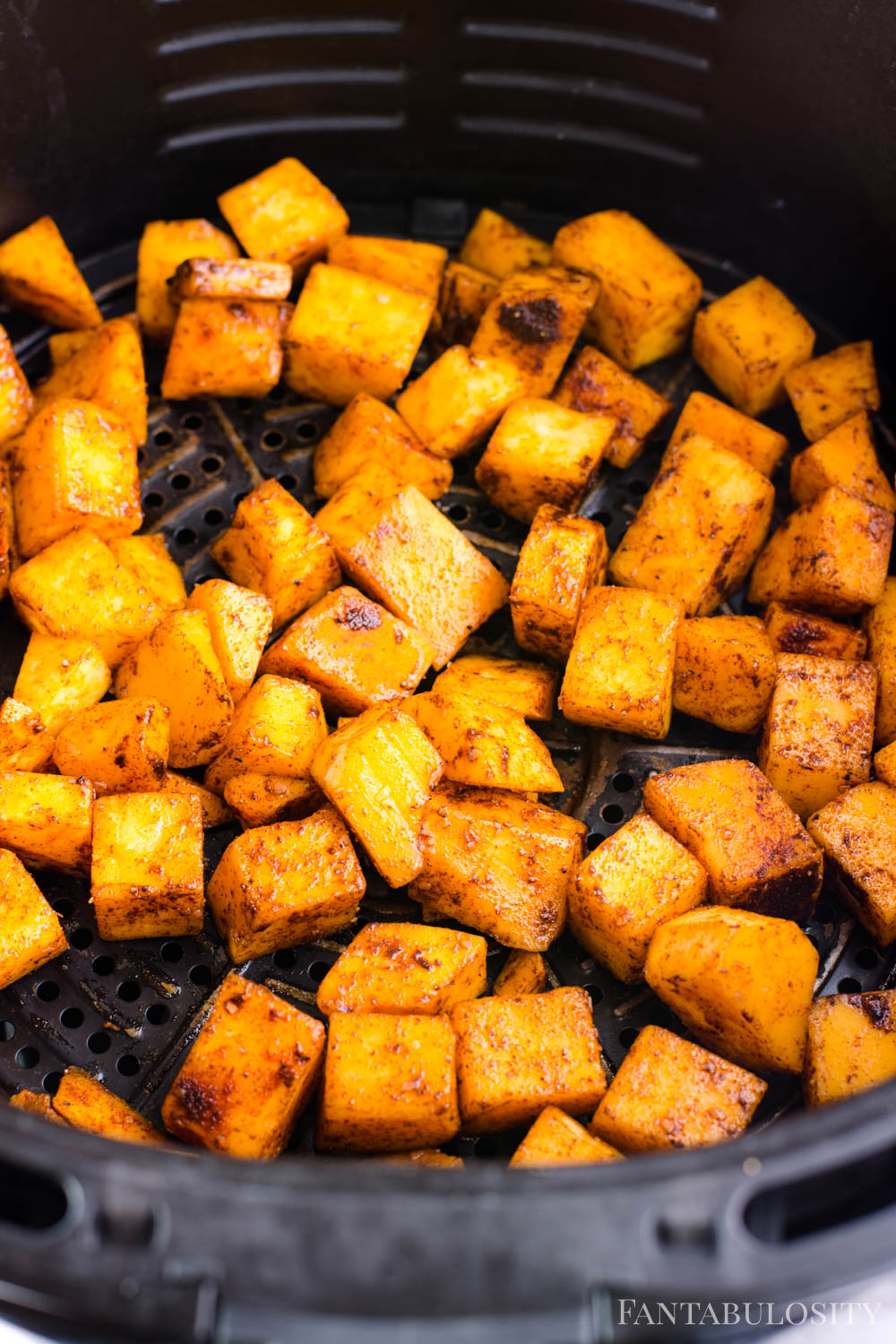 Air fryer temperatures and settings can vary, so just know that your squash is done when it is tender to poke with a fork! (You don't it crunch typically. I like to have it the consistency of a sweet potato!)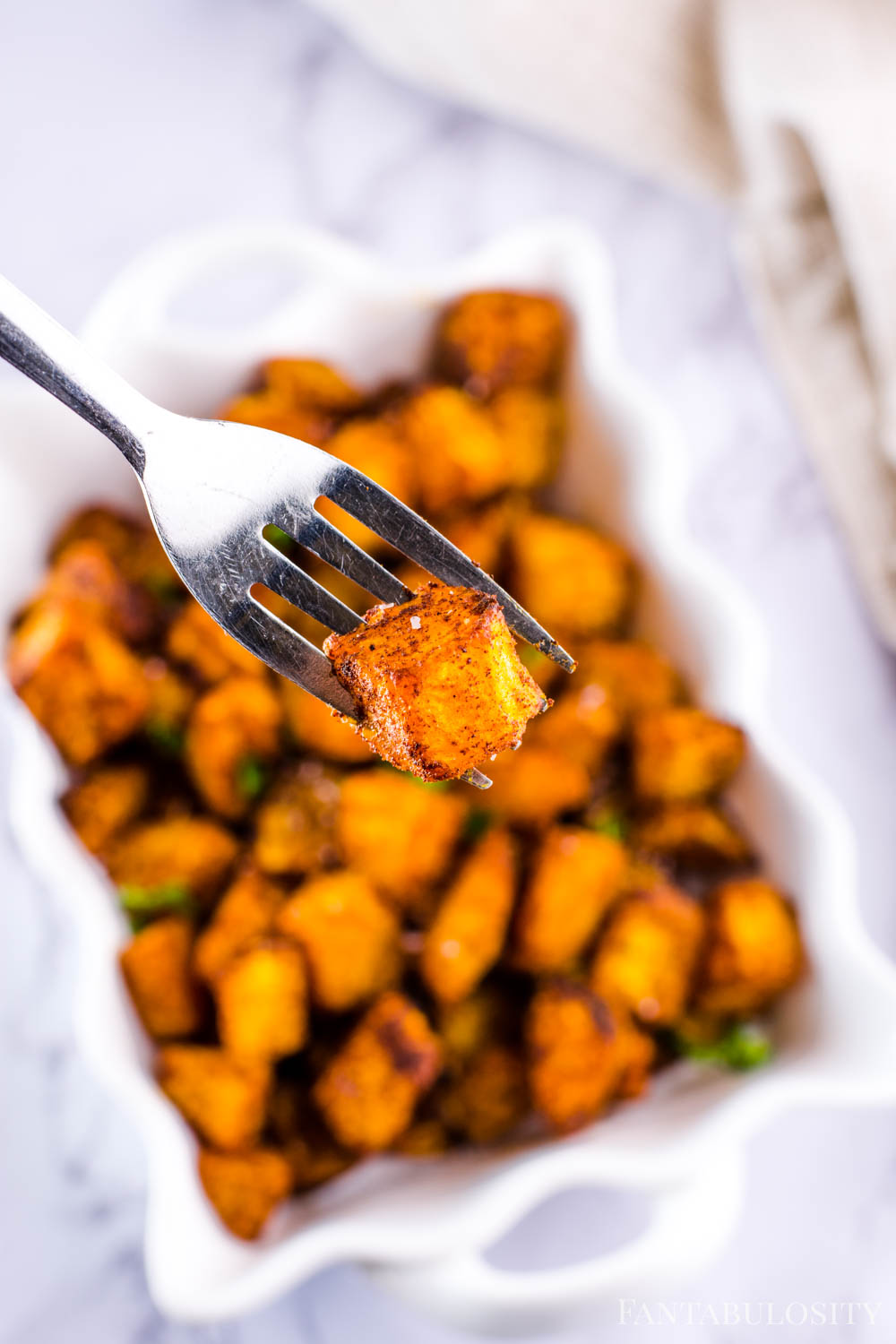 How do you serve air fryer butternut squash?
Serve your butternut squash warm and immediately after it's done for best results. But reheated leftovers are just fine too!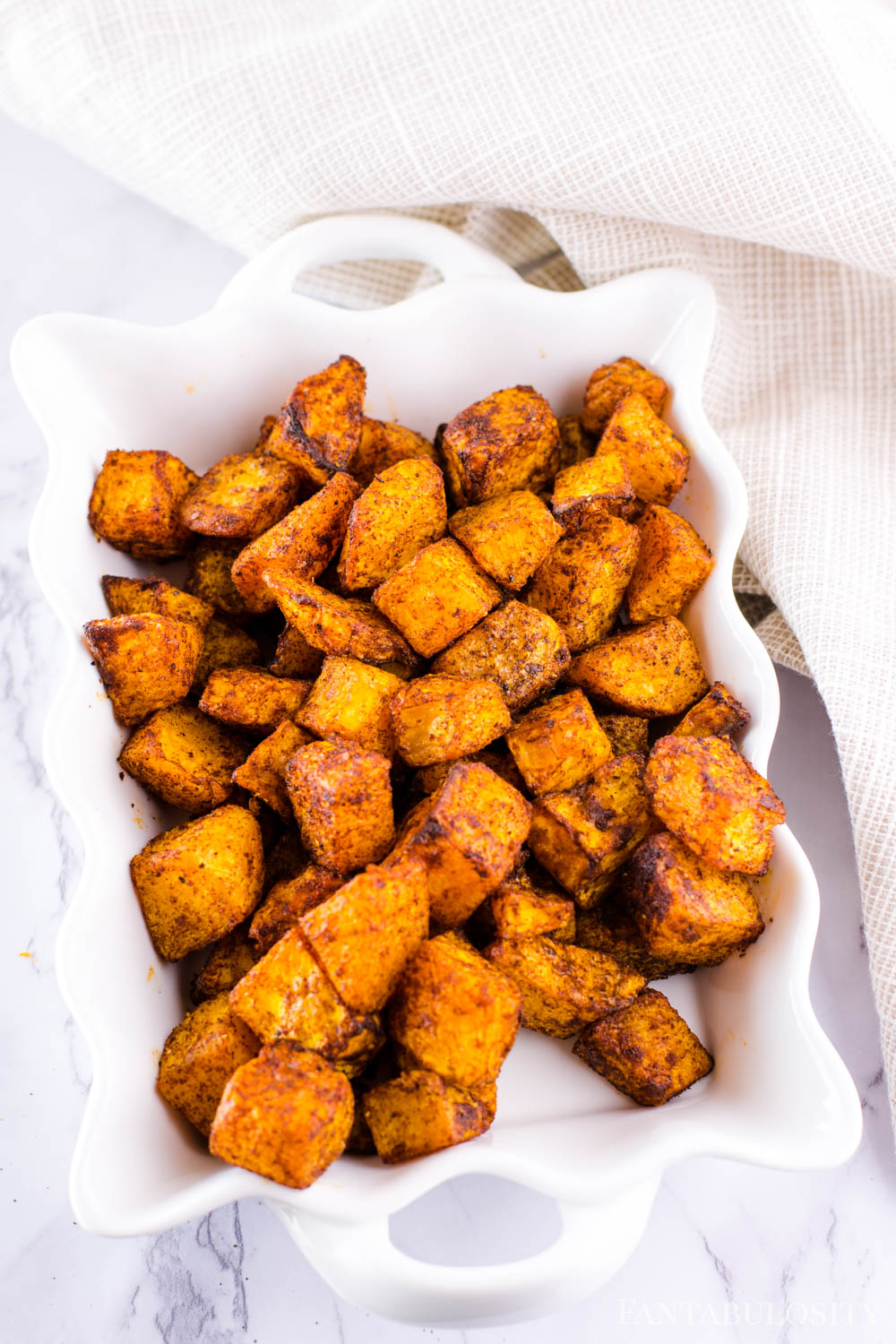 Have dried or fresh parsley hanging around? Sprinkle a little on for color, especially if entertaining!
Your guests will think you worked super hard on a side dish that took VERY LITTLE effort. (One of my favorite characteristics of cooking!)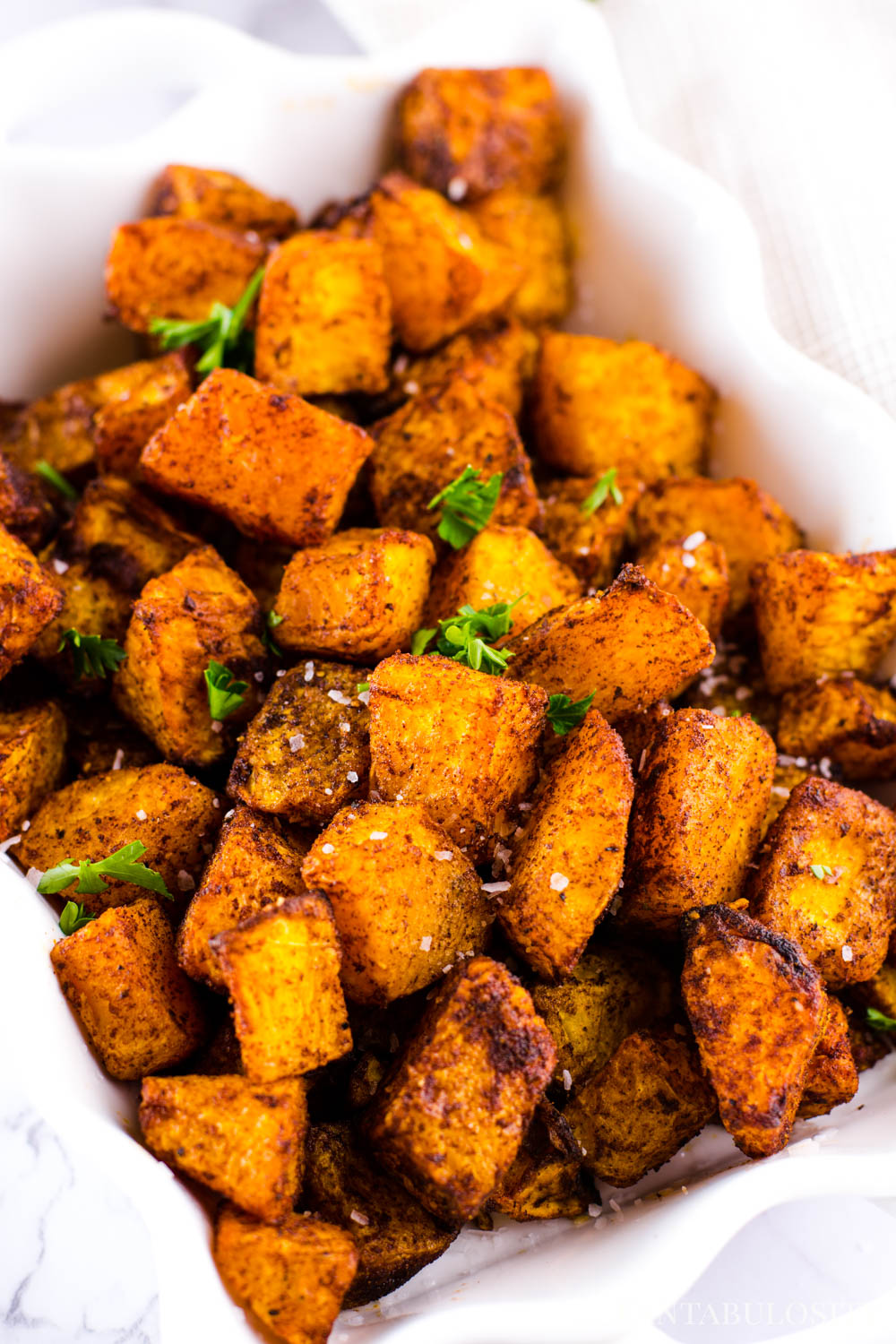 📖 Recipe
Did You Make This?
Snap a pic and hashtag it #Fantabulosity — I love to see your creations on Instagram, Facebook, and Twitter!
More side dishes I think you'll love: