Caesar Chicken: a creamy dish of perfectly cooked chicken, elevated by Parmesan cheese and the zip of the tangy, peppery flavors of Caesar dressing.
When it comes to cooking chicken dishes on the stove-top, we also love this chicken fried steak and gravy, this chicken and noodles recipe, and this chicken and gravy recipe!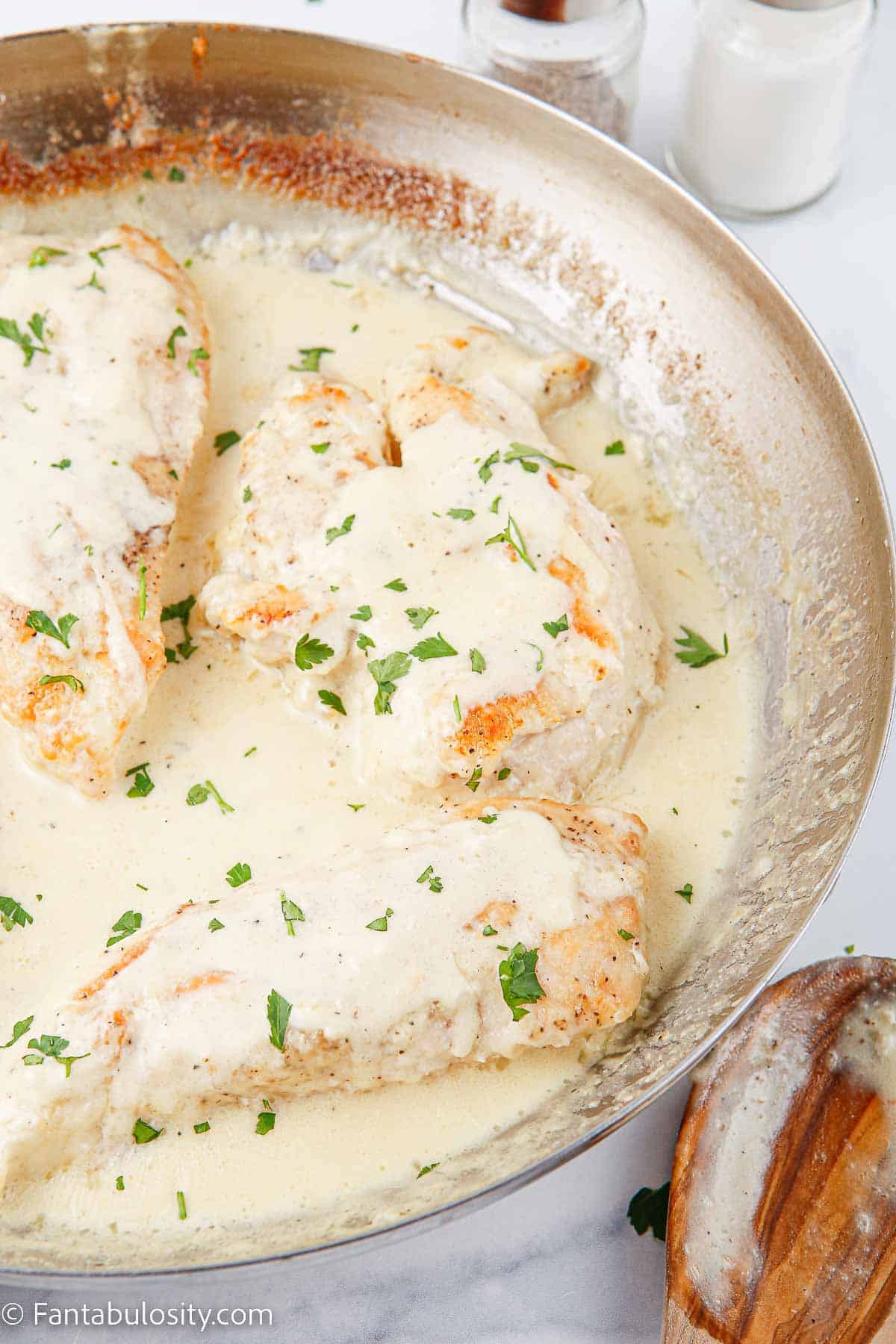 Want to use up that bottle of Caesar dressing? Then you can also make this classic Chicken Caesar Pasta Salad Recipe that is perfect for a warm day.
What is Caesar Dressing?
Caesar Dressing is a delightful concoction that adds an extra zing to any dish it graces. This creamy dressing, originally crafted by restaurateur Caesar Cardini, boasts a rich blend of garlic, Dijon mustard, Worcestershire sauce, lemon juice, and anchovies, topped off with a pinch of freshly grated Parmesan.
But it's not just for salad recipes. Whether you're drizzling it over your preferred protein or using it as a veggie dip, Caesar dressing is the secret sauce that can instantly transform your meal from 'meh' to 'marvelous'!
Jump to:
❤️ Why You'll Love This Recipe
A ton of flavor: The combination of the tangy Caesar dressing with the saltiness of the Parmesan works perfectly alongside the chicken.
Make-ahead recipe: Did you know you can make this easy baked chicken recipe in advance if you want to? It's true; see my tips below on how to do that!
Ready in less than 30 minutes: Talk about a quick and easy recipe idea! This chicken recipe takes less than half an hour, from meal prep to finish.
🧾 Ingredients Needed
I've highlighted a couple of ingredients below with some relevant notes. Aside from this, the ingredients needed are pretty basic.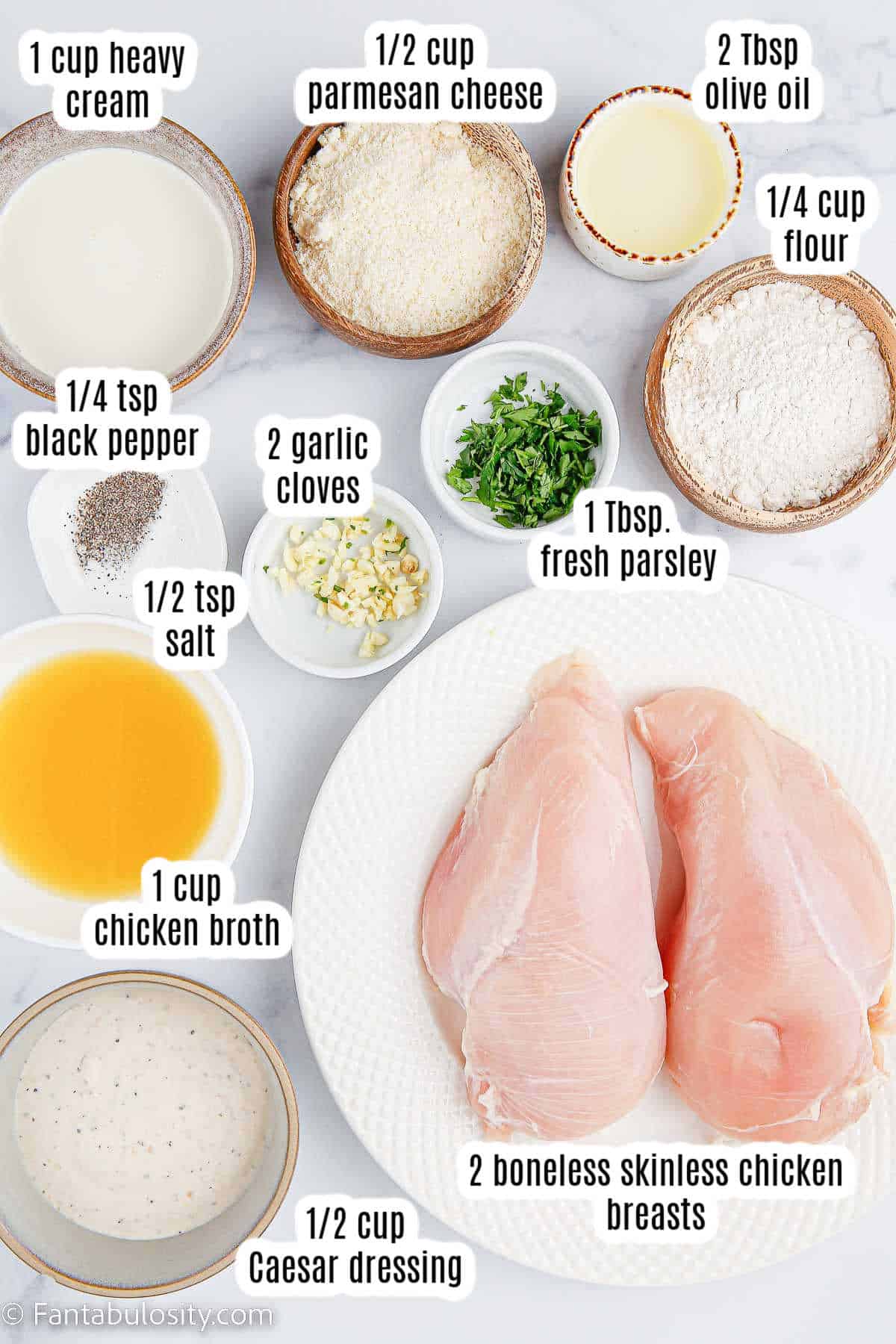 Chicken – We prefer boneless skinless chicken breasts for this recipe as they cook easily and slice nicely.
Caesar dressing – You can use a good grocery store-bought dressing for the recipe or even try making your own.
Cheese – Parmesan is definitely the best for this as the saltiness adds to the recipe without overwhelming the flavors of the dressing. If cheese and chicken together are your favorite, then this cheesy chicken will be a hit!
📖 Substitutions
Sometimes substitutions are necessary because of ingredients that are unavailable or needed for dietary restrictions. Here are some suggestions that can help:
Chicken Breasts – If you don't have chicken breasts, feel free to use other parts of the chicken, like thighs or drumsticks. For a vegetarian spin, portobello mushrooms or tofu can work wonders.
Garlic Clove – If fresh garlic isn't available, you can use about 1/8th teaspoon of garlic powder to substitute for a single clove.
Caesar Dressing – No Caesar dressing in the pantry? No worries! Try using a mix of mayonnaise, a little lemon juice, and Dijon mustard for a similar tangy, creamy effect.
Heavy Cream – Milk can be a stand-in if you're out of cream. Add a tablespoon of butter to a cup of milk to enhance the richness.
Parmesan – In the absence of Parmesan, you could use other hard, salty cheeses like Pecorino Romano or Grana Padano. For a dairy-free alternative, nutritional yeast provides a similar umami punch.
📖 Variations
Spice it up: For those wanting a bit of heat, adding red pepper flakes or a dash of cayenne pepper to the chicken before baking can create a delightful spicy variation to suit your personal preference.
Go Green: Add chopped fresh herbs like parsley, basil, or thyme before baking for a fresh and aromatic touch to your Caesar Chicken.
Cheese Variety: While Parmesan is a great addition to this dish, feel free to explore with others, like sharp Cheddar or Gouda, for a different flavor profile.
Veggies Inclusion: Want to make it a complete meal? The best way is to toss some cherry tomatoes, zucchini, or bell peppers into the baking dish alongside your chicken for a wholesome and colorful twist.
Grill it: If you're up for outdoor cooking, this recipe can be easily adapted for the grill. Just remember to keep an eye on it to prevent the chicken from drying out.
Vegan Twist: Swap chicken with firm tofu or seitan, use a vegan Caesar dressing, and replace Parmesan with a sprinkle of nutritional yeast for a delightful vegan version of Caesar Chicken.
Chicken Caesar Wrap: Use any leftover chicken with romaine lettuce and a bit of grated cheese for lunch the following day with a Chicken Caesar wrap!
👩🏻‍🍳 How to Make Creamy Caesar Chicken
*Be sure to see the recipe card below for the full ingredients list & instructions!*
STEP 1: Heat the skillet. Heat a large skillet over medium-high heat and add 1 tablespoon of olive oil, allowing it to melt.
STEP 2: Slice and cook the chicken. Cut boneless chicken breasts in half lengthwise and season them with salt and black pepper. Coat the chicken breasts in flour and transfer them to a skillet. Cook for approximately 3-4 minutes on each side or until the chicken is fully cooked and reaches an internal temperature of 165F. Set the chicken aside. (Images 1-2)
STEP 3: Cook the garlic. Heat the remaining oil and sauté the garlic in the pan for one minute until it becomes fragrant. Pour the broth into the pan and deglaze, making sure to scrape up any browned bits. (Images 3-4)
STEP 4: Make the sauce and add the chicken. First, bring the broth to a vigorous boil. Then, add the Caesar dressing, cream, and Parmesan cheese, and continue cooking for an additional 2-3 minutes or until the liquid thickens and reduces. Next, place the chicken breasts back into the pan and cook for another 1-2 minutes, spooning the creamy sauce over the chicken. (Images 5-7)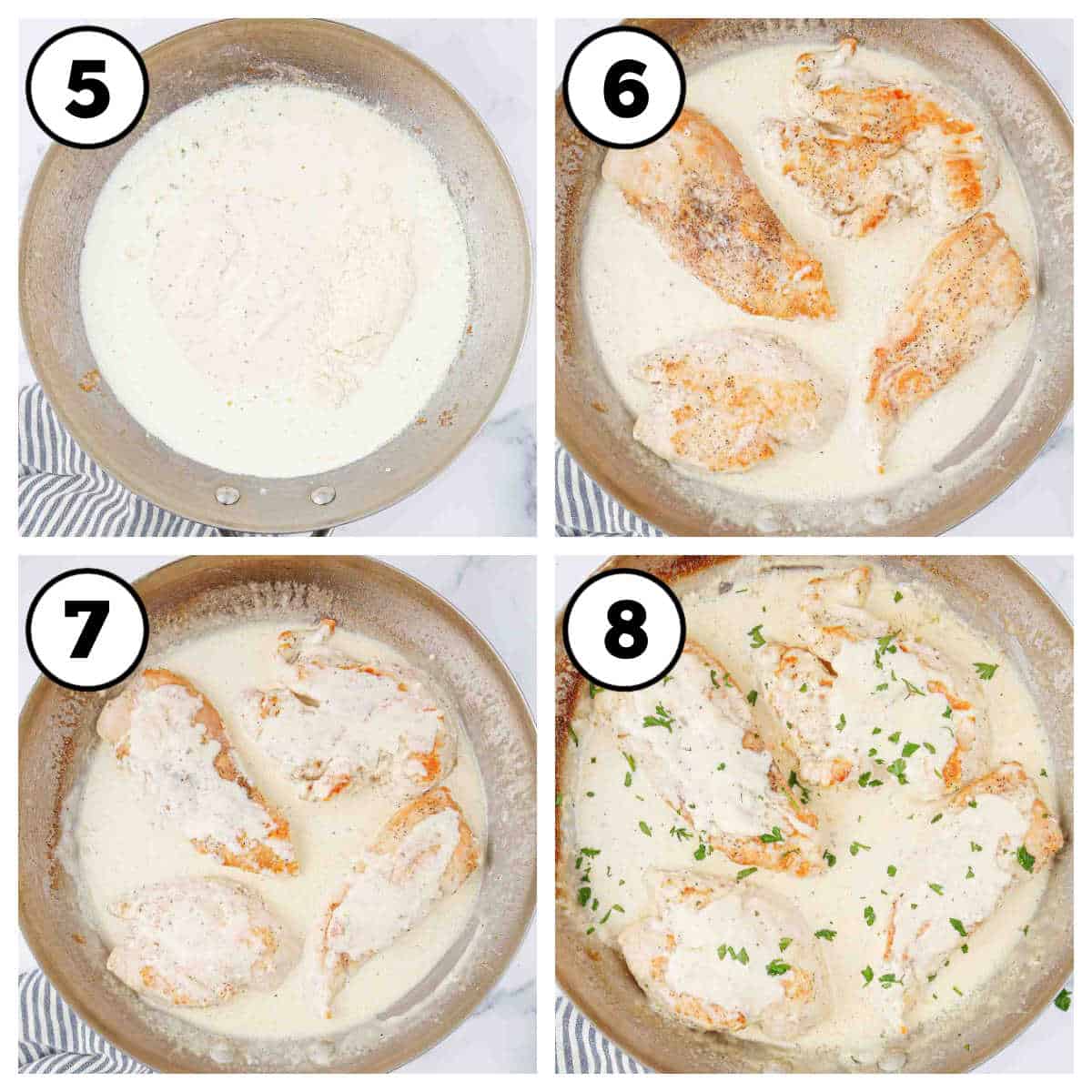 STEP 5: Serve with parsley. Serve promptly over pasta or rice garnished with fresh parsley, and savor the flavors!
💭 Recipe Pro Tips
Choosing the Right Chicken: For best results when buying chicken, look for breasts that are even in size for consistent cooking, or you can pound the thicker end of the chicken breast to even it out.
Homemade Caesar Dressing: Making your own creamy Caesar dressing can take this dish to the next level. The fresh flavors are hard to beat, and you have control over the ingredients. Plus, it's easier than you might think! You can also try making homemade croutons.
Let it Rest: After removing the chicken from the oven or skillet, let it rest for a few minutes. This allows the juices to redistribute throughout, making extra juicy, moist chicken!
Prep Ahead: Want to make dinnertime less hectic? You can prep this recipe in advance. Simply follow the steps to add the Caesar dressing, cream, and Parmesan cheese. On the day of serving, pick up from there and cook until the chicken is done.
Add a Side: While this is a complete dish on its own, you can serve it with a side of steamed veggies, a fresh salad, or even some fluffy rice to round out the meal.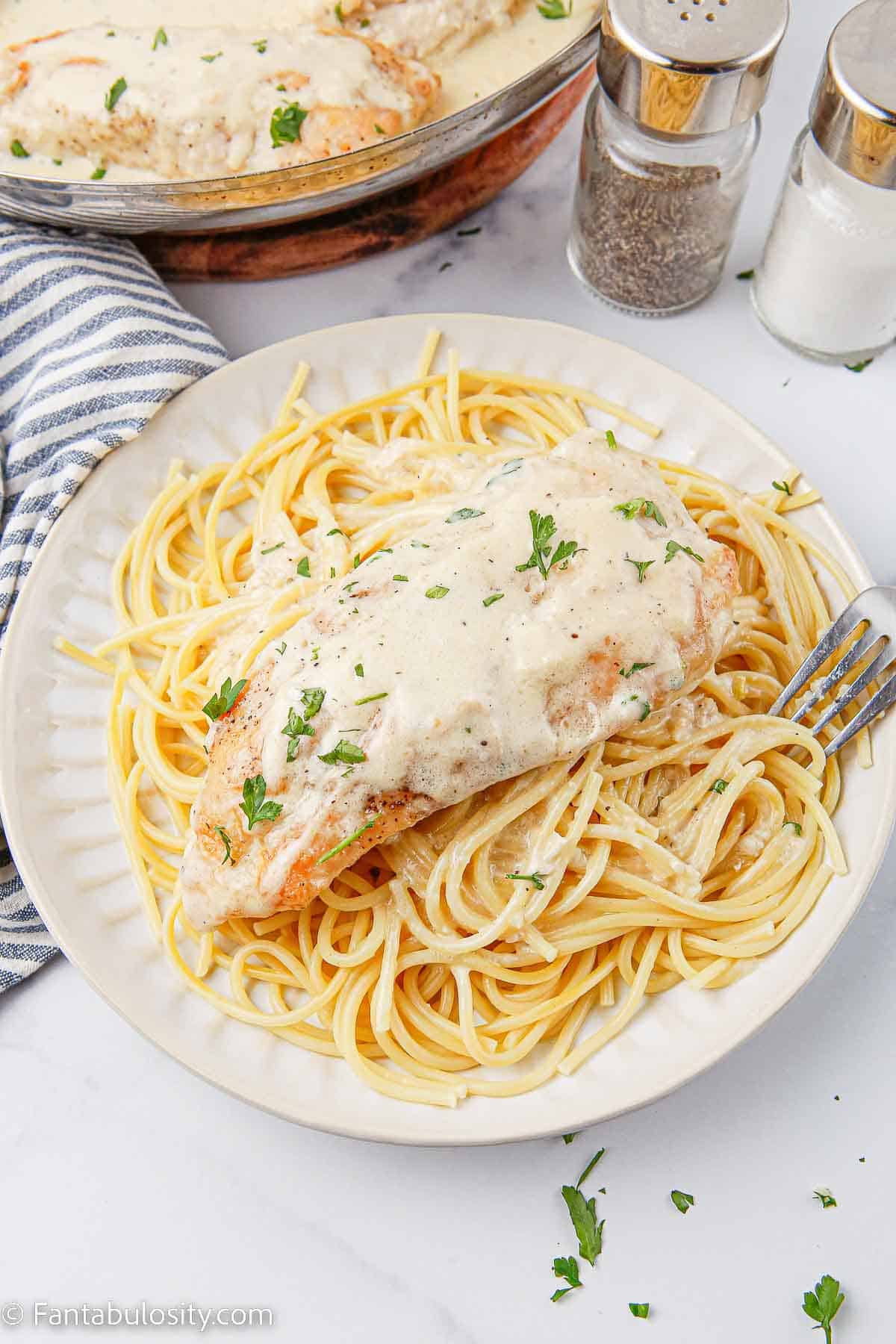 📋 Recipe FAQs
Can I use chicken thighs instead of chicken breasts in this recipe?
Absolutely! Chicken thighs can make a delicious alternative to breast meat
 in this recipe. They're juicier and have more flavor due to their higher fat content. Adjust the cooking time, as thighs may need longer to cook thoroughly.
What if I'm lactose intolerant? Can I still enjoy Caesar Chicken?
Of course you can! There are plenty of lactose-free alternatives available for the cream and Parmesan cheese. Use lactose-free cream or a dairy-free milk alternative like almond or oat milk, along with a pinch of flour to thicken the sauce. For the cheese, look out for lactose-free Parmesan or nutritional yeast for a cheesy flavor.
Is there a low-carb option for Caesar Chicken?
Certainly! This dish can be easily adapted to fit a low-carb diet. Simply serve it with steamed veggies or a fresh salad instead of pasta or rice. You could try it with some cauliflower rice for a deliciously healthy twist. 
Can I make this recipe gluten-free?
Sure thing! To make this recipe gluten-free, use gluten-free flour to coat the chicken and ensure your Caesar dressing is gluten-free too. Always double-check the labels, just to be safe!
How do I know when the chicken is fully cooked?
The safest way to ensure your chicken is fully cooked is to use a meat thermometer. The internal temperature should reach at least 165F. If you don't have a thermometer, slice into the thickest part of the chicken. The juices should run clear, and the meat should be white, not pink.
🍽 What to Serve with Creamy Caesar Chicken
The creamy, decadently savory Caesar Chicken pairs beautifully with various side dishes to complete your meal and make it even more satisfying. How about a serving of garlic bread on the side? Its crisp texture and buttery flavor match the rich, tangy notes of the chicken. (Or this fun cheesy pull-apart bread.)
A light, refreshing, simple salad can complement the dish wonderfully – try a simple green salad or a cucumber salad for a contrasting, fresh note. Hearty green vegetables such as garlic broccoli, bacon-wrapped asparagus, or candied carrots can add a nice balance to your meal.
For those who prefer a heartier accompaniment, a side of creamy mashed potatoes or a portion of fluffy rice can be a perfect match. And if you're up for a bit of Italian flair, serve the Caesar Chicken over a bed of al dente pasta, similar to this creamy lemon chicken pasta.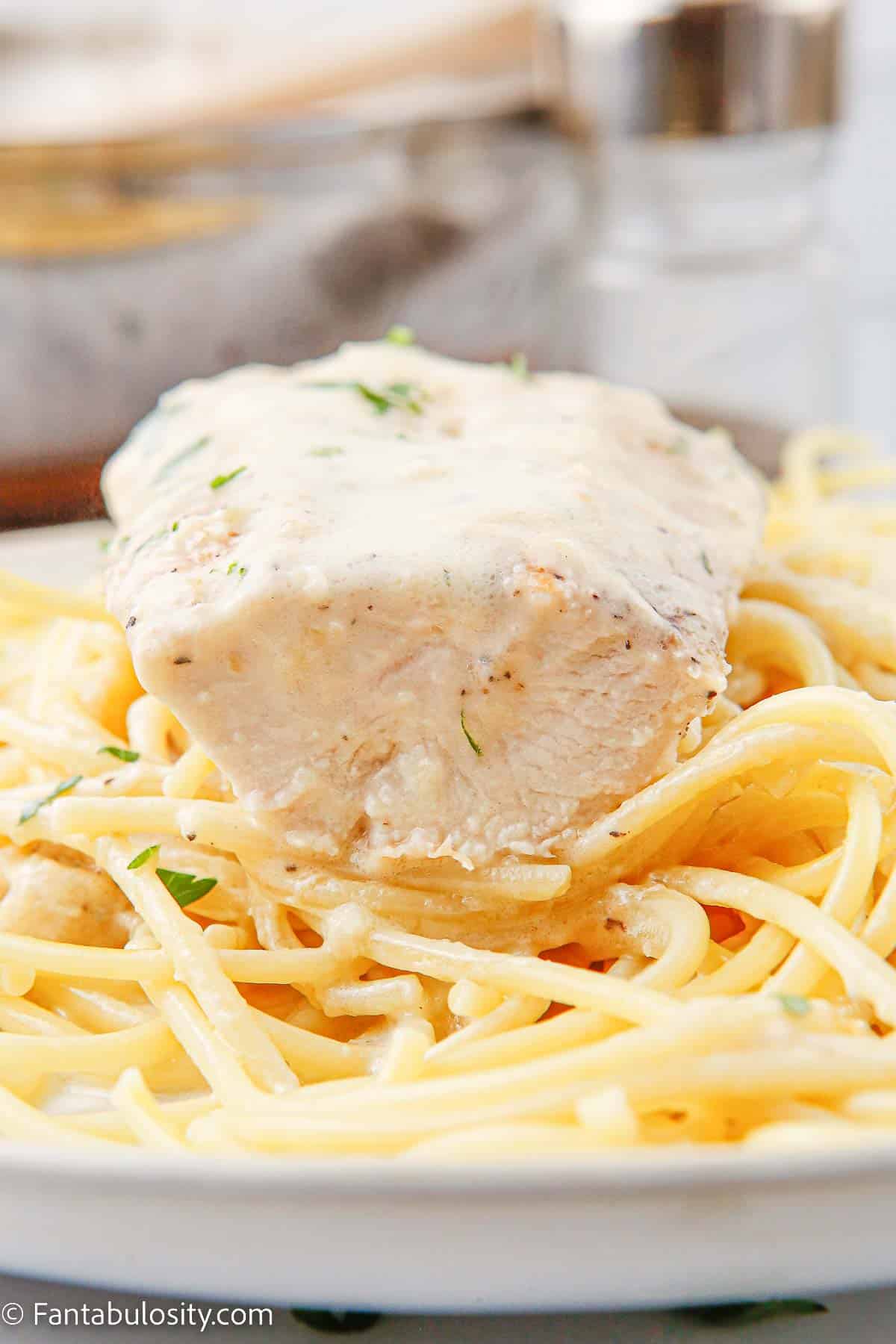 ❄️ Storage
Storing leftovers of this sumptuous Caesar Chicken is a breeze. Simply place the cooled leftovers in an airtight container and store them in your refrigerator. The dish will stay fresh and delicious for 3-4 days.
And guess what? This recipe is freezer-friendly too!
When freezing, ensure your container is airtight and freezer-safe to maintain the quality of your meal. You can keep it frozen for up to 2-3 months.
To reheat, let it thaw overnight in the refrigerator and warm it up on the stove or in the oven. You have yourself a ready-to-eat, scrumptious meal for those busy days when you don't have time to cook from scratch.
🐓 More Chicken Recipes You'll Love
Looking for inspiration for more things to do with chicken on busy weeknights? There's plenty here! Why not try some simple Fried Chicken Sliders for a great lunch idea? Or, for a hearty meal, try this Easy Slow Cooker Shredded Chicken that the whole family will enjoy. Or these others:
Did you make this? I'd be so grateful if you left a "star" rating below to let me know what you thought! Then, the next time you need a quick and easy recipe, come back to Fantabulosity to browse all of my easy recipes!
📖 Recipe
Creamy Caesar Chicken
Tender chicken breasts in a creamy, cheesy, caesar sauce that's delicious by itself or served over pasta noodles.
Ingredients
2

boneless skinless chicken breasts

2

tablespoons

olive oil

¼

cup

flour

½

teaspoon

kosher salt

¼

teaspoon

black pepper

2

garlic cloves

minced

⅓

cup

chicken broth

½

cup

caesar dressing

½

cup

parmesan cheese

grated

⅓

cup

heavy cream

1

tablespoon

chopped fresh parsley

for garnish
Instructions
Melt 1 tablespoon of olive oil in a large skillet over medium high heat.

Slice both chicken breasts in half, lengthwise, and season with salt and pepper. Dredge the chicken breasts in the flour and place into the skillet. Cook for 3-4 minutes on each side, or until the chicken is cooked through and reaches an internal temperature of 165F. Set chicken aside.

Melt the remaining oil and add the garlic to the pan to saute for one minute until fragrant. Add the broth to the pan and scrape up any browned bits. Bring the broth to a boil then add in the caesar dressing, cream and parmesan cheese and cook for another 2-3 minutes or until the liquid thickens and reduces. Return the chicken breasts back to the pan and cook for another 1-2 minutes, spooning the sauce over the chicken.

Serve immediately over pasta or rice with fresh parsley, enjoy!
Notes
Leftovers: Store in an airtight container in the fridge for up to 3-4 days, or in the freezer for up to 3 months.
Nutrition
Serving:
1
chicken breast
|
Calories:
434
kcal
|
Carbohydrates:
9
g
|
Protein:
19
g
|
Fat:
36
g
|
Saturated Fat:
11
g
|
Polyunsaturated Fat:
11
g
|
Monounsaturated Fat:
12
g
|
Trans Fat:
0.01
g
|
Cholesterol:
79
mg
|
Sodium:
991
mg
|
Potassium:
273
mg
|
Fiber:
0.5
g
|
Sugar:
2
g
|
Vitamin A:
502
IU
|
Vitamin C:
3
mg
|
Calcium:
185
mg
|
Iron:
1
mg
Nutritional information is based on third-party calculations and should be considered estimates. Actual nutritional content will vary with brands used, measuring methods, portion sizes and more.