Cooking Hamburgers in the Oven is EASY and may become your new favorite dinner recipe! This recipe with the "melt-in-your-mouth" trick makes all the difference!

Quick overview: Cook these at 375° for 25 minutes, and then build burgers with buns and wrap in foil and bake another 2-3 minutes for the ULTIMATE, best burger at home!
Cooking Hamburgers in the Oven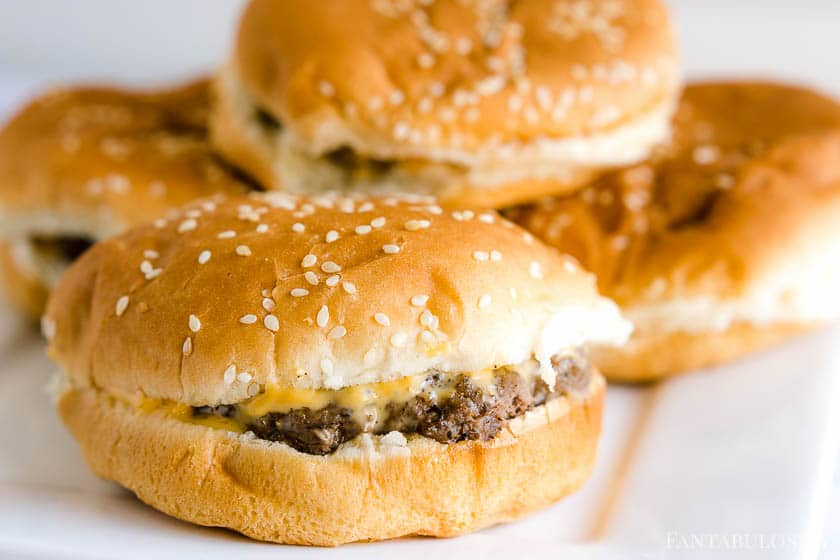 "Can I cook burgers in the oven?"
YES, and let me tell you… it may be your new favorite way to whip up this family favorite dinnertime go-to! (It has only become a favorite way to make these cheeseburger sliders that have become so popular too!)
Not only does baking the burgers in the oven make clean-up a breeze (no splattered grease popping all over the stovetop) but this recipe creates the juiciest burger, and has a trick that will keep you going back for more! (We even bake venison burgers in the oven!)
More HamBurger Recipes You'll Love:
If you love hamburgers, then you'll definitely want to see all of the other hamburger recipes that we have. Here are some of our favorites:
Or even if you're looking for ways to use ground beef, we have suggestions for dinner recipes using ground beef!
Hamburger Recipe in the Oven
It's incredibly easy to make baked hamburgers… and the best part? With the trick I'll show you, you can even make these a little in advance in case you're serving a big crowd, (like for a burger bar) or aren't exactly sure what time dinner will actually be served.
How to Cook Hamburgers in the Oven
As always, there's a full, printable, recipe card at the bottom of this post, but I'd love to walk you through the recipe with photos and extra tips to help you make the best, baked hamburger recipe!
Preheat Oven:
Preheat your oven to 375 degrees, and spray non-stick cooking spray inside of a baking dish, large enough to hold 4 hamburger patties.

Note: When cooking, you can definitely do more at a time if you prefer! Just use a larger baking pan or dish — make sure to use one with raised sides so the juices don't pour out — and the cooking time will stay the same!
4 Beef Hamburger Patties
Using 1 lb. of ground beef, patty out 4 hamburger patties.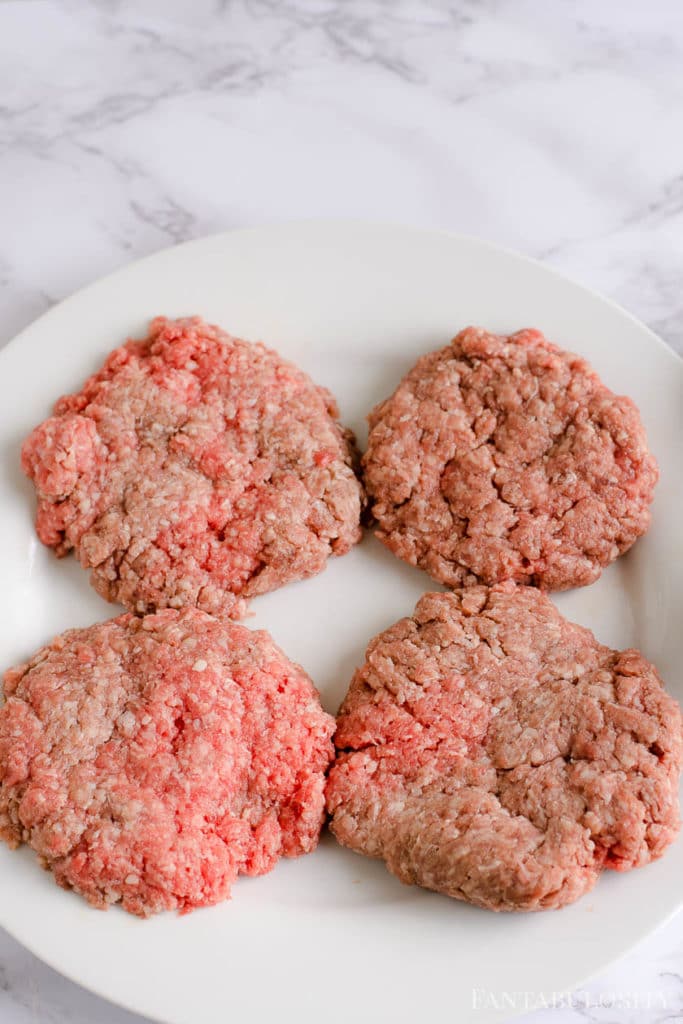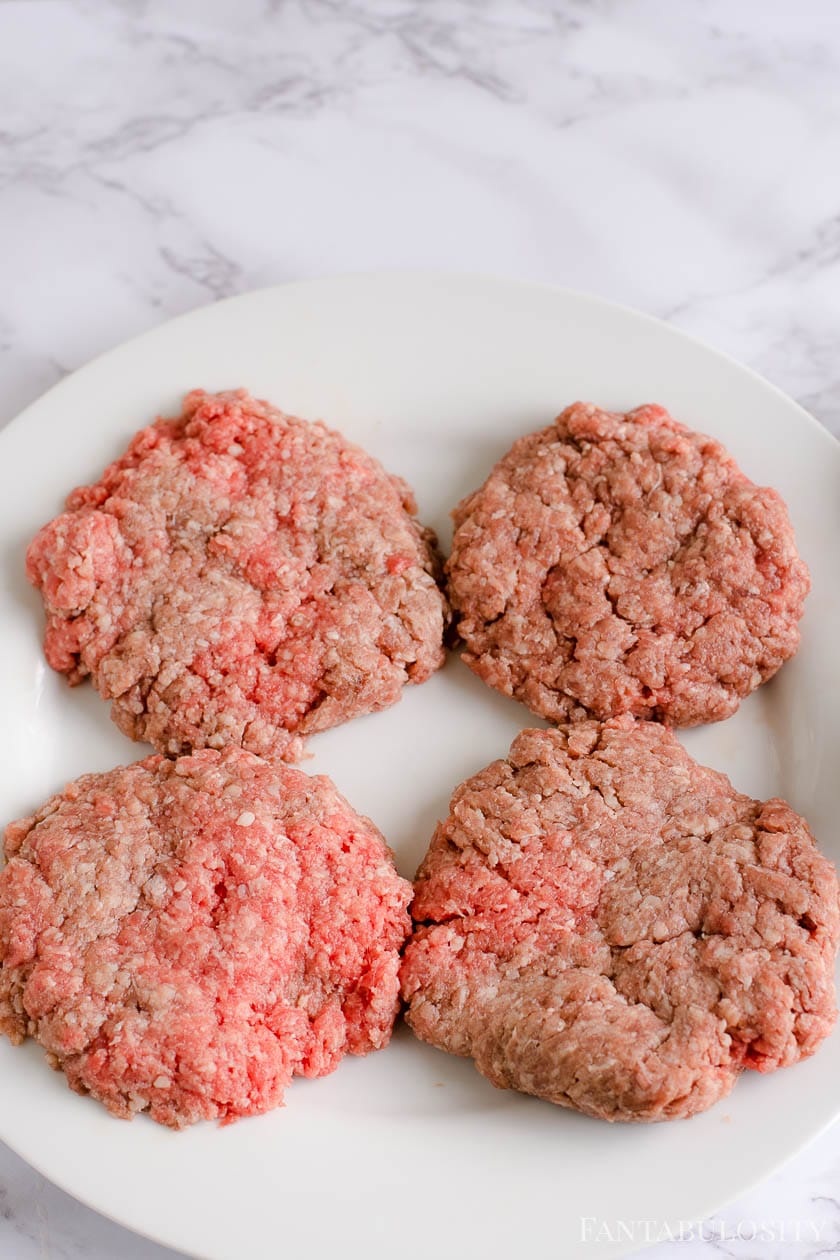 How to Season Hamburgers
In the BEST Cheeseburger recipe, you saw that I love to fry burgers in browned butter for flavoring and use salt and pepper to season.
HOWEVER, when it comes to baking hamburgers, I prefer to only use salt and pepper. BUT NOT JUST ANY salt and pepper…
Feel free to use what you have on hand, or your favorite salt and pepper, but I can't help but recommend my favorites.
Fine Grain Himalayan Salt – When I started researching different salts for healthier options, my friend recommends this salt and I haven't looked back. It is "saltier" so I don't have to add as much when cooking, but it is also really tasty! I'm a big fan!
However, feel free to use my other favorite, kosher salt, or any type of sea salt/table salt.
Peppercorn Medley – Oh my favorite pepper in all the land! I love using this with the BEST oven baked steak recipe, and anything "beef" related. You'd be surprised at how much flavor this pepper has over regular black pepper. HOWEVER, feel free to use regular ground black pepper too! It's tasty too!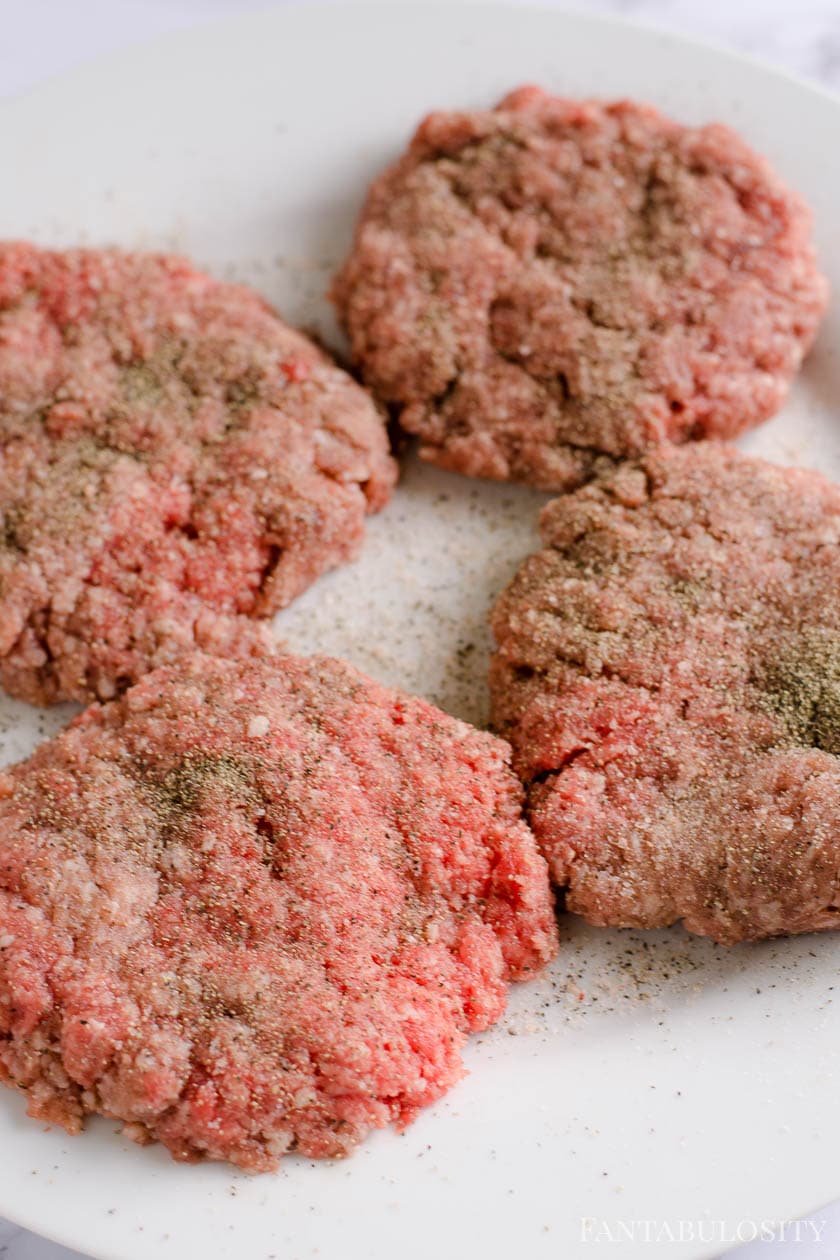 Season on Both Sides
Over the years, I've learned that I prefer when burgers are GENEROUSLY seasoned with salt and pepper.
(If I had to guess, I'd say I probably use a total of about 2 teaspoon of salt for the four burgers, and then I just make sure I can SEE black pepper all over my burgers.)
Just when you think it may be too much salt and pepper (because let's face it… you can always add more, but you can't really take it away) you can finally actually taste it.
So season as you desire, but if you find that your burgers didn't have much flavor this time, add a little bit more next time.
When you've seasoned one side of the burgers, flip the seasoned side down in to the prepared baking dish and season the other side.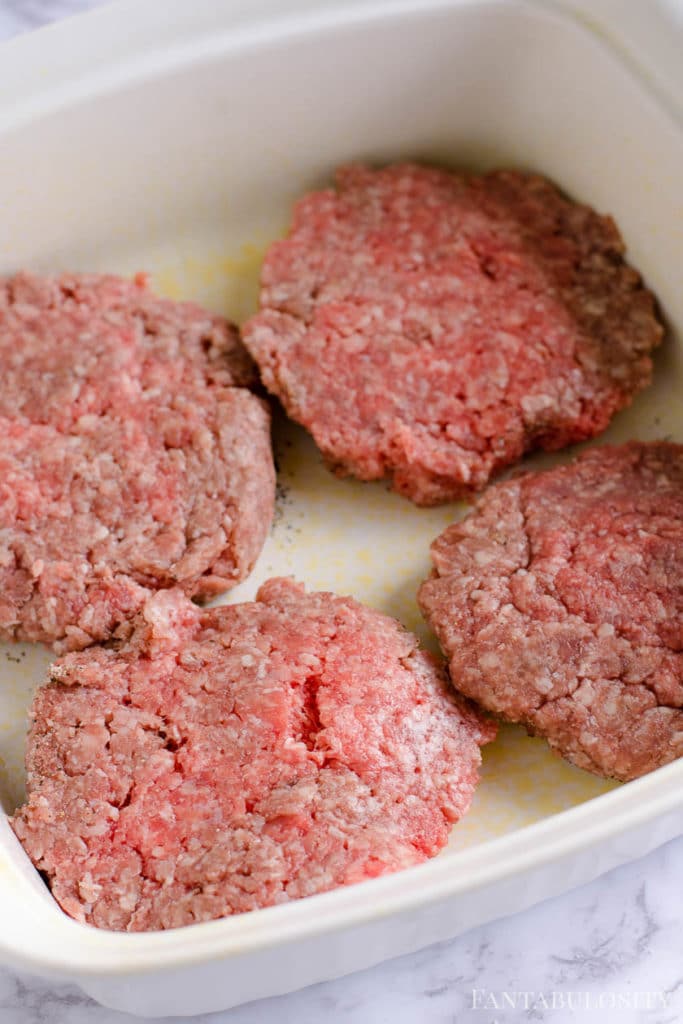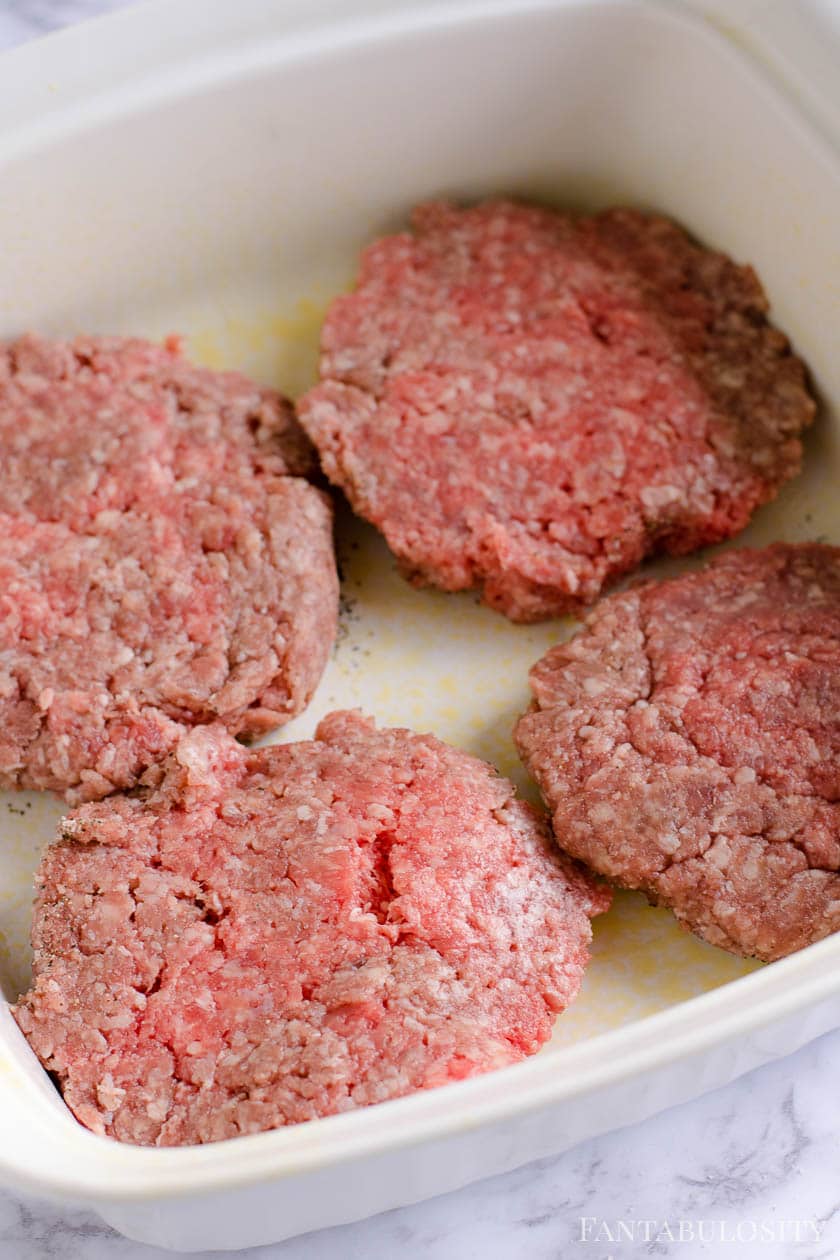 How Long to Cook Burgers in the Oven
Bake, uncovered in the preheated oven for 20 minutes, or until an inserted thermometer reaches 160 degrees.

(For the trick that makes all of the difference when cooking burgers in the oven, scroll down! You won't regret it!)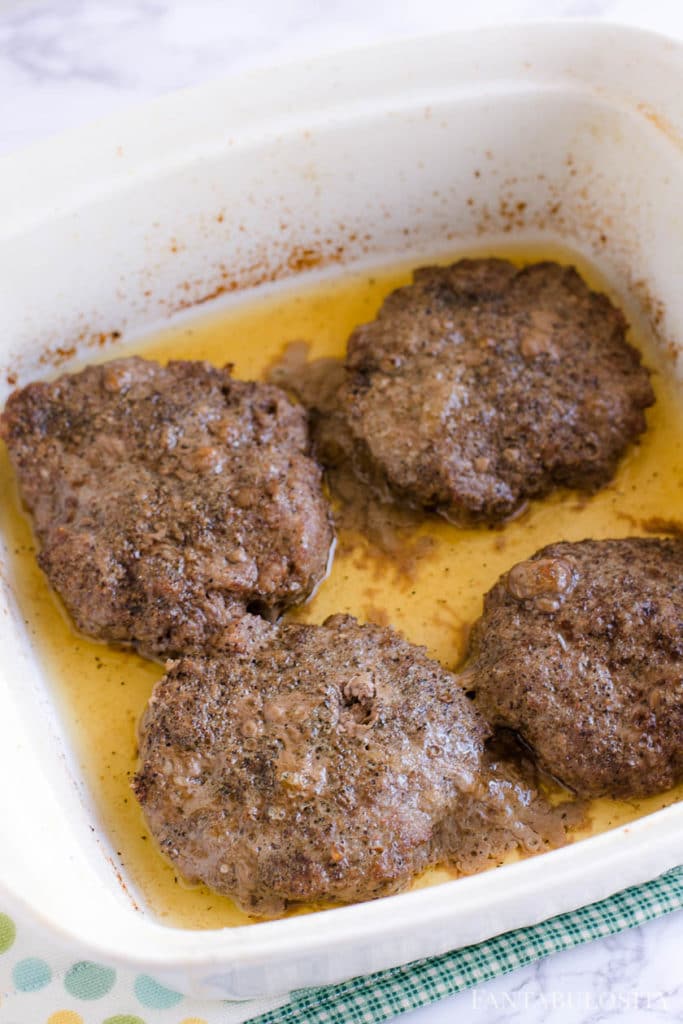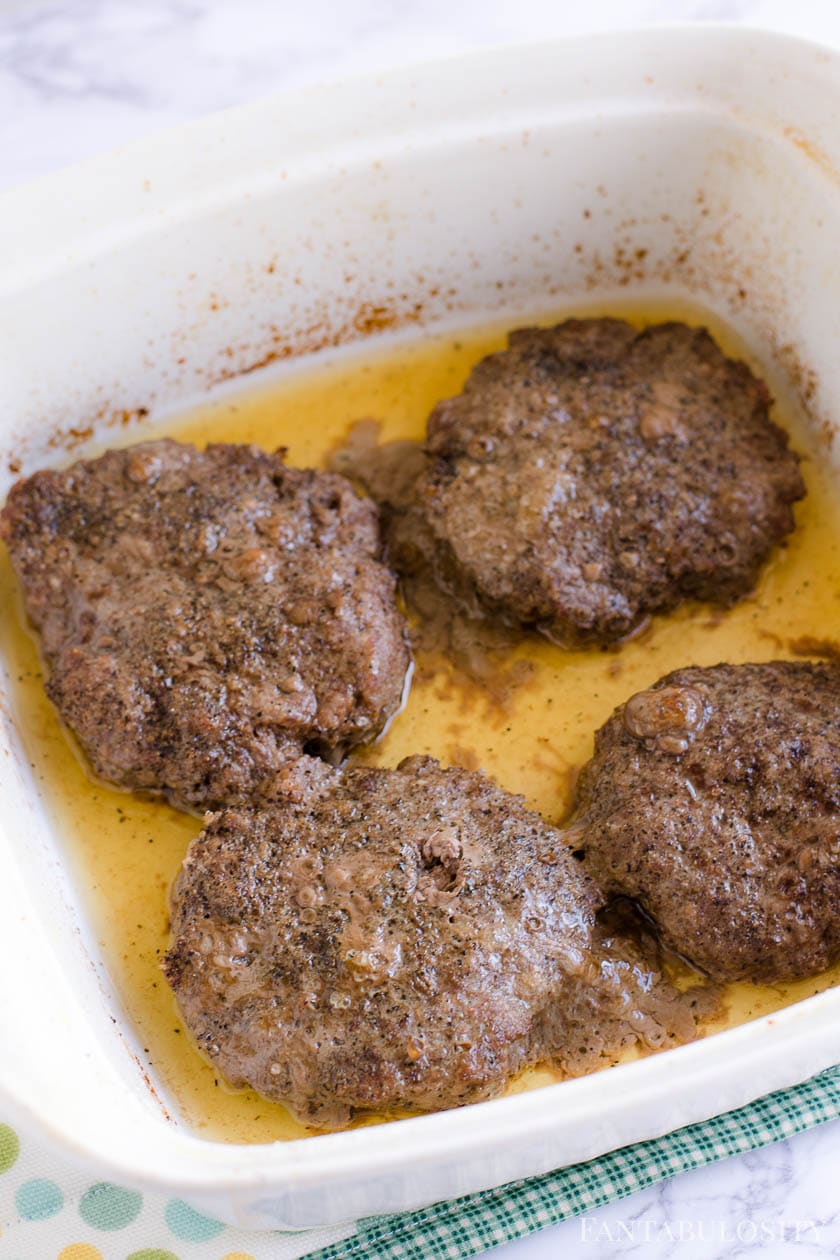 For Cheeseburgers
If you love cheese on your burgers, grab a slice of American cheese (or your favorite kind) and place one slice on each burger.
Place back in the oven for about one minute, or until the cheese has melted!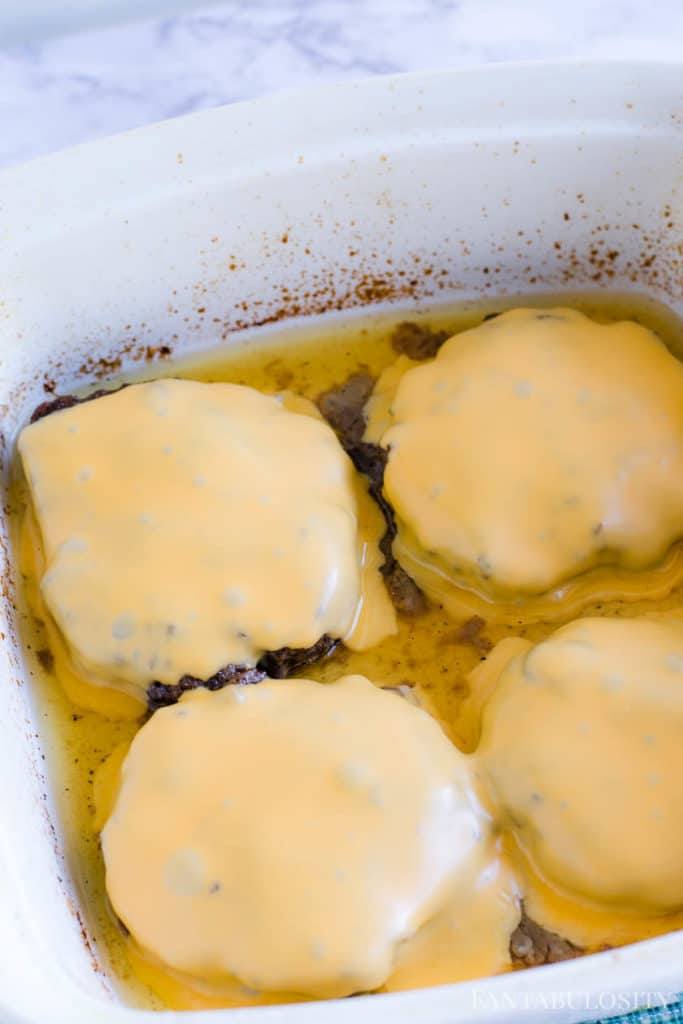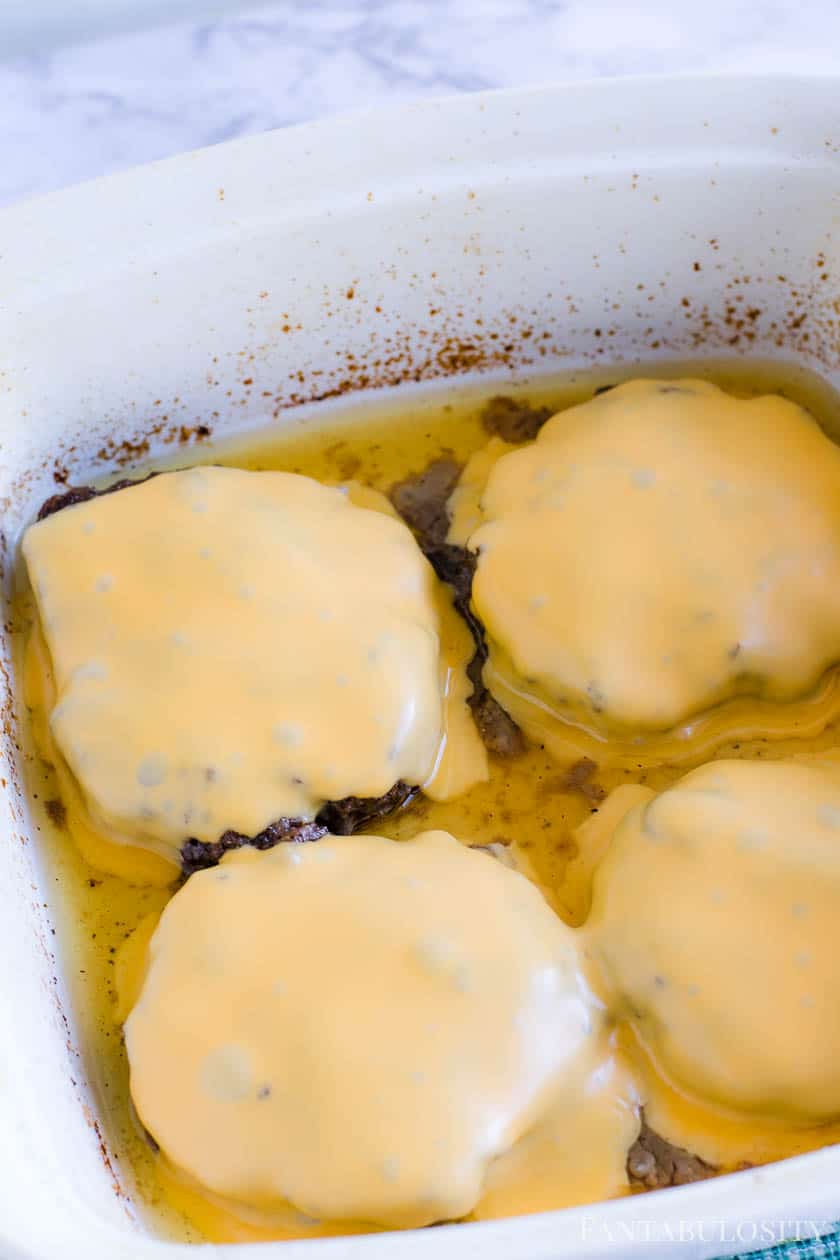 The Trick for Melt-in-Your-Mouth Oven-Baked Burgers
When I started doing this for my burgers, I feel like I changed my family's burger-lovin' life.
When the cheese has melted, remove the baking dish from the oven.
Tear off 4 squares of aluminum foil (just large enough to wrap each individual burger).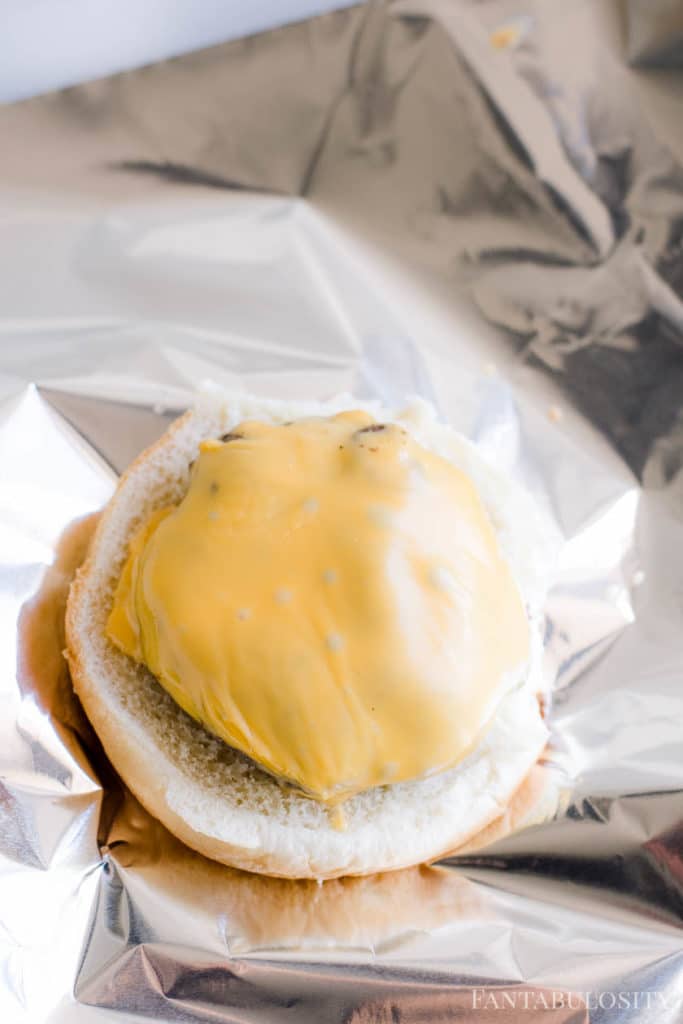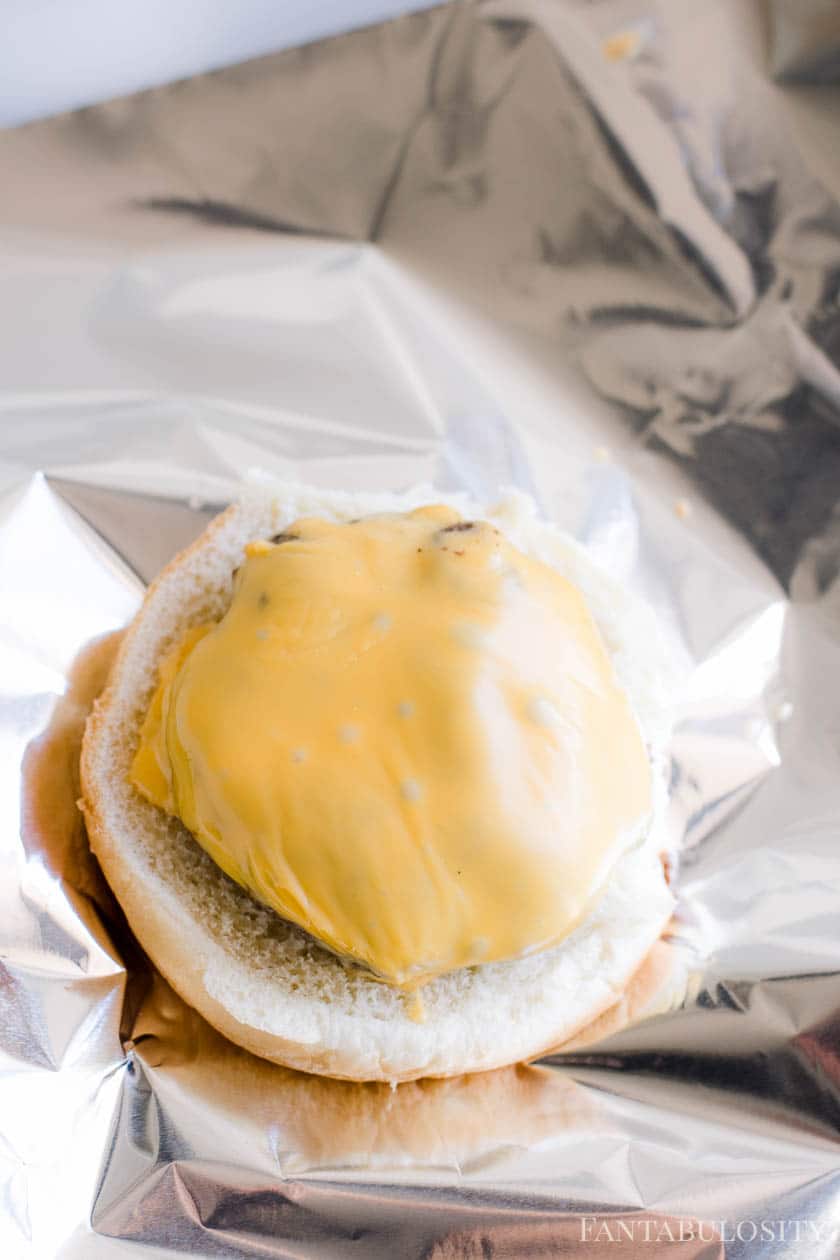 Place the bottom portions of each bun on each sheet of foil, and build the burgers, WITHOUT the extra toppings. Just meat and cheese for now!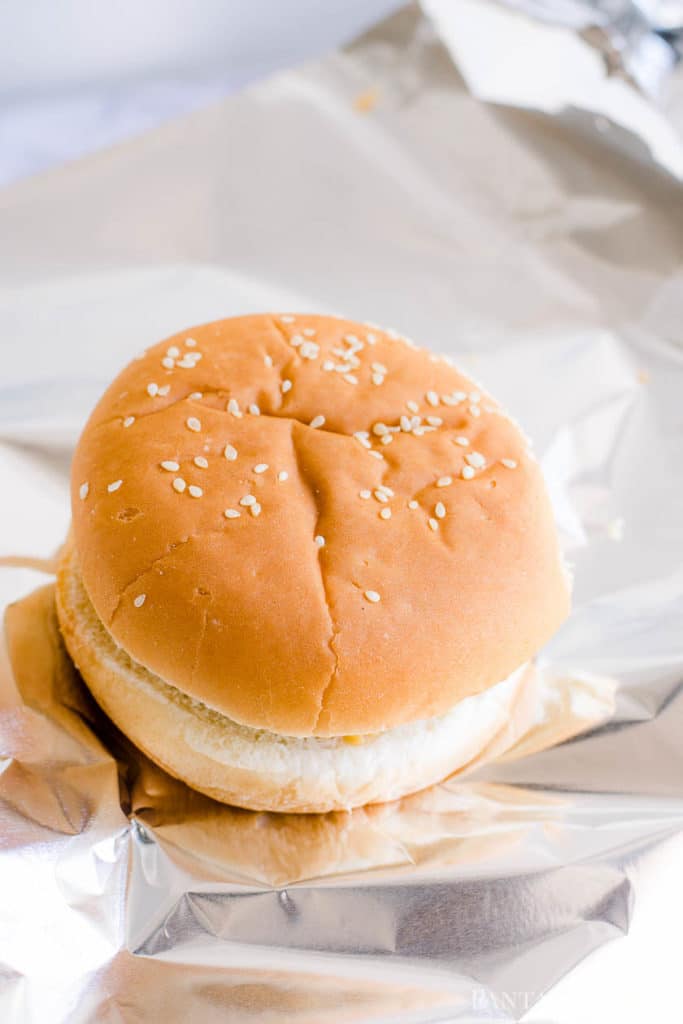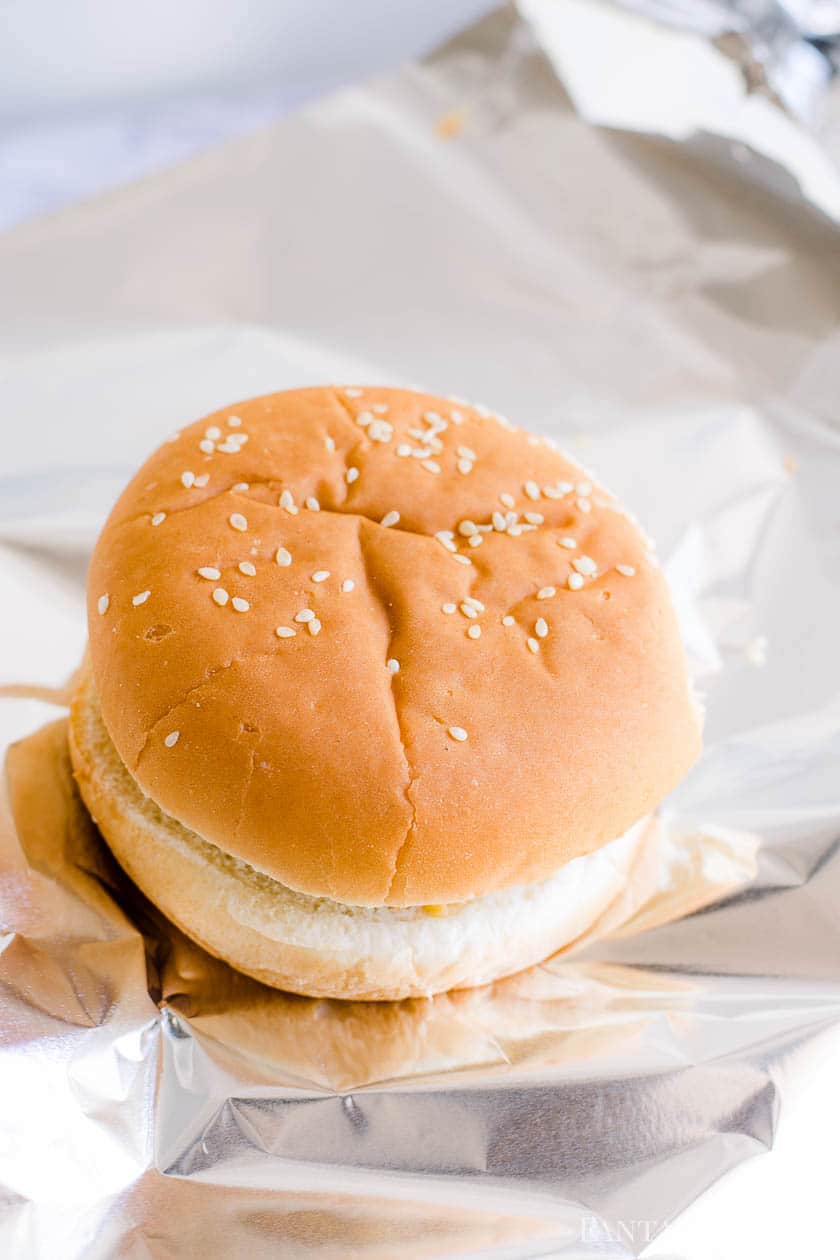 Wrap up each burger, and place either in a different baking dish, a cookie sheet or even directly on the oven rack… and let heat in the oven for a 2-3 minutes.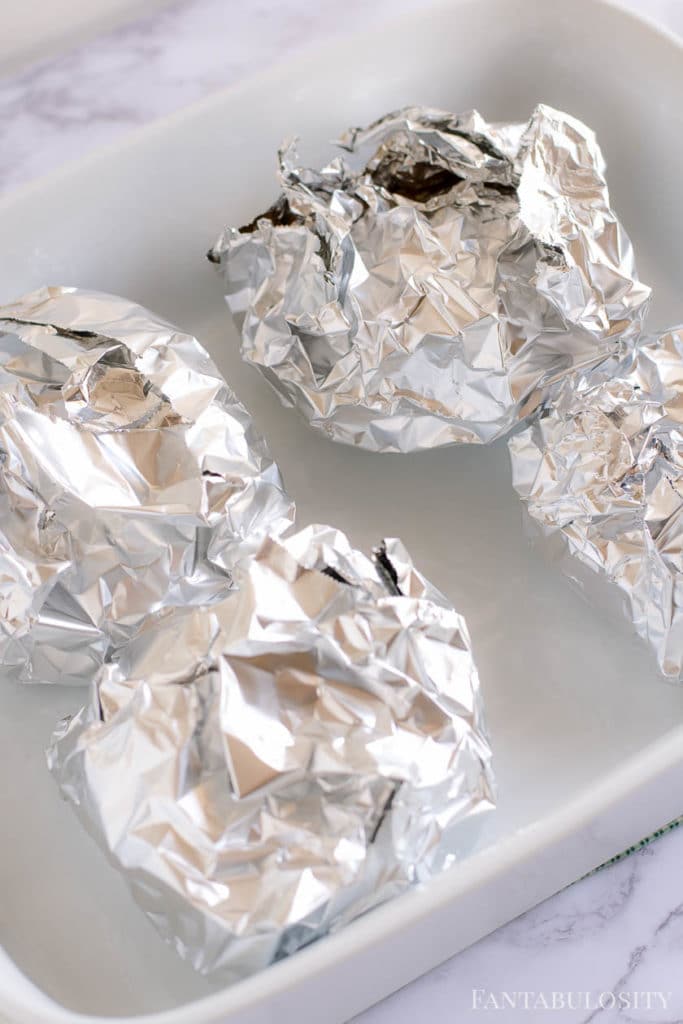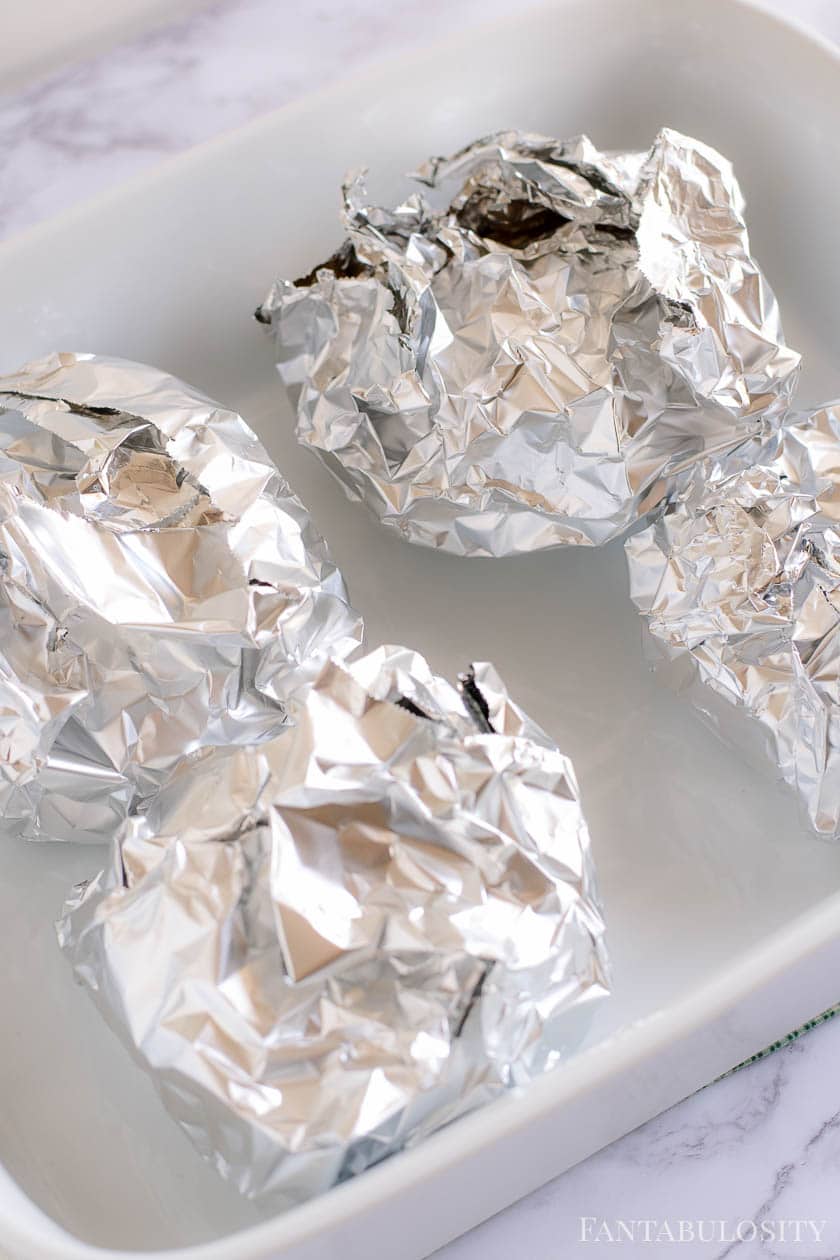 This will allow the cheese and bun to steam/toast, to create the ooey-gooeyness that has become so hard to live without!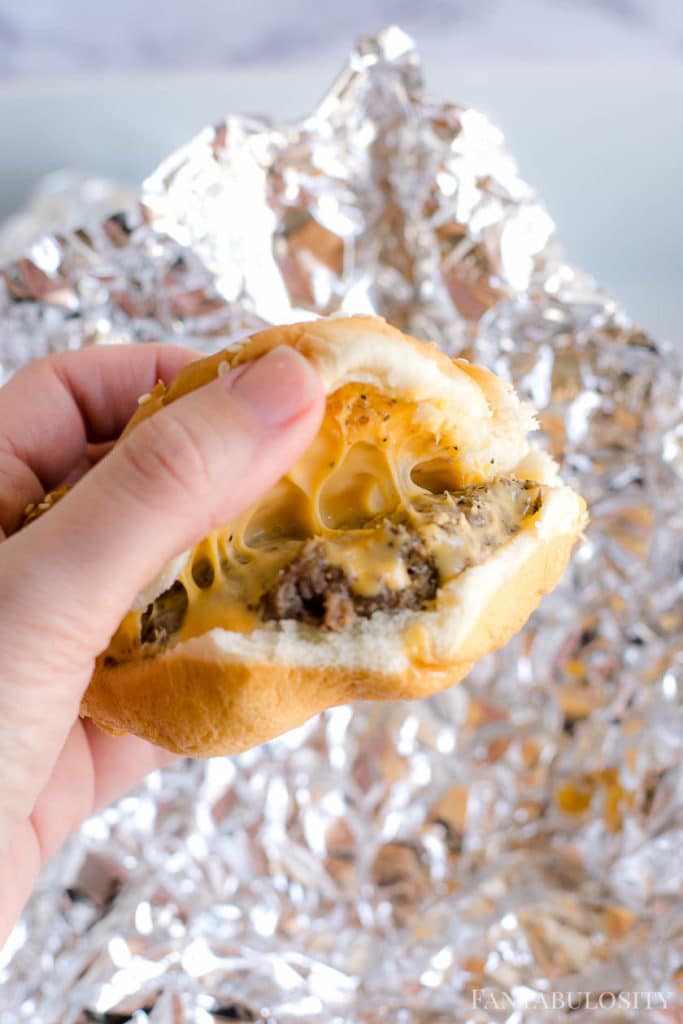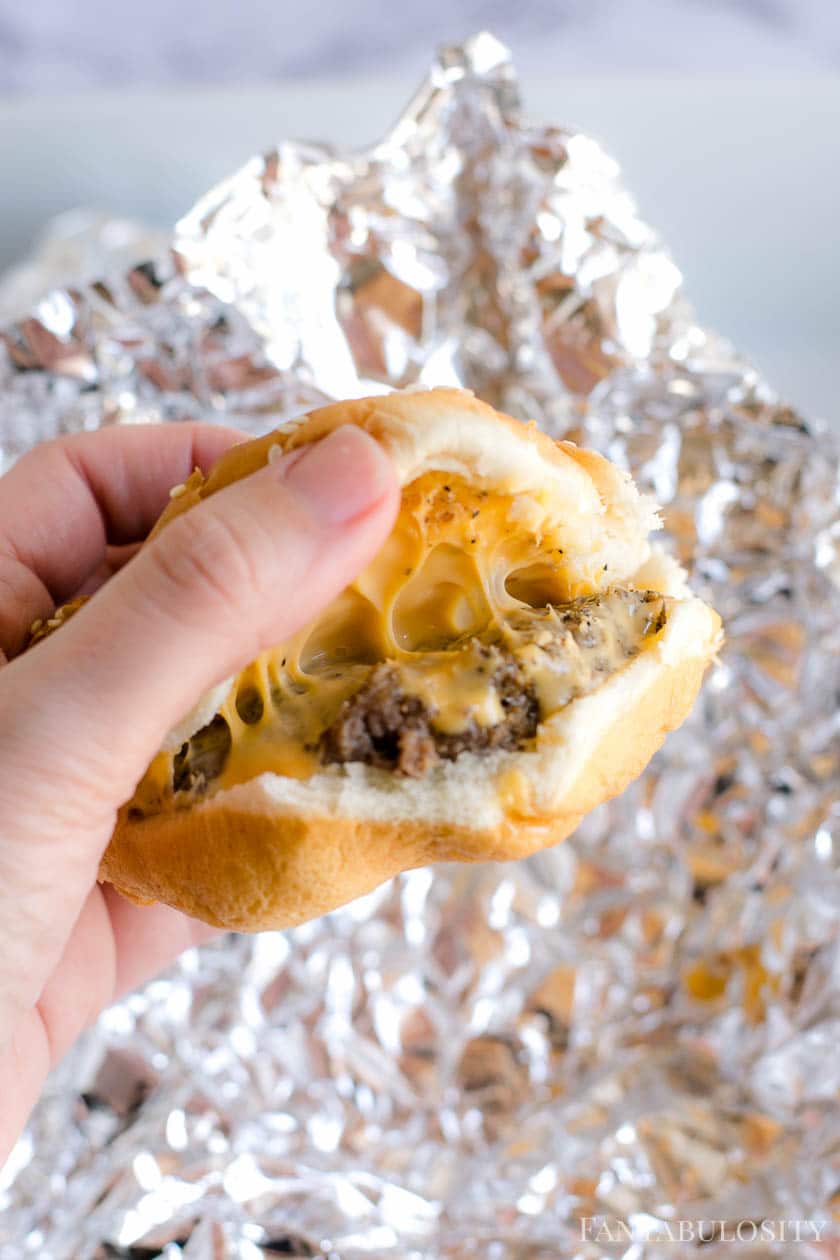 Cooking Hamburgers in Advance
If you're cooking for a large crowd, or just want to make a batch early and keep warm until dinnertime, it's easy!
Make the burgers like I've suggested, and keep the aluminum foil-wrapped burgers in the oven on warm. (Just don't get the oven too hot, or your buns will get TOO toasty and become hard.)
When it's cattle working day on my parent's farm, I LOVE making these cheeseburgers, because even after making them at house, they're still warm and delicious by the time I get them delivered to the cattle workers for lunchtime!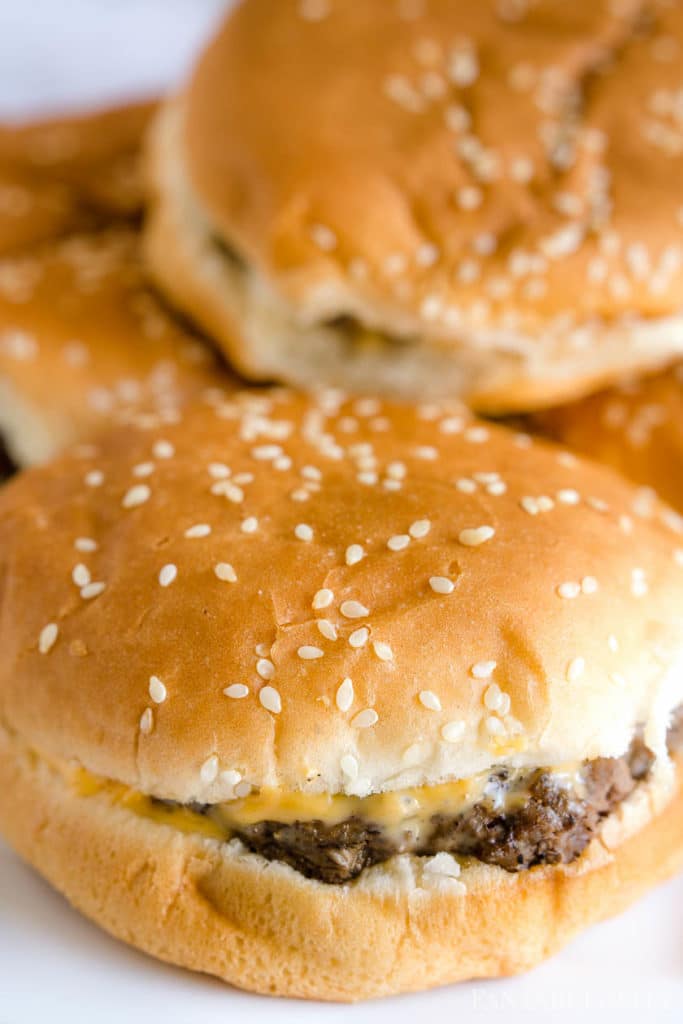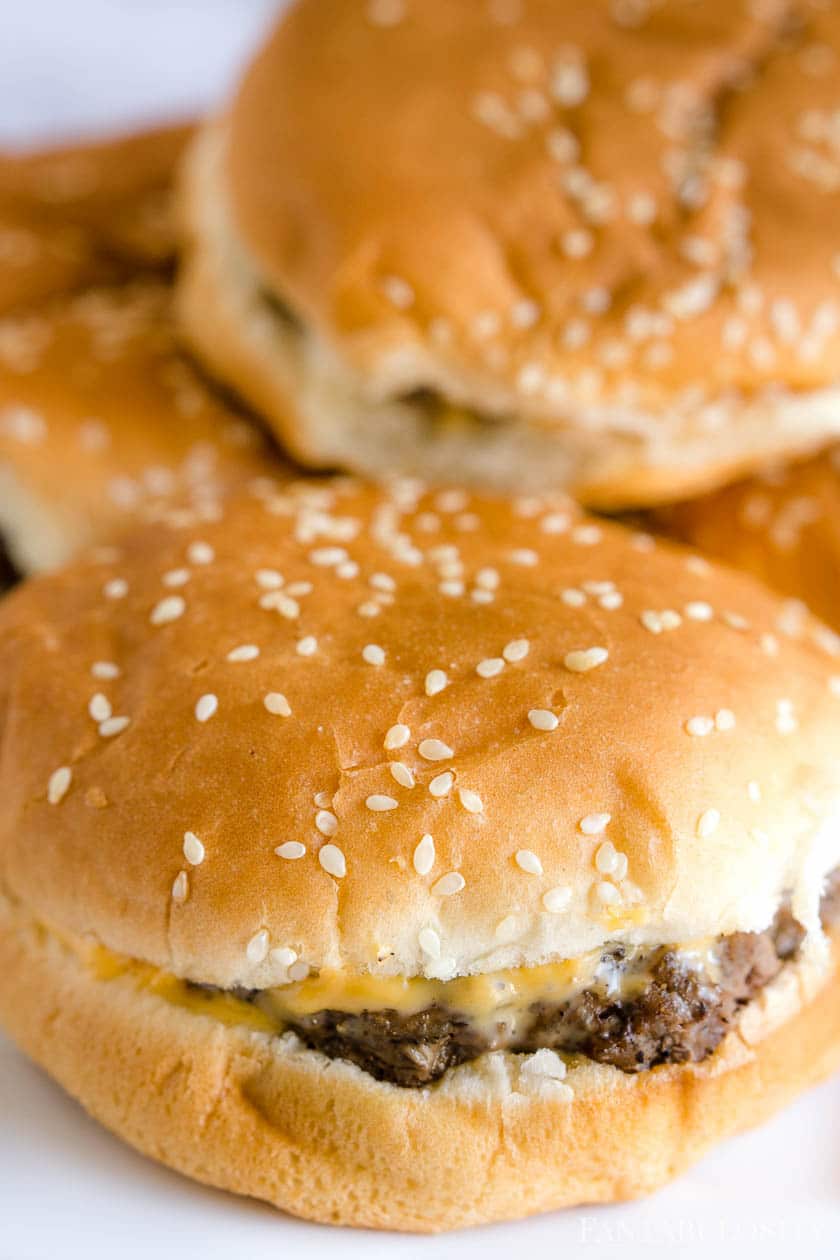 Toppings for Burgers
Feel free to top your burgers with your favorite toppings! Honestly, when they're cooked like this, I love them plain, with just cheese! (Unless I have some of the french fry seasoning that I've shared with you, under the recipe.) Although, topping them like a Cowboy Burger is pretty tasty too!
But some of the standard favorite toppings are:
mustard
ketchup
onion
tomato
lettuce
pickles
mayo
bacon
pineapples (Yes! They're so good on a burger, and we love using them on Aloha burgers too!)
French Fry Seasoning
I don't know what it is exactly, but this seasoning rocks my world, and I love to put it on just about anything. Especially side dishes like my garlic roasted broccoli and the baked potato wedges.
So when I have some on hand, I love sprinkling this on my cheeseburgers too! Just be cautious of adding salt, because seasoning like this can have a lot of salt in it!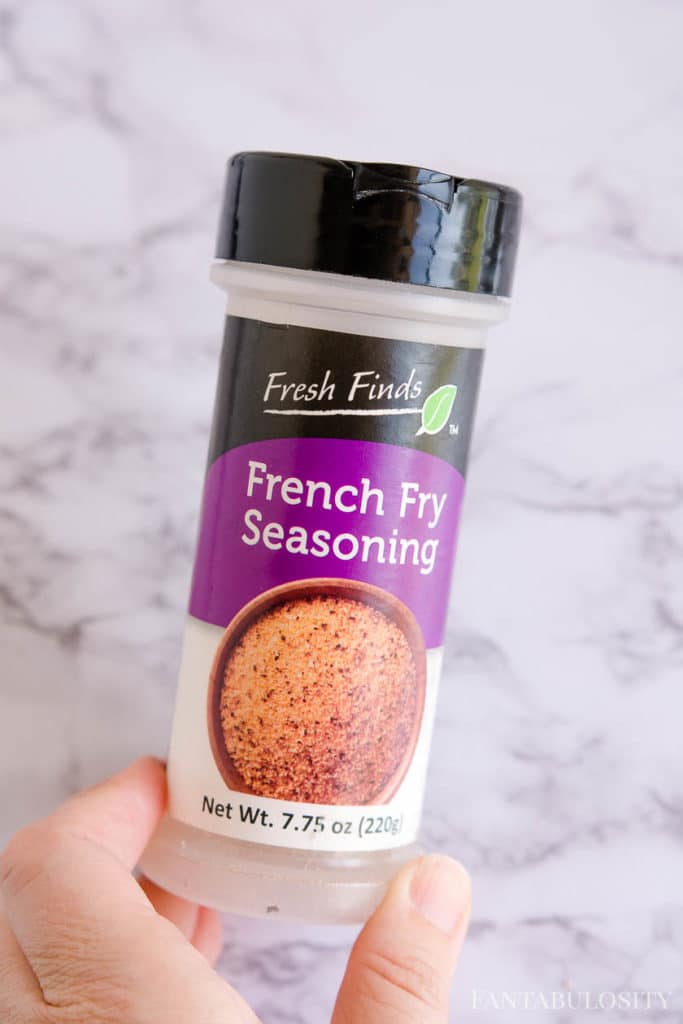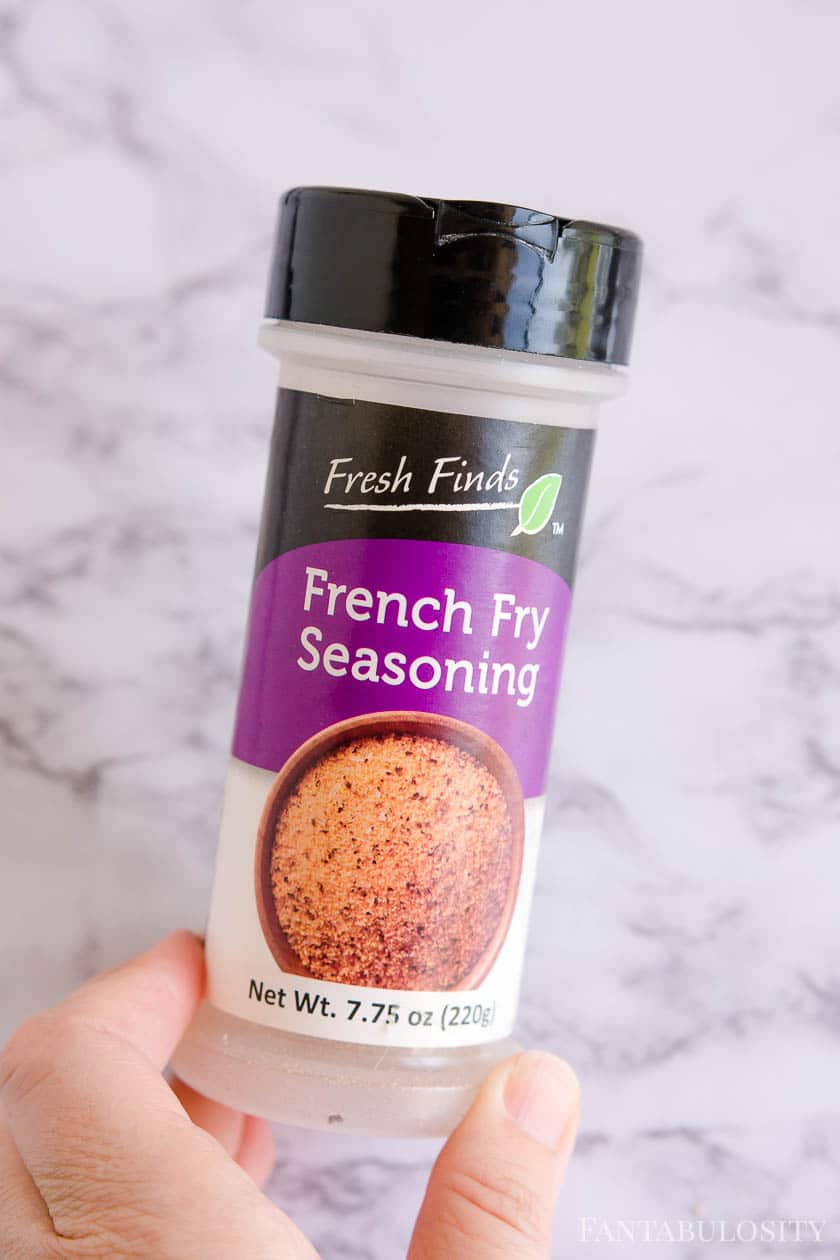 Sides to Go with Burgers
Looking for something to serve along with your hamburgers? Here are our favorites:
More Oven Recipes
📖 Recipe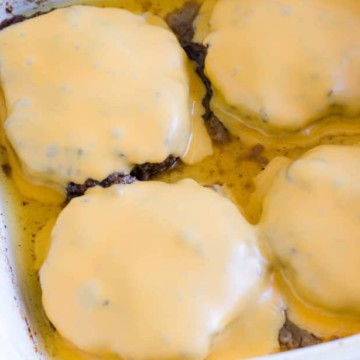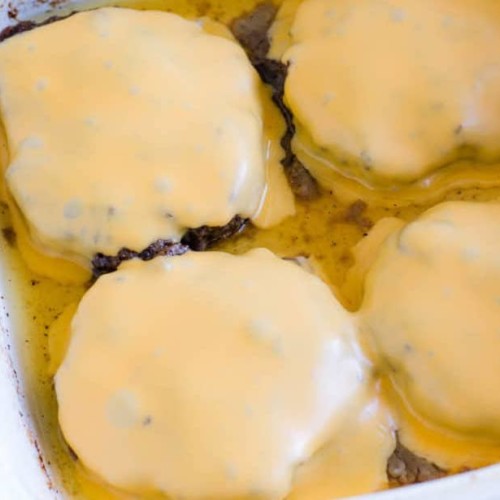 The BEST Hamburgers in the Oven – With a TRICK!
Cooking Hamburgers in the Oven is EASY: And may leave you never wanting to make them any other way! This recipe with the "melt-in-your-mouth" trick that makes all the difference!
Ingredients
4

beef patties

I use 1lb. of ground beef to make 4 patties

salt

as desired – see blog post for tips

pepper

as desired – see blog post for tips

4

slices

yellow American cheese

if desired

4

hamburger buns
Instructions
Preheat oven to 375 degrees and spray baking dish with non-stick cooking spray

Generously season one side of the burgers with salt and pepper

Place burger patties in baking dish, spice side down.

Sprinkle more salt and pepper on each hamburger (or use a preferred seasoning) if you like!

Bake in oven for 25 minutes. (If thinner patties, this may not take as long, so it's best to keep an eye on them. When you no longer see "red" coming out of the top, or on the burgers, it could be time to pull them out of the oven.)

If desired, place one slice of cheese on each burger and bake an additional minute or until cheese has melted.
The TRICK for Ooey Gooey Cheese & a Toasted Bun
Build each burger (without toppings) on a bun and wrap each burger in aluminum foil. (Just enough to wrap the burger completely.

Place back in oven for 2-3 minutes to allow the cheese to melt in and for the bun to get warm and toasty!

Serve and top with any toppings desired!
Notes
Why the Extra "Toasting" Step? Placing the burgers in aluminum foil and baking for a few minutes, allows the cheese to melt in and the bun to toast! This creates almost a steamy, soft… yet toasty bun that is to die for!
Making burgers for a large crowd? Make them in advance and wrap in aluminum foil like this and keep on warm until ready to serve!
Salt and Pepper: My favorite salt to use is fine grain Himalayan and my favorite pepper to use is Peppercorn Medley!
Nutrition
Serving:
1
burger
|
Calories:
428
kcal
|
Carbohydrates:
22
g
|
Protein:
25
g
|
Fat:
26
g
|
Saturated Fat:
11
g
|
Cholesterol:
81
mg
|
Sodium:
650
mg
|
Potassium:
386
mg
|
Fiber:
1
g
|
Sugar:
3
g
|
Vitamin A:
198
IU
|
Vitamin C:
1
mg
|
Calcium:
302
mg
|
Iron:
4
mg
Nutritional information is based on third-party calculations and should be considered estimates. Actual nutritional content will vary with brands used, measuring methods, portion sizes and more.
Did You Make This?
Snap a pic and hashtag it #Fantabulosity — I love to see your creations on Instagram, Facebook, and Twitter!